NASA's Washington, D.C. Headquarters is being renamed in honor of Mary Jackson, the space agency's first African American female engineer.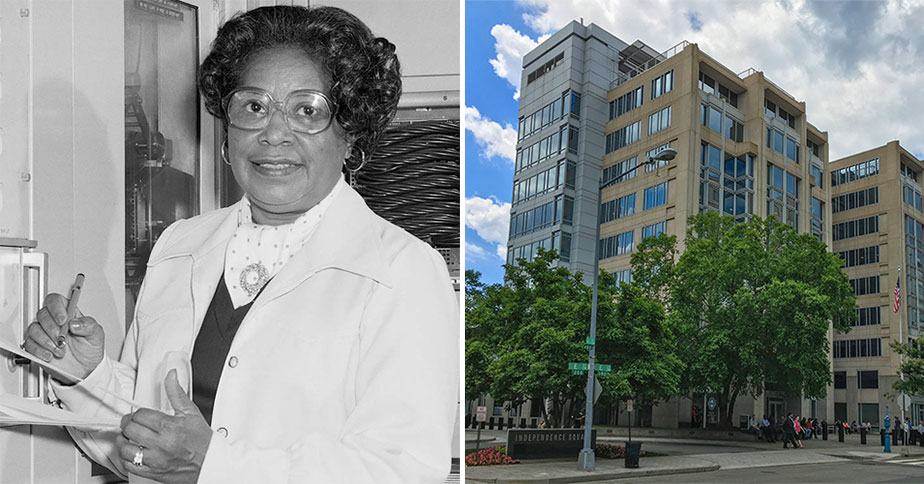 Mary Jackson was NASA's first African American female engineer — now, the space agency is honoring her contributions by renaming its Washington, D.C. headquarters in her honor! In addition to her scientific accomplishments, Jackson also led programs which supported the hiring and promotion of more women at NASA and served as a Girl Scout leader for more than 30 years. "Mary never accepted the status quo, she helped break barriers and open opportunities for African Americans and women in the field of engineering and technology," says NASA Administrator Jim Bridenstine. "We will continue to recognize the contributions of women, African Americans, and people of all backgrounds who have made NASA's successful history of exploration possible."
Born in 1921 in Hampton, Virginia, Jackson was a talented student who earned bachelor's degrees in mathematics and physical science from Hampton University. In 1951, she was recruited by National Advisory Committee for Aeronautics (NACA), which would later become NASA, to work as a research mathematician or "human computer." As NASA historian Bill Barry recounts, "The women were meticulous and accurate... and they didn't have to pay them very much." The first women joined the NASA computer pool hand-calculating the vast number of equations required by the early space program in 1935. Following President Franklin Roosevelt's 1941 Executive Order banning discrimination in the government workforce, African American women also began working as human computers, including Dorothy Vaughan in 1943 who later supervised Jackson.
In 1953, Jackson received an invitation from engineer Kazimierz Czarnecki to help run calculations for his work with the the Supersonic Pressure Tunnel, a 4 foot by 4 foot, 60,000 horsepower wind tunnel he was using to test models of potential spacecraft with supersonic winds. Czarnecki was so impressed by Jackson that he suggested  she take the graduate-level courses required so she could be promoted to an engineer. The only such courses available were a night program by the University of Virginia held at the all-white Hampton High School. Jackson had to petition the City of Hampton for permission to attend, which she did successfully. After completing the course, she was promoted to aerospace engineer, becoming NASA's first African American female engineer in 1958.
For the next two decades, Jackson authored or co-authored numerous research reports, most focused on the behavior of the boundary layer of air around airplanes. By 1979, having achieved the most senior title within the engineering department, Johnson decided to switch gears and focus on helping other women enter the field. She took a demotion in order to serve as both the Federal Women's Program Manager in the Office of Equal Opportunity Programs and as the Affirmative Action Program Manager. Until her retirement in 1985, she helped pave the way for the next generation of female and minority engineers, scientists, and mathematicians at NASA. She died of natural causes in Hampton, Virginia in 2005.
Since the bestselling book Hidden Figures: The American Dream and the Untold Story of the Black Women Mathematicians Who Helped Win The Space Race and movie adaptation brought the contributions of  Jackson and her fellow "Hidden Figures" to light, people across the country have been honoring the work of these trailblazing mathematicians. Jackson was posthumously awarded the Congressional Medal of Honor along with fellow "Hidden Figures" Katherine Johnson, Dorothy Vaughan, and Christine Darden in 2019. The same year, a bipartisan bill renamed the portion of E Street SW in front of NASA Headquarters, calling it Hidden Figures Way. NASA has also named two of their facilities after Katherine Johnson: the Katherine Johnson Independent Verification and Validation Facility in West Virginia and the Katherine Johnson Computational Research Facility at NASA's Langley Research Center.
"We are honored that NASA continues to celebrate the legacy of our mother and grandmother Mary W. Jackson," Carolyn Lewis, Jackson's daughter, said in response to this week's announcement. "She was a scientist, humanitarian, wife, mother, and trailblazer who paved the way for thousands of others to succeed, not only at NASA, but throughout this nation."
Books About Trailblazing Women In Engineering
"Flip a switch. Turn a gear. Could Baby be an engineer?" This baby loves to find out all about how things work! She's full of questions — just like a grown-up engineer — and she's determined to learn the answers. In this charming book from the Future Baby board book series, baby learns fun facts about a variety of engineering fields, including electrical, mechanical, and civil engineering, as well as the importance of keeping a curious spirit and refusing to give up. This delightful and encouraging board book is sure to spark some engineering spirit in everyone! For another fun board book for budding engineers, check out Baby Loves Aerospace Engineering! for ages 0 to 3.