At 8 years old, Jennifer Keelan-Chaffins joined the "Capitol Crawl" with other disability rights activists demanding passage of the Americans with Disabilities Act.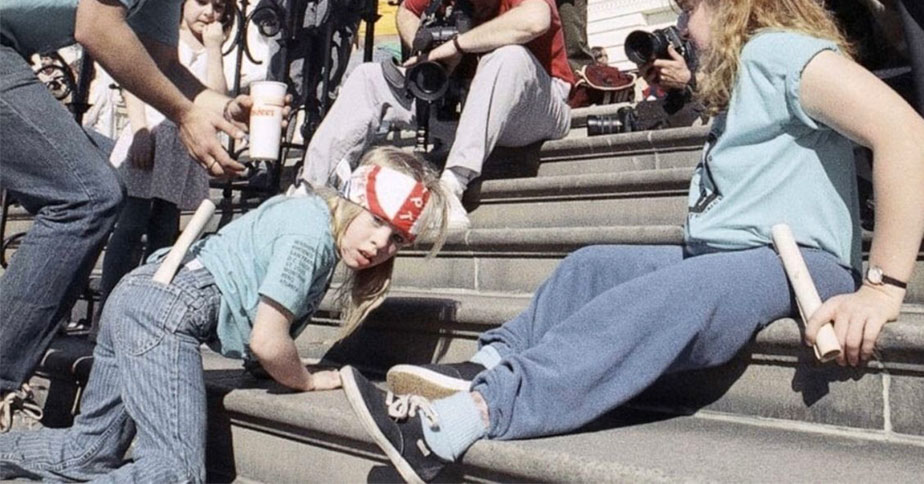 On March 12, 1990, over 1,000 disability rights activists marched from the White House to the U.S. Capitol to demand the passage of the Americans with Disabilities Act (ADA), which had been stalled in Congress. To illustrate the barriers that many people with disabilities faced every day, over 60 activists cast aside their wheelchairs and crutches and began crawling up the 83 stone steps that lead to the Capitol building — among them was Jennifer Keelan-Chaffins, an 8-year-old girl with cerebral palsy who declared "I'll take all night if I have to" as she pulled herself up the steps. In honor of the anniversary of the historic "Capitol Crawl" — which helped drive the successful passage of the ADA, the world's first comprehensive civil rights law protecting the rights people with disabilities — we're sharing the story of this determined young activist whose actions helped transform the lives of people with disabilities across the nation.
Jennifer was born in 1981 in Michigan, a month premature and weighing just three pounds and ten ounces. By the age of 2, her mother, Cynthia, and her grandfather, Chuck, were told by doctors at the Shriner Hospital in Arizona that she had cerebral palsy and would never be able to move, talk, or learn. "[We] were told to put her in a home or put her up for adoption," recalls Cynthia. The family opted to keep her at home and soon became active in the growing disability rights movement. "When she was born, she had her fist clenched in the air. We just let her do the rest," says Cynthia. "She was a very strong advocate."
After moving to Phoenix, Arizona, Jennifer participated in her first protest at age six, supporting the efforts of the disability rights group ADAPT which was fighting for greater accessibility. The experience made a big impression on her; as she reflected later, "it was pretty cool [to see] a bunch of people in wheelchairs fighting for their rights." Shortly after, Jennifer had her first experience with blatant discrimination when she went with other ADAPT members out to eat at a restaurant but the group was denied service. The staff told them that, "People don't want to watch you all eat."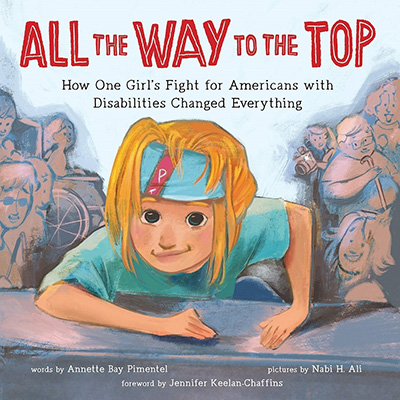 Jennifer continued to join protests, including one in Montreal, Canada where she was arrested at age 7 along with other activists at a peaceful disability rights demonstration. The following year at the Washington, D.C. protest focused on passing the ADA, some organizers didn't think it was a good idea for her to participate in the 'Capitol Crawl,' fearing that the image of a child crawling up the steps, Jennifer explains, "would send a message of pity instead of empowerment."
Jennifer was determined, however, telling them that "if somebody my age didn't do it, then nobody from my generation would be represented." She recalls that it was a very hot day and the crowd at the base of the stairs had grown very large, but the "further up the steps I went, the more I felt empowered. I felt like I had all of the other kids behind me [who couldn't be there]. I felt that it was important, not just to represent myself, but to represent them and their voices."
Pressure by the participants in the "Capitol Crawl" and other activists helped to push the stalled bill out of committee and, four months later on July 26, 1990, President George H.W. Bush signed the ADA into law. To many disability rights activists, its passage was the culmination of a fight for civil rights which had been waged for over twenty years around the country. The historic law not only transformed life for many people with disabilities in America, it also became a global model according to the Disability Rights Education and Defense Fund; since 2000, 181 countries have passed disability civil rights laws inspired by the ADA. While the disability rights movement has been one of the most successful and impactful social change movements of the last century, however, it's also one that most people know relatively little about and its history is little taught in schools
The ADA was the first major piece of national legislation in the world to treat disability rights as a civil rights issue, and its impact for people with disabilities was far-reaching. Requirements for accessibility made it standard for architects and designers to incorporate accessible features like automatic doors, bathroom stalls with grab bars, and Braille on elevator buttons. Telecommunications companies were required to provide services for those who were deaf or hard of hearing, and television began including closed captioning. People with disabilities who had previously been forced to live at nursing homes from a young age had the opportunity to live independently. Schools started integrating classrooms, which had an effect on how kids saw their peers with disabilities: instead of oddities, they were classmates and friends. "The great thing about the ADA is that it covers almost everything," says Edward Steinfeld, the Director of the Center for Inclusive Design and Environmental Access at the University at Buffalo. "It's created a society in which people know they have to provide accessibility, and treat people with disabilities with dignity and respect."
Today, Jennifer lives in Denver, Colorado, and remains a vocal advocate for disability rights. In 2017, she graduated from Arizona State University with a Bachelors of Science in Family and Human Development, and she's since founded Jennifer Keelan-Chaffins LLC to continue her activism. She was the model for a sculpture by artist Gina Klawitter entitled "All the Way to Freedom" reimagining her climb. She also collaborated on a picture book telling her story, All The Way To The Top, to show young readers that they can make a difference on the issues they can about, no matter their age. And recently, she's worked with BraunAbility, a manufacturer of accessible vehicles, to design a modified van that she'll be able to drive on her own, and is looking forward to taking driving lessons. Jennifer hopes that her example will encourage kids and their parents and teachers to learn more about this little-known but hugely influential social movement. "For me, the disabilities rights movement is just important as the civil rights movement," asserts Jennifer, "and these are things that need to be taught in our schools."
Books About Disability Rights And Acceptance
Eva dreams of dancing — but she has cerebral palsy, and she has never seen a dancer in a wheelchair. Then one day, she learns about a dance company which promises lessons for "all abilities." Although Eva is hesitant when she first arrives, she's delighted to see dancers of all sorts, including those using canes, walkers, and prosthetic limbs — and with time, she realizes that she really can be a dancer! This exuberant picture book, which includes a note from the executive director of the real-life Young Dance company, celebrates a love of dance and the impact of inclusion on kids with disabilities.