Dr. Emmanuelle Charpentier and Dr. Jennifer A. Doudna's development of a groundbreaking method for editing DNA which is widely considered the greatest breakthrough in the biological sciences since DNA was first discovered!
Dr. Emmanuelle Charpentier and Dr. Jennifer A. Doudna were awarded the 2020 Nobel Prize for Chemistry this week for their development of a groundbreaking method for editing DNA which is widely considered the greatest breakthrough in the biological sciences since DNA was first discovered! Doudna, an American biochemist and professor at the University of California, Berkeley, and Charpentier, a French microbiologist and the director of the Max Planck Unit for the Science of Pathogens in Berlin, Germany, discovered the CRISPR/Cas9 genetic scissors, a tool that allows scientists to "snip" the DNA of organisms, allowing for easy and precise genetic modifications. The pair are the first women to jointly win the Nobel Prize in Chemistry, and represent the sixth and seventh women in history to win the chemistry prize. "This technology has utterly transformed the way we do research in basic science," asserts Dr. Francis Collins, director of the National Institutes of Health. "I am thrilled to see Crispr-Cas getting the recognition we have all been waiting for, and seeing two women being recognized as Nobel Laureates."
Doudna was born in Washington, D.C. in 1964 and Charpentier was born in Juvisy-sur-Orge, France in 1968, and while they both pursued careers in biochemistry, it took Streptococcus pyogenes bacteria to bring them together. Charpentier had been studying the bacteria, which causes scarlet fever and other diseases, and while examining its DNA in 2006, she noticed a series of repeating genetic patterns. She knew that other scientists had found fragments of genetic material from attacking viruses captured between the bacteria's repeating DNA segments — which had been named 'clustered regularly interspaced short palindromic repeats' or CRISPR — but nobody was sure how the bacteria's immune response worked. Charpentier and her team helped unravel this mystery when they discovered that the bacteria made a previously unknown form of RNA called tracrRNA that would recognize the genes of viruses if they attempted to attack the bacteria again.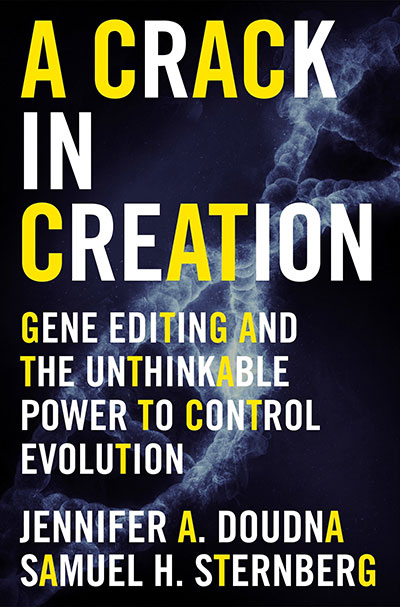 To take her research further, Charpentier knew she needed to collaborate with an expert on RNA. At a scientific conference in 2011, she approached Doudna, who had been studying how bacteria made RNA for other purposes, about a research partnership. They soon began to work together to better understand how the bacteria's defense system worked and discovered that it used an enzyme called Cas9 to slice up viral genetic material and incorporate it into its own DNA.
This breakthrough opened up a new possibility to the two biochemists: could you create a piece of RNA that could target a specific point on any gene, not just a viral one? In just one year, in 2012, the pair successfully proved their theory by creating a modified RNA segment, known as CRISPR RNA or crRNA, that guides the segment to the right place and then uses Cas9 to snip out a piece of DNA with extreme precision, in some cases as small as a single genetic letter.
The development of CRISPR/Cas9 genetic scissors has revolutionized the biological sciences and given scientists the ability to perform genetic editing on a scale that would have been inconceivable only a decade ago. Their discovery is already commonplace in labs around the world and is being used to develop cancer-fighting drugs, crops that can better withstand drought, and in countless other applications.
The progression of Charpentier and Doudna's research into real-world applications has been incredibly fast, another mark of how transformative their discovery has been to science. As Dr. Collins observes, "Other technologies sometimes take a couple of decades before they come into regular practice." Its impact is also demonstrated by the women being awarded the Nobel Prize only eight years after their initial breakthrough; as David Pendlebury, a senior analyst at Clarivate Analytics notes: "Most Nobel Prizes are based on research achieved two, three, or more decades ago."
Doudna and Charpentier are also both aware of the potential for ethical issues related to their discovery, especially after the scientific scandal that raged after Chinese scientist He Jiankui claimed in 2019 that he had used CRISPR on two human embryos. Doudna explored these issues in her recent book A Crack in Creation: Gene Editing and the Unthinkable Power to Control Evolution, and cautions, "we as a community need to make sure we recognize we are taking charge of a very powerful technology."
Both scientists were thrilled by the news of their Nobel win on Wednesday, with Charpentier saying she "was very emotional" after receiving the call from the Nobel committee. For her part, Charpentier hopes that their win provides a "positive message to the young girls who would like to follow the path of science, and to show them that women in science can also have an impact through the research that they are performing." Tom Welton, president of the Royal Society of Chemistry echoed this sentiment, adding: "I am also hugely pleased to see that the Nobel committee has chosen to honor two leading women in active research — their teamwork is an example of how scientific breakthroughs are based on a truly global community of researchers and they can become role models for aspiring scientists of all genders."
Books And Science Toys To Encourage Aspiring Biochemists
Marie Curie wasn't allowed to go to college because she was a woman — but she would become one of the greatest scientists int he world! Curie discovered radium and polonium, studied the powers of radiation, and won Nobel Prizes in both Physics and Chemistry. In this board book from the My First - Little People, BIG DREAMS series, little readers will learn all about Curie's curiosity and determination! For two more picture book about Curie, check out I Am Marie Curie for ages 4 to 8 and Marie Curie (Little People, Big Dreams) for ages 5 to 8.