Juliette Gordon Low founded the Girl Scouts of the U.S. in 1912. Today, the organization has 2.5 million members and it has been a part of the lives of over 50 million adult women.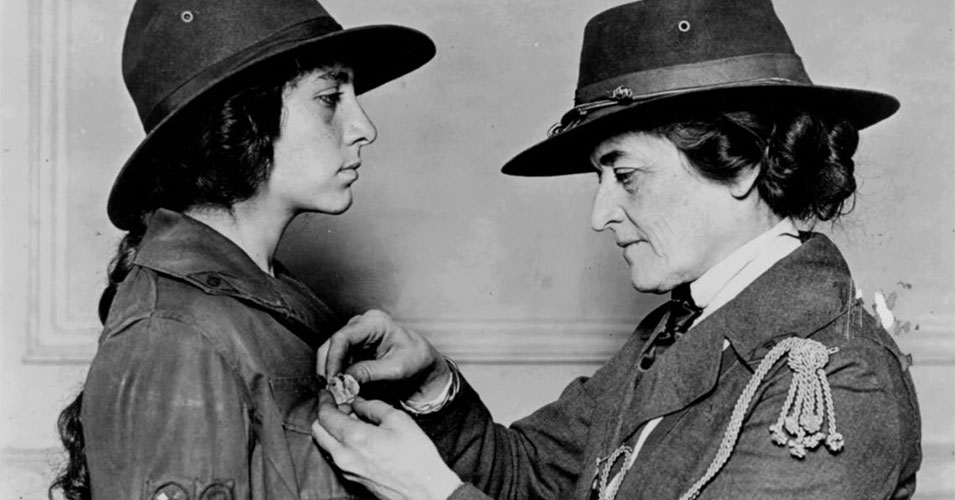 Juliette Gordon Low excitedly called her cousin after she returned from a trip to England in 1912. "Come right over!" she exclaimed. "I've got something for the girls of Savannah, and all of America, and all the world, and we're going to start it tonight!" Low had been inspired by Robert Baden-Powell's Scouting Movement to create a similar organization dedicated to girls: the Girl Scouts. Today, the Girl Scouts of the United States has over 2.5 million members, 1.7 million girls and 750,000 adult volunteers. More than 50 million adult women enjoyed Girl Scouting in their childhood, many of whom say the organization helped shape them into the confident, capable women they are today. As Low famously said, "Scouting rises within you and inspires you to put forth your best."
Born in Savannah, Georgia in 1860, Low, who was known as "Daisy" to family and friends, was an accident- and injury-prone child; her mother once wrote in a letter, "Daisy fell out of bed — on her head, as usual." She also suffered from hearing loss, and was deaf in both ears by the age of 17. She was considered eccentric by her family due to her wide-ranging interests including art and poetry, which often occupied her more than her schoolwork; her cousin Caroline later said, "While you never knew what she would do next, she always did what she made up her mind to do." Low married in 1886, but the marriage was an unhappy one; her husband had an affair and by 1902 the couple were living apart. Her husband died in 1905 before they agreed to a divorce settlement and Low was forced to contest his will in order to gain access to their assets.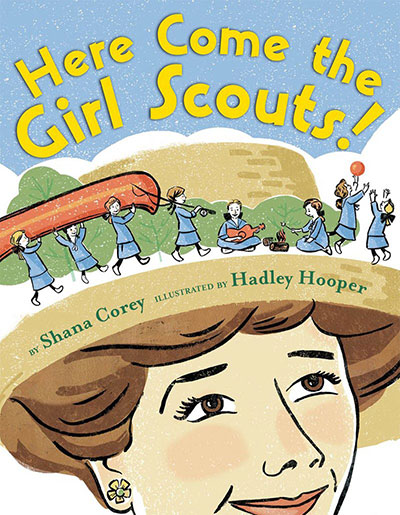 In 1911, Low met Baden-Powell, a retired English General at a party. She was immediately fascinated by Boy Scouts program he had organized and the Girl Guides, an offshoot of the Boy Scouts that was headed by Baden-Powell's sister Agnes. Low worked with the Girl Guides during the summer of 1911, teaching them knot-tying, map reading, cooking, and first aid, and encouraged them to become self-sufficient by learning to care for livestock and spin wool. When she returned to America in early 1912, she was determined to start a similar movement there.
Low's call to her cousin, educator Nina Pape, was the first step. Together, they recruited 18 girls for the first troop in Savannah, calling themselves the American Girl Guides. Low used her social connections to spread the word about the new group and raise funds its work, and by 1913, the organization was thriving. Low changed the name to Girl Scouts, which resonated with America's pioneer ancestry, and published their first manual, How Girls Can Help Their Country.
She promoted gender-neutral activities, rather than the heavily gendered programs of its primary competitor, the Camp Fire Girls, which had been formed in part by James West, the Boy Scouts of America's first Chief Executive, who was a proponent of strict gender roles. Low also reached across class and racial boundaries, and advocated for the inclusion of girls with disabilities, believing that every girl should have a chance to be a Scout.
By the beginning of World War I, the Girl Scouts were becoming more well-established. Low advertised for more members through newspapers, events, and even films, and encouraged troops to participate in initiatives to help the war effort by growing food, picking oakum, and making surgical dressings for wounded soldiers. By 1920, there were almost 70,000 members of the Girl Scouts, and Low stepped down as the national president to focus on building the Scouting Movement internationally. That year, the Girl Scouts of the U.S. declared October 31 'Founder's Day' in honor of Low's birthday and it is still celebrated annually by Girl Scouts around the country.
Sadly, Low developed breast cancer in 1923 and, after several failed treatments, was told in 1925 that she only had months to live. She continued to be involved in Girl Scout events when she could, and on one occasion, she slipped away during her recovery from a surgery to speak at the Girl Scout regional conference in Richmond, Virginia. Low died on January 17, 1927 at the age of 66; the next day, 250 Girl Scouts left school early to attend her funeral in Savannah. She was buried in her Girl Scout uniform with a note in the pocket that read, "You are not only the first Girl Scout, but the best Girl Scout of them all." Low would be delighted to know that the organization she created is still empowering and connecting girls today, both in America and around the world: as she once said, "Ours is a circle of friendships united by ideals."
Books And Toys Celebrating Juliette Gordon Low and the Girl Scouts
Juliette Gordon Low — also known as Daisy to her friends and family — defied attitudes about "proper" Victorian girls. Daisy loved the outdoors, and she knew that there were lots of other girls, just like her, who wanted to be pathfinders, pioneers, and adventurers. When she combined her daring spirit with a dedication to service, she came up with an idea that would change the lives of millions of girls: the Girl Scouts. This fascinating story about the founder of the Girl Scouts celebrates Low's spirit and vision, and shows how one hundred years later, her Scouts continue to have adventures, do good deeds, and make a difference!