Lindsay Sobel started her charity Shoes for Souls after seeing the widespread homelessness in Los Angeles.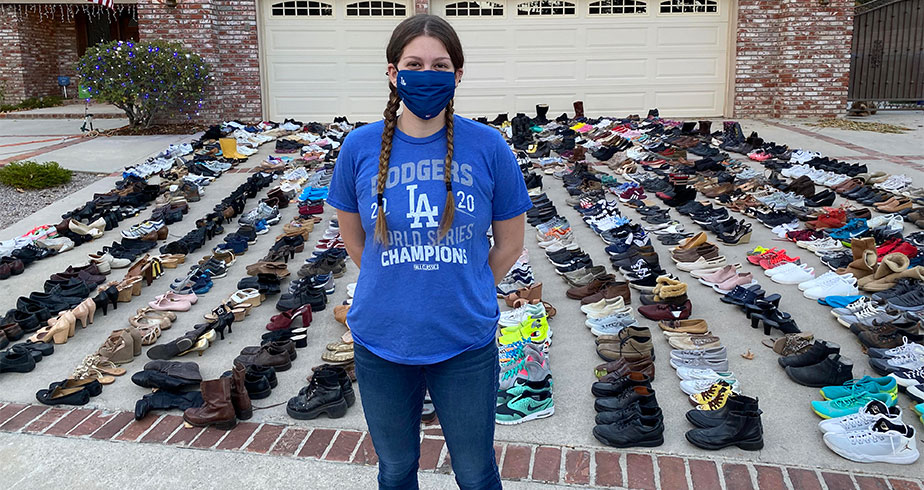 When Lindsay Sobel was 12 years old, she attended a basketball game at LA's Staples Center arena and was struck by the high levels of homelessness in the area. "I noticed a lot of them were in really awful living conditions, no way any person should have to live. On top of that, I noticed a lot of them did not even have shoes on," she recalls. "At 12 years old, I was like, 'Wow, people don't have shoes?' It kind of put things into perspective for me." This experience started the now 17-year-old on a journey that has led her to donate over 30,000 pairs of shoes to people in need throughout Southern California — an incredible accomplishment that she says "makes me full of joy because of the fact that I'm able to help people out."
After her experience at the basketball game, Lindsay was cleaning out her closet when she realized that she had a lot of shoes she never wore. "Oh my goodness, I haven't worn half of these (shoes)," she recalls thinking. "Donating shoes would be a great way to give back to the community." Inspired, Lindsay decided to start collecting new and gently worn shoes as part of her Bat Mitzvah project in 2016. She formed a charity called Shoes for Souls and began reaching out to friends and classmates about donating shoes. She also organized a week-long school drive at a summer day camp where campers competed with one another to see who could donate more shoes. Lindsay quickly collected thousands of shoes which she donated to local homeless shelters and was named 2017 Chatsworth Youth of the Year.
Now a high school junior, Lindsay has continued collecting tens of thousands of shoes over the past several years, but when the coronavirus pandemic struck, collecting donations got harder — even though she knew there were more people in need than ever. She used Nextdoor, the social networking app for neighborhoods, to coordinate with her school, her volleyball team, and the wider community to arrange contact-free pickup for shoe donations. When two Los Angeles City Council members reached out to ask her if she could provide more shoes, she was ready; within weeks, she was able to donate over 4,000 pairs. "I was so honored they thought of me to help," she says. "It was really great being able to see my work pay off."
While Lindsay wants to get as many shoes on feet as possible, she says she's careful to make sure they're in good condition. "My motto is, if you would wear it, I'll accept it," she declares. "I want to try to give the best experience to all the people. I don't want to give them a pair of shoes that are beaten down or worn down. I don't want them to think that's their self-worth." Lindsay says that Shoes for Souls has given her new respect for the value of a good pair of footwear. "You know a fresh, new pair of shoes can really brighten someone's day, brighten their attitude and their outlook on life," she observes. "I wanted to help as many people as possible."
If you'd like to donate new or gently worn shoes shoes in the LA area, you can sign up to arrange a pick-up on the Shoes for Souls website.
Books About Mighty Girls Tackling Poverty and Hardship
It's fall in Tennessee, and young Dolly Parton, long before her days as a country music legend, has no coat to wear. Her family can't afford to buy one, but her mother does have a box of rags that was given to the family, so she carefully sews the scraps together, telling Dolly the Biblical story of Joseph's coat of many colors and hoping it brings her daughter good fortune too. But when she wears it to school, her classmates laugh despite all her efforts to explain the value of the coat. Still, she wears it proudly, remembering the love "my momma sewed in every stitch." This uplifting picture book telling Dolly's story, paired with illustrations by Brooke Boynton-Hughes, conveys a powerful message of optimism and resilience in the face of hardship.