The best new children's books about girls and women in science!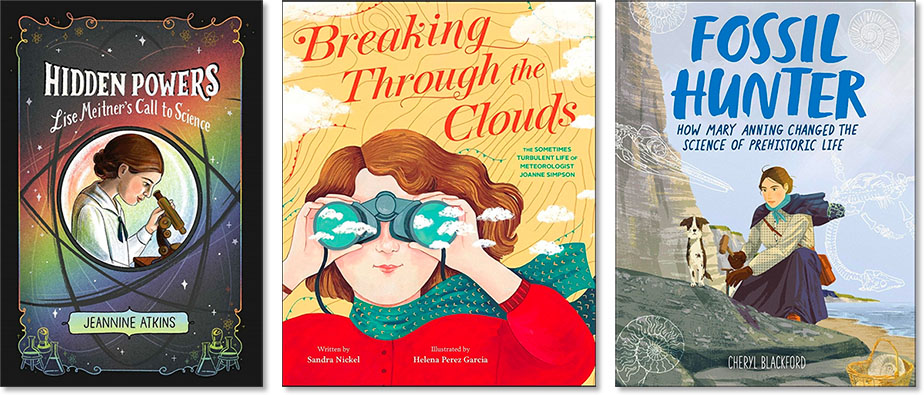 Girls and women are curious, intelligent, persistent, and bold: it's no wonder they can be such good scientists! While women in STEM have fought prejudice for years — much of which still lingers today — they've also made important discoveries, invented world-changing things, and helped humanity make great leaps in our understanding of our planet, the universe, and more.
One way to support women in science is to share their stories with kids during Women's History Month and all year round! When young readers see women scientists in their books, it changes their image of who can be a scientist — and that not only encourages girls with an interest in STEM, but also counters the male-dominated stereotype of science for girls and boys alike. To help make it easier to find exciting new titles to share with kids, this blog post features a round-up of the best books about girls and women in science published over the last two years.
From picture book biographies of little-known pioneers to graphic novels about trailblazing women, and even a book or two to get your Mighty Girl experimenting at home, these titles will ensure that she knows that science is definitely for girls.
New Books About Girls and Women in Science
Rachel Ignotofsky's best-selling Women in Science gets a board book adaptation for the littlest readers! Combining Ignotofsky's gorgeous, colorful illustrations with simple text, this book is packed with diverse role models from every field of science. Each entry gives the woman's name, a few fun facts, and a one-sentence summary of one of her most important contributions, from how Wang Zhenyi figured out how eclipses work to how Mae Jemison became the first African American woman in space. It's the perfect title for curious kids who can't wait to learn more about the trailblazing women who made their mark on history!