Kamryn Gardner recently put the persuasive writing skills she learned in her first grade class to work — by asking clothing retailer Old Navy to put pockets in their girls' pants!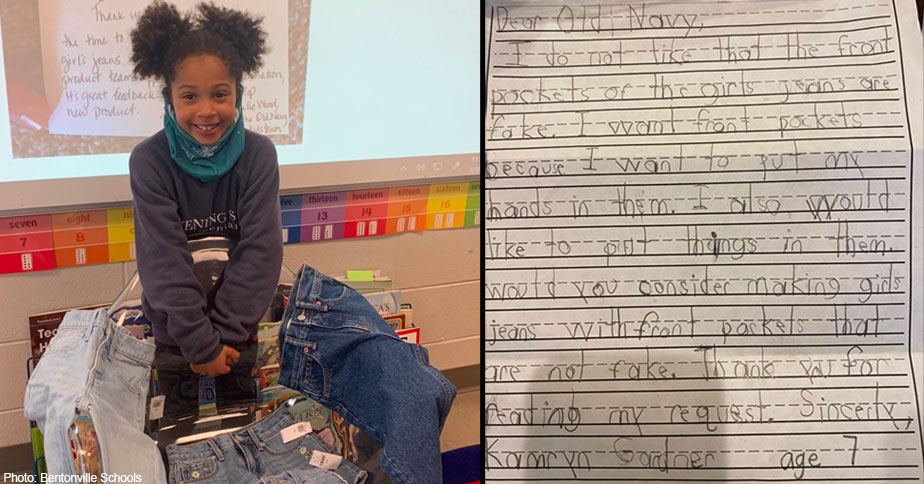 Kamryn Gardner recently put the persuasive writing skills she learned in her first grade class to work — by asking clothing retailer Old Navy to put pockets in their girls' pants! After she received yet another pair of jeans where the pockets were sewn shut, Kamryn observed indignantly that "they were fake pockets. It bothered me that they weren't real pockets." Now, the 7-year-old from Bentonville, Arkansas has gone viral after sharing Old Navy's reply promising to respond to her complaint. "Our design and product teams love hearing feedback from customers, especially young people like Kamryn," says company spokeswoman Sandy Goldberg. "We [will] take suggestions into consideration as we work on future products."
Kamryn says her first efforts at persuasive writing weren't as effective as she'd hoped: "I wrote [my parents] a letter that I wanted a camera and an Etch a Sketch, but it didn't go so well." When she got fed up with the difference between her pants and her 9-year-old brother's pants, her mom, Kim Gardner, suggested she use the same skills to write a letter to Old Navy. "Dear Old Navy, I do not like that the front pockets of the girls jeans are fake," Kamryn wrote. "I want front pockets because I want to put my hands in them. I also would like to put things in them. Would you consider making girls jeans with front pockets that are not fake. Thank you for reading my request. Sincerely, Kamryn Gardner, age 7."
Old Navy isn't the only clothing retailer with a pocket problem: as children's clothing became increasingly gendered since the 1970s and '80s, girls' clothing, like women's, started to focus on style over functional elements like pockets. And that, argues Gail Cornwall in the Washington Post, sends damaging message to girls. "Not having pockets limits girls' ability to experience," she says. "Not only do pockets free a child's hands to investigate and accomplish, they also broadcast the need and right to do so to both wearer and viewer alike.... The contrast of the presence and absence of pockets in different kids' clothing that sends a two-part message: Only men need functionality, and girls should learn to be women as early as possible."
Kamryn and her family didn't expect to hear back from Old Navy, says her dad Brandon Gardner, who works in retail: "We honestly thought it would end there." But at the end of March, they found a package in the mail with a hand-written note from Julie Wood from Old Navy's kids' team. "Kamryn, thank you so much for taking the time to write to us about pockets on girl's jeans," she said. "It's great feedback as we develop new product." Wood also sent Kamryn four pairs of bottoms — two pairs of pants and two shorts — with full pockets.
Kamryn's letter, and Old Navy's response, was published on the Bentonville Schools' Facebook page; it quickly went viral, with women across the country expressing their support for Kamryn and the pockets in girls' and women's clothing. "I'm 56 and love front pockets!" wrote one woman from Florida. "Not every girl lives w/ a purse at their side." Kamryn says she was particularly pleased with the design of the shorts, "[b]ut mostly, I just really like the pockets." According to Kamryn, her classmates also loved hearing about the letter and seeing the pants that Old Navy sent: "The girls in my class are really happy about it," she says. "They like pockets, too."
Children's Books About Girls Working For Change
At this playful slumber party, a diverse group of girls explore what it means to "dress like a girl"! As the girls play dress-up, they put their own spin on fashion "rules." If you should wear white in the summer, why not a spacesuit? Wear a formal black gown to the symphony — because the conductor should look her best. When it's time for bright colors, the girls don "brave" hues like police officer blue or firefighter red. Author Patricia Toht celebrates a variety of interests, including sports, science, politics, and more, while Lorian Tu-Dean's illustrations capture a vibrant and enthusiastic group of girls who know nothing will hold them back. This uplifting and empowering story reminds readers that the best way to "dress like a girl" is to dress the way that you feel best.