How you can help Razia Jan educate the girls of Afghanistan.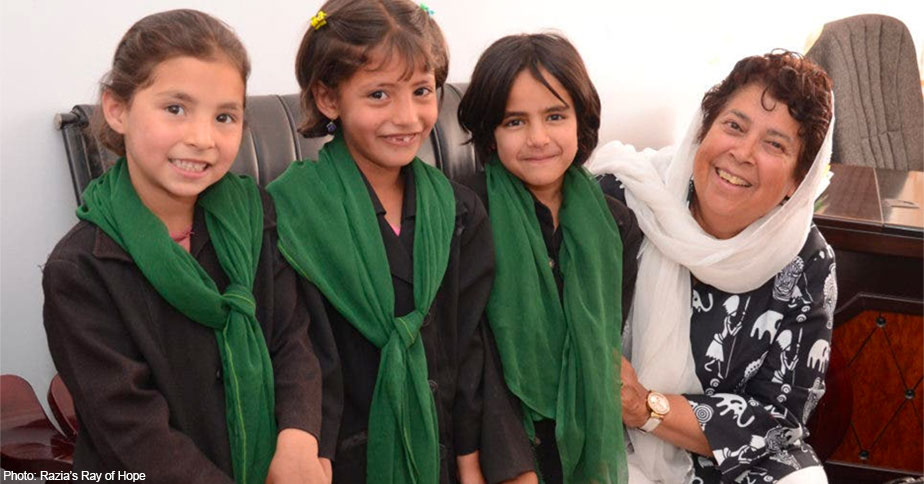 Until recently, if you walked into the Zabuli Education Center in the rural district of Deh'Subz outside of Kabul, you would have seen bustling classes from kindergarten through the twelfth grade, full of girls who were attending free of charge. The school was the brainchild of Razia Jan, an Afghan-American entrepreneur and the founder of the Razia's Ray of Hope Foundation. Founded in 2008, Jan's school now educates nearly 800 impoverished girls every year. Over time, it's also changed attitudes in the community about the value of educating girls, especially among men who went from skepticism and even hostility toward the school to bragging about its graduates. "From the day I opened the doors of the Zabuli Education Center, my effort was and is to provide security and the best education for these girls," she said when she was named one of CNN's Heroes of the Year. "With hard work, I have proven to the men of seven villages surrounding the school that this is the best thing that's happened for their daughters."
Jan was born in southern Afghanistan, and traveled to the US in 1970 to visit her brother in Boston and pursue her own college education. But political unrest, including the civil war, the Soviet invasion, and the Taliban takeover, kept her from returning home for almost four decades. She ran a small tailoring business in Duxbury, Massachusetts, and after the September 11 terrorist attacks, she rallied her community to give 400 homemade blankets to rescue workers at Ground Zero; send care packages to US soldiers fighting the Taliban; and supported Operation Shoe Fly, coordinating the delivery of 30,000 shoes to poor Afghan children. Finally, after the fall of the Taliban, Jan was able to visit her homeland — and she was shocked to see the reality of girls' lives in a country that has long been considered one of the worst places in the world to be female. "That was so hard for me to see," she recalled, "when I went back after spending 38 years — really all of my adult life — in the United States,"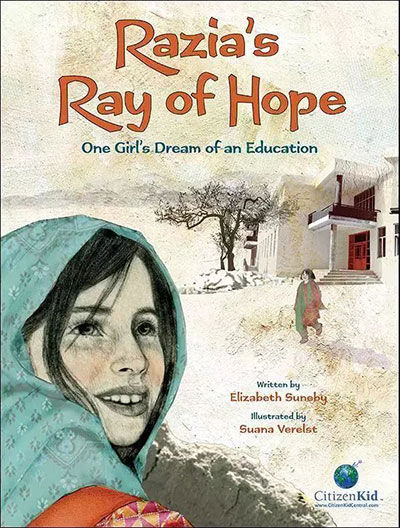 Determined to help the girls of Afghanistan, Jan founded Razia's Ray of Hope Foundation and returned to Afghanistan to open her first school, the Zabuli Education Center, in a poor area where girls had never been allowed to go to school before. One of the first major challenges Jan encountered was overcoming local prejudice against educating girls. "I tell my teachers on the first day of school to teach the kindergartners how to write their name and their father's name," she says. "Many of these men use their thumbprint for a signature, so if they see their daughters writing their name, it might help change the men's attitude toward us."
At first, the school served only girls in kindergarten to the fourth grade but it grew as along with its students, and by 2016, it offered classes up to twelfth grade for 600 students. To give its graduates an opportunity to continue their education, Jan opened the Razia Jan Institute, the first women's post-secondary vocational college in rural Afghanistan, in 2017. The college offers tuition-free, two-year training in midwifery and nursing; which allows its graduates to provide critically needed medical services to rural communities. Just this year, the school has been in the midst of a major campus expansion project. The construction of a new building is underway that was scheduled to open next March; the expanded campus would allow the school to educate more than 1,000 girls each year and help alleviate the years-long waiting list for spots at the school.
Now that the Taliban have taken over once again, the school's future is uncertain — but Jan is determined to keep it open. The Foundation, which also runs a sponsorship program to allow people to support individual girls, is currently running a GoFundMe for donations that will enable them to expand enrollment for new students whose families have been displaced to their region, as well as funding for their staff, students, and their families through the current instability. Although the situation is grim, Jan said in an interview today with The Patriot Ledger that "we are in a much better position" than when the Taliban last ruled Afghanistan. "We have the backing of the community where I have my school and of people all over Afghanistan... I think it has changed, and men are – in my area – really respecting these girls. They are not selling them, not giving them away or forcing marriage. These are the things that I see every day and I believe in all of these young women."
Even if the school must close temporarily or reorganize, Jan knows that the education the girls have received can help sustain them through this dark time. When her father was jailed as a political prisoner, he used memorized poetry to provide comfort to both himself and his fellow prisoners. "I think it saved his life," Jan says. "I tell [my students], 'No matter how little you know, no one can ever take that away from you.'" And regardless of what comes, Jan is determined to find a way to educate Afghan girls, asserting: "I will stand by my students and my girls until the last breath I have. We are not going to abandon them."
If you'd like to help support Razia's ongoing work of educating girls in Afghanistan, you can donate here.
Books About The Lives of Girls and Women In Afghanistan
Today, Pari got up before dawn to join her Mama on the library bus. Mama brings books to the refugee camps, and teaches the girls there to read and write in English. It's not long ago, she tells Pari, that girls weren't allowed to study: Mama herself only learned to read because her father, Pari's grandfather, taught her at home. Now, girls like Pari — and the girls at the refugee camps — no longer have to fear people finding out they go to school. "Study hard [and] never stop learning," Mama tells her. "Then you will be free." Written by an Afghan refugee, and inspired by the memory of his own sister being forbidden to learn, this is a celebration of literacy and of the power of educating girls and women.