By Aaron Smith and Carolyn Danckaert, A Mighty Girl Co-Founders
If you think Disney has scrapped the Merida Makeover, think again. When 230,000 supporters signed A Mighty Girl's petition to Keep Merida Brave, Disney came up with a convenient story. Disney Consumer Products, the division of Disney behind the Disney Princess merchandise line, contacted the industry blog Inside the Magic to "to set the record straight" in an effort to "to create some calm in the communities who are up in arms over the matter."
According to Inside the Magic:
"[Disney] had no intention of changing who Merida is. The artwork that has circulated online depicting the new 2D rendering of Merida was intended to be used only on a "limited line of products" as a "one-time stylized version."
Inside the Magic further noted:
"Disney does admit that there are a few other variations of this rendering out there, supplied to Target for use on a limited line of products."
But is the Merida makeover really just a "one-time stylized version" to be used only on a "limited line of products" only to appear at "Target for use on a limited line of products"?
Based on the evidence, the answer unfortunately appears to be no.
A Mighty Girl supporters have reported seeing the new Merida in stores in Sweden. A different, but similar Merida with an off-the-shoulder dress, was spotted by another supporter at a Walmart in Canada. But the most incriminating evidence can be found on Disney's own Disney Consumer Products website and its related SmugMug account.
This is the image that Disney wants us to believe that they'll be using to promote Merida -- the one currently found on the Disney.com Princess page:

This is the image of Merida from the Disney Consumer Products website: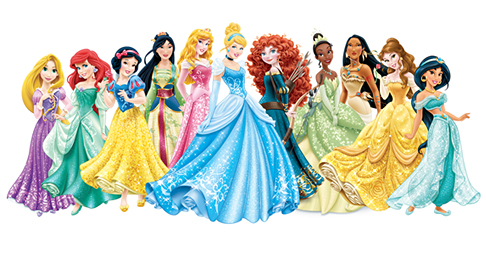 And here's a t-shirt featuring the original Merida: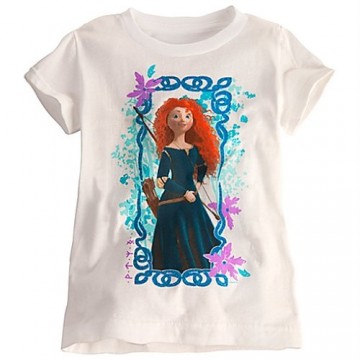 Compare that to this set of "Fearless Beauties" pajamas that is highlighted by Disney Consumer Products: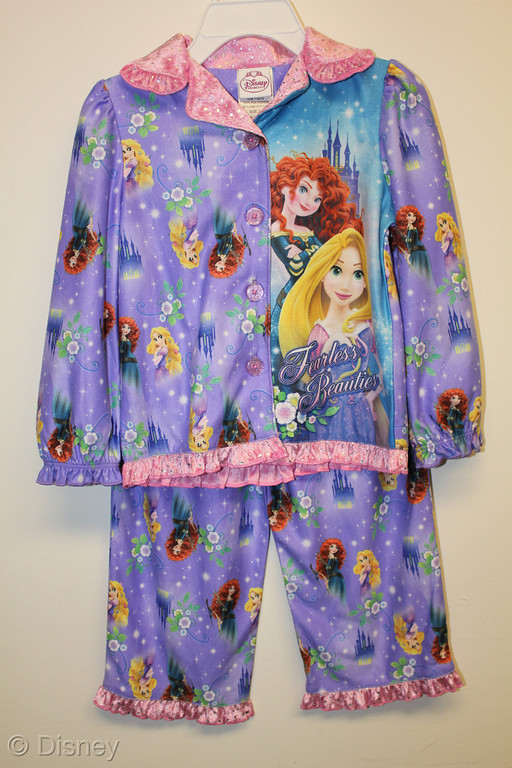 Or look at this "Born to Dream" backpack, also from Disney Consumer Products: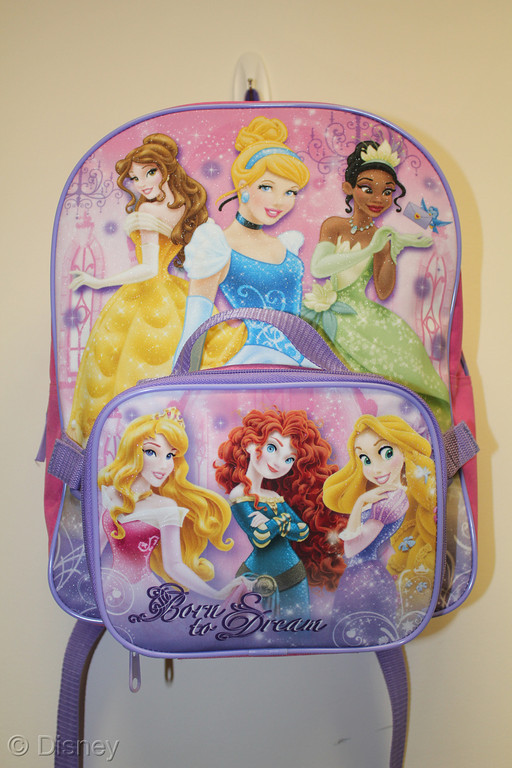 It's also interesting to note that in the text describing these two products, Disney Consumer Products indicates that the pajamas will be available at Kmart and the backpack will be available at "Mass retailers nationwide, placement at Kohl's, JCP, Sears". Does this sound like a limited, one-time stylization of Merida to you?
To be fair, the Disney Consumer Products pages have a few better representations of Merida, however one of the only items that looks like the original Merida from the movie (below left) has been deemed the "Classic Merida." The doll being promoted as the "Brave Merida Doll" (below right), which is also being the one showcased by vendors such as Target, is far from her film version.
This doll on the right is described as bringing "this relatable character to life in a beautiful, sparkling fashion inspired by the film—perfect for girls to re-create their favorite movie moments." Perhaps they are referring to re-creating the moment from the film when Merida rips the dress featured on this doll because she hates it?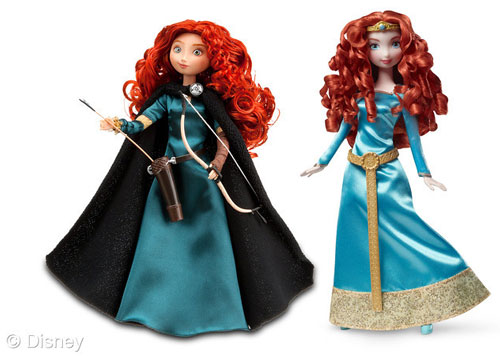 The images and the text describing the images make clear that the madeover Merida is -- or at least was -- planned for use beyond the limited scope described by Disney.
The question now is this: has Disney really given up on the madeover Merida? And if so what will future depictions of her look like, both in marketing and in merchandising?
On Friday the official Disney/Pixar Brave Facebook page stated that "We are deeply committed to keeping the integrity and appearance of her character intact" yet these images of the new Merida are still on official Disney websites. Since then, A Mighty Girl has reached out to Disney numerous times to try to get clarification on their intentions with Merida, but neither our calls nor our emails have been returned.
It's time we had an answer to our question and the question of over 230,000 petition signers: Will Disney keep Merdia brave?
All of the evidence suggests that keeping Merida brave was not Disney's intention once she was inducted into the Disney Princess collection. Disney is taking a unique and relatable character beloved by countless children and forcing her to conform to the narrow Disney Princess definition of beauty. It is the paler reflection of the true Merida which will become her iconic image within the Disney Princess collection and on hundreds of related products, unless we say no.
Disney has made motions to pacify the hundreds of thousands of people who have been speaking out about the makeover of Merida but it's not enough. As Brave creator and co-director Brenda Chapman stated, "Just putting the bow and arrow back on is a too small band-aid."
That's why we're calling on Disney to release an official statement specifying that they will keep Merida true to her original character in all future merchandise releases and marketing.
Now is time for Disney for those who care about the future representation of this character and the message that it sends to girls to take action. Today, we ask everyone to take a minute to take action for Merida. If you've already signed the petition, we've made it easy for you to tweet, email, call or otherwise make your voice heard. On our Keep Merida Brave Take Action page, you'll find sample tweets, email messages, and talking points.