A Mighty Girl's top picks of new biographies about Mighty Women for adult readers.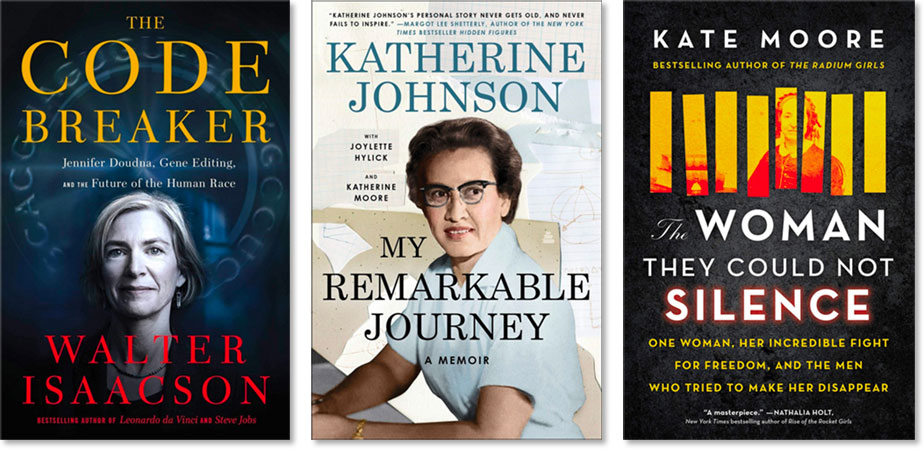 It's been another incredible year of books celebrating mighty women! From a fascinating biography of the woman leading today's new scientific revolution to gripping accounts of clever spies who outwitted the Nazis to powerful memoirs by women grappling with grief to upbeat autobiographies by beloved popular figures, this year has seen a diverse range of new biographies for adult readers about extraordinary women. And, just as our Mighty Girls love reading books about smart, confident, and courageous girls and women, we know that our adult supporters love their stories too!
In this blog post, we're featuring our favorite biographies and memoirs for adult readers about remarkable women of the past and present which were released in either hardcover or paperback in 2021. These captivating titles provide a unique perspective on events that we often think we know and invite us to think about how our history is affected by whose stories are told. Whether you're looking for an empowering last-minute Christmas present or a thought-provoking book to tackle in the new year, these women's stories are sure to inspire!
New Biographies and Memoirs For Adult Readers
Jennifer Doudna discovered the wonders and mysteries of DNA in sixth grade after reading The Double Helix and she was eager to learn more. More importantly, she wanted to turn discoveries into practical inventions that could make the world better. As an adult, she and her collaborators learned how to use a bacteria's immune defense mechanism to create "genetic scissors" that could edit genes: CRISPR. Their discovery changed science forever, earning Doudna and Emmanuelle Charpentier a Nobel Prize, but it also opened up many moral questions — and Doudna was more than willing to grapple with them. This thrilling biography explores the life and mind of a brilliant woman who has launched a new scientific revolution that will allow us to cure diseases, have healthier babies, fend off viruses, and possibly transform the future in unimaginable ways.