14-Year-Old Leanne Fan Named America's Top Young Scientist For Inventing Headphones That Treat Ear Infections.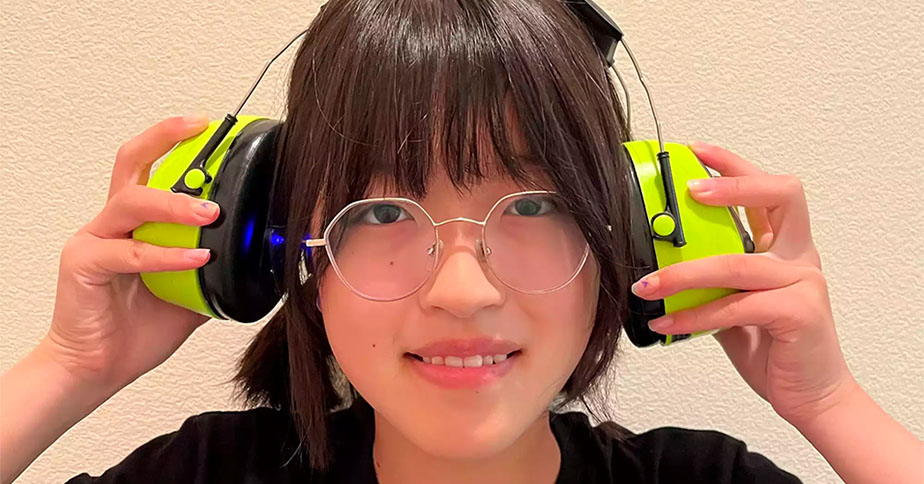 In 2019, Leanne Fan watched her older sister claim the top prize at the 3M Young Scientist Challenge — the premier science competition in the U.S. for middle school kids — and it inspired her to want to compete too. This fall, the eighth grader from Westview High School in San Diego was named America's Top Young Scientist! She won the prize for her innovative, inexpensive pair of blue-light therapy headphones that could be used to both identify and treat mid-ear infections, potentially preventing millions of children from experiencing hearing loss. The victory comes with a $25,000 prize, a special destination trip, and the chance to get her device, the Finsen Headphones, in front of investors. "I was in shock. I started crying," Leanne says. "I was really excited. I was not expecting it."
Fan wanted to tackle diagnosis and treatment of otitis media, the medical term for mid-ear infections, because she and her mother both suffer from them frequently. There are 700 million cases worldwide each year, but diagnosis and treatment can be difficult, particularly for children and for populations that have minimal access to healthcare. Untreated ear infections may also cause up to 60% of hearing loss in young children. To tackle the problem, Leanne knew she'd need to create a device that was inexpensive, easily portable, and easy to convince kids to use. "Healthcare should be available to everyone," she says, "because it's our health — it is a matter of life and death."
After doing research online and speaking with college professors, Leanne came up with the idea of a two-in-one set of headphones. First, the headphones connect with a Google machine learning app to compare images of the ear to thousands of images of both healthy and infected ears as a screening method. Then, if an infection is confirmed, the headphones use blue light to treat the infection without causing damage to healthy cells. Leanne even incorporated music into both stages of the process, so that kids could listen to their favorite songs (and keep the headphones in place long enough to work). She named her headphones after Niels Finsen, who pioneered using light to treat skin diseases. "Phototherapy has been overshadowed for decades due to the popularity and ease of use of antibiotics," Leanne says. "[But] it is very versatile and has endless possibilities."
Leanne was thrilled when her Finsen Headphones were selected as finalists, particularly after watching her older sister Kara Fan attend and win in 2019 for her nanoparticle liquid bandages. She was shocked and delighted to win the top prize as well, and she has big plans for ongoing development of her invention, including clinical trials to test how well it works in practice. But she also plans to use some of her winnings for fun, observing that "I'd love to get sushi more often."
Books and Toys For Budding Scientists and Doctors
Creatures all over the forest are getting sick, and Charlotte the bunny scientist is determined to figure out why! The stumped doctors and scientists are dismissive of her efforts, but she holds firm to her beloved grandfather's assertion that she will "make a real difference in the world." After some patient interviews and a few samples from the outhouse, Charlotte realizes that all the sick animals have been munching on carrots contaminated by 'Funky Forest Fungi.' A quick clinical trial later, and Charlotte has saved the tummies of all her friends! This delightful sequel to Charlotte the Scientist Is Squished celebrates the ability of determined girls to change the world.