"I look for traits such as perseverance, creativity, empathy, and courage in the people I write about. But most importantly, I look for people who have never given up on their dreams."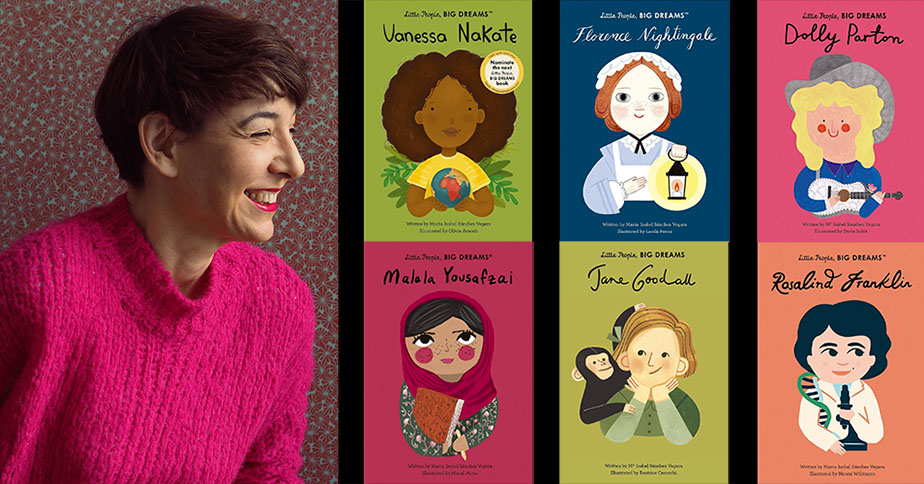 Maria Isabel Sánchez Vegara celebrated the birth of her twin nieces with an extra special gift: the very first volume in the Little People, BIG DREAMS picture book biography series! The series, with its stylish artwork, intriguing subjects, and empowering stories, quickly became a bestseller. Today, more than 7.5 million copies of her books have been sold and the series is about to reach an enormous milestone: Sánchez Vegara has just released her 100th volume, telling the story of Ugandan climate activist Vanessa Nakate!
Sánchez Vegara grew up in Barcelona, Spain, in the 1970s, and she remembers being inspired by fictional figures like Pippi Longstocking and Tinkerbell — but also by real-life Spanish poet Gloria Fuertes. It was Fuertes' story that made her imagine becoming an author herself one day. After 20 years of working in advertising, she decided to pursue that childhood dream and most of her savings to self-publish her first book in 2012. Two years later, when her nieces Alba and Claudia were born, she came up with the formula for her now beloved series: following history-making people from childhood to adulthood and highlighting how they achieved their goals and changed the world. Her books were originally published in Spanish, but today they're available in more than twenty languages so they can encourage children around the world to pursue their big ideas and bold plans.
In celebration of her 100th book, A Mighty Girl spoke with Sánchez Vegara about why she started the Little People, BIG DREAMS series, how she chooses the people she features, and what she hopes children will learn from her books. You can also help choose the next Little People, Big Dreams book subject in their current contest; the individual who receives the most nominations by June 13 will be published as the next book in the series!
Our Interview With Author Maria Isabel Sánchez Vegara
Your Little People, BIG DREAMS series has been extraordinarily successful with more than 7.5 million copies sold worldwide. Can you take us back to the beginning and tell us about how you started the series and what inspired it? Also, who was the subject of your very first book?
Maria Isabel: Little People, BIG DREAMS started with a spark of inspiration when my twin nieces were born. I wanted to give them a meaningful and empowering gift: a book about remarkable women who had made a significant impact on the world. But when I went to look for it, I couldn't find it! I was surprised but also determined to change that. So, I decided to write it myself.
I started the series in 2014, and since then, it has grown beyond my wildest dreams. The goal was always to share the stories of inspirational individuals in a way that was accessible and engaging for kids. We want to show children that anyone can make a difference, no matter their age, gender, or background.
The first book in the series was all about the fabulous Coco Chanel. I was drawn to her story because she was a true icon, someone who dared to be different and transformed not just the world of fashion, but the way women expressed themselves. She was a symbol of independence and determination, and her story was one that I knew would inspire kids to follow their own dreams, no matter how big or small they may be.
With so many possibilities to choose from, how do you decide who to feature in your books? Are there specific qualities or traits that you look for in the role models you write about?
Maria Isabel: Choosing the subjects is like a treasure hunt for me! I look for individuals who have shaped the world we live in. I'm always trying to select a diverse group of role models, personalities and backgrounds to ensure that any child can find someone they can relate to and be inspired by. From artists and activists to scientists and athletes, I want every child to see themselves reflected in the pages of these books. I look for traits such as perseverance, creativity, empathy, and courage in the people I write about. But most importantly, I look for people who have never given up on their dreams.
What's your writing process like? In particular, what have you learned over the course of 100 books about how to write a biography in a format that's compelling for children?
Maria Isabel: My writing process is a bit like falling down a research rabbit hole. I immerse myself in everything I can find about the person I'm writing about. I love watching interviews and reading famous quotes — it really gives me insight into their character and their perspective on life. Then, I try to highlight the key moments in their story and find a unique angle that will make their story stand out. After writing 100 books, I've learned that you can address any issue with children — from war to segregation to sexual identity — as long as you approach it in an honest and sincere way. Kids are the most intelligent people and their curiosity and empathy knows no bounds.
Your books have very distinctive and varied artwork as you work with many different illustrators. How are the illustrators selected and how does collaboration work between you and the illustrators?
Maria Isabel: Working with illustrators is an incredibly exciting part of the process. When selecting an illustrator, I try to find a connection between them and the subject of the book. It could be a similar background or an artistic style that complements the story. For example, when I wrote about architect Zaha Hadid, I chose an illustrator who is also an architect, Asun Amar. For Andy Warhol's story, I wanted bright and simple illustrations, so I worked with Tim Hunt. And for Anne Frank's story, I found a talented Israeli illustrator, Sveta Dorosheva, who created stunning black and white realistic illustrations, perfect for the saddest story in the series.
I am a highly organized person, so I provide detailed descriptions of what I envision for each spread and share visual references that can help bring the story to life. But working together is a partnership and illustrators always surprise me with their unique perspective on the story. At the end of the day, it's the illustrator's creativity and talent that truly make the book shine.
Your newest book — number 100! — is focused on a young environmental activist named Vanessa Nakate. Who is Vanessa and why did you decide to make her the subject of your 100th book?
Maria Isabel: She's a fearless young activist from Uganda who is making waves in the fight against climate change. Vanessa is a shining example of the power of youth to effect real change in the world.
There were so many reasons why I knew Vanessa's story was the right one for our 100th book. Not only is she a woman breaking down barriers and changing the game, but she also represents the diversity and richness of African voices and perspectives that we need more of in children's literature. Plus, her focus on climate change and activism couldn't be more timely or important, given the world we live in today.
What are your plans for the future with the series? Can you share the names of a few of the role models you're planning to feature in upcoming books?
Maria Isabel: My plans for the future of the series are pretty simple — keep on writing! I'm so passionate about sharing the lives of amazing people with children, and I don't see that changing anytime soon.
As for what's coming up next, I have some incredible role models in the works. First, there's Sally Ride, the groundbreaking astronaut who shattered the glass ceiling and inspired a generation. Then there's Leo Messi, the football superstar who's also an amazing philanthropist and role model. And there's Beyoncé — need I say more? Last but not least, I'm also working on the story of Japanese artist Yayoi Kusama, whose polka-dots have captured hearts around the world. So buckle up, because there are plenty more inspiring stories on the horizon!
Finally, can you share a few of your favorite picture books starring Mighty Girls?
Maria Isabel: When it comes to favorite picture books starring Mighty Girls, I can't help but go back to the 70's and the stories that inspired me as a child. Tinkerbell, with her fierce independence and loyalty, showed me that even the smallest among us can make a big impact. Pippi Longstocking, with her wild adventures and refusal to conform to norms, taught me the importance of staying true to oneself. And then there's Momo, who showed me the power of friendship and the beauty of finding time to simply be you. These three Mighty Girls will always hold a special place in my heart, and I hope they continue to inspire generations of young readers.
Thank you, Isabel! And for anyone who would like to help choose the subject for the next book in the series, don't forget to cast a vote on the Little People, BIG DREAMS contest page.