"You can be passionate and take action about many things: Mahani has been able to combine music, environmental activism, cultural preservation, family, and more!"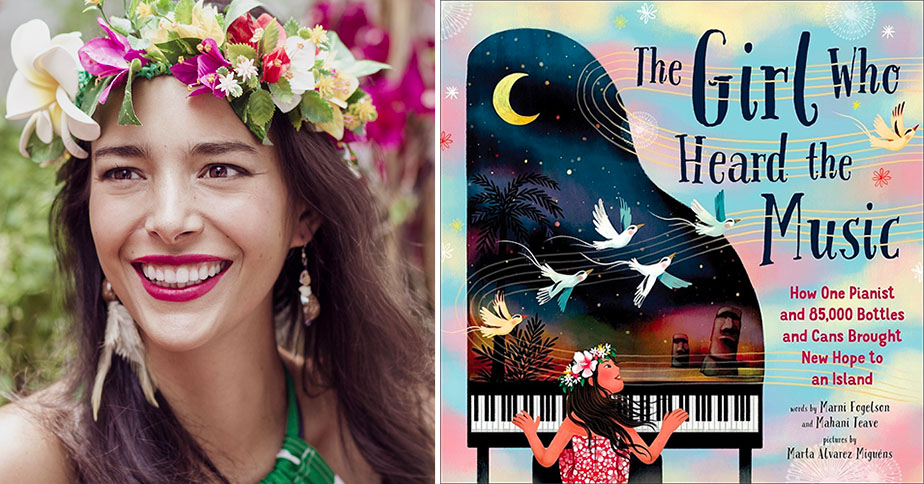 Imagine having to leave your beloved home to pursue the career of your dreams — only to have the opportunity to return and inspire a new generation while protecting the local environment! That's the incredible story of musician Mahani Teave, who's been called "one of the world's greatest pianists" by The New York Times. Now, a gorgeous new picture book is introducing kids to this inspiring role model!
Mahani grew up on Rapa Nui (also known as Easter Island) and showed extraordinary musical talent from a young age while taking music lessons on the island's only piano. Becoming a world-class performer meant she had to leave her home to pursue advanced training. After becoming a concert pianist, Mahani played around the world but often thought of her island home, particularly when she heard about how ocean trash was piling up on its shores. Mahani came up with an ingenious solution to address the island's trash problem: she would return to Rapa Nui and fulfill her lifelong dream of starting the island's first music school — one built out of tens of thousands of recycled cans and bottles, powered by solar panels, and surrounded by life-giving gardens!
Philadelphia-based children's book author Marni Fogelson has long believed in the power of books to make us better humans so she was thrilled to share Mahani's inspiring story with kids in The Girl Who Heard The Music: How One Pianist and 85,000 Bottles and Cans Brought New Hope to an Island. In her new picture book, Marni captures how Mahani's love of music and of Rapa Nui combined in the innovative Rapa Nui School of Music and the Arts, and how she continues to advocate for sustainability at the school and beyond. With gorgeous, dreamy artwork by Marta Álvarez Miguéns, and back matter about Easter Island and more details about Mahani's life and career, this is an uplifting addition to any home or school bookshelf!
A Mighty Girl spoke to Marni about what inspired her to share Mahani's story, what it was like collaborating with Mahani, and what she hopes children will learn from her books.
Our Interview With Author Marni Fogelson
For those new to Mahani's extraordinary story, can you share a few of the major highlights that most stood out to you?
Mahani grew up on Rapa Nui (aka Easter Island) one of the most remote places in the world! Mahani's life changed dramatically when she was nine: she began playing the piano, quickly became very good, played for a famous Chilean pianist, and moved with her mother and sister to Chile to continue her musical education. Mahani became a concert pianist and played around the world, but she later moved back to Rapa Nui and co-founded a nonprofit that focuses on classical and traditional music education, sustainability, and cultural preservation. Her dream was to open the island's first music school, and she did it! The Rapa Nui School of Music and the Arts is made with seven years of trash, is solar powered, and has rain barrels and gardens.
How did you first learn about Mahani and why did you want to write a children's book about her?
My family had a tradition during the first few years of the pandemic to watch CBS Sunday Morning. In April 2021, Mahani was featured in a segment, and I was riveted by her story and knew immediately that it should be shared with others, especially children.
I wanted to write a children's book about Mahani for several reasons. First of all, she is an inspiring musician and activist and an example of someone who changed the trajectory of her life to return to Rapa Nui to start a sustainable music school. So many people talk about wanting to help, but few actually take action, and Mahani paused her music career to return to Rapa Nui and start a nonprofit that would help her fellow islanders.
I also wanted to write the book because I wanted to help the school – I'm so excited that 3% of net sales from the book will be donated to the Rapa Nui School of Music and the Arts until April 2024. Finally, I love reading about places, people, and cultures that are new to me. I had never come across a children's picture book about Rapa Nui before so writing the book was a fun way for me to learn about this beautiful island's history and culture and to help share that with others.
Mahani lives on Easter Island and you live in Philadelphia. How did your writing process work and how did you collaborate with Mahani?
I contacted Mahani through Instagram, and we began a conversation on WhatsApp since Wi-Fi signal and communication can be challenging on Rapa Nui. I watched the fascinating documentary about Mahani and read as many articles as I could to find about her in order to sketch out a draft. I also asked Mahani a bunch of questions that focused on the sensory experiences of living on Rapa Nui and of her life. For example, what were the sounds she heard in nature and at celebrations? What did her piano teacher's house look or smell like?
Mahani has rich, vivid memories from her childhood, and she shared them generously so that we could incorporate them into the book. Within a few weeks, I showed her a draft via WhatsApp, and we went from there: making changes and corrections, adding details, and creating the arc of the story. Fun fact: Mahani and I still have never been in the same room!
What do you hope that young readers will take away from "The Girl Who Heard the Music?"
I hope young readers take away the message that you can create the life that you want and that you don't have to follow a certain prescribed path. You can be passionate and take action about many things: Mahani has been able to combine music, environmental activism, cultural preservation, family, and more. I also would love for young readers will take away a sense of hope: Mahani was worried about the trash on Rapa Nui, and she worked with other islanders to help use the trash in a positive way, raise awareness about the environment, and help keep Rapa Nui traditions alive for generations to come. I hope readers young and old feel empowered to dream big and boldly!
Is there anything else you'd like to share about your new book?
I absolutely LOVE the illustrations by Marta Alvarez Miguiens! Mahani shared photos and information about birds and flowers that are native to Rapa Nui, and Marta incorporated them into the illustrations so beautifully. I also love the illustrations of the moai – moai are such an important part of the culture of Rapa Nui, and they feel almost like characters in the book.
Finally, can you share a few of your favorite picture books starring Mighty Girls?
Something Beautiful, Me…Jane, Hidden Figures: The True Story of Four Black Women and the Space Race, How To Build a Hug: Temple Grandin and Her Amazing Squeeze Machine, and Pies from Nowhere: How Georgia Gilmore Sustained the Montgomery Busy Boycott.
I feel very lucky to live in a time where so many different voices are being shared in picture books and so many stories are being told that were previously hidden or ignored.