"There are little Mazies everywhere who will be inspired, informed, and absolutely delighted to see themselves in this imaginative little problem-solver."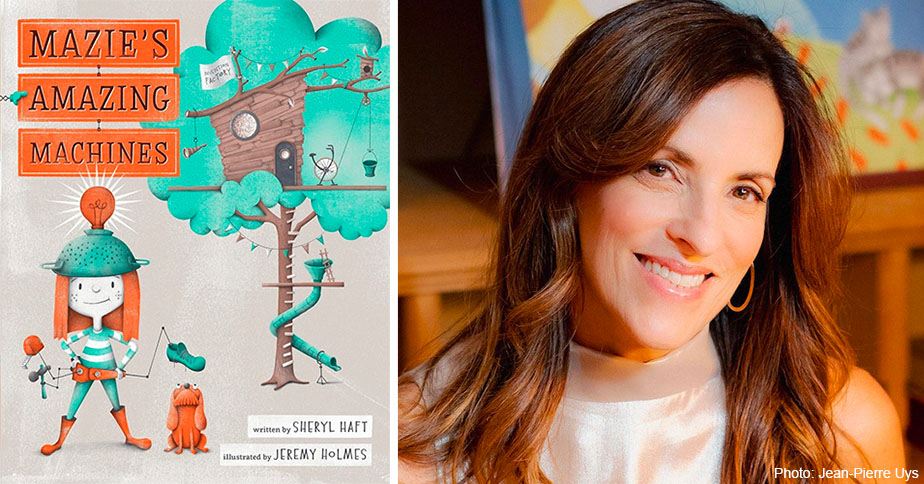 As a child, Sheryl Haft loved tinkering in the garage with her father. These countless hours filled with creativity and invention are now the inspiration behind Haft's newest picture book, Mazie's Amazing Machines, starring a science-loving girl, Mazie McGear. Throughout the action-packed story, which is vibrantly illustrated by award-winning artist Jeremy Holmes, Mazie invents clever machines to help her family and, in the process, explores the engineering process from problem to ideation, creation, and finally execution. "Let's engineer," she says as she creates the "Food-O-Matic" for her dog, Doodle; the "Roly-Ramp" to help her mom lift heavy boxes; and the "Teeter Lever" to make it easier for her brother to shoot hoops. And when things go awry and Doodle accidentally gets catapulted up to the roof, Mazie and her family work together to create her largest contraption yet, the "Pulley Power Save Our Dog Tower."
Haft, the founder of a preschool and elementary after-school program that teaches engineering principles through design and invention-building, hopes that her new book will put the fun in "fun-gineering" for young readers. The fun and engaging story encourages a positive, action-oriented approach to problem-solving that can empower kids to imagine what other problems in their lives — and in the world — they can solve. As Pat Cummings, an educator at Parsons School of Design, points out: "There are little Mazies everywhere who will be inspired, informed, and absolutely delighted to see themselves in this imaginative little problem-solver."
A Mighty Girl spoke to Sheryl about the inspiration behind the book, the variety of Mazie's incredible machines, and her advice to parents on how to encourage inventive kids.
Our Interview With Author Sheryl Haft
Can you start off by describing your new book, Mazie's Amazing Machines, and its central character, Mazie, for our readers? Was she inspired by someone specific?
Mazie's Amazing Machines introduces children ages 4-8 to core engineering concepts through a kid-friendly superhero story starring Mazie McGear, kid engineer. Mazie is the smallest in her family but with her big belt full of tools and can-do creativity, she loves to solve her family's problems by building them wacky, useful inventions. This is also a story about family love. How when faced with a really big problem, a family can rally to collaborate and support each other to save the day – together.
Mazie was inspired by my childhood self. My brother and I loved building go-carts, forts and contraptions together. I also loved helping my dad invent products for the travel industry such as a first suitcase with wheels – a leap of innovation at that time. Those ah-ha! moments of how an invention could solve a problem lead me to study design in college, become an engineering educator and author and to ultimately create my favorite invention yet: Mazie!
What do you hope kids, especially Mighty Girls, will take away from reading about Mazie putting the fun in "fun-gineering"?
Mazie models a strong, spirited female who is science-minded, confident and self-reliant. With her positive high-energy Mazie shows kids how using core engineering concepts to create inventions can be fun.
I hope that Mazie's can-do "let's engineer!" attitude will inspire readers – especially Mighty Girls -- to try the many free to download hands-on engineering activities that accompany my book. Projects like the Teeter-Lever Launcher and Target Game, Pulley-Powered Light Bulb Hat and Zipline Plushie activity are super fun for kids on their own, in classrooms – or even for a Mazie McGear inspired birthday party!
Mazie invents so many extraordinary machines throughout the story. Please tell us about your favorite invention.
Ooo, tough question! All of Mazie's machines are so clever and fun! If I had to choose one favorite, it would be the Food-o-Matic, as I absolutely love the character of Mazie's dog Doodle, and Doodle absolutely loves his Food-o-Matic! I also love that this invention gets kids thinking about machines they'd like to invent for their own pets.
Mazie's parents are very supportive of her engineering and inventions, but her brother Jake is not! Why did you choose to include a family member who resists Mazie's problem-solving attempts?
Mazie's big brother has understandable reasons to not enjoy her engineering. Meeting the McGear family on page one, we see Jake with his fingers in his ears, trying to block out the sound of Mazie's noisy crank drill. When Mazie invents the Roly-Ramp for her mom, it knocks Jake over, sending his shoe flying. And when Mazie tries to help Jake by inventing him a Waker-Upper Rocket Machine, the loud CLING CLANG just makes him cranky "Engineering is engi-noying!" This provides a sibling dynamic that will be familiar to many readers, adds tension in the story and provides an emotional goal for Mazie, who deep down just wants her big brother's love and attention.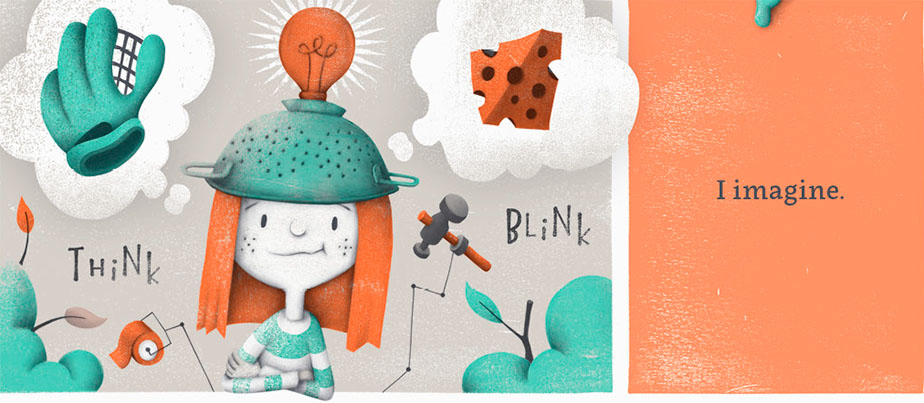 What advice would you give to parents who want to encourage inventive kids like Mazie?
Parents can inspire their children to be inventive problem solvers by first helping them become problem-finders. At the grocery store: "Look! That lady is having a hard time carrying her shopping bags." In the library: "Oh no! That little boy can't reach a book." Or on a long car trip: "The sun is in my eyes!"
Ask: "What solution could you imagine? What invention could you invent to help solve that problem?" This presents your child with an idea and attitude that many inventors and engineers embrace: problems are opportunities for new inventions.
Then have your kids employ the Engineering Design Process. Mazie models this process of inventing in her action-oriented, kid-like way:
THINK BLINK! I turn on my imagination.
RIBBLE SCRIBBLE! I draw my ideas.
BING BANG BOOM! I build!
Encouraging your children to meet problems with curiosity and positivity will help them become action-oriented problem-solvers – and future inventors in the world!
Illustrator Jeremy Holmes created the artwork for the book. Can you share your impressions of the book's artwork, especially the unique orange and green color scheme, and what it conveys to you?
The incredibly talented Jeremy Holmes not only created one-of-a-kind, dynamic and fun characters, but also, machines with delightful details and an energy all their own. To me, his artwork evokes David Macaulay's The Way Things Work with a wonky dose of Rube Goldberg's machines, Tim Burton's Beetlejuice characters and Dr. Seuss' color palettes.
An innovator himself, Jeremy invented new illustration techniques to pencil, stamp and color the artwork to render each image and machine with a mechanical yet human touch. His limited, vibrant color choice was brilliant, allowing the details of the machines and characters to pop. The pop-up page for the penultimate invention page was Jeremy's ingenious idea too!
Finally, can you share a few of your favorite picture books starring Mighty Girls?
Having raised 3 daughters of my own, I deeply value books that shine a light on strong, empowered female characters who know what they like -- and "own" it! A few favorites: Elena's Serenade about a little girl glassblower, by Campbell Geeslin, Illustrations by Ana Juan, Fancy Nancy by Jane O'Connor, illustrations by Robin Preiss Glasser, and Olivia by Ian Falconer. Also, although not a picture book, I have to include Pippi Longstocking by Astrid Lindgren. Pippi is not only a born inventor and brave adventurer, she can even pick up a horse! Now, that's mighty!