By Katherine Handcock, A Mighty Girl Senior Research Intern
When your Mighty Girl was young, you probably marveled at her incredible confidence: no matter what she wore, said, or did, she did it with a big grin that said, "This is who I am, like it or not!" But as kids get older, they start to be affected by the opinions of others, especially their peers. So the 3-year-old who proudly declared, "I'm the best!" can turn into a 5-year-old who says, "Nobody at school likes me!" or "I can't do that — it's for boys!"
Fortunately, while it's normal for children to have bumps in the road where they question their worth, parents can do a lot to make sure that the bumps are small and that their daughters pass them quickly! By reading books about girls who face challenges to their self-esteem — either from questioning themselves, or brought on by disapproval from others — and overcome them, parents can teach their daughters that everyone struggles with self-esteem sometimes but that everyone is valuable and special in her own way.
For more reading recommendations, also check out our post on Confidence-Building Books for Mighty Girls. And, if your Mighty Girl experiences self-esteem struggles related to body image, you may also find helpful resources in our post on Ten Body Image Positive Books for Mighty Girls.
Believing in Yourself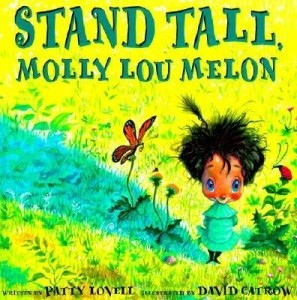 Appearance is often the first thing we think of when talking about self-esteem. In Stand Tall, Molly Lou Melon, by Patty Lovell and illustrated by David Catrow (age 3 - 8), Molly Lou is tiny and buck-toothed, but it doesn't doesn't bother her one bit while Grandma's around. Grandma always says, "Believe in yourself and the world will believe in you too!" But then Molly Lou has to move far away from her old friends — and beloved Grandma — and soon the local bully is calling her "shrimpo" and "bucky-toothed beaver." Fortunately, Molly Lou remembers her Grandma's words and sets out to prove herself — and in the end, even the bully is won over by her talent and determination.
In Crafty Chloe, by Kelly DiPucchio and illustrated by Heather Ross, Chloe isn't good at a lot of the things her friends like — dancing, video games, sports— but she's great at making crafts! So when London manages to get the perfect gift for their friend Emma's birthday, Chloe declares that she's going to make Emma an even better present you couldn't buy in a store. But London's response — "Good luck with that!" — rattles Chloe's confidence and pride in her talents. Soon she's not sure she'll ever come up with a good idea. In the end, though, not only does Chloe get the inspiration she needs, but what she makes just might help save the day for London too.
Smile, by Raina Telgemeier (age 9 - 13), tackles an experience that many Mighty Girls will live through: braces. While this autobiographical graphic novel is an extreme case — Telgemeier fell and knocked out her two front teeth at 11, leading to surgical repairs, years of braces and headgear, and all sorts of other oral-care adventures — any girl can relate to feeling like she's struggling through the emotional and physical changes of puberty at a distinct disadvantage. Telgemeier is honest about all the challenges she faced — including the discovery that not all of her friends were true friends — and about the fact that, by overcoming them, she's become the person she is today.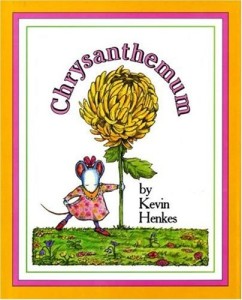 Sometimes a challenge to self-esteem can be prompted by the thing that feels most like us: our name. In Chrysanthemum, by Kevin Henkes (age 3 - 8), Chrysanthemum loves her unique name — until she goes to school, where everyone has "normal" names like Bill, Joe, Victoria, and Sue. Soon other kids are suggesting that they might "pluck" Chrysanthemum to smell her, like any other flower. Chrysanthemum wishes more than anything that her name were normal... but then she meets her music teacher, Mrs. Delphinium Twinkle, and learns that there are plenty of people out there who appreciate an unusual, beautiful name.
Other times, it's a preference that makes a girl feel like she's the odd one out: it's hard not to question yourself when people tell you that what you love is strange or wrong. In Spaghetti in a Hot Dog Bun, by Maria Dismondy and illustrated by Kimberley Shaw-Peterson (age 3 - 8), Ralph calls Lucy "one of a kind" — but he doesn't mean it in a good way! Whether it's her big, curly hair or the lunch that makes up the title, Ralph finds a way to point out how different Lucy is. But Lucy remembers her grandfather's advice — that you're never wrong if you're being kind — and when Ralph really needs help, Lucy knows exactly what to do.
In Fairest, by Gail Carson Levine (age 8 - 15), Aza has an exquisite voice, and a special talent — she can "throw" her voice almost anywhere. But in the Kingdom of Ayortha, singing ability isn't appreciated without beauty, too, and Aza is not beautiful. When the new queen, Ivi, the queen pressures Aza into an elaborate ruse — first to create the illusion that Ivi is a lovely singer and then, once the king is injured, to allow Ivi to rule the kingdom with an iron fist and Aza's voice — Aza has to re-evaluate everything she thinks about herself if she wants to save the kingdom she loves.
Finding A Place To Belong
Belonging to a race or culture other than the majority can be difficult for a child: sometimes it can feel like your experience is just so different from everyone else's. Any Mighty Girl can enjoy learning about the fascinating cultures in our world, but Mighty Girls who feel like their family's background makes them the odd one out will particularly appreciate knowing that their heritage can be a source of pride.
In The Name Jar, by Yangsook Choi (age 4 - 8), Unhei (pronounced Yoon-Hey) has just moved from Korea, and she's so desperate for her new American classmates to like her that, rather than introduce herself, she declares that she will choose a name by the next week. Her classmates fill a glass jar with American names — Suzy, Laura, Amanda — for Unhei to try. But when one of her classmates comes to visit Unhei's neighborhood and learns the special meaning of her name, Unhei's classmates make the jar disappear — and encourage Unhei to teach them to say her name just right.
In My Name is Maria Isabel, by Alma Flor Ada and illustrated by K. Dyble Thompson (age 7 - 10), Maria's teacher declares that they already have two Marias in the class, so she'll call her "Mary" instead. Maria Isabel Salazar Lopez knows that her name is special — she was named for beloved family members — but she doesn't know how to tell the teacher how she feels. Fortunately, when her teacher assigns an essay titled My Greatest Wish, Maria Isabel is finally able to express just how important her name is. Spanish-speaking Mighty Girl fans can read the Spanish-language version of the book, Me Llamo Maria Isabel.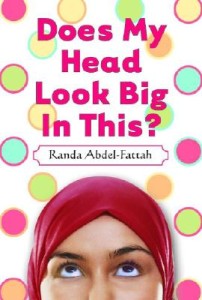 When a girl's cultural traditions are misunderstood, it can be hard to feel like she's making the right decision when she follows them. In Does My Head Look Big In This?, by Randa Abdel-Fattah (13 and up), Amal is a 16-year-old Muslim girl in Australia who decides to express her devotion to her faith by wearing the hijab head covering full-time. Suddenly everyone has an opinion about her: classmates, teachers, even strangers on the street. At the same time, she has to help a fellow Muslim friend who dreams of being a lawyer, but whose mother doesn't see the value in a girl studying. In the end, though, support from her parents, her friends, and her favorite teacher help reinforce her belief that wearing this public symbol of faith is the right decision for her.
Sometimes the problem is feeling caught between cultures, like in Justina Chen Headley's Nothing But The Truth (and a Few White Lies) (age 13 and up). Patty White is half Taiwanese and half Caucasian, leaving her feeling like she doesn't belong in either culture. When a fortune-teller predicts that Patty will marry a white man — like her father, who abandoned the family years ago — Patty can't understand why her mother is more concerned about turning her into a proper Taiwanese girl than what Patty herself wants. When her mother sends her to a math camp, though, her fellow campers surprise Patty by encouraging her to celebrate her "hapa" (half-Asian) background. Over the summer, Patty will realize that neither her heritage nor her intelligence make her undesirable, but instead make her special.
Overcoming Special Challenges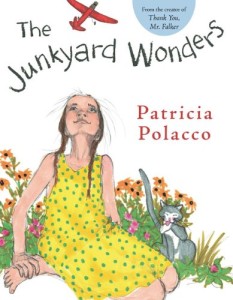 Self-esteem is hard to hold onto when a child is dealing with more daunting challenges: a learning disorder, a physical disability, recovery after an accident, or even a family member with a disability, can make feeling happy with herself seem impossible. But, as these books show, loving yourself is still achievable, no matter what obstacles seem to stand in front of you.
In Junkyard Wonders by Patricia Polacco (age 7 - 10), Trisha's dyslexia results in a placement in a special education class — one that the school bullies call "The Junkyard." But their teacher, Mrs. Peterson, takes the class to an actual junkyard, and shows them how they can find amazing things among what other people think of as trash. Ultimately, it is here in The Junkyard that Trisha learns the true meaning of genius, and that this group of misfits are, in fact, wonders, all of them. This book, which is based on Polacco's real experiences in school, has a special afterward as well: Polacco describes the successful lives of each of her fellow Junkyard Wonders.
The main character in Deenie by Judy Blume (age 12 and up) is so beautiful that her mother and aunt are pushing her to be a model. Then she learns that treatment for her scoliosis means wearing a Milwaukee brace, which extends from her neck to her hips, for as much as four years. Suddenly, Deenie is one of the teens with disabilities that she's looked down on in the past. But in the end, wearing the brace frees Deenie from both her mother's expectations and her own self-doubts. After all, Deenie realizes, no one is perfect but everyone is worthy of love.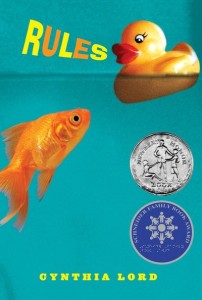 Jessica in The Running Dream by Wendelin van Draanen (age 12 and up) also has to confront her previous treatment of people with disabilities after an accident results in the loss of her leg. Being able to walk again — with a prosthetic — doesn't seem that great to a girl who loved to run. And learning that Rosa, a girl with cerebral palsy who Jessica used to ignore, is going to be her math tutor is salt in the wound. But Rosa has a lot to teach Jessica about being comfortable in her skin, and when Jessica's former teammates raise $20,000 to get Jessica a running leg, Jessica has a realization: the next time she races, Rosa should be getting some of the spotlight too.
12-year-old Catherine in Rules by Cynthia Lord (age 9 and up), on the other hand, is totally average; it's her brother who is different. His autism is the focus of the whole family's dynamic, while Catherine would just like for everything to be normal. So she makes up rules for David so that he can at least act normal. When a girl her age moves in next door, Catherine desperately wants to be her friend, and she's terrified that David will drive her away. But when she meets Jason, a non-verbal paraplegic boy who goes to occupational therapy at the same office as David, she starts to understand that "normal" is a very relative term... and maybe that it doesn't exist at all.
Self-Esteem Boosting Resources for Parents
Support from loving parents is one of the best ways to help a girl through a self-esteem struggle. Here are some great parenting books to help your guide your daughter through the challenges she's facing.
Your Daughter's Bedroom: Insights for Raising Confident Women, by Joyce McFadden, tackles how a strong mother-daughter relationship has a profound effect on a girl's self-discovery. Mothers and daughters don't always have to agree, but having an open and positive relationship despite differences of opinion makes a difference through her childhood — and the rest of her life. McFadden's advice about how to determine what model of womanhood you want to provide your daughter can help any parent, whether your daughter is a toddler or a teen.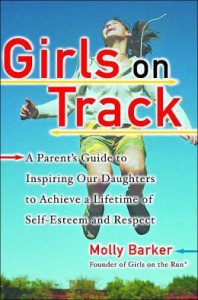 In The Myth of the Perfect Girl: Helping Our Daughters Find Authentic Success and Happiness in School and Life, Ana Homayoun tackles the stresses of teen girls who try to be perfect at everything, from academics to their social interactions, extracurriculars to family life. Homayoun provides tips to help parents to encourage their daughters to focus on the things that they love, rather than constantly striving to please others. Determining her own definition of success will be tremendously empowering for your Mighty Girl.
Molly Barker, founder of the Girls on the Run exercise program, wrote Girls On Track: A Parent's Guide to Inspiring Our Daughters to Achieve a Lifetime of Self-Esteem and Respect to teach parents how to help their teen daughters avoid "the Girl Box": the place where how she looks and whether she has a boyfriend is more important than anything else. This ten-week self-esteem building plan is designed to encourage parents and daughters to talk about all aspects of their lives — emotional, mental, social, physical, and spiritual — so that they can build the resiliency they need for a lifetime of success.
No matter what struggles with her self-esteem your Mighty Girl might face, sharing these books will remind her that everyone feels unsure of themselves sometimes. Knowing that it's possible to come through these struggles — not just okay, but stronger — is sure to help buoy her spirits!
Additional Recommended Resources
Help keep A Mighty Girl growing in the years ahead!
If you discover any books or other resources via this post that you would like to purchase, please use the "Buy at Amazon" link on every A Mighty Girl product page. By doing so, at no added cost to you, you help to support the site and allow us to continue providing you with wonderful girl-empowering resources. Thanks for your support!