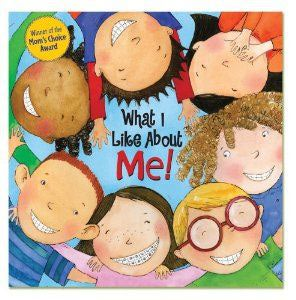 By Katherine Handcock, A Mighty Girl Senior Research Intern
When you're parenting a Mighty Girl, one of the top priorities is often making sure that she has confidence in herself and her abilities. After all, it's hard to be daring, smart, inventive, creative, and all the other things we love in our Mighty Girls without being confident that you can handle what comes your way!
With that in mind, we've put together a list of our favorite Mighty Girl books for boosting confidence. Some are fiction, featuring characters that stand proudly facing the world, and others are guides to help your Mighty Girl find confidence in her day-to-day life. Whichever you pick, these books will have your Mighty Girl cheering, "I can do it!"
For parents who are looking for books to help their Mighty Girl overcome self-esteem struggles, check out our earlier blogs: 15 Self-Esteem Building Books for Mighty Girls and Ten Body Image Positive Books for Mighty Girls.
Confidence Building Fiction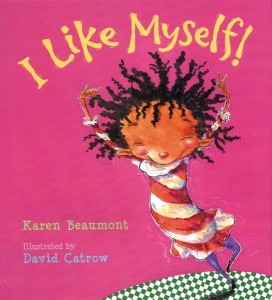 This selection of fiction for all ages features Mighty Girl characters who are ready to tackle the challenges their lives have to offer!
In I Like Myself! by Karen Beaumont and illustrated by David Catrow age 3 - 8), which we also featured in our Ten Body Image Positive Books for Mighty Girls, the delightfully, unapologetically confident main character is happy to declare her pride in herself. Whether she has beaver breath or tangled, enormous bed-head hair, whether she's wild or tame, fast or slow, she still likes herself "for all I think and say and do." This exuberant book will have your little one declaring "I like myself!" too.
Just because you love yourself, though, doesn't mean you won't occasionally wish things were different. In I Love My Hair! by Natasha Anastasia Tarpley and illustrated by E. B. Lewis (age 3 - 8) Keyana cries at night when her mother has to comb the tangles out of her thick, curly hair. Sometimes she just wishes it wasn't so hard to deal with! But her mother reminds her that her hair is beautiful, and gets her thinking of all the things she could do with it: a soft bun, rows of braids, or her favorite style, two ponytails, like wings, on the sides of her head. Once Keyana thinks of it that way, she declares, "I love my hair!"
Talking about differences is an important part of building self-confidence; while the differences between us make us unique, sometimes they seem to draw more negative attention than positive. In What I Like About Me by Allia Zobel Nolan and illustrated by Miki Samamoto (age 3 - 7), all the kids in the book are very different from one another — but they each know that their differences are worth celebrating! Whether they've got glasses, braces, big feet, or super-curly hair, these kids wouldn't trade their differences for anything. And a mylar mirror at the end encourages your Mighty Girl to decide what she likes best about herself.
Todd Parr's It's Okay To Be Different (age 1 - 5) communicates the same message, but goes beyond appearances to every aspect of children's lives. On every page, he reminds his readers that, whatever their situation, it's okay — to be adopted, to need help, to be embarrassed, to come in last, to be whatever you are. With his distinctive colorful illustrations and reassuring tone, Parr's book will inspire self-acceptance — and acceptance of others.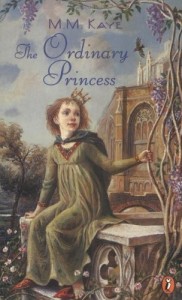 Some Mighty Girl characters are proud to stand out! In Play Ball, a graphic novel by Nunzio Defilippis, Christina Weir, and Jackie Lewis (age 8 - 13), Dashiell Brody doesn't care about fitting in at her new school: she just wants to play her favorite game! So when softball-loving Dashiell learns that her school has a championship baseball team, she wants in — even if it means playing with the boys. Her insistence takes her family, her school, and the state league off guard, but her determination wins over her doubters — and the reader — in the end.
Jamie in Susan Vaught's Big Fat Manifesto (age 12 and up) knows she's fat, but she's comfortable in her own skin. Writing a column in the paper, under the pseudonym Fat Girl, she rails against the prejudice overweight people experience. But when her boyfriend decides to undergo gastric bypass surgery, Jamie has a lot to think about. Will losing weight change how Burke feels about her? And how much of her identity is tied up in Fat Girl? Inspired by Vaught's own weight-loss journey and training as a therapist, this book features a courageous heroine who realizes that how you identify yourself is as important as how other people label you.
On the other hand, sometimes the message that kids need hear is that being special can take many forms. In The Ordinary Princess by M. M. Kaye (8 - 12 or younger as a read-aloud), Princess Amy was given a surprising gift by the fairies at her christening: ordinariness. She's still smart and courageous, though — which means she's certainly not going to settle for being married off by her parents! Fortunately, being ordinary makes it easy to hide herself as a maid at the neighboring palace. And while she's there, she meets an equally ordinary prince and together, they discover that someone can be both ordinary and special. This charming fairy tale is sure to have your Mighty Girl cheering for its extraordinarily ordinary heroine.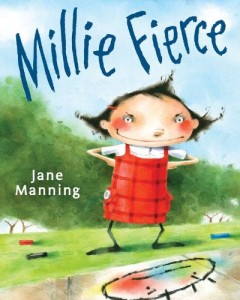 Of course, it's also important for kids to find the line between confidence and over-confidence or even aggression. In Zoom! by Robert Munsch and illustrated by Michael Martchenko (age 4 - 8), Lauretta is thrilled to get to test out a super-fast, 92-speed electric wheelchair for the day. After all, every other model in the store is TOO SLOW! But when Lauretta takes her speedy chair out on the road, the police stop her and give her a speeding ticket. Lauretta has to learn when she has to be careful and slow... and when it's okay to go as fast as she wants. Fortunately, when a family emergency strikes, unstoppable Lauretta is just the person to take care of the problem!
Millie in Millie Fierce by Jane Manning (age 3 - 7) has to learn a similar lesson. She's tired of getting ignored because she's quiet so she decides she's going to be fierce! But frizzed out hair, sharpened nails, and wild, mean behavior don't get her the attention she wants either. In the end, Millie realizes, there's nothing wrong with being nice so long as you keep a little fierce backbone ready for when you need to make your feelings known. This quiet but ferocious character makes a great jumping off point for discussions about how to stand up for yourself without being cruel to others.
Guides to Confidence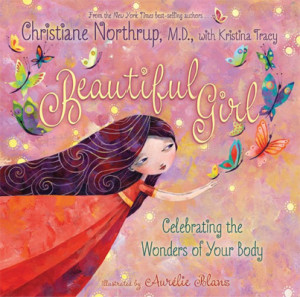 Sometimes what a girl needs isn't fiction, but a guide to helping her develop her own self-confidence. Our Guides for Girls section includes lots of titles that may help, but we're showcasing our favorites here.
Dr. Christiane Northrup and Kristina Tracy wrote Beautiful Girl: Celebrating the Wonders of Your Body for girls aged 3 to 8, but its poetic ode to the power of the female body is valuable for girls and women of all ages! Featuring stunning illustrations by Aurelie Blanz, this book reminds the reader to treat herself with love and respect, understand that changes in her body are a natural part of growing up, and remember that her body is perfect just as it is.
The American Girl Library offers several books to help tweens feel confident in a variety of situations. In A Smart Girl's Guide to Knowing What to Say (age 9 - 12), girls will learn how to handle social situations from introducing herself to a new bunch of people, to negotiating with parents for a later bedtime, to comforting a friend when she's grieving. With its mix of pre-prepared responses and its suggestions, tips, and techniques, this book will give her all the advice she needs to find the right words at the right time.
In Yikes! A Smart Girl's Guide to Surviving Tricky, Icky, Sticky Situations (age 9 - 12) covers what to do in a wide variety of embarrassing, awkward, or scary situations. Whether your girl dreads the possibility of a tampon falling out of her backpack, tripping down the stairs in front of everyone, getting separated from family in a strange city, or getting caught after breaking the rules, this book will teach her how to handle the situation. Its final words of advice? "You can stand on your own two feet. You've got a good brain. You've got common sense. Keep them handy. Trust yourself. You'll be able to handle just about anything."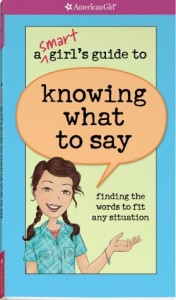 Finally, A Smart Girl's Guide to Liking Herself (Even On the Bad Days) (age 9 - 12) teaches Mighty Girls how having good self-esteem and a positive attitude can turn a bad day around! It includes advice on how to feel your best, boost your self-confidence, and trust yourself over the opinions of others. This book will remind her that everyone has bad days, but that how she handles them can have a huge effect on how that day affects her — both in the moment and over time.
Tweens and teens often wrestle with body image, especially given the rapid changes in their bodies and the frequent negative messages they receive from others or the media. In Picture Perfect: What You Need to Feel Better about Your Body by Jill Zimmerman Rutledge (age 11 - 16), real-life stories of other adolescent girls who have struggled with body image are paired with practical advice on how to counteract negative self-talk. The author also provides advice for girls who want to develop new, healthy behaviors. Whether she's talking about weight and dieting concerns, perfectionism, or teasing and bullying, Zimmerman Rutledge knows just how to reassure her audience that they can feel great about themselves.
In My Feet Aren't Ugly: A Girl's Guide to Loving Herself from the Inside Out (age 13 and up), teen mentor Debra Beck provides everything from anecdotes to journaling exercises to quizzes to help girls develop their self-confidence. Beck tackles how to be kind and respectful to yourself, but also encourages girls to examine how they treat others. Topics range from the day-to-day, like healthy eating, stress reduction, and making positive decisions, to the more specific, like alcohol and drug use, teen suicide, and sexual activity. Throughout it all, Beck teaches that self-assurance and caring for your personal physical and emotional health are key to living a happy life.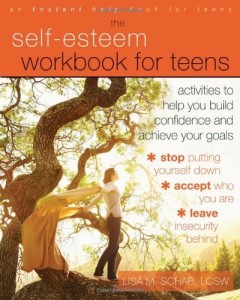 For a workbook to help your teenage Mighty Girl develop self-esteem and confidence, check out Think Confident, Be Confident for Teens and The Self-Esteem Workbook for Teens, both from Instant Help Solutions. These books provide step-by-step activities for kids 13 and up to help them learn how to change the way they think and provide practical tips to apply in their day-to-day lives. The Self-Esteem Workbook for Teens helps teens learn to perceive themselves in a healthy, realistic way by examining strengths and weaknesses and learning how to apply them to goals.
Think Confident, Be Confident for Teens teaches teens how to develop their confidence so that they can understand and combat their self-doubts, and take positive thoughts and turn them into decisive action. Both include anecdotes from real teens about their own experiences — perfect for letting your Mighty Girl know she's not alone.
When your Mighty Girl's confidence is strong, she'll know how to make good decisions that respect her own needs and desires — which means she'll be ready to go out and make her dreams come true.
Additional Recommended Resources
Help keep A Mighty Girl growing in the years ahead!
If you discover any books or other resources via this post that you would like to purchase, please use the "Buy at Amazon" link on every A Mighty Girl product page. By doing so, at no added cost to you, you help to support the site and allow us to continue providing you with wonderful girl-empowering resources. Thanks for your support!