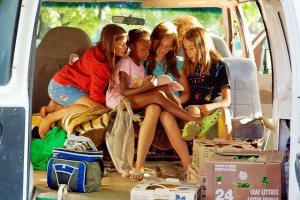 Earlier this month in our first ever member survey, we asked A Mighty Girl's supporters what new site feature they would most like to see. And, the winner was clear -- you wanted book clubs and we've delivered!
With summer vacation just around the corner, it's the perfect time for launching A Mighty Girl's new Book Club Project!
Our goal with this new project is to support and encourage the creation of book clubs that focus on reading books like the ones featured on A Mighty Girl where girls and women are the star characters rather than simply serving as sidekicks or damsels in distress. In A Mighty Girl books, girls are the ones saving the day, going on the adventure, finding the cure and are recognized for their diverse capabilities and interests.
On our new book club project site, you'll find numerous resources to make starting a new group as easy as possible, including a book club organizing guide and recommended reading lists for four age groups. To stay abreast of all the latest book club happenings and new resources, you can also sign-up for our book club list.