By Katie Quirk, Author, A Girl Called Problem
Today, Friday, October 11th, the world is celebrating the second annual Day of the Girl Child, and I couldn't be more excited. I have a personal stake in the growing awareness that educating and empowering girls can transform whole communities — all of us do I suppose, but my dear friend and sister, Modesta, exemplifies that notion for me in a very personal way.
Modesta
I met Modesta in Tanzania in 1998. I was an American volunteer, teaching in a newly-formed university on the southern shore of Lake Victoria. Modesta was a spunky, 12-year-old girl with an infectious laugh who sold papayas and mangoes door to door. She also turned out to be the key to my survival in Tanzania.
In addition to teaching me how to speak Swahili, Modesta schooled me in village living — everything from how to carry buckets of water on my head, to how to bargain with vendors at the vegetable market, to how to rid my mattress of bedbugs. In return, I tried to do whatever I could for Modesta. I didn't have a lot to offer — an open ear, a willingness to play with her on days when she had energy to spare after going to school, selling fruit, gathering firewood, washing her laundry by hand, cleaning dishes, carrying water…you get the picture.
By the end of two years, Modesta and I were the best of friends — we spent hours together every afternoon. Villagers referred to me as Mama Modesta, or Modesta's mother. The only problem was that I had to leave Tanzania — my visa was up and my teaching term was over. I hated leaving Tanzania, primarily because Modesta was at a critical and vulnerable juncture in her life. She had just completed primary school, and her prospects for further schooling, which required money and support from her often-absent, polygamous father, looked grim.
Fortunately, our story didn't end there. A year later, Modesta and I moved to India — I was a teacher at an international school and Modesta became an 8th grade student in that same school. This move took incredible courage on Modesta's part: leaving her country, let alone her village; being immersed in a place where no one other than me spoke her native Swahili and Sukuma languages; and not being able to communicate with her family, given that they had no telephone or access to email, let alone running water or electricity, at home.
In spite of these challenges, Modesta thrived. Four and a half years later, she graduated from high school and went on to get a university degree — the first in her family to do so — in Uganda. Now Modesta works for a development organization in the capital of Tanzania, Dar es Salaam, where she helps to produce popular television shows and movies with imbedded public health messages, like how to prevent malaria. In addition to helping others through her important job, Modesta is supporting her younger sister as she attends university. In short, though only in her twenties, Modesta is already more than paying forward the opportunities provided to her.
In the development world, there is increasing awareness that one of the best ways to invest in communities is to empower and to educate those communities' girls. This awareness was reflected in the media through books and movies like Half the Sky, but until recently most of these stories about the value of girls as a tool for ending poverty were designed for adult audiences. Fortunately, that is changing.
A Girl Called Problem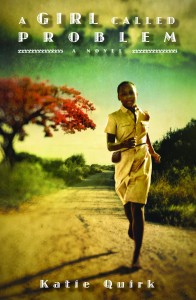 Just this last spring, my middle-grade novel set in post independence Tanzania was released. With a suggested reading audience of 9-14-years old, A Girl Called Problem is the story of a thirteen-year-old girl whose name means Problem in Swahili. Shida comes from a cursed background: her dad is dead and her mother is believed to be a witch. Neverthless, Shida is a spunky kid, determined to become a village healer.
She finally gets the break of a lifetime when she and her fellow villagers are invited by their country's president to relocate to a new village. Among the perks of this new home for Shida are the opportunity to attend school and to apprentice to an African nurse. But someone doesn't want Shida's people in this new village, and things start to go really wrong. Shida must solve the mystery of who or what is working against them, and in the meantime she must convince her fellow villagers that educating girls is a good idea at all.
A Girl Called Problem is a story about perseverance, about the power of girls to transform their communities, and about standing proud and strong, even in the face of prejudice from those in positions of authority. I am hopeful that it is a story that will help Mighty Girls to connect with and develop a passion for supporting their sisters in other parts of the world.
Other Resources for Celebrating International Day of the Girl
I can suggest a few other resources for Mighty Girls who want to learn more about why we are celebrating girls around the world on October 11th:
Hooray for the Power of Girls!
One more detail you can share with your favorite Mighty Girl: October 11th, International Day of the Girl - guess who got us started on celebrating this fine day? In fact, it was a group of girls and young women who were interested in advancing the UN Millenium Development Goals that relate to gender equity and universal education.
And one more thing: Modesta? I've been waiting all week to hear from her. The call finally came yesterday. She just gave birth to her first child, a girl. What a fortunate kid her daughter is to have such a capable, joyful, empowered mom. Hooray for the power of girls!
--
Katie Quirk (katie-quirk.com) is the author of the middle-grade novel, A Girl Called Problem.