Last Halloween, we received a huge number of fantastic photos of Mighty Girls in costume. In this post, we've highlighted just a small sample that show the breadth and creativity of the amazing costumes that were shared with us. From costumes based on women role models to favorite book characters, these Mighty Girls know that their costume possibilities are limited only by their imaginations! And, to help you and your Mighty Girl learn more about the wonderful characters and historic figures depicted, we've also linked to our character collection and biography section where relevant.
Thanks to everyone who sent in photos of their Mighty Girls in costume! We could only highlight a small number in this post but you can find many more in our Halloween album on Facebook. If you'd like to send in a picture of this year's costume, we'll be sending out information on how to send them in later this month via Facebook and Twitter.
If you're still looking for a costume for this year, we feature a selection of nearly 300 girl-empowering costumes with options for all ages from infants through adults in our Costume & Dress-up section.
And, if you'd like to find a few Mighty Girl stories or films to get your kids in the Halloween spirit, check out our special feature on Top Halloween Mighty Girl Books & Films.

Mighty Girl Role Models
Mighty Girl Inspiration from Stories
Fantastical Costumes from Film, TV, and the Imagination!
Storm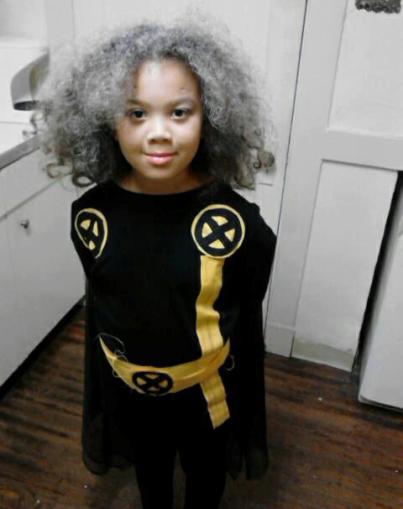 My Mighty daughter as Storm from the X-men for Halloween. I am so proud of her costume choice. We decided to make it because she wanted to look like the comic book. Her name is Scheherazade and she is 8
Mighty Girl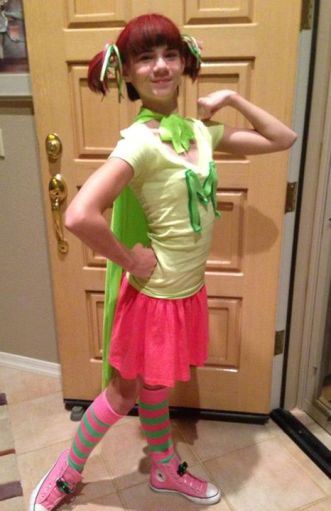 My daughter Brett as Mighty Girl!
Toph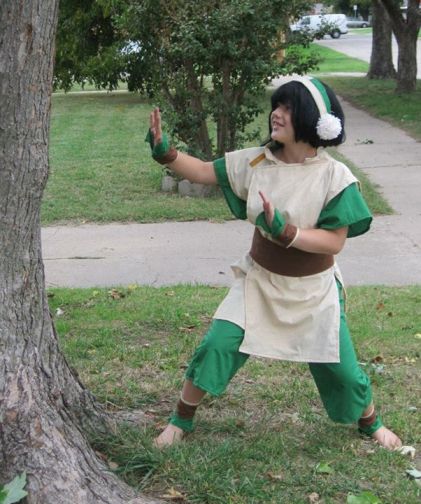 This is Cetani, 9, as Toph from Avatar: The Last Airbender.
Kiss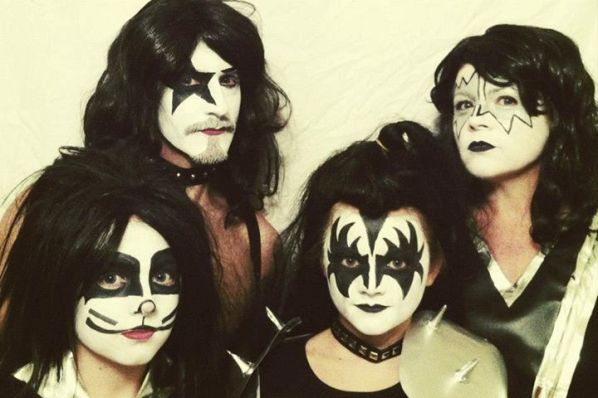 My wife Sam and I (dad Dominic) are very proud of our two daughters Lucy 10 and Isabel 9. They are always up for fun and Halloween is becoming quite the dress up occasion! This year the whole family dressed up as members of the rock band Kiss! The girls are very mighty indeed, we couldn't be prouder parents!
Darth Fairy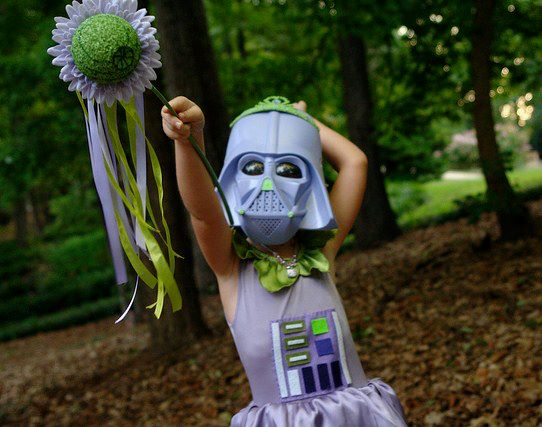 My girl, we call her Princess Fierce, loves Halloween and costuming as much as I do. She's been a Darth Fairy, less-sexy-more-kick-butt Julie Newmar Catwoman, a girl ninja, and also no one was telling her the Hawkeye costume sold at Target was for boys only.
Sirius Black and Bellatrix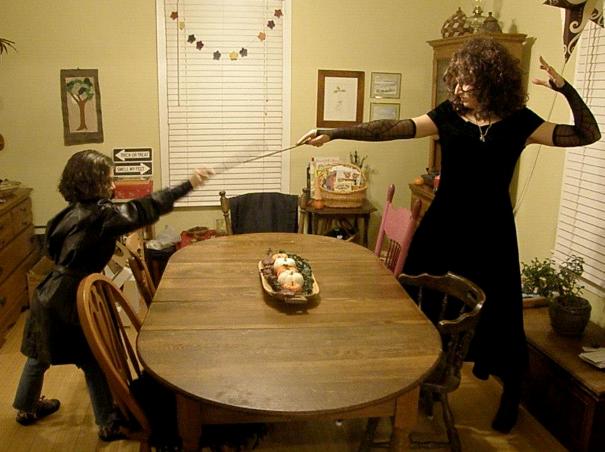 My daughter Sadie, age 8, wanted to be Sirius Black, and have us dress up as other HP characters. So, I was Bellatrix, and my husband was Hagrid. Here's our pre-treating duel with me (mom Jen)
Super Girl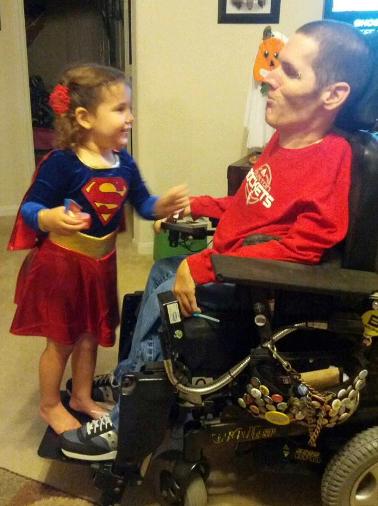 This is 2 1/2 year old Addy sharing her candy with her uncle Danny after trick-or-treating. She has such a special relationship with her uncle Danny, who is ensuring that his niece will forever be a Mighty Girl. Addy was so proud of her costume, telling everyone along the way "I'm
SUPER HERO GIRL
!"
Deathstar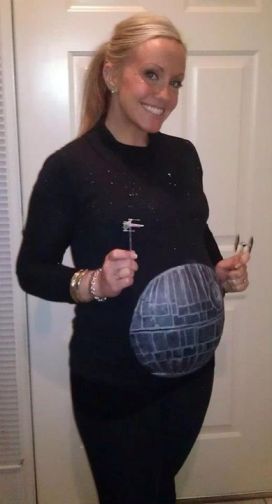 From mom-to-be Ashley - I understand that costume pics are for kiddo costumes, but our little miss is still 9 weeks away! Here she is, still in my tummy, proudly representing a great nerdy costume
"Bear-goat-ba-a-at"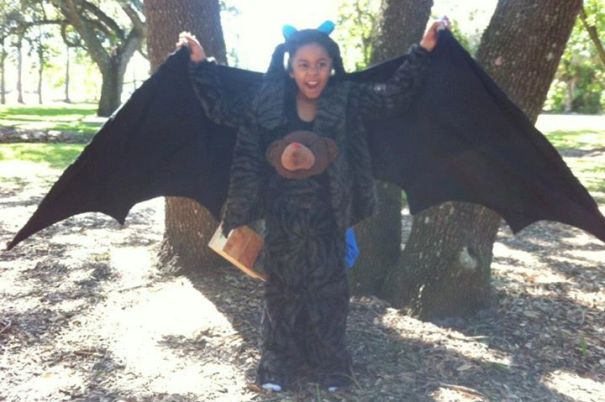 My Mighty Girl age 7 comes comes up with something unusual every year. She has been interested in mythological creatures, this one is inspired by the Chimera, but altered to fit the animals she loves best... She is a "bear-goat-ba-a-at"
Merida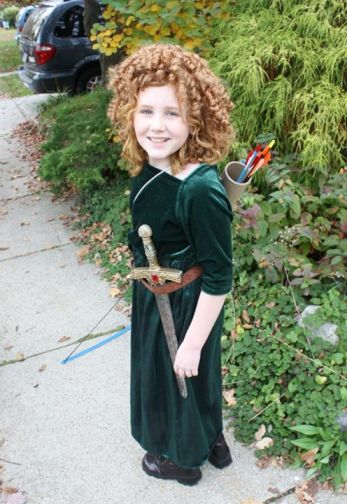 My 10 year old daughter Grace as
Merida
the Brave. Grace knew she would be Merida as soon as Brave came out. She is a 5 year brain cancer survivor with red hair and an Irish step dancing wig - so we could not imagine a better costume for her. I got to be Queen Elinor, in bear form. I support cancer research as part of "
46 Mommas Shave for the Brave
"
Arrietty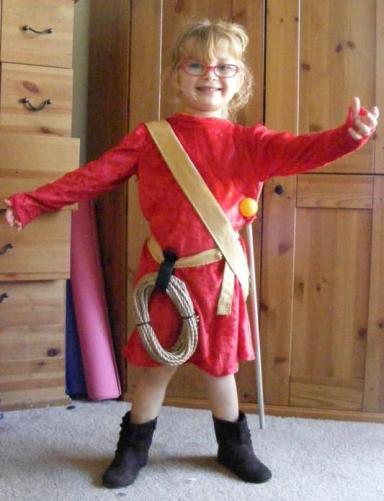 This is my daughter dressed for Halloween as Arrietty from the
Secret World of Arrietty
. She wanted to be Arrietty ever since she saw the movie.
Kiki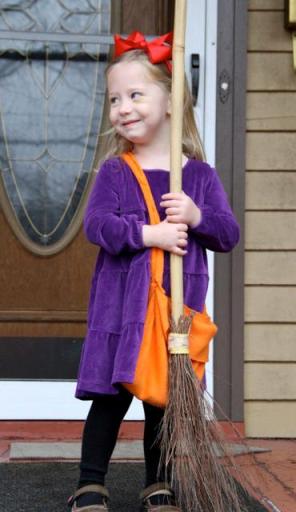 Hawkeye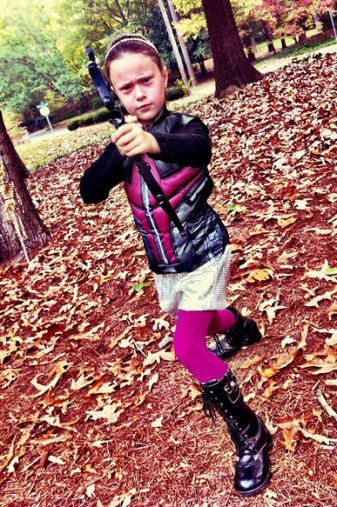 No one was telling my girl that the Hawkeye costume sold at Target was for boys only!
R2D2 and Princess Leia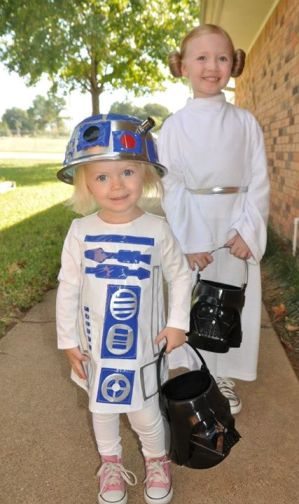 Mighty Girls Mia (2) and Eleanor (4) as R2D2 and
Princess Leia
from Star Wars
Peacock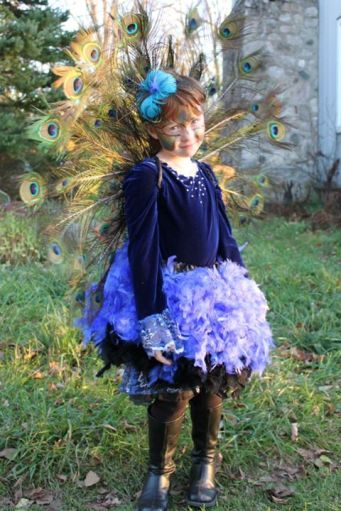 My almost-six-year-old daughter Rowan in this year's costume - she's going as a peacock cause she says they're bright and beautiful and are ok standing out in the crowd.
Rainbow Dash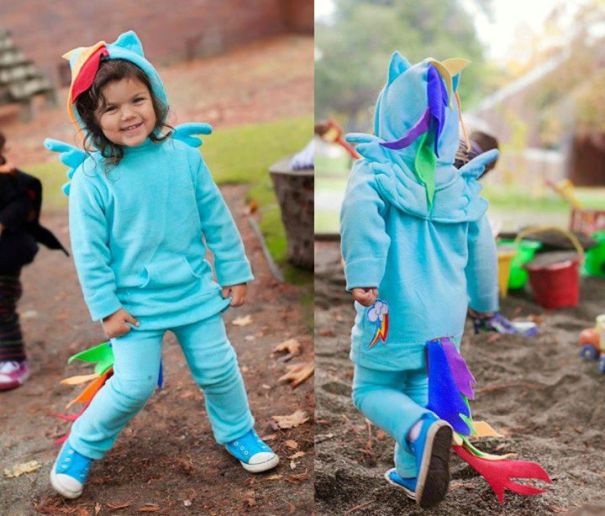 My daughter Autumn wanted to be Rainbow Dash, one of the My Little Ponies. The one in the stores doesn't even look like a pony and isn't warm enough. So I (mom Crystal) made her the one in the pictures. She runs fast everywhere in it.
Pirate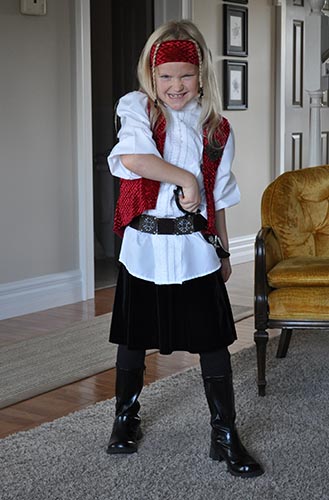 Gwen will be 9 years old in November and has inspired me in so many ways. She is a lover of all things involving art, animals, and sports, is very comfortable being herself even if it doesn't fit "societal norms" and is a force to be reckoned with. Here she is in her last year's Halloween costume. She wanted to be an "authentic" pirate and design the costume herself so we made a trip to the thrift for a belt and a couple of woman's shirts, hacked them up, and came up with this.
Darth Vader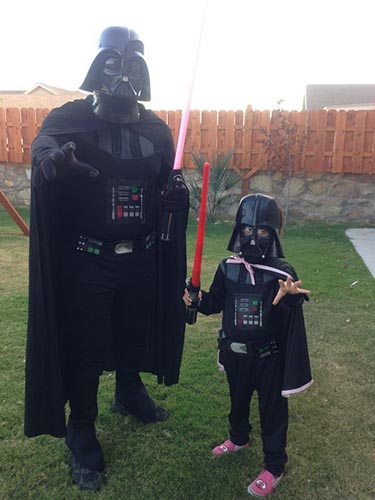 My beautiful Mighty Girl Valentina and daddy!! May the force be with you. Happy Halloween from a galaxy far far away.
Katara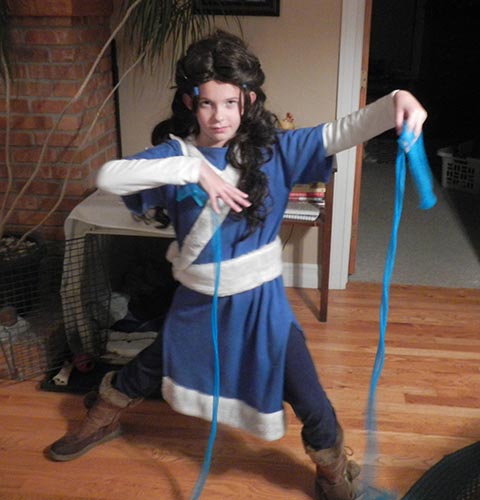 My daughter Marin was Katara this year, I made her dress from an old dress of mine, and modified a "supermodel" wig from Target. She loved having the blue fabric as her "water" to bend.
Ruby Gloom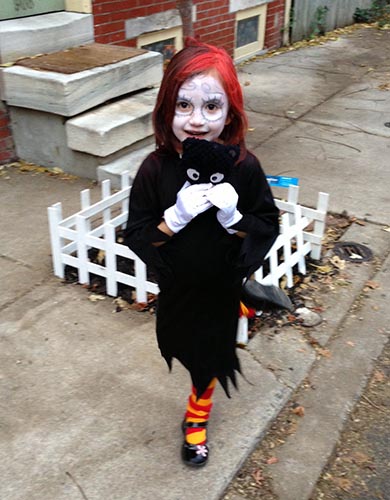 Batgirl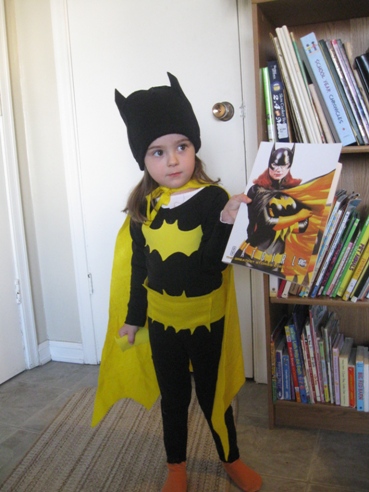 Ginny is 4 and is dressed as
Batgirl
, holding a Batgirl comic. She was very, very happy to be Batgirl and was over the moon when I made it for her.
Scuba Girl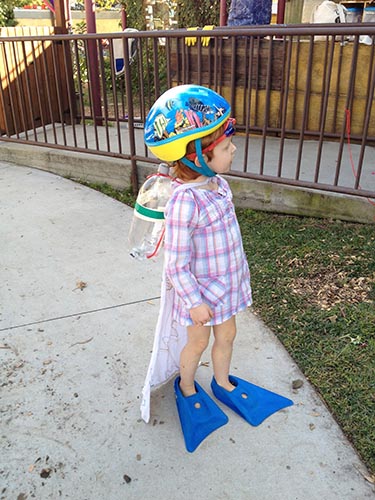 She called herself Scuba Girl.
Captain America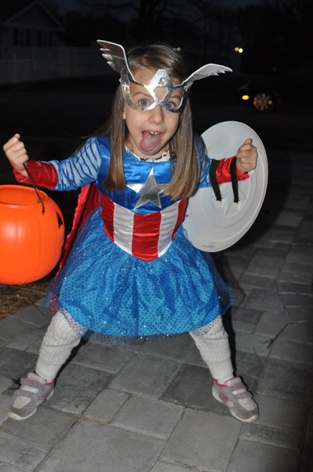 This is Margaret - my knight in shining armor and the love of my life!
Baby Mighty Girl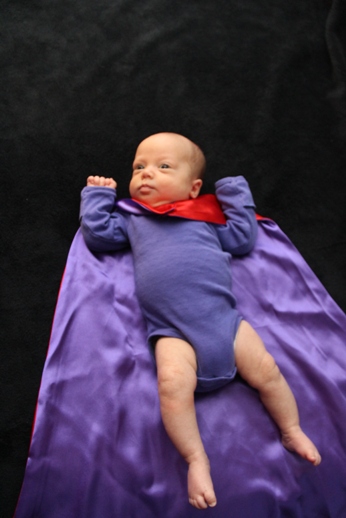 Madelyn - 7 weeks - so you know you are never too young to be a mighty girl!
E-Bot 3000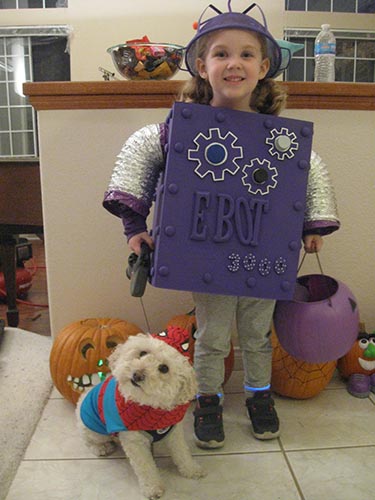 This is my daughter Emerson, 4 1/2, as the "E-Bot 3000" and her dog Riley as "Spider-dog"! She came up with the idea of being a purple robot and even came up with the name "E-Bot 3000" herself!
Zelda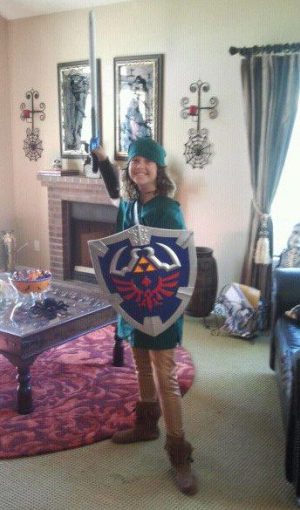 Here is a picture of my daughter, Makensie (age 10) dressed up as Link from the Zelda Princess video games. She opted to be the person that saves the princess. She doesn't need saving she is a Mighty Girl.
Butterfly Witch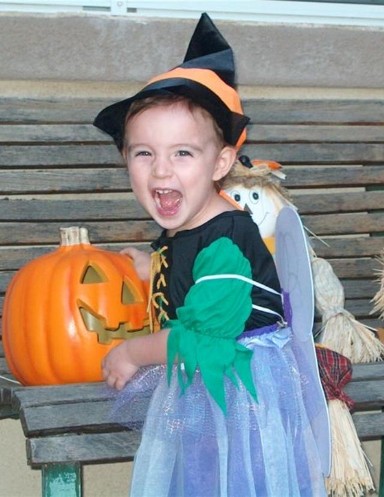 Gracie wanted to be a "butterfly witch," which is a witch who flys with wings instead of a broom...she was almost 3.
She-Ra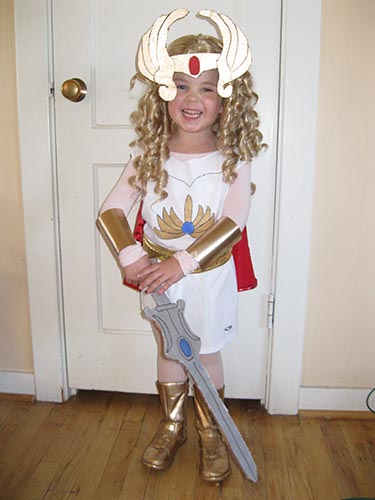 Hi, this is Isabella as She-Ra Princess of Power last year for Halloween, she was 4.
Spongebob, Gary the Snail, Squidward Tentacles, Patrick Star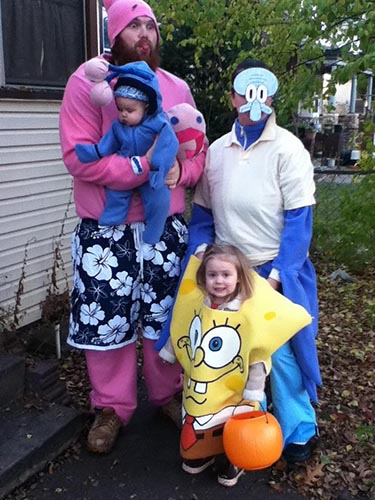 There are Three Mighty Girls in this picture: Brinegar (Almost 3) as Spongebob Squarepants; Harper (3 Months) as Gary the Snail; Kristina (mom) as Squidward Tentacles and Chris (proud Dad to the Mighty Girls) as Patrick Star
Power Ranger and Spidergirl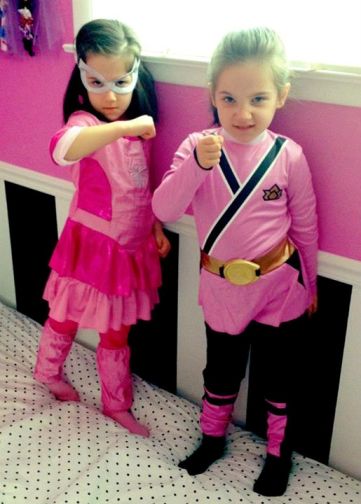 Maya and Lauren are identical 5-year-old twins, although their personalities and facial expressions are very different... but they always love to play with trucks and cars and dinosaurs and be fierce superheroes. I'm actually SHOCKED that they picked pink costumes this year... at first I was disappointed: Lauren picked the power ranger costume out of a catalog based on appearance. Maya picked Spidergirl off a shelf at Target (and what the heck is Spidergirl?! does she even exist? why do we need a girl version? why can't she just be Spider-Man?!) Anyway, then I realized they totally own those costumes. they are fierce in pink and fierce as superheroes. the pink does not make them dainty. it makes them strong.
Mighty Girls Explore the World
Glycoaldehyde Molecule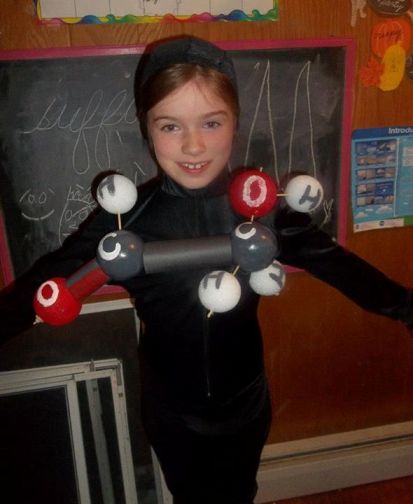 Here she is, proudly displaying her glycoaldehyde molecule costume. Glycoaldehyde is a sugar that can be converted to ribose, the backbone of RNA, and a building block for life. It was recently found in space, near a star 400 light years from Earth. My daughter loves science!
Dr. "Bones" Brennan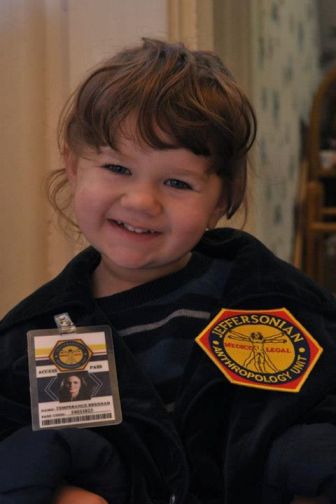 My daughter Markie (2 1/2) is a little tomboy and loves creepy crawlies and mud. We dressed her up as Dr. "Bones" Brennan, our favorite t.v. forensic anthropologist, and she loved it!
Doctor
Wanted to be a doctor this year. She sees a lot of them with her condition (Spina Bifida) so they are a big influence on her life.
Astronaut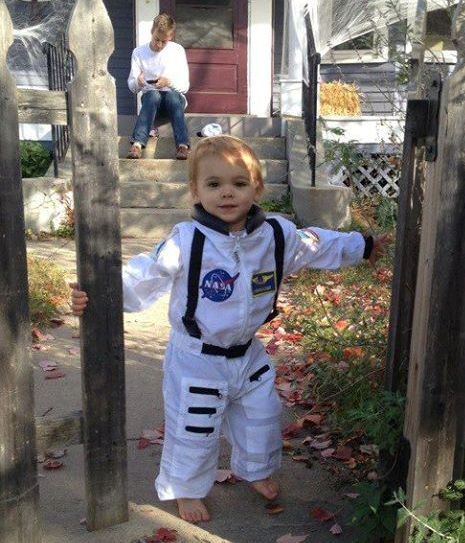 Alice, 19 months, was mistaken for a little boy many times today in her astronaut costume but we don't care -- she is our strong, independent Mighty Girl (in whatever she wears).
Pteranodon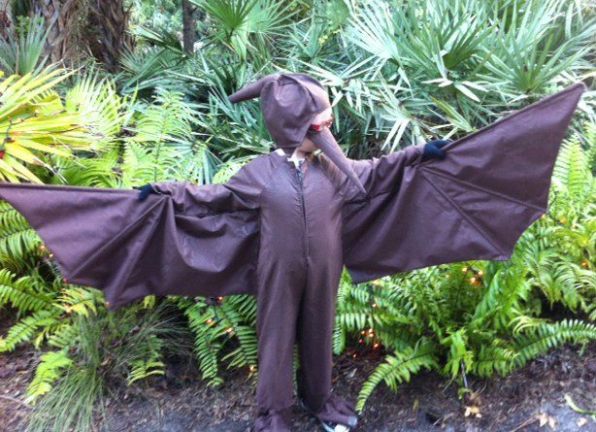 This is my seven-year-old daughter, Emily, as a pteranodon. She is a huge fan of dinosaurs (and flying reptiles!). Last year she was a velociraptor.
Astronauts and Black Cat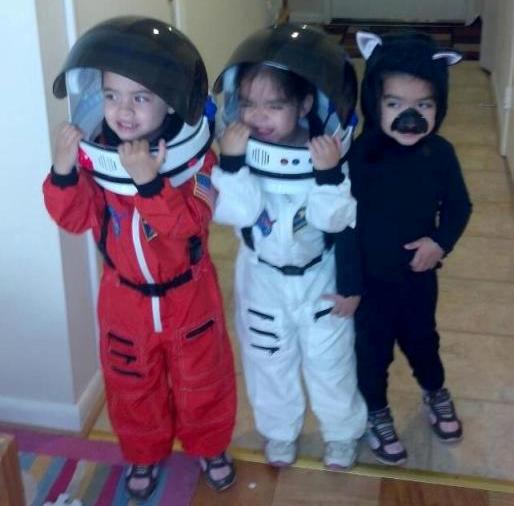 Three Mighty Girl sisters! Magdalena in a Lift Off Orange Astronaut Suit, Adriana in a Space Walk White Astronaut Suit, and Marisol as a black cat.
Park Ranger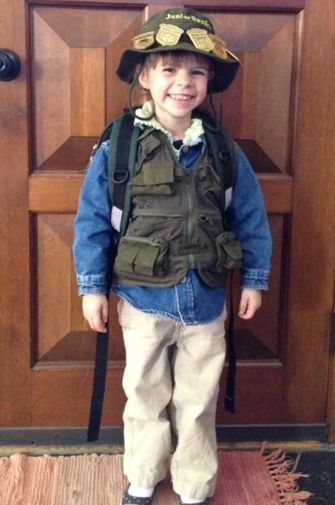 My daughter, Molly, loves the outdoors and camping so naturally she dressed up as a park ranger. We spent time traveling this summer to a few national parks and she was inspired by the awesome job rangers have. She loved that they got to "play" in the park all day.
Chef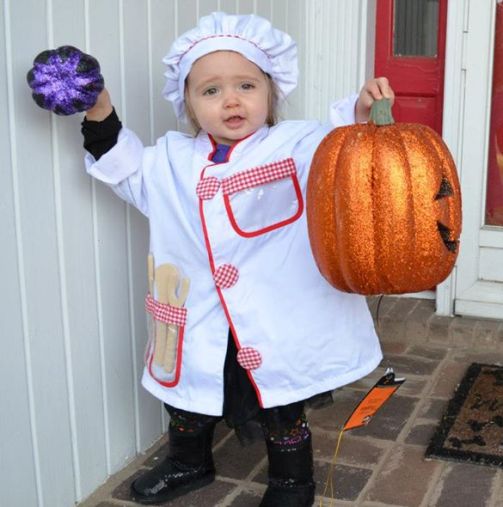 this is my 16 month old daughter grace dressed as a chef. if she had it her way, she'd make you her favorite foods -- broccoli and tomatoes!
Hunter of Artemis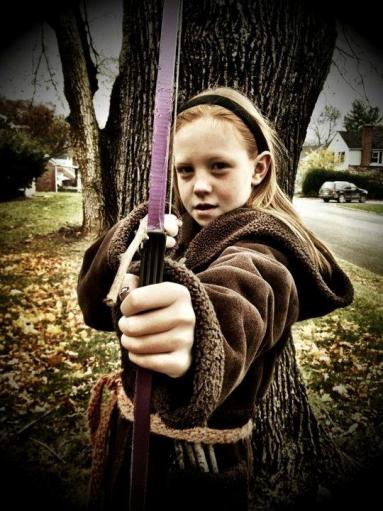 Hallie as the Hunter of Artemis
Doc McStuffins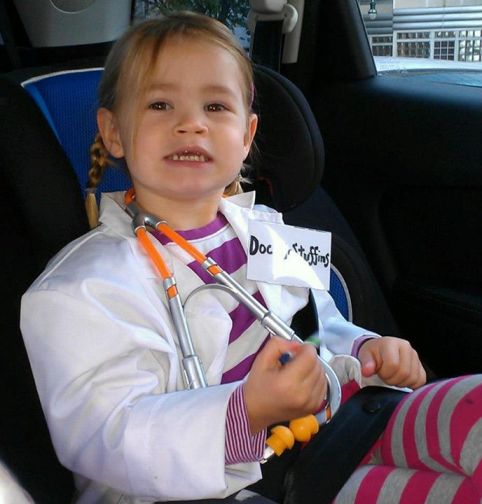 McKenna as
Doc McStuffins
- What's more mighty than a pint sized doctor!
Train Conductor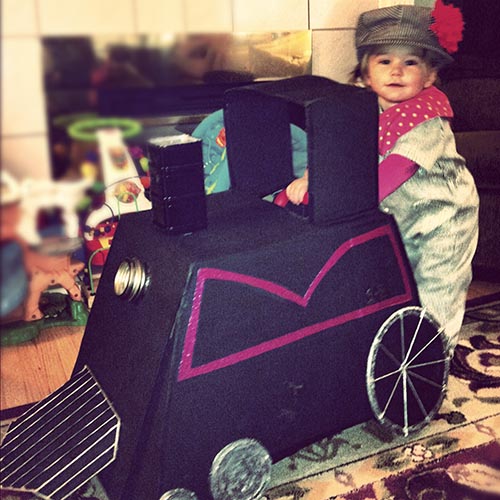 Here is my daughter Ellie when she was 2 and 1/2. She loves trains, so I made her a cardboard train that fit on top of her red wagon--and she dressed like a train conductor. It was great for pulling her around when she was trick or treating!