Today marks the second year of a new holiday tradition, Giving Tuesday -- a day focused on encouraging charitable giving following the shopping-intensive days of Black Friday and Cyber Monday. To celebrate this day of giving, at A Mighty Girl, we're highlighting seven incredible grassroots projects founded by girls and women that we hope you'll consider supporting on this day and throughout the year.
We've also highlighted an effort by a young Mighty Girl to give back to her community to show how every child can have an impact. And, while all of these groups need financial support to continue their important work, we also want to showcase another important type of giving -- volunteerism. All during the holiday season, we've been sharing stories of Mighty Girls' "Mighty Good Deeds" and encourage you to share your own Mighty Girl's good deeds on our Facebook wall.
If you'd like to find stories to share with your children that emphasize the value of giving back, you'll find a diverse selection in A Mighty Girl's Generosity & Charity book section.
Giving Kids a Home and Hope in Nepal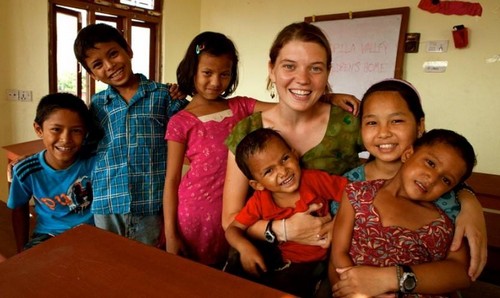 In 2006, at age 19, Maggie Doyne founded an orphanage and school in Surkhet, Nepal using $5,000 saved from years of babysitting after seeing the plight facing children there following the Nepalese Civil War. Today, at 27, the New Jersey native is the "mother" and legal guardian of 40 children and has also built a K - 8 school that currently educates 340 students.
Just this past June, as she discusses in a recent Daily Beast article, Maggie launched her newest project -- a women's center for the Kopila Valley where her school is located. Doyne has formed a foundation, BlinkNow, to help support the Kopila Valley Children's Home and School, and she notes that donors and volunteers have been critical to making it a success. While Doyne knows that her path have been unconventional, it's certainly been the right choice for her: "I wake up every day saying 'I love my job.,' That's my message for young people, especially for young women: do what you love and what makes you feel good."
To learn how to support Maggie's incredible work, visit her foundation's website at http://blinknow.org/ and you can watch a wonderful speech by her at http://vimeo.com/15991500
To read more about Maggie in the Daily Beast, visit http://tinyurl.com/p8zfsn3 or check out this photo spread at http://tinyurl.com/9pykg2s.
Transforming the Lives of Homeless Women in Detroit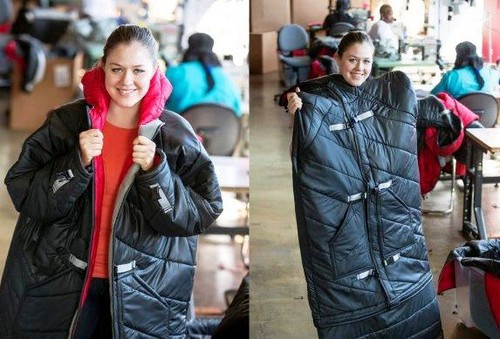 Veronika Scott is a 23-year-old social entrepreneur who is changing the lives of homeless people in Detroit. Her non-profit organization, The Empowerment Plan, trains and employs homeless women to become full-time seamstresses who manufacture a coat Veronika designed that transforms into a sleeping bag. The group then distributes the coats to the homeless individuals at no cost to them.
Veronika was a fashion student at the College for Creative Studies in Detroit when her teacher, Stephen Schock, challenged her class to create a product that filled a need, rather than satisfying or creating a fad. Her was a coat for homeless people that could transform into a sleeping bag, since in her city, she says, "you are constantly faced with the homeless epidemic."
By year's end, Veronika and her employees at The Empowerment Plan hope to make 600 coats a month. That's twice as many as they currently make but she knows her employees are up to the challenge. "Everybody told me that my business was going to fail -- not because of who I was giving my product to but because of who I was hiring," Veronika shared. "They said that these homeless women will never make more than a peanut butter and jelly sandwich -- you cannot rely on them for anything. And I know my ladies enjoy proving everybody wrong."
Veronika would also like to show other clothing producers that local manufacturing is possible; as she states, "I think we're going to show a lot of people: you think it's outdated to do manufacturing in your neighborhood, but I think it's something that we have to do in the future, where it's sustainable, where you invest in people, where they're not interchangeable parts."
To learn more about The Empowerment Plan or how you can support their work, visit http://www.empowermentplan.org/ and you can watch a short video about her work at http://tinyurl.com/qbe5oeq.
Educating and Empowering Girls in Kenya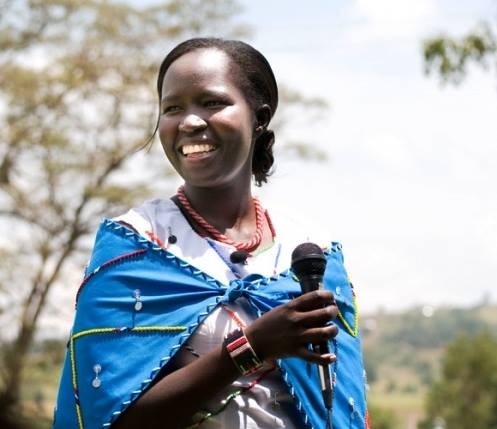 As a girl, Kenyan women's rights and girls' education activist Kakenya Ntaiya, like many women in Kenya, was subjected to female circumcision, often called female genital mutilation or FGM. For most girls, a marriage would soon follow, but Kakenya, then 14, had other plans: "I really liked going to school. I knew that once I went through the cutting, I was going to be married off. And my dream of becoming a teacher was going to end." So Kakenya threatened her father with running away, but agreed to stay and submit to the ritual if he let her finish high school.
Her father kept his word, and Kakenya excelled, earning a scholarship to a college in the US. Her community raised funds for her airfare, and in return she promised to come home to help her village. And she did -- after earning her degree, working with the United Nations, and getting her doctorate in education. "I came back so girls don't have to negotiate like I did to achieve their dreams," she says.
In 2009, she opened the Kakenya Center for Excellence, a primary school for girls that currently educates 150 students. Originally a day school, students now live there to spare them miles of walking -- which includes the risk of sexual assault -- and the requirement of spending free time on chores instead of studying. "Now, they can focus on their studies -- and on being kids," says Kakenya. "It's the only way you can give a girl child a chance to excel."
Parents cover the cost of meals, but Kakenya covers any student who can't pay. Parents also have to agree that girls will not be subjected to genital mutilation or child marriage, which is becoming easier as men start to see the benefits of their daughters staying in school. "They want to become doctors, pilots, lawyers," Kakenya says. "Fathers are now saying, "My daughter could do better than my son." Kakenya admits that it is still difficult challenging male attitudes in her area, "[b]ut nothing good comes on a silver plate. You have to fight hard... When [the girls] start, they are so timid [but now] the confidence they have, it's just beyond words. It's the most beautiful thing."
To further serve girls in her region, Kakenya is currently working toward opening a rescue center for girls fleeing forced early marriage and female genital cutting who have no safe place to go. To learn more about Kakenya's work and how to support it, visit her website at Kakenya's Dream - the Academy for Girls.
Training Youth to Grow Gardens to Fight Hunger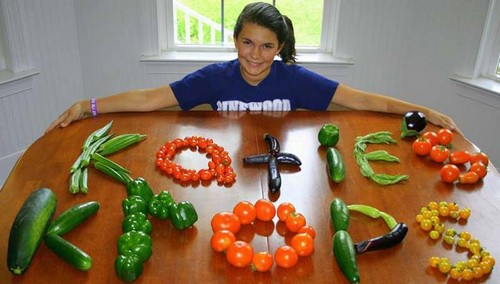 When Katie Stagliano of South Carolina was 9 years old, she grew a tiny seed that she brought home from school into a 40-pound cabbage. She decided to donate it to a local soup kitchen and, as Katie explains, it was that day, while helping to serve her cabbage to the hundreds to people it feed, that her dream of starting Katie's Krops was born. Five years later, her organization has blossomed well beyond what she dreamed possible -- Katie's Krops has now grown to 60 youth run gardens across the US and has donated tens of thousands of pounds of produce to those in need.
Last year at age 13, Katie became the youngest-ever winner of the Clinton Global Citizen Award for "leadership in civil society," but this green-thumbed Mighty Girl is just getting started! This year, her organization worked with a local farm to organize the first Katie's Krops Camp where they brought 14 young grantees from across the US together to teach them how to start their own Katie's Krops gardens to fight hunger in their own communities.
And, this generous young gardener has a message to share with everyone: "If I can do it anyone can. It doesn't take a huge garden just a pot on your front porch with one vegetable plant can make a difference. If people (I hope lots of kids too) could grow even one vegetable plant and donate the harvest to a local soup kitchen we could make a huge difference in the fight against hunger."
To learn more about this incredible Mighty Girl's organization and how to support her work, visit the Katie's Krops' website.
Building Libraries in Africa to Share a Love of Reading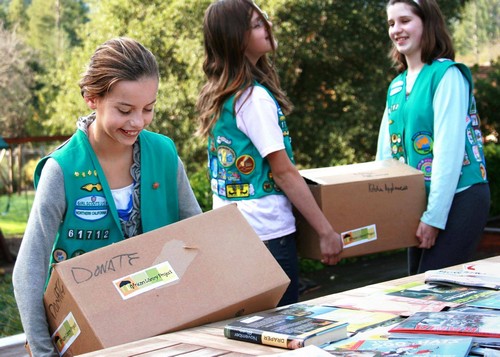 If you're looking for a great community project to run with your Girl Scout troop, Mighty Girl book club, or other youth group, why not help spread a love of reading and give more kids access to books by starting a library in Africa? With the help of the African Library Project (ALP), it's easy to get started. One young Mighty Girl, 12-year-old Olivia Vercruysse, pictured here, has already started 14 libraries for children in Africa in just three years!
After learning that many African children have no access to books, Olivia and her twin brother, Alec, decided to make a difference. Olivia worked with her Girl Scout troop to start three libraries and then, along with Alec, started 11 more. In October, Olivia and her family traveled to Malawi to visit some of the libraries they helped build.
You can start a library in Africa, too! Since 2005, the all-volunteer African Library Project has started or improved 1,165 small rural libraries and sent over 1.2 million books to Africa. ALP makes it easy for any group or person to start a small library in Africa. Interested groups collect 1000 gently-used children's books and raise approximately $500 to cover the cost of shipping them. You select a deadline you can reach, then ALP matches you with a specific library project with ALP's partners in Botswana, Lesotho, Swaziland, Malawi, Ghana or Sierra Leone.
Anyone is welcome to start a library through ALP although most participants are in the US or southern Canada (close enough to drive across the border for shipping) as all donated books are first sent to the ALP warehouse in New Orleans. ALP ships 35 to 65 libraries to Africa via container ship at a time.
To learn how to support ALP's work or to sign-up to start a book drive, visit the African Library Project's website.
If you're located in the UK, Build on Books is a UK-based grassroots organization that collects gently-used and new books to help start small rural libraries in Sierra Leone.
Saving the Lives of Mothers and Babies Worldwide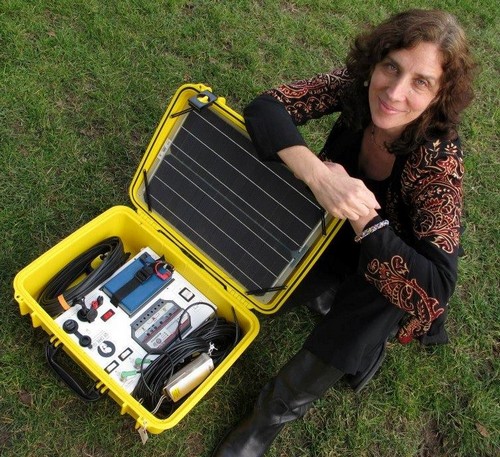 Dr. Laura Stachel was stunned on a trip to Nigeria in 2008 when she watched doctors performing an emergency cesarean section: "The lights went out, and I said, 'How are they going to finish?'... You didn't even see people reacting because it was something they were so used to." During that two-week trip, Stachel observed midwives using all kinds of makeshift lighting while delivering babies, including lanterns, candle, and cell phones and she came to realize that "my skills as an obstetrician-gynecologist were utterly useless [without] something as basic as light and electricity."
Inspired to find an alternative, she worked with her husband, a solar energy educator, to design a "solar suitcase" to help doctors have adequate electricity and light to save moms and babies during childbirth. They created a small kit that included several solar panels, lights, and a pair of walkie-talkies. She intended the kit to be for demonstration, solely for use seeking funding and to show Nigerian doctors what she was hoping to achieve; instead, the doctors said, "This is incredible. You have to leave this with us.... This could help us save lives right now."
After several years of development, the kit now includes solar panels and high-quality LED lights, headlamps, a cell phone charging unit, and a fetal Doppler kit for monitoring heart rate, all sturdy enough to withstand heavy use: "We got to something that was really rugged, simple to use, portable and that we knew would really work in harsh environments." And, after founding a non-profit organization, WE CARE Solar, Stachel has been able to take it to other countries in Africa, Asia, and South America -- nearly 400 kits to 27 countries so far.
The needs in a country like Nigeria are high where an estimated 40,000 women died in childbirth in 2010 alone and the neonatal mortality rate is also one of the worst in the world. And, according to the World Health Organization, the problems are just as severe in much of the world -- complications in pregnancy and childbirth remain the leading cause of the death among adolescent girls in most developing countries.
For her part, Stachel is determined to transform maternal health care around the world. "I really want a world where women can deliver safely and with dignity, and women don't have to fear an event that we consider a joy in this country," she stated. "Communities are celebrating the fact that they have light. And that they now have one more component to help with safe motherhood. It's amazing."
To learn more about Dr. Stachel's incredible work and how you can support it, visit the We Care Solar website.
Sending Books to Canadian Aboriginal Communities in Need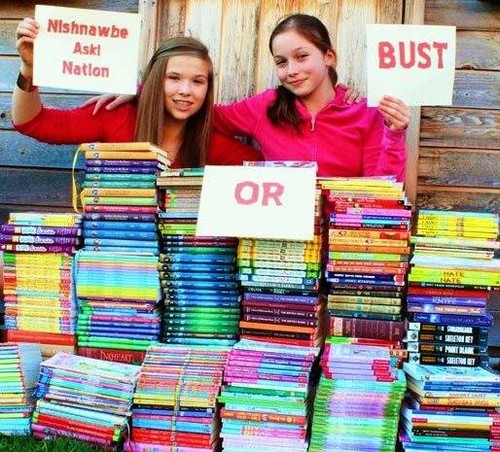 After discovering that children in Canada's remote Aboriginal communities often have very limited access to books, two Mighty Girl sisters from Oakville, Ontario decided to make a difference. 15-year-old Emma and 16-year-old Julia Mogus started their own charity, Books with No Bounds, and since its founding in 2011, they have collected and shipped over 24,000 books for children and youth to remote rural communities.
"Growing up we loved reading, but we didn't understand how critical it was for a child if they wanted to have a higher level of education," says Emma. "Books With No Bounds really just started with a simple idea of helping people who didn't have the same access to something that we love."
The Mogus' efforts are focused on the Nishnawbe Aski Nation, which includes 49 Aboriginal communities, 28 of which are fly-in only, meaning that supplies can only be delivered by plane. Julia says they were shocked to learn that "the major issue [in those communities] is reading and literacy. They're four-to-five years behind in our literacy skills and the suicide rates are really high." Because young people don't have access to resources to develop the skills necessary for post-secondary education, many young adults lose hope for improving their lives. Emma added, "They're our brothers and sisters up north and they deserve the opportunities and education that we get."
At the 2013 Young Women Leaders event in Cornwall, Ontario, the girls came to talk to other teens about their experiences and to encourage them to find their own areas to improve the world. They emphasized that everyone has something to contribute -- and that it's important to stand up for what you believe in. "People who tell you you're going to fail, even before you've begun. People who don't understand the true value and they get frustrated and angry – don't listen to them," said Julia. "What matters is what you follow with your heart."
To read the National Post article from 2012 which helped launch Books With No Bounds' success, visit http://tinyurl.com/pm6aawf.
To learn more about Books With No Bounds, and find out how you can contribute to the work of these incredible Mighty Girls, visit the Books With No Bounds website.
Every Child Can Make a Difference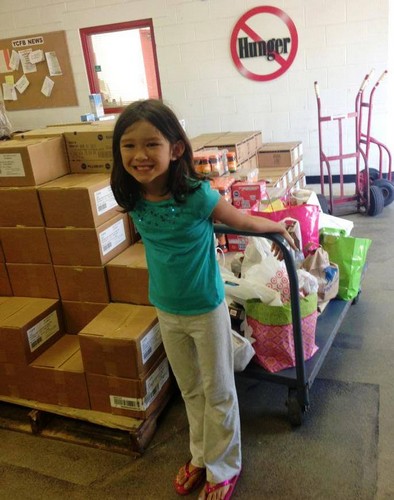 Of course, everyone can make a difference! During the holiday season, we're highlighting stories of Mighty Girls making a difference in the lives of others and here's a wonderful story that was recently shared with us about an incredibly generous young Mighty Girl:
"For the last 2 years, my daughter Sabiya has asked for food donations in lieu of gifts for her birthday. We had talked about how many families don't have enough to eat, and how a big part of the hungry population are children. This year, she raised 151 lbs of food donations for The York Food Bank, surpassing last year. We're very very proud of her!" -- posted on our Facebook wall by Dekey L.
A Mighty Girl would like to thank all of the individuals featured for their amazing work on behalf of others! You are truly Mighty Girl heroes!
Recommended Reading Resources