By Katherine Handcock, A Mighty Girl Communications Specialist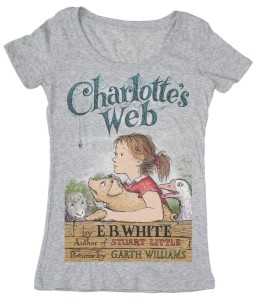 With all of the amazing girl-empowering books out there it might seem like book lovers are easy to buy gifts for, but what if you want to get them something other than more titles for their library? Fortunately, there's a whole world of gift options to help your Mighty Girl -- or the adult book lovers in your life -- celebrate their love of books, literature, and reading.
You could find the perfect literary-themed T-shirt or a beautiful book-themed poster. Maybe she's crazy for a particular book character or she just loves to play with words and stories. This blog will provide you with some inspiration for almost any reader, whether she's still enjoying story time on Mom or Dad's knee or she's sharing her childhood favorites with a new generation of Mighty Girls.
For more books, toys, and other resources to encourage your Mighty Girl's interest in storytelling and creative writing, check out our blog post on Fantastic Adventures and Amazing Tales: Encouraging Creative Writing and Storytelling.
To learn about more of our favorite toys of all varieties for Mighty Girls, check out our Girl Empowerment Toy Blog Series or visit our 2014 Holiday Guide.
Favorite Titles On Display: Literary Clothing and Artwork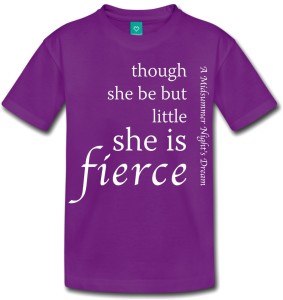 What better way to show off a love of reading than by displaying it on T-shirts and walls? Our collections of literary-themed clothing and posters feature a variety of different books and characters, including a site favorite -- a T-shirt featuring the famous quote from Shakespeare's A Midsummer Night's Dream, Though She Be But Little, She Is Fierce.
One of our favorite series of literary T-shirts comes from Out of Print, which makes T-shirts featuring cover art from a variety of classic books. Teen and adult literary fans will find a wide variety of options, including such Mighty Girl literary classics as Pride and Prejudice, Jane  Eyre, The Color Purple, A Tree Grows In Brooklyn, Charlotte's Web, Nancy Drew, The Handmaid's Tale, Their Eyes Were Watching God, Wonderful Wizard of Oz, Wuthering Heights, To The Lighthouse, Alice in Wonderland, and A Wrinkle in Time. Best of all, you can let her know that you're helping to share her love of reading with this gift: Out of Print's charitable outreach partners with Books in Africa, so every T-shirt sold provides a book to a community in need.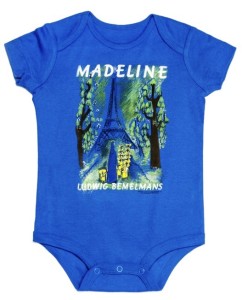 Young literary fans will particularly enjoy Out of Print's Madeline-themed clothing! Featuring the artwork from the first edition of this classic children's book, this design is available on a onesie and children's T-shirt, as well as in adult versions as a T-shirt and sweatshirt.
If she'd rather display her favorite book cover on a tote, Out of Print's literary tote bag is the perfect size to carry a few favorite novels. Tote bags are available based on such Mighty Girl classics as Alice's Adventures in Wonderland and Pride and Prejudice.
When The Fault In Our Stars was adapted into a live action movie this summer, it prompted some great new T-shirts and posters! For T-shirts that pay tribute to this touching story, check out the Okay? Okay. T-Shirt, or the "Some infinities are bigger than other infinities" T-shirt and tank top. You can also check out this great The Fault In Our Stars poster which features a variety of quotes from the story.
If she's a fan of The Hunger Games, check out this terrific District 12 Tribute Poster T-shirt. A stylized image of Katniss Everdeen as the Girl On Fire is striking on this black cotton T-shirt, which starts at junior's size extra-small, meaning that even younger Katniss fans will be able to get a size that fits.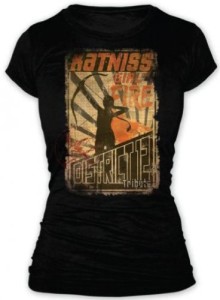 Or, if she prefers magic and wonder to a dystopian future, check out these terrific Gryffindor knee socks. Show off Hermione Granger's house colors and crest with these fun socks, which come in one size that will fit most age 10 and up.
To show off a general love of reading, check out this Girl Reading Nightshirt. With an image of a girl reading while sitting on a stack of books, this nightshirt is the perfect thing to wear while you finish just one more chapter before bed.
For book lovers who would like to display their love of reading on the walls, a typography poster is a clever and dramatic way to do that. These posters use text from novels — anywhere from a dozen chapters to the entire work — to create a negative space image of a scene from the book. This beautiful Alice in Wonderland poster depicts Alice and a Cheshire Cat grin using the full text from Alice's Adventures in Wonderland. More typography posters of Mighty Girl classics include Little Women, Anne of Green Gables, Pride and Prejudice, The Secret Garden, and The Wonderful Wizard of Oz.
Bringing It To Life: Toys & Films Inspired By Stories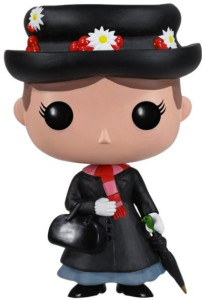 After a good book is done, it's hard to let it go! These terrific toys allow Mighty Girls to continue enjoying the story, whether she's playing with a doll, watching a movie, or trying a craft inspired by the book.
If your Mighty Girl is a fan of Ladybug Girl, she'll love this plush Ladybug Girl doll. At 10 inches tall, she's just the right size for Ladybug Girl's young fans to cuddle during story time. Young Madeline fans will enjoy this 10" soft Madeline Doll or this 16" soft Madeline doll, both of which come complete with an embroidered appendicitis scar from her original adventure.
For your very own Dorothy from The Wizard of Oz, check out the Topsy Turvy Dorothy & Toto Doll and 12" Dorothy Cloth Doll. Or, for a modern take on P.L. Travers' Mary Poppins,  Funko's Mary Poppins Figure is an adorable 3 3/4" inch collectible.
For a mix of craft and play, why not pick up a great collection of paper dolls? The Favorite Storybook Characters paper doll set includes one paper doll (holding a book, naturally!) and eight costumes to dress her up to look like different fictional characters. Characters include Dorothy, Anne of Green Gables, Alice in Wonderland, and Heidi. Or if your Mighty Girl would prefer the world's most famous girl detective, Nancy Drew, check out the Nancy Drew Classic Paper Doll book. This is Nancy as she first appeared, with 24 outfits from mysteries from the 1930s, 40s, and 50s.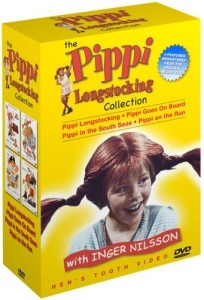 Sometimes the best part of toys based on a book is that they let you imagine what it would be like to be your favorite character! Fans of the Little House books by Laura Ingalls Wilder will love the My Little House Crafts Book. If you ever imagined making a corncob doll, a bear-track quilt, or a button string -- just like Laura -- this book will teach you how.
Or, if you'd rather picture yourself defeating dark wizards, why not get yourself Hermione Granger's very own wand? The 14 inch replica wand comes in a collector's box, and even lights up with a flick of the wrist, fast as you can say Lumos!
And sometimes, of course, it can be fun to see someone else's vision of a favorite character brought to life! Fans of Pippi Longstocking will love The Pippi Longstocking Film Collection. This set of four Swedish Pippi Longstocking films -- with Pippi played perfectly by Inger Nilsson -- makes for fun viewing and interesting conversation later about the differences between the movies and the books.
Another beloved Mighty Girl book that has been adapted for screen is the three-part series:
Anne of Green Gables: The Collection. In this five-disc collector's edition, Megan Follows as Anne, and Richard Farnsworth as Matthew, and Colleen Dewhurst as Marilla deliver beautiful, powerful performances as three struggling individuals who become, without question, a close and loving family.
For The Love Of Books: Celebrating Books and Reading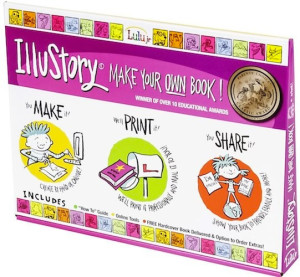 Of course, books themselves are special: they represent the joy of storytelling and the pleasure that comes from connecting over a stirring tale. If this describes your Mighty Girl, check out these gift ideas that celebrate books and reading in general.
For a high-quality printing of your child's writing, check out Illustory's Make Your Own Book Kit and My Comic Book Kit -- each lets you create your own story with your own illustrations, then send the result off to get a professionally printed copy, complete with typesetting, an "about the author" page, and a dedication page! You can even order additional copies of your child's first publication. Please note that at the moment, Lulu Jr., the creators of these kits, only ship completed books within the US.
If your Mighty Girl adores pop-up books, Pop-Up: Everything You Need To Create Your Own Pop-Up Book is a combination guide and kit that comes with pre-scored, sticky-backed pieces for pre-made scenes, and a guide to basic folds and techniques for girls who want to create their own pop-up designs from scratch.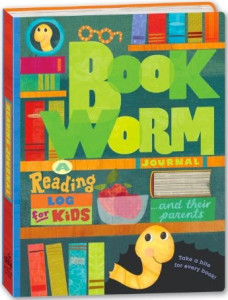 Of course, the greatest joy is getting to share the love of a good story with others. If your Mighty Girl is just getting started reading alone, check out the Bookworm Journal: A Reading Log for Kids (And Their Parents). As you fill journal entries with stories -- complete with ratings and notes about who read it to her (or if she read it herself) -- you tear off a perforated corner. The more she reads, the faster the bookworm will "eat" his way through the journal!
Teens, on the other hand, will love Read, Remember, Recommend for Teens: A Reading Journal For Book Lovers. Full of lists of recommended titles, separated by genre, and with room to record favorite titles, your future reading list, and your thoughts and ideas about reading and writing, this journal is sure to be a hit!
Or, if you know a Mighty Girl and Mighty Mom book-loving duo, why not pick up Book by Book: The Complete Guide to Mother-Daughter Book Clubs? This practical, accessible guide to forming and running book clubs is a great way to encourage them to spend time together with a favorite hobby and with other like-minded moms and daughters.
We hope this helps provide you with some literary-themed, gift-giving inspiration!
Additional Recommended Resources
Help keep A Mighty Girl growing in the years ahead!
If you discover any books or other resources via this post that you would like to purchase, please use the "Buy at Amazon" link on every A Mighty Girl product page. By doing so, at no added cost to you, you help to support the site and allow us to continue providing you with wonderful girl-empowering resources. Thanks for your support!