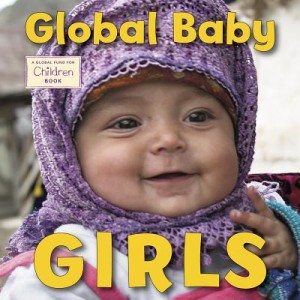 By Katherine Handcock, A Mighty Girl Communications Specialist
It's been a wonderful year for Mighty Girls in literature! In 2013, we've seen many new releases from favorite authors, enjoyed additions to terrific Mighty Girl series, and found amazing works from first-time authors.
Now, we're thrilled to share the over 130 new releases from 2013 that we've added to A Mighty Girl! And, because we know newly released books make great gifts during the holidays, we're sharing some of our favorites in a two-part blog series to make it easy to choose a few special ones for the children in your life.
In this blog, we'll share our twenty favorite girl-empowering books for infants, toddlers, preschoolers, and early elementary school children and, in the second part, we share our favorites for tweens and teens.
Of course, this is just a small sample of the many fantastic books released in 2013. To view our growing selection, visit our special feature on 2013 Mighty Girl Books.
Books for Babies and Toddlers
If you're looking for great, simple board books to share with the youngest Mighty Girls in your life, check out these great options!
Global Baby Girls from the Global Fund for Children (age 0 - 2)
Beautiful photographs of baby girls from around the world are the focus of this sweet board book. Each baby girl's country of origin is labelled, and the simple text reminds every girl of the tremendous potential within her. A portion of the proceeds from the sale of this book will go to charities that support community-based organizations that provide new opportunities for girls around the world.
I Know A Lot! by Stephen Krensky, illustrated by Sara Gillingham (age 1 - 3)
Sometimes you need to remind a toddler of just how many amazing things she already knows! This empowering book celebrates the many little victories of a child's rapidly developing understanding: knowing how to tell day from night, whether a rock or a flower is heaviest, and all the other little facts we take for granted. It will build her confidence to realize that she knows a lot, too.
The Line by Paula Bossio (age 2 - 5)
You don't need words to tell an amazing story! In this wordless picture book, a little girl finds a line on the ground. With a flick of the wrist, it becomes a slide, a bubble, a vine...But when the line starts making its own shapes — including a just-scary-enough monstrous creature — you'll start to wonder exactly where the line is coming from — and what surprise she'll find on the last page.
Books for Preschoolers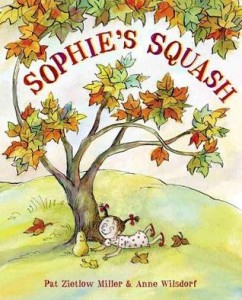 Preschoolers can start following more complex stories. With a few more words — but a lot more information — these books start opening up the world to your Mighty Girl!
Ol' Mama Squirrel by David Ezra Stein (age 3 - 5)
Ol' Mama Squirrel has chased trouble away from her babies for years with a loud "chook, chook, chook!" But when really big trouble comes to town, what will Ol' Mama Squirrel do? Fortunately, Mama knows that lots of friends working together can handle just about anything life throws at them! Expressive drawings and funny characters fill this story of a squirrel mother's ferocious love.
Sophie's Squash by Pat Zietlow Miller, illustrated by Anne Wilsdorf (age 3 - 7)
Sophie makes a new friend — a squash from the market she names Bernice. But vegetables don't make very permanent friends. When Bernice starts to get squishy, what can Sophie do to keep her newfound friend? A charming book that captures the intense devotion any child has to their favorite object, this book's vivid, busy illustrations are sure to have her giggling.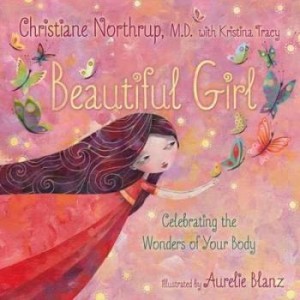 What Makes A Baby? by Cory Silverberg, illustrated by Fiona Smyth (age 3 - 8)
A "before you were born" story that is open to any type of family, including single parents, same-sex parents, adoptive parents, and even families that formed from fertility treatments or surrogacy, this charming book provides a great jumping-off point for discussing where babies come from — with as much or as little detail as parents wish to use.
Beautiful Girl: Celebrating the Wonders of Your Body by Christian Northrup and Kristina Tracy, illustrated by Aurelie Blanz (age 3 - 8)
Poetic language and beautiful imagery convey a powerful message: being born female brings special gifts, which you should honor, respect, and nurture as you grow. Northrup, a doctor and pioneer in women's health and wellness, touches on self-esteem, body image, the body changes that come with puberty and adulthood, and most importantly, the need to treat your self with love and caring.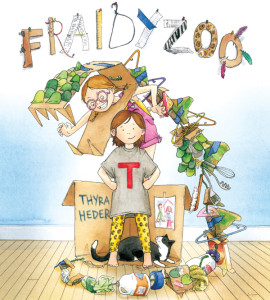 Part-Time Princess by Deborah Underwood, illustrated by Cambria Evans (age 3 - 8)
A typical girl by day, she has a secret identity at night as princess of a magical kingdom. Of course, while a princess wears fancy dresses and rides in a coach, a real princess also fights fires, tames trolls, juggles, and fences. And when a Queen comes to visit — a Queen who looks strangely familiar — it's time for even more fun!
Fraidyzoo by Thyra Heder (age 3 - 8)
An eagerly anticipated trip to the zoo is put on hold when little T confesses she's afraid — but can't remember why! Her clever family winds it way through the alphabet as they try to guess what animal spooked T, spawning a day of fun with clever improvised costumes and wild acting. When they do make it to the zoo the next day, it won't be T who's the "fraidyzoo"!
Books for Early Elementary School Children
As she begins school, your Mighty Girl is ready for even more challenging tales, including fascinating stories about real-life women pioneers and fiction that stretches her understanding of the world.
Rosie Revere, Engineer by Andrea Beaty, illustrated by David Roberts (age 4 - 9)
Rosie dreams of being a great inventor, and when great-great-aunt Rose (a now-elderly Rosie the Riveter) dreams of flight, Rosie tries to create a machine to fulfill her wish. The resulting lesson in the true meaning of success and failure will inspire your Mighty Girl to aim high and perhaps inspire her own feats of engineering. Filled with fun and expressive artwork, this empowering story about perseverance and dreaming big also has a little history about women in aviation sprinkled in for good measure!
Brave Girl: Clara and the Shirtwaist Makers' Strike of 1909 by Michelle Markel, illustrated by Melissa Sweet (age 4 - 8)
The true story of Clara Lemlich, the garment worker organizer who led the largest walkout of women workers in US history, receives vivid picture-book treatment. From her arrival in America, speaking no English, to her hours of hard work in the garment factory and at night school, to her amazing accomplishment inspiring the 1909 strike, this story will drive the message home to your Mighty Girl: big changes happen when you stand up for what is right.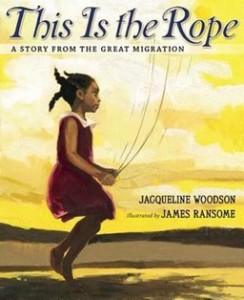 Rosie's Magic Horse by Russell Hoban, illustrated by Quentin Blake (age 4 - 8)
Rosie saves a popsicle stick — a stick with big dreams! After Rosie hears her parents worrying over bills, the stick becomes a magic horse that takes her off on a quest for treasure to solve their worries. Will Rosie and Stickerino the Horse's imaginative adventure  over cities, jungles, and an icepop mountain actually solve the problems at home? Surely a happy ending is in order...
This Is The Rope: A Story From The Great Migration by Jacqueline Woodson, illustrated by James Ransome (age 4 - 8)
A little girl in South Carolina finds a rope under a tree, and that rope binds the story of three generations as it's passed down and used for everything from jump rope games to tying suitcases onto a car for the big move north to New York City during the Great Migration. Woodson's graceful writing follows the rope as it travels with the family, providing a connection between the importance of the past and the hope of the future.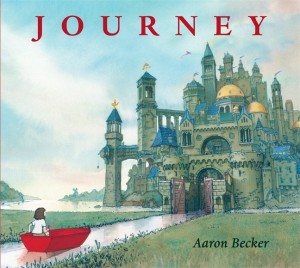 Daredevil: The Daring Life of Betty Skelton by Meghan McCarthy (age 4 - 8)
in the 1930s, Betty's dream of being a pilot and adventurer was totally unexpected. Her life of flying gliders, planes, helicopters and blimps — not to mention driving cars and motorcycles — was even more unexpected. This biography of the "First Lady of Firsts" introduces a woman who was a pioneer in many fields and reminds Mighty Girls that women can do anything!
Journey by Aaron Becker (age 4 - 8)
In this wordless story, a lonely girl uses her red marker to draw a door on her wall and walks through it into a world of adventure, wonder, and danger. Drawing will help her solve some problems, but others will require courage and kindness to puzzle out. In the end, though, the greatest adventure may be finding what she wants most in all the world: friendship.
Mary Walker Wears The Pants: The True Story of the Doctor, Reformer, and Civil War Hero by Cheryl Harness, illustrated by Carlo Molinari (age 5 - 9)
She was one of the first women doctors in the US. She was the only woman ever to win the Medal of Honor, for her medical service in the Civil War. She believed in votes for women. And she wore pants! The remarkable story of Mary Edwards Walker, who defied the traditional social roles of her day in favor of living the life she chose for herself.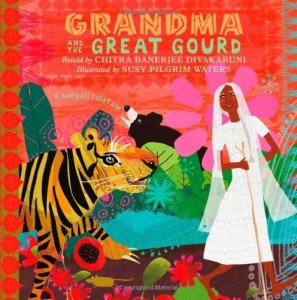 Grandma and the Great Gourd: A Bengali Folktale by Chitra Banerjee Divakaruni, illustrated by Susy Pilgrim Waters (age 5 - 8)
In a little village in India, an old woman lives with neighbors who all call her "Grandma." When her daughter writes asking her to visit, Grandma sets off through the jungle. Is Grandma cunning enough to get past all the jungle animals on her way there, and her way back? This brightly-colored, entertaining retelling of a classic Bengali tale is a great way to introduce Mighty Girls to a new area of the world.
The Matchbox Diary by Paul Fleischman, illustrated by Bagram Ibatoulline (age 5 - 9)
This girl's great-grandfather has a home full of curios, and he invites her to pick any item to hear its story. Her choice, a cigar box full of matchboxes, is his life story: each matchbox holds an item that represents part of his journey from childhood in Italy to generations of descendants in America. Told entirely in dialogue, this story of sharing family history will touch you and your Mighty Girl.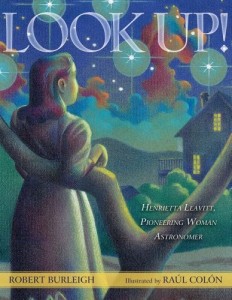 Look Up!: Henrietta Leavitt, Pioneering Woman Astronomer by Robert Burleigh, illustrated by Raul Colon (age 4 - 9)
Brilliant Henrietta dreams of studying the stars, but all women can do is note star positions and sizes at the Harvard College Observatory. But when 25-year-old Henrietta notices patterns in the sky, she will make a discovery that changes astronomy and allows people to understand the vastness of space. An inspiring biography of a little-known scientific figure.
We hope a few of our favorites will become new favorites for you and your children too! Narrowing the list down to twenty for these age groups was a big challenge given the number of fantastic new releases, so there are many more terrific titles for you to discover. To browse our entire collection of great girl-empowering books released this year, visit our special feature on 2013 Mighty Girl Books!
For more recent Mighty Girl publications, check out last year's release round-up, 2012 Mighty Girl Books: A Year In Review.
And, to learn about many of our all-time favorite Mighty Girl books for this age group, visit our special feature on the Top 100 Mighty Girl Picture Books.
Help keep A Mighty Girl growing in the years ahead!
If you discover any books or other resources via this post that you would like to purchase, please use the "Buy at Amazon" link on every A Mighty Girl product page. By doing so, at no added cost to you, you help to support the site and allow us to continue providing you with wonderful girl-empowering resources. Thanks for your support!