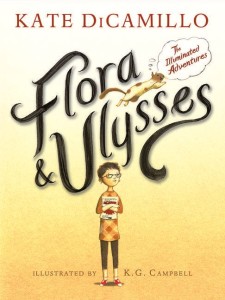 By Katherine Handcock, A Mighty Girl Communications Specialist
A few days ago, we announced the release of our special feature on the top 2013 Mighty Girl Books with a blog post featuring our favorite 2013 releases for younger readers. In today's post, we're showcasing twenty of the fantastic girl-empowering tween and teen books released this past year!
Our selection features new authors as well as returning ones, and both stand-alone books and volumes of some of our top Mighty Girl series. No matter what your Mighty Girl enjoys reading, she'll find something to intrigue her here!
Of course, this is just a small sample of the many wonderful books released in 2013. Narrowing down our favorites was truly tricky, so you're sure to discover more great titles in our complete 2013 Mighty Girl Books.
And, if you'd like to discover more recent releases starring Mighty Girls, check out our round-up of the top Mighty Girl stories from last year in our special feature on the 2012 Mighty Girl Books: A Year in Review.
Books for Tweens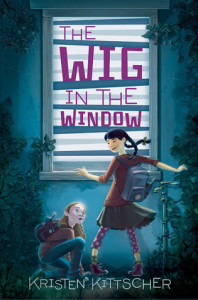 The Wig In The Window by Kristen Kittscher (age 8 - 12)
Sophie and Grace spy on their neighbors, just for fun of course, until the day they see an apparently bloody scene that turns out to be just their school counselor, Dr. Agford, making pickled beets. The girls are sure there's more going on, and they set themselves to finding out. But can their friendship survive the difficulties of their investigation? Adventure, fun, and mystery combine with the challenges of middle school friendships in this novel, first in a planned series.
Flora and Ulysses by Kate DiCamillo, illustrated by K.G. Campbell (age 8 - 12)
Flora rescues a poor squirrel from a tragic accident with a vacuum cleaner, little suspecting that Ulysses has been reborn with superheroic powers! Cynical Flora, voracious reader of the comic Terrible Things Can Happen To You!, finds herself captivated by the devoted Ulysses, with his newfound powers of flight and poetry. This new format -- a novel interspersed with both comic-style graphic sequences and full-page illustrations -- is perfectly suited to this story of a very unlikely superhero and his newfound friend.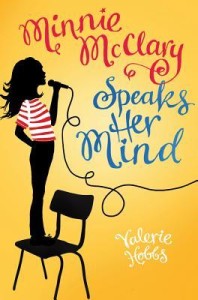 A Tangle of Knots by Lisa Graff (age 8 - 12)
In a world where everyone has a slightly magical Talent, Cady is an orphan with an amazing ability for cake-baking. But instead of a quiet baker's life, Cady will meet a wide variety of characters whose stories intertwine with hers, including children searching for their own Talents and a Talent Thief. These encounters will change her life, reveal how Cady became an orphan and possibly reunite her with her lost parents. This gripping fantasy story is sure to become a favorite.
Minnie McClary Speaks Her Mind by Valerie Hobbs (age 9 - 13)
Minnie is a newcomer who doesn't fit in at school -- which might be easier if things weren't hard at home too. When Miss Marks takes over Minnie's language class and starts encouraging the kids to think critically and ask questions, Minnie is inspired. And when other parents get angry with what Miss Marks is teaching and demand her suspension, Minnie discovers the power of her voice. This coming-of-age story is sure to inspire your Mighty Girl to speak up when it really matters.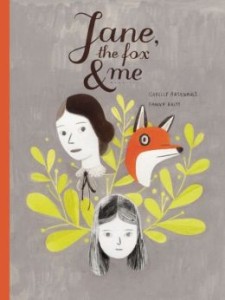 Jane, the Fox, and Me by Fanny Britt, illustrated by Isabelle Arsenault (age 9 - 14)
Helene has suddenly been ostracized by her former friends, and her only consolation is her beloved Jane Eyre. On a school trip, she briefly connects with a fox, but another girl scares it away and Helene despairs even more. And then she meets Geraldine, who doesn't seem to care that she might become an outcast herself, and Helene come to realize that what other people think of her isn't the most important thing in the world. A stunning, emotionally complex graphic novel that captures the redemption that can come from good books, animals, and friendship.
The Care and Keeping of You 2: The Body Book for Older Girls from the American Girl Library (age 10 - 13)
The original Care and Keeping of You guide for tweens, which has sold over 3 million copies since its original publication, gets a companion book for girls who need additional information about the ongoing changes in their bodies. This volume covers more questions about periods, personal care, and developing bodies and emotions. If your daughter has read the first volume and has additional questions, this is the perfect follow-up.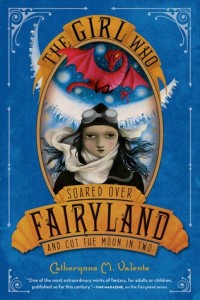 The Girl Who Soared Over Fairyland and Cut The Moon In Two by Catherynne M. Valente (age 10 and up)
September returns to Fairyland and her friends, Ell and Saturday in this third volume of Valente's captivating series. In this adventure, she must save Fairyland's moon from a mysterious and powerful moon-Yeti. in the process, September will realize that, even in Fairyland, what path she will follow is up to one person: herself. These complex, humorous, and fantastical books have been delighting critics as well as tween, teen, and adult readers. If your Mighty Girl hasn't read the first two volumes, the three books will make a terrific themed gift.
Big River's Daughter by Bobbi Miller (age 10 - 14)
River grew up on her pirate father's ship as it sailed up and down the Mississippi river until the great earthquake of 1811, when her father disappeared. Now, she's determined to find her own place in the new order despite her father's rival, Jean Laffitte, and his plan to claim her father's territory and treasure for himself. Your Mighty Girl will be fascinated by this historical novel, which reminds her that the Mississippi was once full of wild, adventurous people like River.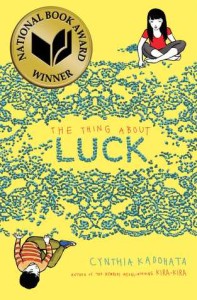 The Thing About Luck by Cynthia Kadohata (age 10 - 14)
In this National Book Award winner, when Summer's parents are called away to Japan, her grandparents come to handle the farm's harvest and look over her and her brother Jaz. But old-fashioned Obaachan and Jiichan don't understand her "intense" brother or Summer's desperate desire to fit in with her American peers. As Summer navigates the line between childhood and adulthood, perhaps she can find a way to bring luck back home.
Counting By 7s by Holly Goldberg Sloan (age 10 and up)
Willow Chance is an idiosyncratic 12-year-old genius, whose obsessions with nature, medical conditions, and counting by 7s are embraced by her adoptive parents. But when her parents die in a car crash, Willow faces a confusing, frightening world and the possibility of life in a group home with people who can't provide the support she needs. Fortunately, she finds a diverse surrogate family to back her up as she overcomes her grief and finds a new place for herself. This story of an endearing heroine's triumph over tragedy is sure to move your Mighty Girl.
Books for Teens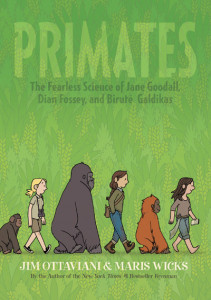 Primates: The Fearless Science of Jane Goodall, Dian Fossey, and Birute Galdikas by Jim Ottaviani, illustrated by Maris Wicks (age 12 and up)
The amazing stories of the three great primatologists of the 20th century, Jane Goodall, Dian Fossey, and Birute Galdikas, gets a fascinating, funny, and unique graphic novel treatment. This accessible, entertaining book shows how these three students of Louis Leakey -- who believed that women would be better at studying wild ape behavior than men -- came to make groundbreaking decisions and use unorthodox techniques to reveal new truths about the great apes and what it means to be human.
Take 5 For Your Dreams by Paula Greico and Liz McHutcheon (age 12 and up)
As she's inundated with messages about what she can and should want to be, a teen girl may find it hard to find her own dreams. This innovative guide gives daily, 5-minute exercises to help girls identify what they really want and figure out how to pursue it. Full of inspiring quotes, photography, resources, and interviews with real teenagers, this book is sure to provoke introspection and big dreams in your Mighty Girl!
Rose Under Fire by Elizabeth Wein (age 13 and up)
Rose Justice, an American pilot and amateur poet working with the British Air Transport Auxiliary, is captured on a mission in Nazi-occupied France and sent to the notorious Ravensbruck concentration camp. There she will meet other prisoners, including one of the Polish Rabbits, women used for medical experimentation. Saving the Rabbits and telling their story to the world will become the driving force that helps Rose survive. A stunning piece of historical fiction that captures the loyalty, bravery, and determination of those who survived.
Fangirl by Rainbow Rowell (age 13 and up)
Cath and her twin sister Wren have been fans of the Simon Snow series (think Harry Potter) for years, writing fan fiction, dressing for conventions, and living in the world of the series -- a world they preferred to the one where their mother was leaving. But now they're going to college, and Wren doesn't want to be a fangirl any more. Cath is left on her own, full of worries about whether she can handle being on her own, living her own life and leaving Simon Snow behind. A genuine and sweet coming of age novel.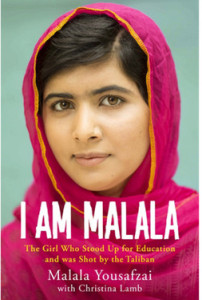 I Am Malala: The Girl Who Stood Up For Education And Was Shot By The Taliban by Malala Yousafzai and Christina Lamb (age 14 and up)
Malala Yousafzai's incredible story of standing up for girls' rights for education -- first in Pakistan and now around the world -- in her own words. The memoir follows Malala from her childhood with a father who encouraged his daughter to read, write, and attend school -- even as the Taliban took control of the Swat Valley -- to the infamous October 2012 shooting, and finally to her recovery and ongoing fight for educational access. Her incredible story will inspire your Mighty Girl and give her a deeper appreciation of the freedoms she has and ignite her desire to help other girls around the world.
If You Find Me by Emily Murdoch (age 13 and up)
15-year-old Carey has lived in a camper in the woods as long as she can remember, caring for her mentally ill, drug-addicted mother and her younger sister, Janessa. Then, one day, a stranger arrives: Carey's father, here to tell them that their mother is not coming back. Now living with her father, Carey has to negotiate an unfamiliar world, come to terms with her past, and decide if she can trust him with their darkest secret: what happened on the "white star night" a year ago, when Janessa stopped speaking. A heartbreaking but hopeful book from this first-time author.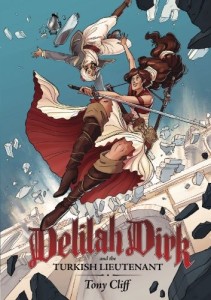 Delilah Dirk and the Turkish Lieutenant by Tony Cliff (age 13 and up)
This swashbuckling heroine has traveled all over the world on her flying boat, and she's always ready for adventure! In this stunningly illustrated graphic novel, Delilah finds herself on a whirlwind adventure as she plots to rob a corrupt Sultan in Constantinople. For Delilah, one adventure leads to the next in this thrilling and funny installment in her exciting life.
The Coldest Girl in Coldtown by Holly Black (age 13 and up)
In a world where real monsters lurk, the Coldtowns are quarantine zones for the infected which means that, once you've gone in, you can't leave. Tana wakes up after a party and finds herself in a Coldtown, surrounded by corpses, her now-infected ex-boyfriend, and a mysterious stranger. But Tana won't accept spending the rest of her life as prey for the decadent monsters; instead, she'll plunge into the heart of Coldtown to find a way to get all three of them back out. A dark thriller with a vivid setting, fans of supernatural fiction will be fascinated by this novel.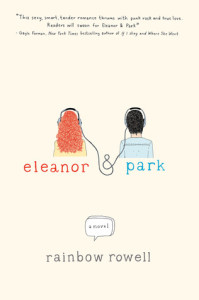 Eleanor and Park by Rainbow Rowell (age 13 and up)
It's 1986, and Eleanor and Park are misfits at school who discover a kinship and first love over comic books and mix tapes. Eleanor lives with bullying at school and threats at home; Park's sport-loving family doesn't understand him or approve of Eleanor's awkwardness, but give the pair a refuge after school where their relationship can deepen. Throughout, though, they are faced with an unpleasant truth: no matter how deep and strong first love is, it rarely lasts forever. But maybe, in the moment, that doesn't matter.
Crown of Midnight by Sarah J. Maas (age 13 and up)
Celaena won the contest to become the king's royal assassin, freeing her from a life of hard labor in prison. But her position does not make her loyal to the king, something she must hide from everyone in her life. When she is given a task that risks what she truly cares for, what will she do? And when it becomes obvious that more dangerous forces are threatening the world, can Celaena find a way to fight for the people who really matter to her? Maas has created a rich, vibrant fantasy world that's sure to intrigue your Mighty Girl.
After seeing these titles, and all the other amazing books that 2013 brought us, we can't wait to see what 2014 will bring!
To view our entire collection of girl-empowering 2013 releases, visit our special feature on the top 2013 Mighty Girl Books.
For the first part of this blog, featuring twenty of our favorite 2013 releases for readers from infants to school-age, visit our post on the Top 2013 Mighty Girl Books for Young Readers.
Help keep A Mighty Girl growing in the years ahead!
If you discover any books or other resources via this post that you would like to purchase, please use the "Buy at Amazon" link on every A Mighty Girl product page. By doing so, at no added cost to you, you help to support the site and allow us to continue providing you with wonderful girl-empowering resources. Thanks for your support!