By Katherine Handcock, A Mighty Girl Communications Specialist
Welcome to our new blog series, Mighty Careers! In this series, we're going to celebrate careers that your Mighty Girl may be dreaming of pursuing one day. In each blog, we'll profile a career role model and provide recommendations for books, toys, clothing, and even room decor to help inspire your Mighty Girl in her aspirations. Whether she's three or thirteen, there will be resources to help her learn more about her dream job, imagine herself living it, and let the world know what she hopes to be when she grows up.
In the first blog post of the series, we're focusing on a career field that is popular with many Mighty Girls: astronaut! There's something about space that captivates many kids, but it's often difficult to find resources that feature girls and women as astronauts.
To make it easier, we've pulled together a series of great fictional books and biographies about female astronauts and space scientists. We've also included recommendations for great pretend play or learning toys to foster her interest in space and astronomy. And, of course, since no space-crazy Mighty Girl's wardrobe would be complete without a nod or two to her love of the stars, we've also sought out a collection of space-themed clothing.
So take a look at what's out there to help your Mighty Girl's dream of space grow! Even if a career in space isn't in her future, she'll always remember that you encouraged her to reach for the stars.
For more ways to encourage your Mighty Girl to aim high, check out the other entries in our Mighty Careers series.

A Real-Life Astronaut: Flight Engineer Karen Nyberg
Karen Nyberg was born only a few months after the first human landed on the moon -- perhaps that's what prompted her own dreams of space! A mechanical engineer, Nyberg began working with NASA in 1991 and was selected as an astronaut candidate in 2000. While waiting for her turn to travel to space, she participated in a deep-sea simulation exercise to help NASA prepare for a possible return to the moon and future mission to Mars.
In May 2008, she flew to the International Space Station for her first space visit and returned to the ISS in 2013. Over her two trips, she has spent 180 days in space. She was one of only two female astronauts orbiting Earth on the 50th anniversary of Valentina Tereshkova's Vostok 6 flight, the first time a woman had traveled to space.
Nyberg is also an avid runner, pianist, and backpacker, and she loves crafts, especially quilting. During her last trip to space, she created a video of quilting in space and in it, she challenges quilters from around the world to contribute star-themed quilt blocks to an Astronomical Quilt which will be displayed at the 2014 International Quilt Festival.
Nyberg hopes to inspire kids who dream of space to follow in her footsteps: in a 2013 interview with CBS News, she says, "I'm just an average person, I think, you know, I had an average American upbringing. Somebody else in my situation might not think that they can do it; hopefully I can inspire them that yes, they can."
Read All About It: Mighty Girl Books About Astronauts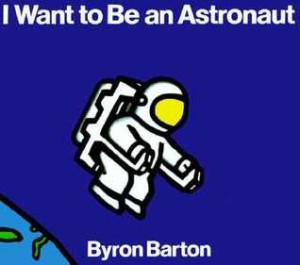 If your Mighty Girl is an aspiring astronaut, chances are good you scour the shelves for great books about astronauts and space! Finding general books about space is relatively easy, but finding books that feature girls and women as astronauts is a bit trickier. These titles will help add some Mighty Girls astronauts to her bookshelf.
The youngest Mighty Girls will love I Want To Be An Astronaut! by Byron Barton (age 1 - 4), which features a girl imagining what it would be like to work, eat, and sleep on the space shuttle. Your own Mighty Girl will be fascinated to see what's different -- and what's the same -- when you're living an astronaut's life.
Another great title for preschoolers is Jennifer Fosberry's My Name Is Not Isabella: Just How Big Can A Little Girl Dream? (age 4 - 8). Among several real-life women heroes Isabella looks up to is US astronaut Sally Ride, "greatest, toughest astronaut who ever was!" With vivid, colorful artwork and fascinating age-appropriate profiles, it's sure to prompt lots of rounds of pretend play.
Tween readers are ready for more detailed biographies on women astronauts who have blazed the trail into space. The 2013 biography Who Was Sally Ride? (age 8 - 12) is a great introduction to the amazing woman who became America's first woman in space. It talks about her work with NASA as well as her later work inspiring girls to develop a love of science. And Canadian Mighty Girls will love reading about Roberta Bondar: Canada's First Woman In Space (age 10 and up) and will likely to be fascinated to hear that there's more to being an astronaut than flying in the shuttle -- who knew NASA has a head of space medicine?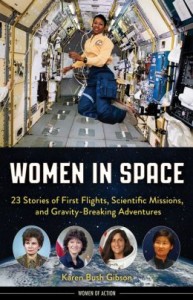 For teens, we highly recommend Women In Space: 23 Stories of First Flights, Scientific Missions, and Gravity-Breaking Adventures by Karen Bush Gibson (age 12 and up), part of the fantastic Women Of Action series This excellent new book featuring twenty-three women from ten different countries whose careers span a half century of human spaceflight -- including Valentina Tereshkova, Sally Ride, Mae Jemison, and Peggy Whitson -- will both educate and inspire!
Of course, it's also important to teach our Mighty Girls the story of the trailblazing women whose dream of becoming astronauts seemed so close but never came to pass. Almost Astronauts: 13 Women Who Dared To Dream by Tanya Lee Stone (age 10 - 14) tells the story of the thirteen female would-be astronauts in the early years of the space exploration. Although they trained hard to prove that they were as capable as a male candidate, none of them successfully made it to space. However, their dedication and the way they challenged discrimination against women in the space program paved the way for the young women of today to live their own dreams of space.
Space Adventures: Imaginative Play Toys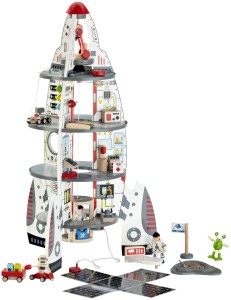 If your Mighty Girl is ready to blast off on her own space adventures, there are some great pretend play toys out there to help her do just that! These toys will help Mighty Girls of all ages keep their imagination among the stars.
If you're going to space, the first thing you need is a rocket! There are some great options out there for young Mighty Girls. From Playmobil's 1-2-3 line, the Moon Rocket for ages 18 months to 3 years is simple, easily manipulated by toddler hands, and best of all, comes with an ungendered astronaut figure so any child can imagine themselves in the cockpit.
Green Toy's Rocket With Two Astronauts (age 18 months to 5 years) features a more complicated rocket, with a main booster and three auxiliary boosters, a detachable top capsule, and a flip-down door to access the main cavity, all made in the USA with 100% recycled plastic so that you can keep the playroom green as well as fun.
For even more elaborate play, Educo's Discovery Spaceship And Lift-Off Rocket (age 3 - 8) features a four-level spaceship with a mission control section, lab, workout room, and living quarters, with a real working elevator connecting all four levels. It's sure to inspire your Mighty Girl's play!
This Space Module Tent (age 3 - 10) from Pacific Play Tents will make your Mighty Girl feel even more a part of the action. The exciting graphics make it feel just like a real space station, and you can expand the fun by getting her the compatible 6' Docking Port Tunnel (age 3 - 8) which attaches to one of the ports in the tent. Both are easily collapsible for storage.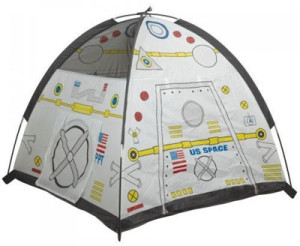 Or, you can build her the ultimate astronaut costume! Pick up this NASA Junior Astronaut Costume (age 1 - 12) and complete it with an Astronaut Helmet With Sounds (age 5 and up), some Astronaut Boots shoe covers (age 4 - 8), and this fun Astronaut Backpack (age 3 - 8) that even features flames coming out of the boosters, and she'll be heading to space in style.
Older Mighty Girls may want some figures and building toys that reflect real spacecraft. Safari's Space Toob (age 3 -12) features twelve miniature figurines with a space theme, including replicas of the moon rover, the Saturn 5 rocket, and the International Space Station. Mighty Girls who are crazy about building will love making the LEGO Space Shuttle kit (age 5 - 12), which includes 231 pieces that allow you to build a shuttle with opening bay doors, the Canadarm robotic arm, and a Hubble telescope to release into orbit. And for the ultimate building challenge, the Nanoblock Space Shuttle (age 8 and up) has over 200 tiny pieces that allow you to build a replica of the shuttle that fits in the palm of your hand.
Learning The Trade: Educational Toys About Space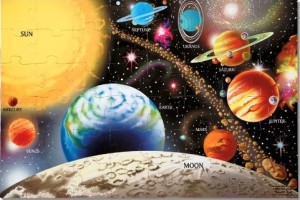 To help deepen your Mighty Girl's knowledge of space, there are numerous excellent educational toys focused on space, the solar system, and stars. Pick up Melissa and Doug's 48-piece Solar System Floor Puzzle (age 3 - 6), a beautiful image of the planets and moon (each labelled) with a finished size of 2 by 3 feet!
If you want to start learning constellations, but your Mighty Girl's bedtime is too early for winter stargazing, there are ways to bring the stars to the daytime. The Constellation Craft Kit from Nature-Watch (age 6 and up) includes die-cut medallions with holes representing five major constellations, allowing you to shine a flashlight through to project the constellation on a wall, or hold it out in the sunlight to project it on the ground.
But, of course, there's no substitute for getting outside and looking at the real thing! With a good basic telescope -- like this Celestron AstroMaster Telescope (age 8 and up) -- and a good star guide, like the Night Sky Star Wheel (age 8 and up) or the Klutz Guide to the Galaxy (also age 8 and up), it won't be long before you're spotting real stars together.
Bringing Space To Her Place: Space-Themed Room Decor

If your Mighty Girl is truly space-crazy, chances are good she wants to surround herself with space-themed items. Her bedroom is her refuge, but it's also where her dreams begin so why not decorate her room accordingly?
Even the littlest Mighty Girls can bring the stars to their room. A Constellation Night Light (age 1 - 8) in the shape of a drowsy turtle can project a star field onto her walls and ceiling, or hang a Solar System Globe Mobile (all ages) or a 3D Solar System (age 3 and up) for her to watch as she dozes off. Older Mighty Girls can enjoy Uncle Milton's Moon In My Room (age 6 and up) as they change the settings using the included remote control to view all of the moon's different phases.
With the Star Explosion set (age 3 and up), she can turn her ceiling into a galaxy, using either real star patterns from the included guide or your own imagination. Or, if she has a magnet board in her room, the Solar System Magnets from Learning Resources (age 5 and up) will allow her to play with realistically detailed planets.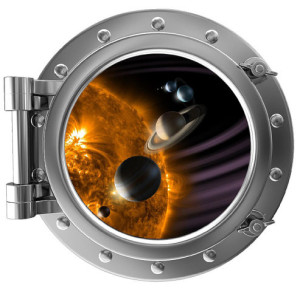 You can also bring some starry flair to your Mighty Girl's walls and ceiling with wall decals, like the Outer Space Wall Decals or Glow In The Dark Wall Decals from RoomMates (both age 0 - 10). They apply to any smooth surface and can be peeled off and repositioned without leaving sticky residue. Or for a particularly dramatic touch, put on Stickit's 12" Solar System Portscape (all ages) -- it's like peeking out of your very own rocket window!
Posters and wall-hangings can also reflect your Mighty Girl's love of all things space. eeBoo's Space Growth Chart (age 0 - 10) is perfect for helping your Mighty Girl count down until she's big enough to apply to NASA! A poster of NASA's Mars Rover (all ages) will remind her that "The cure for boredom is curiosity...There is no cure for curiosity." A classroom-quality poster of Mae Jemison (all ages) will provide her with more inspiration: "Don't let anyone rob you of your imagination, your creativity, or your curiosity. It's your place in the world; it's your life." And for something a little more tongue in cheek, this astronaut poster (all ages) lets her know that she should always dress for the job she wants.
Dress Code: Astronaut- and Space-Themed Clothing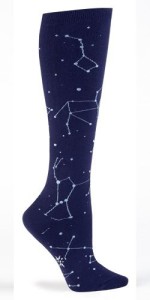 When a Mighty Girl really loves something, chances are good she wants to wear it on every item of clothing she owns! These clothing selection are sure to become regulars in your Mighty Girl's wardrobe.
For the youngest Mighty Girls, she'll love this Out Of This World Nightgown (age 4 - 6) featuring the star-travelling Angry Birds.
Older girls can put the universe under their feet with space or constellation knee socks from Sock It To Me (both age 13 and up.)
And two of our space-themed T-shirts are available for Mighty Girls of all ages, from infants to adults in a wide variety of styles! Whether she wants to remind the world that Girls Heart Rockets or show off what girls can do with the Girls Can! Astronaut shirt, she'll be able to find a style that fits.
"I've discovered that half the people would love to go into space and there's no need to explain it to them. The other half can't understand and I couldn't explain it to them. If someone doesn't know why, I can't explain it." — Sally Ride
So many Mighty Girls would understand what Sally Ride said: if you dream of walking among the stars, there's no way to explain your dream to someone who doesn't. But for those who do, finding ways to express their passion is a very special thing. We hope that your would-be astronaut finds something to treasure in these recommendations. After all, who knows where her dreams will take her?
Additional Resources
Help keep A Mighty Girl growing in the years ahead!
If you discover any books or other resources via this post that you would like to purchase, please use the "Buy at Amazon" link on every A Mighty Girl product page. By doing so, at no added cost to you, you help to support the site and allow us to continue providing you with wonderful girl-empowering resources. Thanks for your support!