By Katherine Handcock, A Mighty Girl Communications Specialist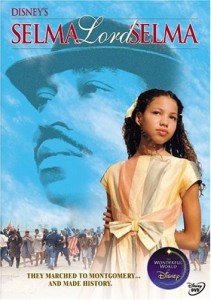 It can be hard for young people today to understand the obstacles and hardship faced by the activists of the Civil Rights Movement. The idea that a black child might have to be escorted into school by federal marshals, or that a white ally of the movement might spend months in jail for riding side by side with her friends on a bus, is entirely foreign to most kids.
While there are many great books about the Civil Rights Movement to share, a well-crafted movie on the topic is a highly effective way of capturing the reality of civil rights struggles. As part of our celebration of Black History Month, we're showcasing our favorite films about the girls and women of the Civil Rights Movement. These stories will captivate and inspire your Mighty Girl, and remind her that, if you truly believe in something, it's important to make a stand.
Selma, Lord, Selma directed by Charles Burnett (age 8 and up)
Sheyann Webb is a 12 year old girl in Selma, Alabama, whose life is changed when she hears Dr. Martin Luther King speak. She vows to do whatever she can to support Dr. King and his cause, and to resist the racism and degradation she now sees all around her. But as the historic march from Selma to Montgomery approaches, and the threats of violence increase, Sheyann has to decide if she dares to stand shoulder-to-shoulder with the others in the march. This inspiring film captures the fear and danger that civil rights supporters faces, without becoming too graphic for younger Mighty Girls.
The film was inspired by the true story of Sheyann Webb and her friend, Rachel West. You can find their story as told to Frank Sikora in the book Selma, Lord, Selma: Girlhood Memories of the Civil Rights Days (age 13 and up).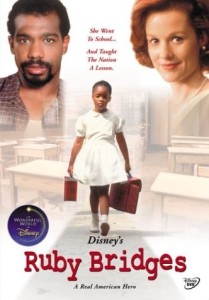 Ruby Bridges directed by Euzhan Palcy (age 7 and up)
The story of Ruby Bridges, the first child to desegregate an elementary school in New Orleans, is told in this excellent film full of complex performances and frank examinations of how communities reacted to civil rights progress. 6-year-old Ruby, played by Chaz Monet, just wants to go to school; she never expected to be escorted by US Marshals to protect her from threats of violence or to study alone after a boycott by white parents. Despite it all, Ruby sticks it out through her first year of school and the next year, more students join her and the mobs are gone. Your Mighty Girl will be astounded to see a child, younger than her, have to face such incredible challenges.
There are also several books for young readers about Ruby Bridges which you can find in our Ruby Bridges Collection.
The Autobiography of Miss Jane Pittman directed by John Korty (age 10 and up)
Based on a work of realistic fiction by Ernest J. Gaines, this film tells the story of Jane Pittman, who witnesses 110 years of American history that begin with her birth as a slave on a pre-Civil War plantation in Louisiana and end with her joining the Civil Rights movement in 1962. Cicely Tyson's performance as Pittman is stunning, as she weaves a personal story and emotions into major historical events. This exploration of how individuals — and a nation — moved from slavery to the demand for civil rights is a beautiful and accessible overview of a century of history.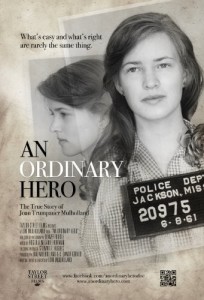 An Ordinary Hero: The True Story of Joan Trumpauer Mulholland, directed by Loki Mulholland (age 13 and up)
By the time she was 19, Joan Trumpauer had participated in dozens of protests and sit-ins, but the real trial was just beginning. A a member of the Freedom Riders, civil rights activists who rode buses in mixed-race groups to protest segregation, she was arrested and sent to the infamous Parchman Penitentiary in Mississippi. She spent months there, undergoing vicious and humiliating treatment, but emerged determined to continue her support of civil rights causes. This award-winning documentary tells her story, and reminds everyone who watches it that anyone can be a hero.
4 Little Girls directed by Spike Lee (age 12 and up)
This striking and deeply documentary tells the true story of a racially-based bombing of an African American Baptist church in 1963 left four little girls dead and a nation outraged. Lee shows how this act of hate helped galvanize the Civil Rights Movement in America. Emotional interviews recount both the realities of life in the segregated south and the poignant details of the grief of those who mourned Addie Mae Collins, Carole Robertson, Cynthia Wesley, and Denise McNair.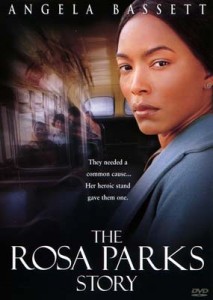 The Long Walk Home directed by Richard Pearce (age 10 and up)
Miriam Thompson is oblivious to civil rights issues until her maid and nanny, Odessa Cotter, starts to be late for work. Miriam learns that, to support the Montgomery bus boycott, most African American workers in the city — including Odessa — are walking long distances to their jobs. Miriam offers Odessa a drive two days a week, but as the boycott starts to impose financial costs on prominent members of the white community, including Miriam's husband, Miriam faces a choice: support her husband and friends and ignore what is happening or stand up for what she believes is right. With beautifully nuanced performances by Sissy Spacek as Miriam and Whoopi Goldberg as Odessa, this film is an effective and emotionally moving period drama.
The Rosa Parks Story directed by Julie Dash (age 10 and up)
When Rosa Parks refuses to give up her seat on a segregated bus to a white passenger, she has no idea that she will become a catalyst for civil rights. After Parks' arrest, local civil rights activists organize the Montgomery Bus Boycott in protest, and Parks becomes a rallying point and inspirational figure for people across America and around the world. This film goes beyond a moment on a bus to show the events that shaped this determined woman's conviction and the many contributions she made throughout her life. With a compelling performance by Angela Bassett as Parks, this is an affecting dramatization of the story of the "first lady of civil rights."
For many books about Rosa Parks for both children and teens, visit A Mighty Girl's Rosa Parks Collection.
Whether telling a fictional story, or honoring a real hero of civil rights, these films will bring a new perspective on this critical part of history — and inspire your Mighty Girl to be a part of history as it unfolds. After all, there is still room for the Mighty Girls of today to champion for equality everywhere.
Additional Recommended Resources
Help keep A Mighty Girl growing in the years ahead!
If you discover any books or other resources via this post that you would like to purchase, please use the "Buy at Amazon" link on every A Mighty Girl product page. By doing so, at no added cost to you, you help to support the site and allow us to continue providing you with wonderful girl-empowering resources. Thanks for your support!