By Katherine Handcock, A Mighty Girl Communications Specialist
August and September are big months for new children's book releases --- which means there are lots of newly published titles starring Mighty Girls! From terrific new picture books to engrossing teen fiction, there have been some excellent books hitting the shelves in the last two months. To help you learn about the standouts and to whet your appetite for the release of our special feature on the best Mighty Girl books of 2014 at the end of the year, we're sharing a few of our favorite new releases. Whether your Mighty Girl is 3 or 13, we're sure you'll find something she'll love!
If you'd like to learn more about any of the books featured in our post, just click the title of the book to open its A Mighty Girl page. There, you can read reviews, learn about related books, and order your favorites for your kids.
To check out our previous round-ups of Mighty Girl book releases, check out our special features: 2012 Year In Review and 2013 Year In Review.
---
Be Patient, Pandora by Joan Holub, illustrated by Leslie Patricelli (age 1 - 4)
"Do not open the box, Pandora!" warns Pandora's mother, so she doesn't...but she does touch it, lean on it, sit on it, even jump on it! Unsurprisingly, the box soon flies open, ruining the big batch of cupcakes hidden inside. Fortunately for Pandora, one little cupcake, representing Hope, is still in the box for her and her mother to share. This simple adaptation of the myth of Pandora's Box, part of the new Mini Myths series, features simple, fun text and hilarious illustrations.
Ladybug Girl is back, and Lulu has a big decision to make — what to be for Halloween! She tries on lots of different costumes, but none of them seems quite right. She hopes for inspiration as her family goes pumpkin picking and takes a hayride, and she finds it in the form of a little girl who needs a helping hand. Maybe the perfect costume has been right under her nose the whole time! Fans of Ladybug Girl will love this book about being true to yourself.
In this sequel to Red Knit Cap Girl, she and her friends from the enchanted forest find a hollow tree, with a nook that's perfect to store Red Knit Cap Girl's favorite book so that everyone can share it. But when all of Red Knit Cap Girl's friends decide they also want to do something special with the tree, slowly, their hard work turns the tree into a special place for everyone to gather. With illustrations full of funny touches and a lovely message about the joy in the printed page, this will be a favorite with kids and adults alike.
Uni the Unicorn by Amy Krouse Rosenthal, illustrated by Brigitte Barrager (age 3 - 7)
Everyone knows that little girls aren't real, but Uni the unicorn insists that there must be a smart, strong, brave little girl just waiting to be her friend...somewhere. Fortunately for Uni, not far away, there's a little girl who believes in unicorns — and when the pair find one another, it's the start of a beautiful friendship! With beautiful full-page illustrations of whimsical settings, this book will be a favorite of any little girl who dreams of meeting her very own unicorn
Louise loves art — coloring and painting and sketching. She also loves Art, her little brother. But when her hard work on her latest masterpiece is ruined by Art's own efforts to create, what will she do? Fortunately, despite her frustration with Art, Louise recognizes the creative impulse — and flattery in the form of imitation. This fun story about siblings learning to get along — and the joy of artistic expression — are accented by Light's illustrations, which will remind adult readers of vintage comics.
Author/illustrator Patricia Polacco has written dozens of great children's books, had not one but two new releases. Fiona's Lace tells a story from Polacco's Irish father's family. When Fiona and her family come to Chicago, Fiona's lacemaking help provide desperately needed money, but when a fire separates the family, it will also provide the key to reuniting them. Mr. Wayne's Masterpiece is a story from Polacco's own life, telling the story of how her work with a drama teacher helped her conquer her fear of speaking in public and gave her new confidence. Accompanied by Polacco's signature illustrations, both books tell heartfelt tales of what's really important in life.
Winter Is Coming by Tony Johnston, illustrated by Jim LaMarche (age 4 - 8)
In a tree house in the woods, a little girl watches the seasons change from summer to fall to winter. As the animals around her prepare for the dark and the cold and the trees start shedding their leaves, she sketches the little moments in the transition between seasons that most people never see. With quiet language and a meditative quality, this book not only celebrates the joy in nature, but also the stillness and peace of a child who is happy being alone.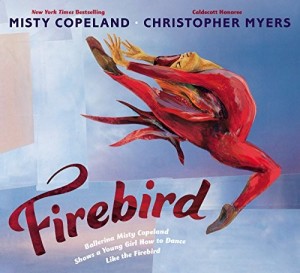 Firebird by Misty Copeland, illustrated by Christopher Myers (age 4 - 8)
Ballerina Misty Copeland's first picture book tells the story of a young girl who dreams of being a ballerina too — but can't see how she could possibly dance as well as her idol. Copeland tells her own story — of a girl living in poverty who finds a future in dance, if she can devote herself to achieving her dream — to encourage the girl watching her to find the inspiration and determination to succeed. With lyrical text and extraordinary illustrations, this book will delight young dancers, but also features excellent positive messages for any child who wonders if they are "good enough" to achieve their dreams.
Hatke, author/illustrator of Zita the Spacegirl, sets his sights on a younger audience with this comic-style picture book. When Julia and her walking house set down roots, she finds the area a bit too quiet — so she opens a "House for Lost Creatures", and soon she's hosting all sorts of mythical beasts. But her new roommates are perhaps a bit TOO noisy...how can Julia get her new housemates to behave themselves? With its simple, sweet text and fun watercolor illustrations, this book will have your Mighty Girl planning her own home for lost creatures.
Maddi's Fridge by Lois Brandt, illustrated by Vin Vogel (age 5 - 9)
Sofia's fridge is bursting with food, but when she ignores her friend Maddi's pleas and opens Maddi's fridge, she discovers nothing but bare shelves — and learns that her friend often goes hungry. Maddi makes Sofia promise not to tell, but Sofia can't forget how hungry Maddi and her little brother must be. Sneaking leftovers from home helps for a bit, but it doesn't feel like enough. How can Sofia make sure that Maddi doesn't go hungry again? This sensitive look at poverty in the communities around us also includes a guide to kids on how to help eliminate hunger in their own neighborhood.
In this sequel to The Magic Half, Molly wonders if she was ever meant to be pulled from her own time in 1935 to live with her magical twin, Miri, in the present. Perhaps she wasn't meant to have this happy life; maybe things would have been better if her mother and father had never met. But when renovations to the magical house open a new portal to 1918 — and even more distant times — maybe Molly will end up with a new perspective on everything...including herself. Your Mighty Girl will be fascinated at how the pieces of this time-travel fantasy all fit together.
Sally Ride was the first American woman in outer space, but she was also a nationally ranked tennis player, a physicist, a lover of Shakespeare — and that was before she was an astronaut! In her later life, Ride also taught at universities, founded a company dedicated to helping girls and women find careers in STEM (science, technology, engineering, math), and received the Presidential Medal of Freedom. In this new biography of Ride, kids will get a new look at the woman who became the role model for girls in sciences for decades.
El Deafo by CeCe Bell (age 8 - 12)
After a childhood illness at the age of four, CeCe returns home to discover that she's no longer able to hear. Hearing aids and lip reading provide unexpected challenges, and as she goes out into the wider world she starts feeling like her difference singles her out — and she confronts how little people understand about hearing loss. A large device called the Phonic Ear allows her to succeed in school — and also gives her unexpected abilities. Perhaps El Deafo can be a superhero to her peers after all... This delightful graphic novel provides a glimpse into life with a hearing impairment, including tips for how hearing people should interact with those who lip read or use hearing aids.
Who Was Marie Curie? by Megan Stine, illustrated by Ted Hammond (age 8 - 12)
This terrific addition to the Who Was...? biography series focuses on Marie Curie, the renowned co-discoverer of radiation. From her childhood in Poland to her move to Paris when she was refused admittance to the male only university in Warsaw, and then to her remarkable marriage and scientific partnership with Pierre Curie, this biography provides a fascinating picture of this groundbreaking scientist. Science-loving kids will love reading about her discoveries — and her place in history as the only person to win Nobel Prizes in two different scientific disciplines.
In the Village Drowning, mysterious things are happening — things that have 11-year-old Rye O'Chanter convinced that the supposedly mythical Bog Noblins are returning. A banned book hints at a solution: an equally mythical society called the Luck Uglies, who supposedly battled the Bog Noblins. But if Rye wants to find the Luck Uglies, she'll have to break laws at every turn. Perhaps the "right" thing to do isn't black or white, but a shade of grey. This fascinating fantasy, with its Medieval-inspired setting, is sure to generate interesting conversations with your Mighty Girl.
The weird, cranky boy at Ellie's new school reminds her oddly of her scientist grandfather — the man who has been obsessed with immortality as long as Ellie can remember. With Melvin's help, Ellie learns about the remarkable accomplishments of people like Jonas Salk, Robert Oppenheimer, and Marie Curie...but also about the unexpected consequences of their work. Just because it's possible, does that mean it's good? And can Ellie handle all this and the trials of middle school, too? This humorous book provides a light way to explore questions about science and responsibility, family and friendship — and what it means to find your passion.
Maddy loved her life working in her parents' bookstore with her flying toad Ralph by her side — but that was before the Thimblewitch turned her mother and father into kangaroo rats! Now, to save her parents, Maddy must face spider-goblins, scarecrow warriors, and of course, the Thimblewitch herself. Fortunately, friends like Harry and Sylvio, the bear and racoon cloud cartographers, are there to help see her on her way. This graphic novel, full of adventure and magic, is sure to captivate young fantasy fans!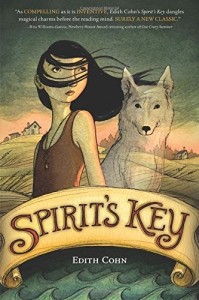 Sisters by Raina Telgemeier (age 8 and up)
In this companion to Smile, Telgemeier's best-selling autobiographical graphic novel, Raina and her sister Amara seem destined to butt heads: Amara grows from a cranky baby to an aloof younger sister, and the only time she ever works alongside Raina is to show her up at drawing. But when the family takes a road trip to a reunion — without Raina and Amara's father — the sisters may find new common ground. Whatever else they are, they'll always be sisters. This funny and touching graphic novel is sure to please Telgemeier fans.
For those who would like to own both volumes, you can also check out the Smile and Sisters box set.
Spirit's Key by Edith Cohn (age 9 - 12)
Twelve-year-old Spirit is mourning the loss of her beloved dog, Sky; maybe that's why her family's ability to read the future hasn't appeared for her yet. The locals believe that wild dogs like Sky hold evil spirits, and when more dogs like him die mysteriously — and then people start to fall sick — everyone decides that the dogs must be responsible. Spirit doesn't believe it, and when Sky's ghost appears to her, she realizes that his help may be critical to both unlocking her power and curing the mysterious disease. With its unique setting and fascinating characters, this coming-of-age tale puts a new twist on the story of a girl and her dog.
Nina Simmons has serious food allergies, but her best friend Brianna has always been by her side. Then middle school starts, and suddenly Brianna has a new friend and doesn't care if the Nutty Buddies they're eating together could send Nina into anaphylaxis. When she's relegated to the "allergy table", though, Nina discovers a new group of friends and a new passion in the form of a band called The EpiPens. Maybe middle school will turn out to be better if Nina focuses on standing out rather than fitting in. This funny story tackles the social isolation kids with allergies can feel, and even includes a recipe for Nina's favorite breakfast smoothie (nut- and egg-free.)
In this quasi-biographical book of verse, Woodson, a master of young adult realistic fiction, shares her own story: growing up African-American in the 1960s and 70s, with a growing awareness of the Civil Rights movement, and feeling torn between homes in South Carolina and New York that each spoke to different parts of her. And while the young Woodson struggles with reading, she also discovers a joy in the written word that foreshadows the remarkable author she would become. This powerful work will inspire your Mighty Girl to dream of her own future accomplishments.
Nest by Esther Ehrlich (age 10 and up)
Eleven-year-old "Chirp" lives in a cozy home in 1972 Cape Cod with her happy family, but when her dancer mother starts feeling strange sensations in her leg, everything changes. A diagnosis of multiple sclerosis plunges her mother into a deep depression, and Chirp and her sister Rachel are left to struggle alone as her psychiatrist father tries to keep the family running. Chirp finds comfort in the local birds and in an unexpected new friend, Joey, but when tragedy strikes her family again, Chirp will have to draw on all her determination just to make it through. This challenging story about love and loss nevertheless carries a hopeful tone, as Chirp finds beauty in the midst of grief.
After Kenna is found cutting herself in the school bathroom, she's committed for an involuntary psychological assessment for 72 hours. During her time in the psych ward, Kenna meets others like her for the first time, but as Kenna compares her own situation to those she meets, the reader gets a window into the series of triggers that led Kenna to her addiction to self-harm. Full of vivid scenes told in verse, this novel's ending is open, allowing for discussion among teens, parents, and educators about this difficult topic; the novel also includes a resources section for those struggling with cutting.
Unexpectedly, Liz Emerson, one of the most popular girls in school, tries to kill herself by driving her car off the road. What demons would cause a girl who seemed to have everything going for her to try to end her life? In this nonlinear story, the reader alternates between Liz' life before the accident — complete with some ugly truths about the things Liz has done — her time in the hospital after the accident, and Liz' thoughts as she prepares to crash her car. Is Liz a callous bully or a broken person herself? Or can she be both? A stunning and challenging novel, this book is sure to provoke conversation.
Rites of Passage by Joy N. Hensley (age 14 and up)
Sam McKenna is honoring the last dare her brother made her before he died by attending the first-ever female class at Denmark Military Academy. As the child of a military family, she knows what to expect from the training: long hard days, brutal physical challenges, and even the discrimination of male peers who don't think she should be there. What she's not expecting is to discover that, behind the brutal hazing, there is a decades-old secret society that wants her out of the school — at any cost. Choosing who to trust — and who not to — is critical, and the wrong choice may have fatal consequences. Readers will cheer Sam on as she overcomes shocking opposition to find her place at the academy.
At thirteen, twins Jude and Noah are incredibly close despite their differences: shy Noah sketches while he wrestles with his feelings for the boy next door, while Jude the daredevil is up for anything. At sixteen, the twins are barely speaking to one another. What happened to Jude, Noah, and their relationship? And what can bring them back together again? Noah tells the first part of this story, and Jude tells the second, but it will be the realization that each of them only holds half the story that will change everything. A touching, funny, and heartfelt novel, full of complex themes, this one is sure to be a favorite of teen fans of realistic fiction.
With great titles like these out in the last few months, we're looking forward to the rest of 2014's Mighty Girl book releases! We hope you find some new favorites in this list. And keep checking the site for new additions — there are lots more great Mighty Girl books to come!
Additional Recommended Resources
Help keep A Mighty Girl growing in the years ahead!
If you discover any books or other resources via this post that you would like to purchase, please use the "Buy at Amazon" link on every A Mighty Girl product page. By doing so, at no added cost to you, you help to support the site and allow us to continue providing you with wonderful girl-empowering resources. Thanks for your support!