We received a record number of photo submissions for our 2014 Halloween Gallery and we're awed by the creativity and variety of these Mighty Girls' amazing costumes. As we've always said, Mighty Girls know that their costume possibilities are limited only by their imaginations and with costumes ranging from ones based on favorite superheroes to ones inspired by historic role models, these Mighty Girls clearly know no bounds!
In this post, we've showcased a small sample of these incredible costumes -- to browse the over 1,300 photos submitted, visit the 2014 A Mighty Girl Halloween Gallery. And, to help you and your Mighty Girl learn more about the wonderful characters and historic figures depicted, we've also linked to our character collection and biography section where relevant.
And, if you're seeking girl-empowering dress-up clothing or costumes anytime of year, visit our extensive costume collection with options for all ages from infants through adults in A Mighty Girl's Halloween Costume Guide. You can also find Mighty Girl stories for many of the upcoming holidays, including Thanksgiving, Hanukkah, and Christmas, in our Holidays & Celebrations collection.
Mighty Girl Role Models
Rosie the Riveter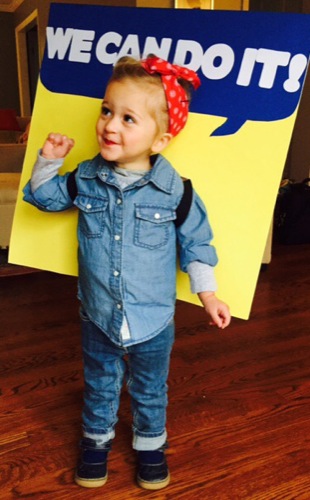 Amelia Earhart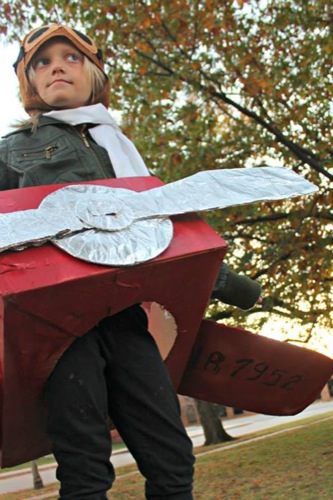 Clementine turns 7 the day after Halloween. Her hero is
Amelia Earhart
!
Malala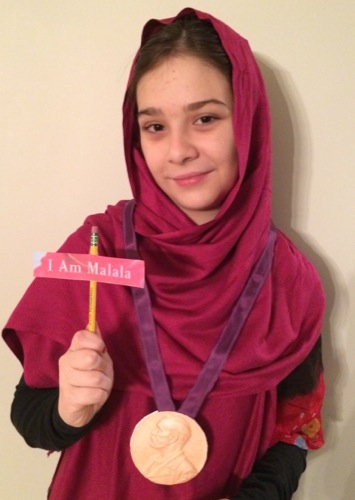 Melanie, age 15, chose Malala Yousafzai, the Nobel Peace Prize Winner. Melanie was inspired by
Malala's book
and her courageous fight for education for girls.
Bessie Coleman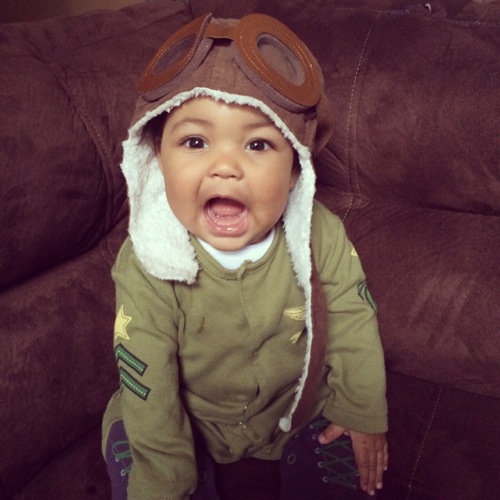 For Halloween, my daughter Esmé is
Bessie Coleman
, the first female African American pilot. :)
Madame Curie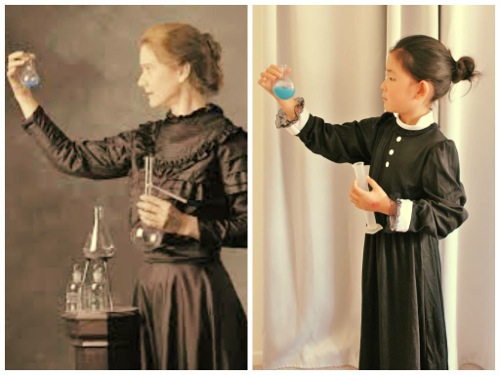 Audrey had a science themed party for her 7th birthday and wanted to be a woman scientist for Halloween.
Madame Curie
it is!
Justice Ruth Baby Ginsburg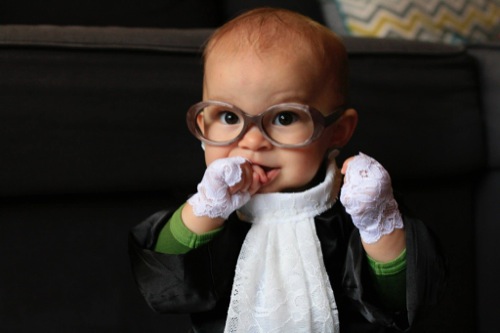 Amery Ruth, 8 mo., dressed up as her middle namesake.
Esmé as Dr. Dian Fossey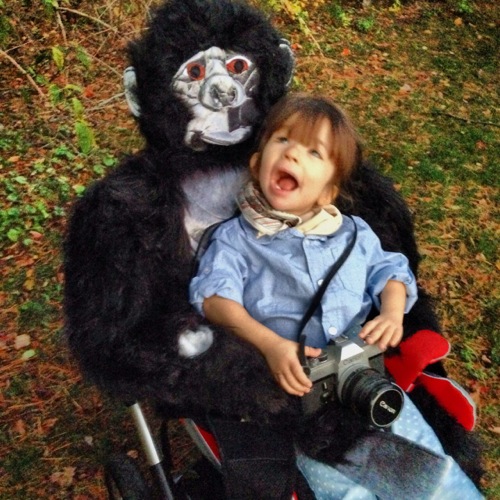 My daughter Esmé dressed as
Dr. Dian Fossey
, the famous zoologist who worked with gorillas. We dressed her wheelchair up as a gorilla and Esmé was perfect has Dr Fossey just by being her clever, curious, brave, and strong self!
Suffragist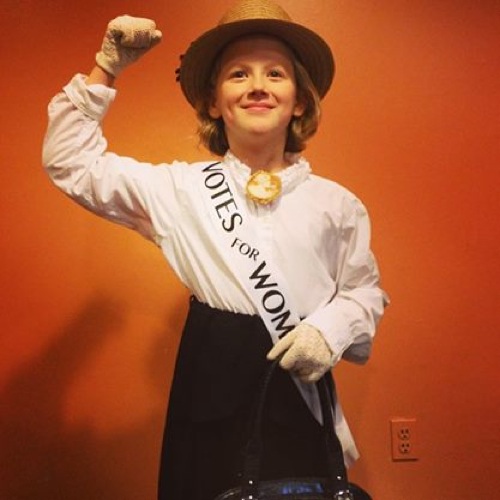 "Our daughter's daughters will adore us, as they sing in grateful chorus - Well done!
Sister suffragette!
"
Frida
Jane Goodall
Emma (9) chose
Jane Goodall
as her costume this year and her younger sister Audrey (3) was happy to play along all in the name of science.
Kari Byron (mythbuster)
Bella age 9 is obsessed with Mythbusters. Kari is her role model. Her favorite Mythbuster episode is the Star Wars myths.
Cleopatra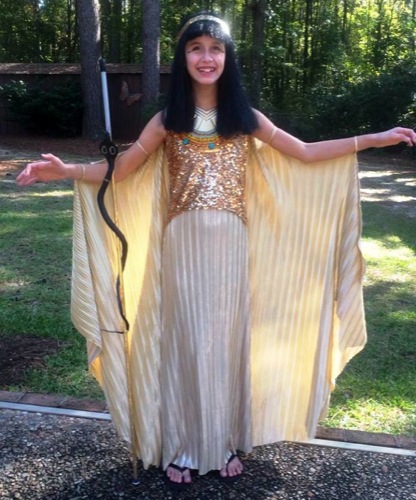 Lindsay, age 12, loves history and historical fiction, especially about strong women. She decided to be
Cleopatra
, and since she is blind, we decorated her cane in gold duct tape and attached a cobra. She's ready to rule!
Hatshepset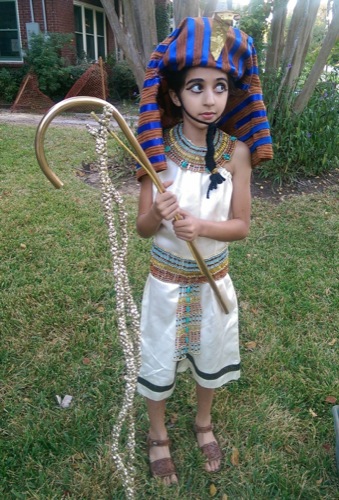 She was very quick to correct anybody calling her a queen that
Hatshepset
was Pharaoh.
Sally Ride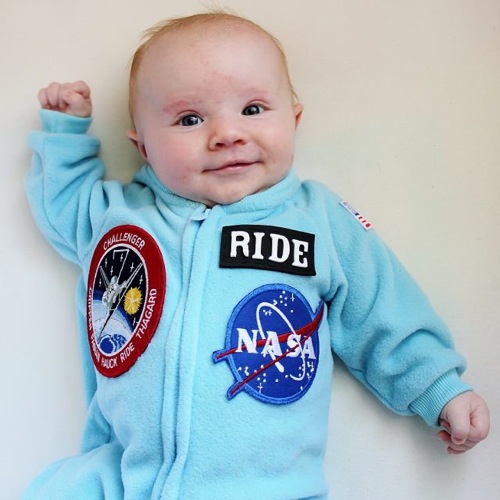 3 month old Wynne is channeling her inner
Sally Ride
.
Eleanor Roosevelt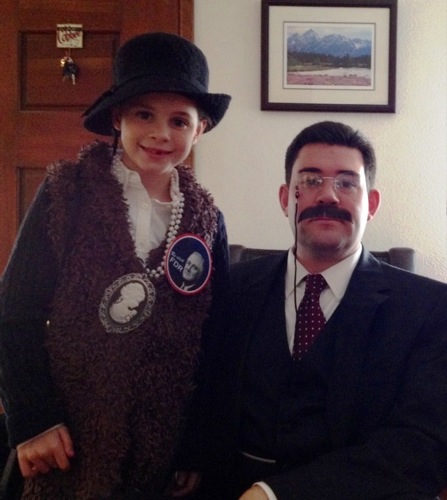 Eleanor (7) dressed as one of her favorite people...
Eleanor Roosevelt
! She even made her own skirt and got her dad to dress up as Teddy Roosevelt.
Queen Elizabeth I
My 10yr. old daughter, Safiya, loves history and historical fiction. She chose
Queen Elizabeth I
because of her willingness and bravery to stand up for her country. As well as her choice to not marry so she could maintain her throne. She loves telling me how the Queen stood up to Spain. Often quoting her remark, "I know I have the body of a weak and feeble woman, but I have the heart and stomach of a king!"
Ada Lovelace & Pippi Longstocking
Emmy, age 10, is
Ada Lovelace
(inspired in part by A Mighty Girl's post!) and Anya, age 7, just finished reading
Pippi Longstocking
for the first time and HAD to be her, of course!
Baby Einstein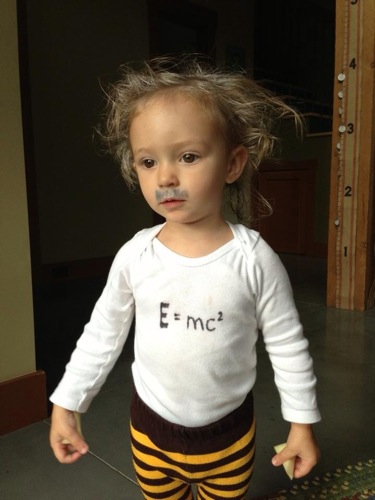 Our family loves science, but truth be told, our daughter's naturally wild hair is what inspired this costume first.
Mighty Girls Inspired by Films & TV
Mighty Girls Inspired by Books
Madeline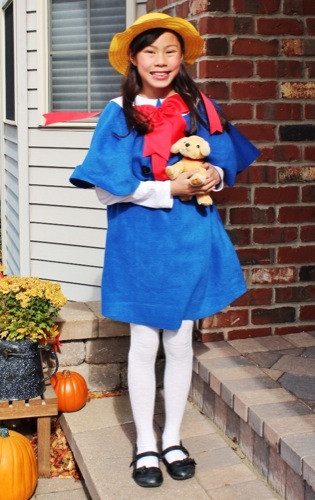 Liana/11 as
Madeline
-- My daughter loves all books about girls and this year's not-so-scary costume continues her tradition of dressing up as literary characters. In the past, she's been Pippi Longstocking and Laura Ingalls Wilder. We travelled to Europe this summer and she loved hearing the charming accents, so she added that to her costume too!
Paper Bag Princess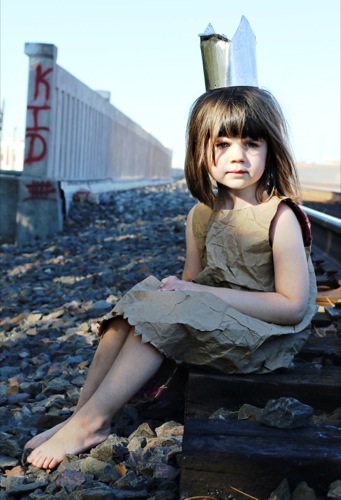 This is Eloise, age 3.
The Paper Bag Princess
is her favorite book. It has taught her that girls can fight their own fights.
Kate, the SpaceGirl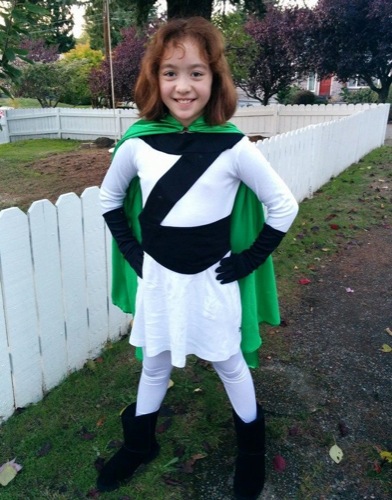 Kate, age 9, loves to read graphic novels. One of her favorite characters is
Zita, the Spacegirl
.
Olivia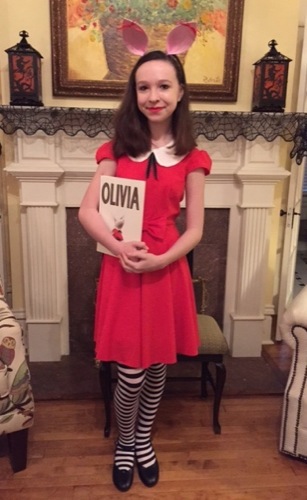 Alden age 14 has always loved to read. She chose to be one of her storybook favorites this year because
Olivia
is a smart, creative free spirit much like Alden.
Pippi Longstocking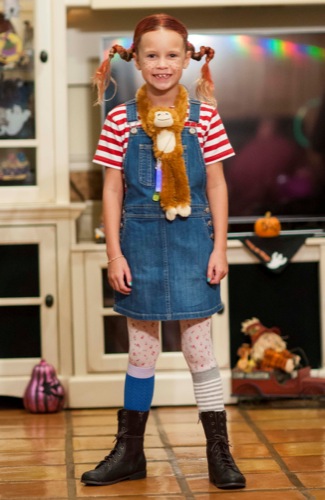 Addison, Age 7. Addison is a vibrant, fun, free spirit just like
Pippi Longstocking
! Her inspiration were Pippi's crazy braids and the costume transformed from there!
Katniss Everdeen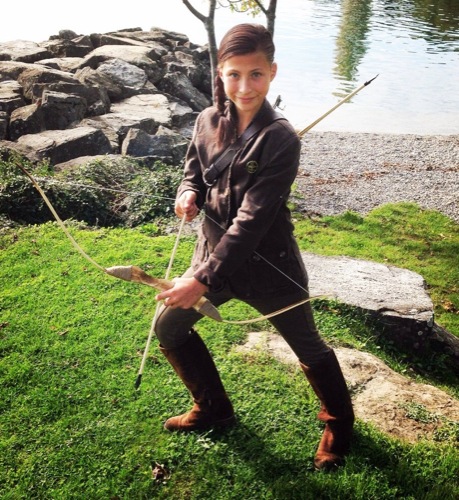 Lily age 11 - "
Katniss Everdeen
from the Hunger Games." I like Katniss because she is strong and powerful.
Rosie Revere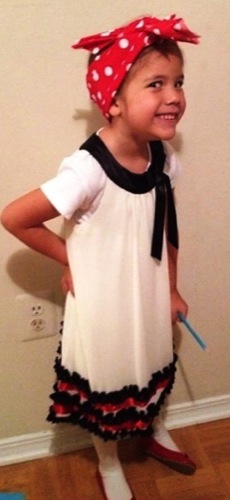 Nancy Drew
Our sweet daughter Elizabeth, age 8, shows off her
Nancy Drew
costume....a concept she decided on after thinking that all of the "popular princess stuff" just really didn't fit her bookworm, outgoing personality! She adores reading, mysteries and Nancy Drew, so this was an obvious choice!
Dorothy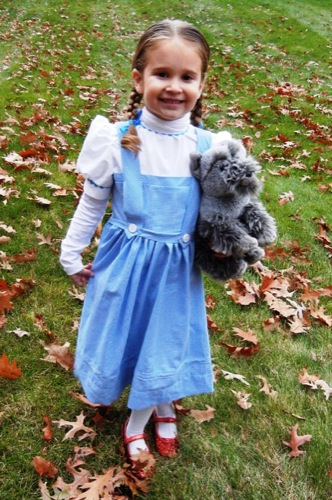 Becca 5 decided for Trick or Treat this year to be one of her favorite characters,
Dorothy
. She had to even practice her lines so she could click her heels all night.
Hermione Granger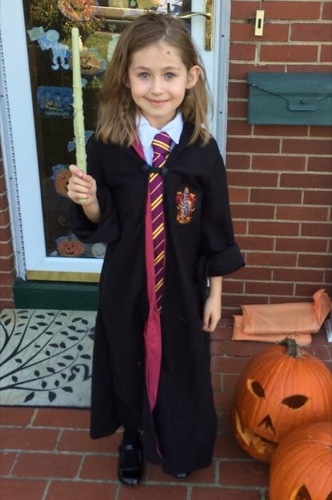 Madigan is 7. She decided to dress as
Hermione
"because she is really the brains of the operation" in the Harry Potter stories.
Laura Ingalls Wilder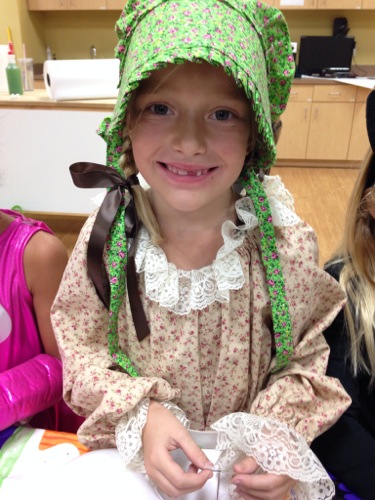 Ainsley loves
Laura
and all her adventures!
Maximum Ride Book Series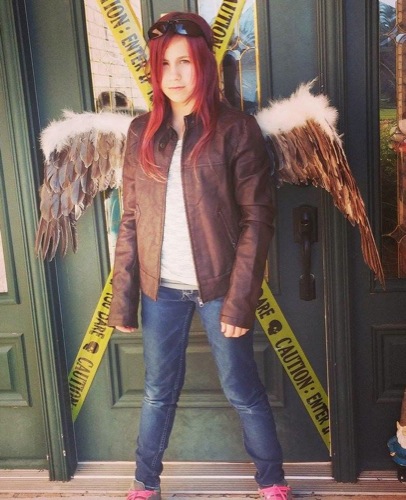 Ana (11) enjoyed the Maximum Ride book series so much, she decided to inject herself with avian DNA.
The High Queen & Princess of Narnia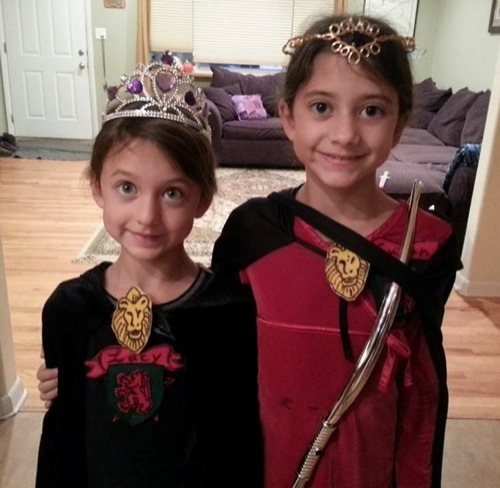 Our daughters chose to dress as Susan and Lucy Pevensie from the Chronicles of Narnia. We read all of the books over the past year. Rebecca, 8 & Sienna, 6
Wolf and Little Red Riding Hood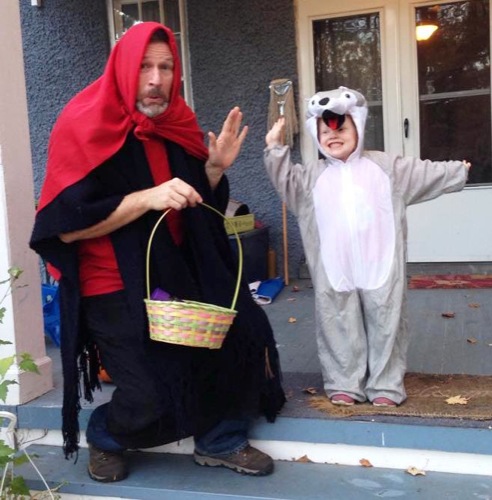 It really was never a question that SHE would be the wolf.
My Favorite Book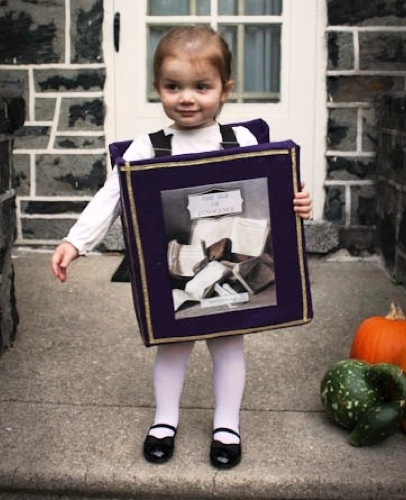 My 18-month-old Cora kept saying she wanted to be a book for Halloween, so my husband made her this wonderful "Age of Innocence" costume!
Mighty Girls Explore Careers
Biologist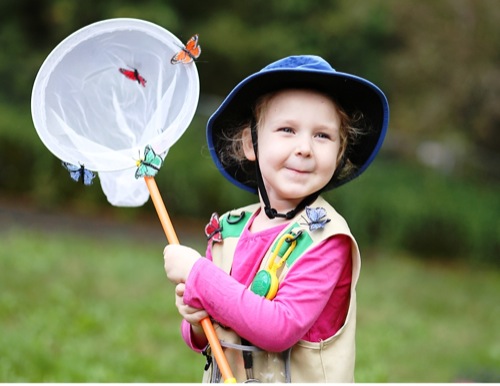 My duaghter wanted to be a biologist for Halloween, specifically a "scientist who studies butterflies". She loves it and had so much fun helping me put it all together.
Mary Jane Astronaut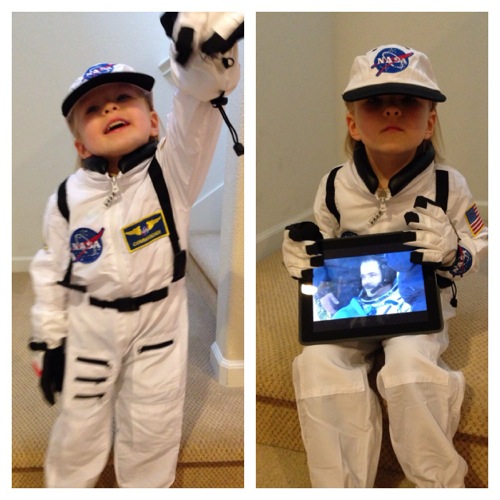 My 4yo daughter was excited to be a "girl astronaut scientist" dispite the costume being marketed for boys.
Veterinarian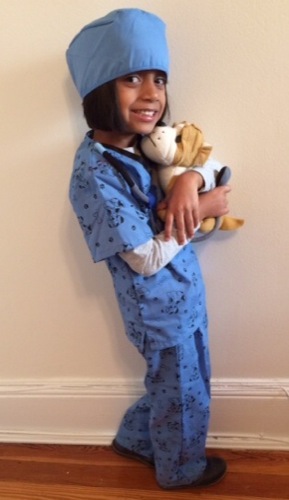 Satya is five years old and loves animals. She was excited to carry around one of her stuffed animals with her on Halloween aka her patient.
UPS Girl!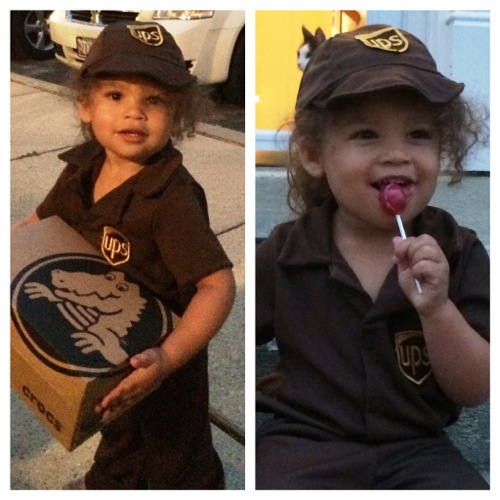 Vivienne (2 years old) loves to see the big brown UPS truck when it pulls onto our street. And she loves our UPS delivery gal. She insisted being a UPS worker and "delivering" candy to all the trick-or-treaters who can to our door.
Firefighter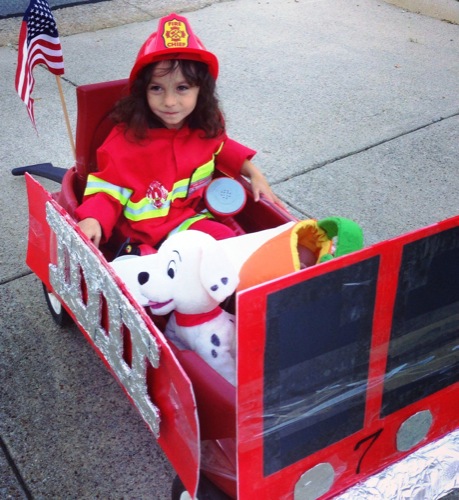 Dahlia, my four year old, loves fire trucks and couldn't wait to be a "fire girl" for Halloween!
hot air balloon pilot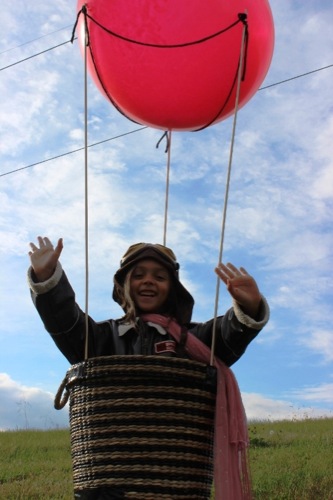 Lenny, age 5yr. Wants to fly around the world one day. She was so happy about this costume.
SWAT K9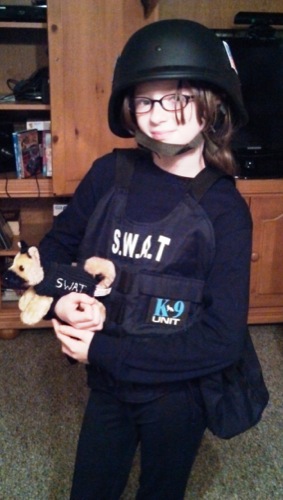 My daughter's school career day was right near Halloween, so her costume was worn for both! She heard that our city's SWAT unit was coming to her campus and was inspired to be a canine handler. The officers were very inmpressed when her teacher chose her to escort them from the office to the classroom.
Doctor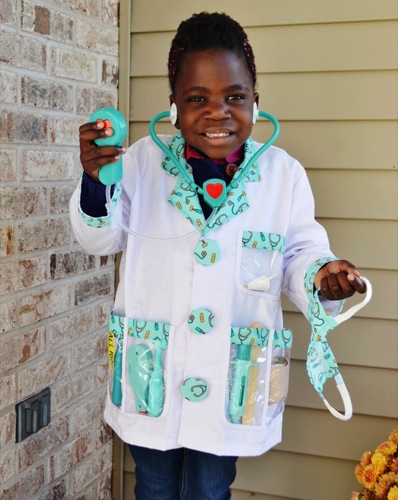 Norah, age 4, has had her fair share of medical appointments. She dressed up as a doctor; inspired by a female practitioner she visits regularly.
Scuba Eva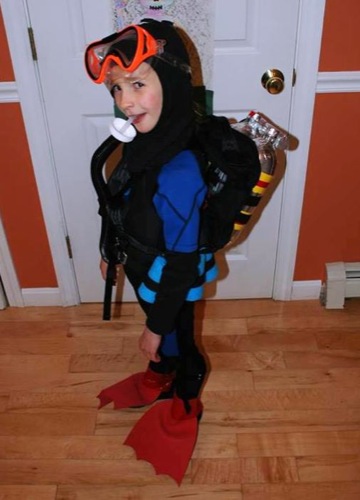 This Mighty Girl, Eva (age 7), has a passion for Marine Science, especially SHARKS! When she was five she dressed up as a Shark, when she was 6 she was a jellyfish and this year she was a Scuba Diver. She has her own blog about sharks and hopes to be a Shark scientist someday.
A Mighty Robot Scientist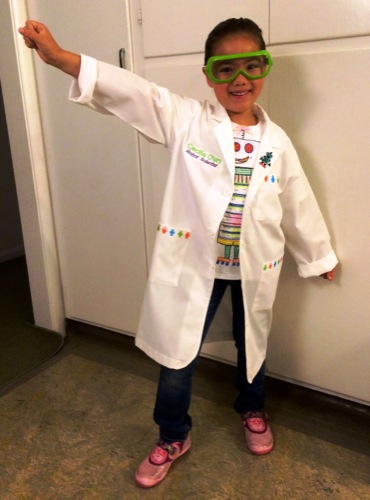 Cecilia, age 6, dreams of making and designing robots. She already has a full design sketchbook! She came up with this Robot Scientist costume all on her own, and she designed her own robot teeshirt, visible under her lab coat. As she says, "Robots are awesome, and they're for everybody! When I grow up I'm going to make them." You go, my wonderful Mighty Girl, you GO!
the Commander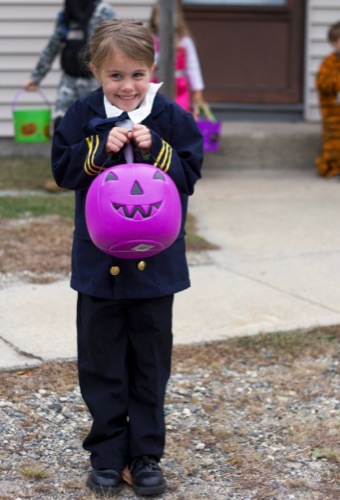 Anna's Navy officer costume mirrors her dream job when she's grown up: Navy Marine Biologist. Original plan was a scientist costume, but when her brother got his special forces costume, he convinced her to use his Navy costume from last year so she "could be the commander back at headquarters". So she kinda combined ideas. :)
Secret Agent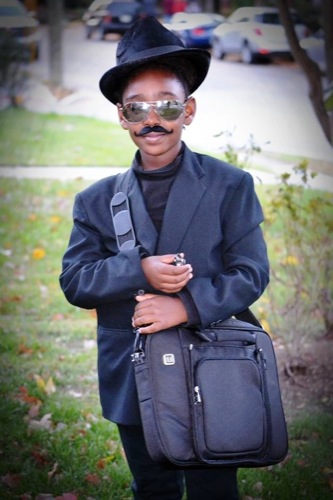 Super sleuth, Zoe
"And she's OFF!"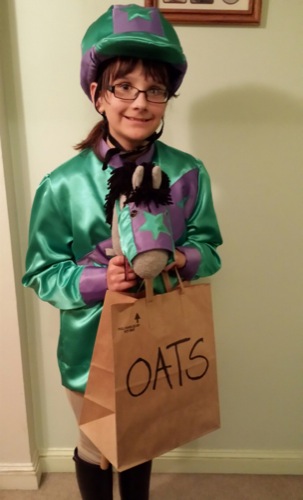 Meaghan, age 11, is an avid horse enthusiast. She takes riding lessons, collects models and reads all she can about horses. She hopes to own a horse soon and to go to school so she can own a stable one day. Meaghan's favorite movie is Secretariat because it is so inspirational and is about a horse! One inspiring quote from the movie is "Ride YOUR race!" It's something she strives to do everyday.
Mighty Girl Superheroes
Thor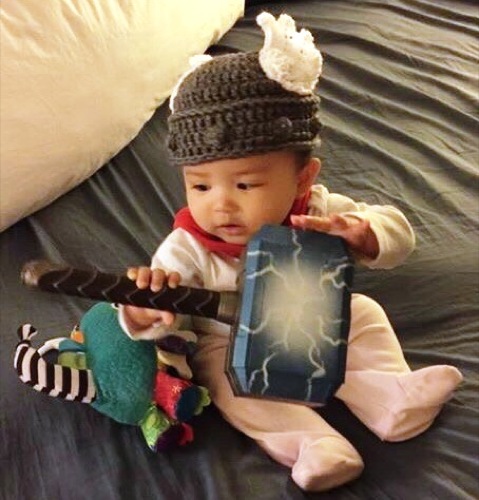 Whosoever holds this hammer, if she be worthy, shall possess the power of
Thor
Violet from The Incredibles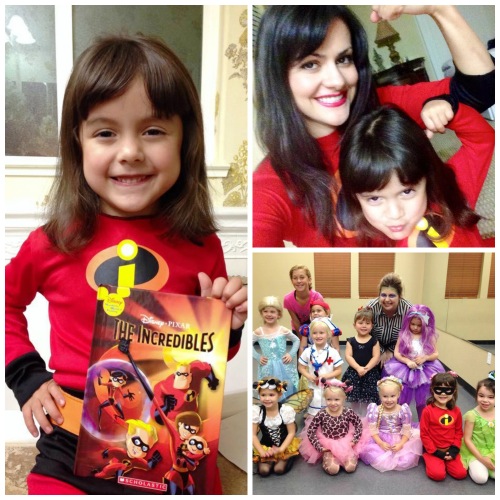 My daughter chose to dress up as
"Violet"
from her favorite book, The Incredibles. It was a lot of fun to be a superhero, especially because she requested that I join her as the mother, "Helen Parr". One of her dance classmates asked her, "Why are you dressed up as a boy?" And, of course, we informed her that my daughter was actually a girl with superpowers who can produce force-fields and turn invisible.
Hawk Girl
Summer is a bird-loving independent spirit, so when she discovered Hawk Girl and the Justice League it was a match made in heaven! I'm glad she has picked such a strong role model.
Xena Princess Warrior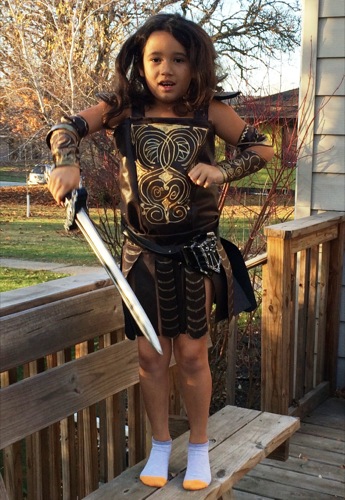 Olivia us all about superhero females, so nothing would do but
Xena Princess Warrior
. She's got the war cry nailed, too. It's not available to buy, so her mother knocked herself out.
Wonder Woman and Sidekick Zeppe
Jordyn 8 is a mighty girl and this
Wonder Woman
costume fits her personality! She and her best friend Zeppe are connected at the hip so it was only fitting they have matching costumes.
She-Ra: Princess of Power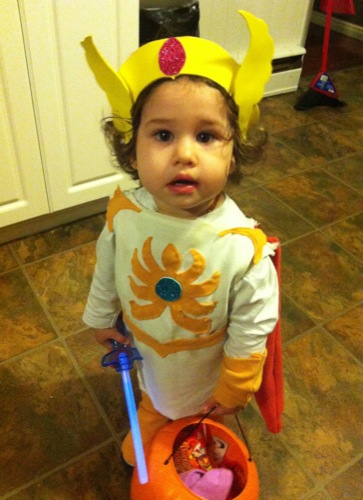 This is 16 month old Stella rocking her She-Ra look. She wore it all day and didn't want to take it off! We want Stella to know from the get go that there are female heros and strong female characters she can look up to as she grows up!
Super Hero Team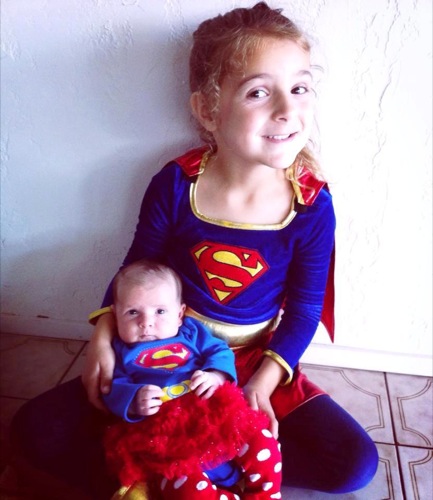 Supergirls
Lexi (5) and Alice (5 weeks) off to save the world! Lexi has always loved super heros and wanted her new little sister to join her in her quest to save others.
Cat Girl
My 5yr old
Catgirl
Nadra chooses to be a SuperHero because she thinks girls can do anything! There's no stopping! Girls can be strong too! :)
Thor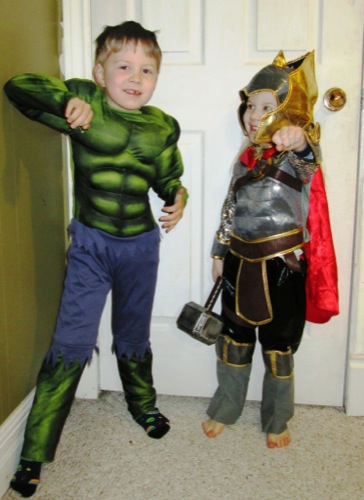 Alicia is 3 and a huge superhero fan, and right now she's crazy for the Avengers. When it came time to choose a costume, it didn't take long to settle on
Thor
! Now we regularly have ferocious battles with her Hulk brother going on in our basement.
Mighty Girls Love Animals
Hannah (6)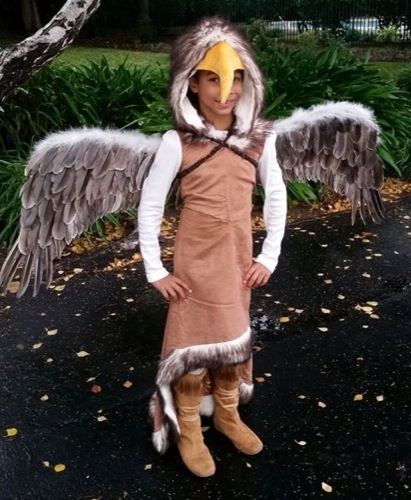 Strange, Brave and Beautiful
Blue Monarch Butterfly!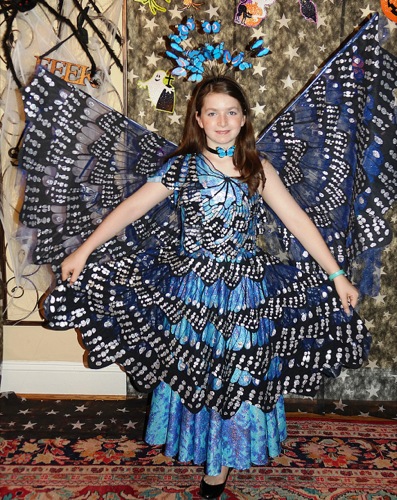 Our daughter, Charlotte, is in 5th Grade and a member of the Butterfly Club that raises and releases monarch butterflies each year. What better choice of a Halloween costume than to become a blue monarch?! Her blue spots, glitter and 5' wingspan was breathtaking!
Horseshoe Crab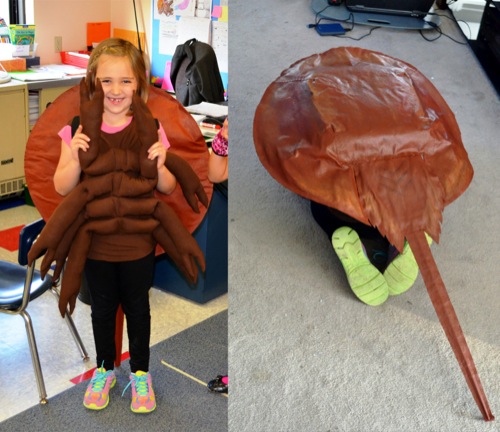 Andrea (age 7) is my little zoologist. She found a horseshoe crab exoskeleton on the beach this Summer and decided that is what she was going to be for Halloween!
Phoenix Rising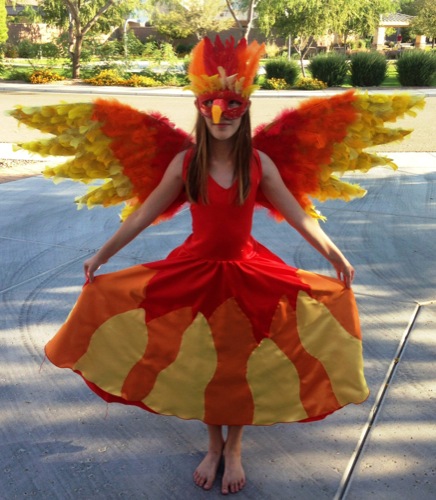 Paige, age 10, has always been fascinated with the story of the Phoenix. It I'd her favorite thing to draw. So she decided that is what she was going to be for Halloween..
Scorpion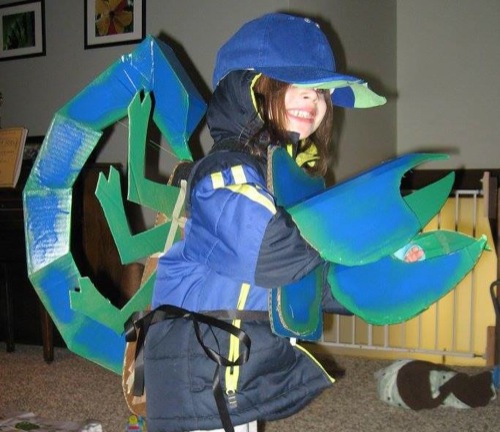 Lilly (age 5) has always been interested in all sorts of animals - living and extinct. This year, she asked to be a scorpion, as she has a plush scorpion and has been reading a lot about them. She chose blue and green for the costume because those are her favorite colors.
Triceratops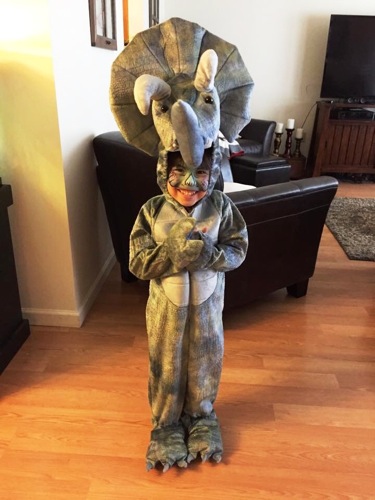 My 4 year old daughter, Kaethe loves dinosaurs especially pachyrhinosauruses. We just took her to Discover the Dinosaurs where she had her face painted and found this costume at a local store. Her favorite movie is "Walk with Dinosaurs."
Costumes from the Imagination
The Skeleton Princess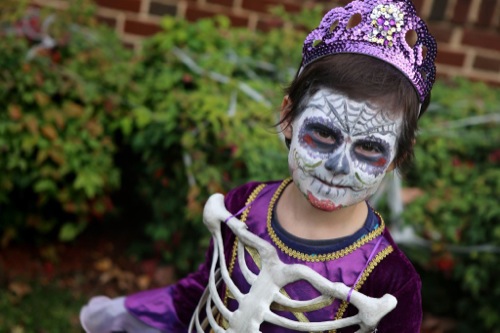 Brodie faced and conquered her fear of skeletons from last Halloween. Long live the skeleton princess!!!
I'm NOT sushi, I'm a KIMBOP!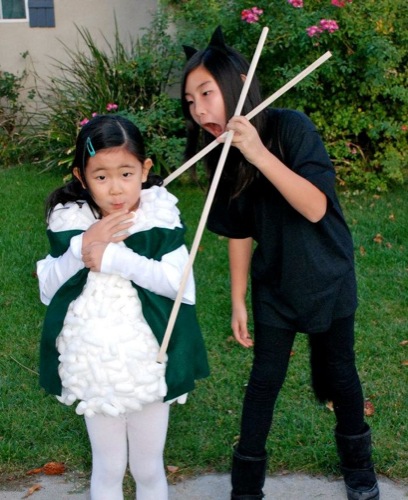 Audrey (6) decides she want to be one of her favorite foods, kimbop - rice ball wrapped in a piece of seaweed. (hello, party city?....)
Baby Viking Warrior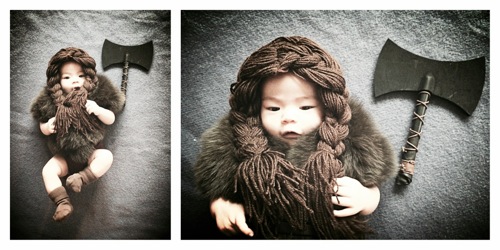 Anika Von Marie, 2 months old
We live in Scandinavia so we thought how apt it will be for her to be a Viking warrior for her first Halloween.
Silent Film Star, c.1922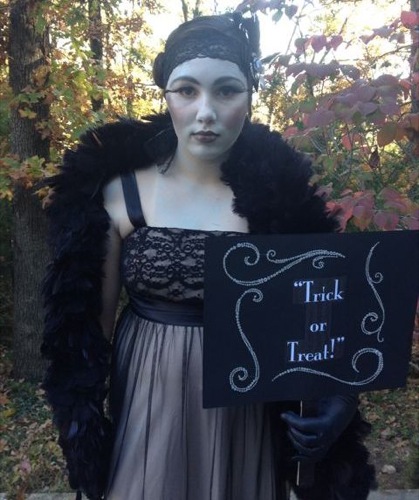 Paris, 12yrs, as a silent film star. She became interested in silent film when her Gifted/Talented class in school did a unit on it. She then saw the modern silent movie The Artist and fell in love with the medium!
Mushroom Girl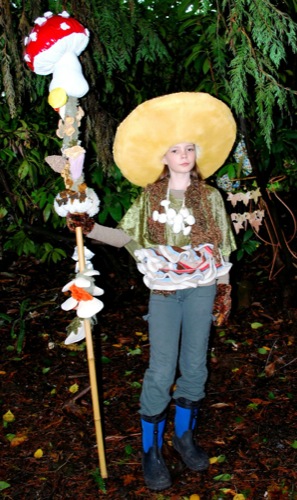 Kylie age 11, Mushroom Girl inspired by the bountiful forests of the Pacific Northwest!
Alice/Knight slaying the Jabberwock
Mia, age 10 wanted a costume that was strong and different - she's been a self-proclaimed feminist for over a year now. Jabberwocky has been a favourite family poem and the Tim Burton retelling of
Alice In Wonderland
inspired us to slay our own Jabberwock. Making the jabberwock head was the very best bit, as was the smile on her face when the whole thing came together.
"I want to be a boat."
In a sea of princesses and superheroes, we were pleasantly surprised that Alexa (age 2) had her heart set on being "a purple boat" this year. She served as Creative Director and we merely followed her vision for Halloween 2014. :)
Black Swan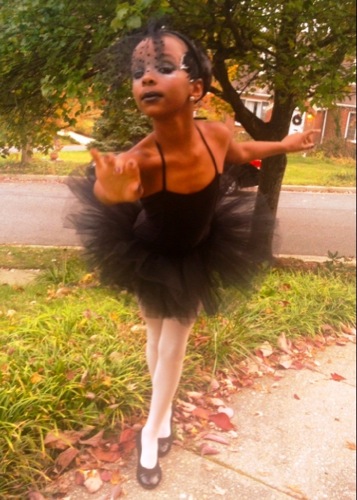 Zariyah, 8 years old. Turning negatives into positives: the strength of dance comes in many forms. She chose this costume because black swans are unique and elegant.
Medusa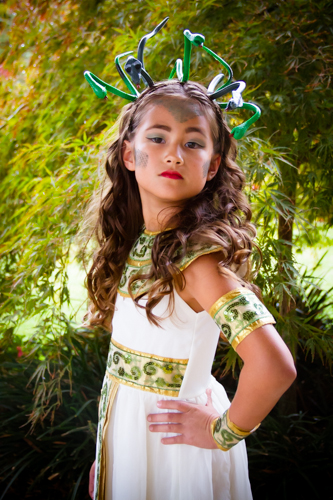 Maile, age 7, loves a fierce costume! She promised to only turn the *boys* to stone....
Space Shuttle Atlantis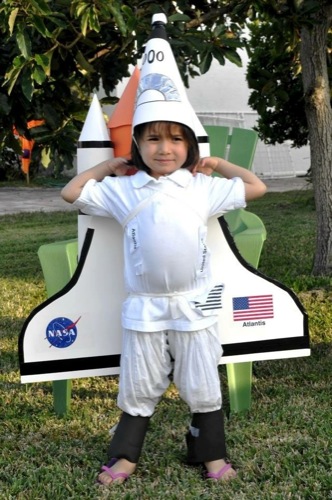 My 3 1/2 loves to visit Kennedy Space Center and was certain she wanted to be the Space Shuttle Atlantis "when it takes off, with the fuel tank, rockets, and everything!"
Hindu Goddess Lakshmi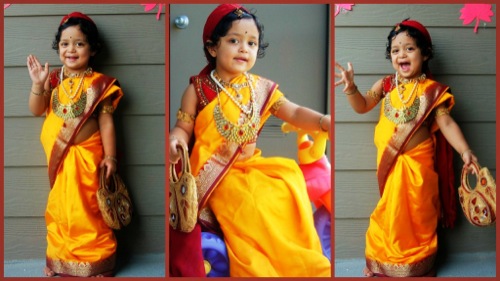 Aarna as Goddess Lakshmi (2 years and 6 months)
One more Halloween, one more beautiful occasion for dress up. Yeah that's what Halloween is for us so far, as we don't believe in celebrating any thing negative , but turning them to a positive, happy experience for all of us.....
This year our darling Aarna was dressed as Goddess Lakshmi, as she is the Goddess Lakshmi in our lives. May she be blessed in each possible way by the Lord and grow up to a strong and positive figure like Goddess Lakshmi.
P.S. Goddess Lakshmi is the Hindu goddess of wealth, love, prosperity (both material and spiritual), fortune, and the embodiment of beauty. (source - wikipedia)
Samurai Princess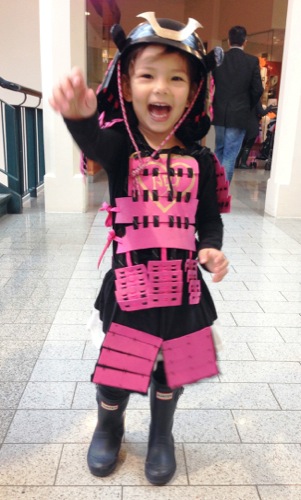 I wanted to share this photo of our little mighty girl Alexandra (2 years old) in her Samurai Princess costume!
Alexandra's already a spunky, fierce, funny and expressive little person who is full of joy and life, and we want her to grow up knowing that she can be whoever she wants to be.
My husband spent many hours making this costume for her, and she is so excited to be a samurai princess! He even modelled it after 16th-century (Edo period) samurai armour! I'm grateful that Alexandra has a dad who encourages her to express herself in all the facets of who she is.
We love A Mighty Girl's amazing posts! They are resources and inspiration that we'll be coming back to again and again over the years. Thanks and keep up the great work!
Itsy-Bitsy Spider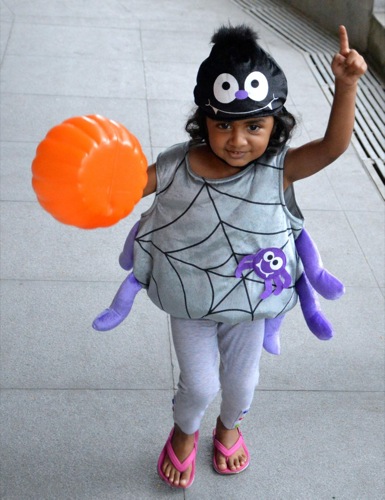 Indrani
2 years and 10 months
'She loves spiders, bugs, worms and creepy-crawlies. She also asks the rest of her family to not be scared as bugs are "nice people".'
Carbon Atom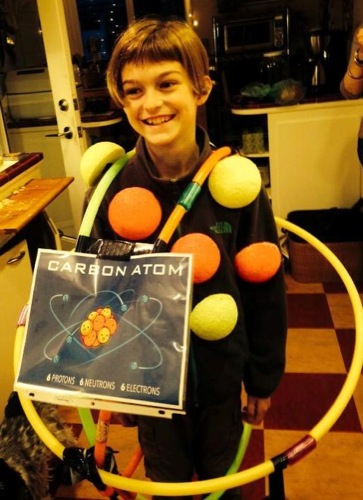 Amelia (age 9) wanted to be an accurate representation of a carbon atom because she loves science
Spider Butterfly Queen Doc McStuffins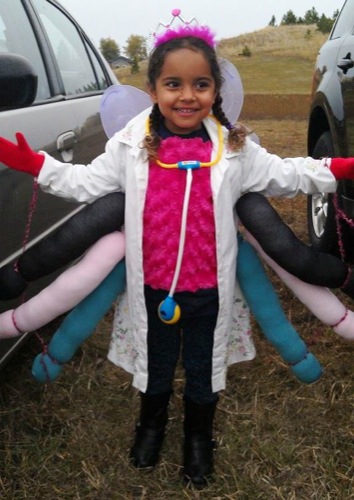 Sioma 3 years old - My daughter started out wanting to be Charlotte from Charlotte's web but kept wanting to add different pieces to the outfit. The end result is truly unique.
Robo-Gabi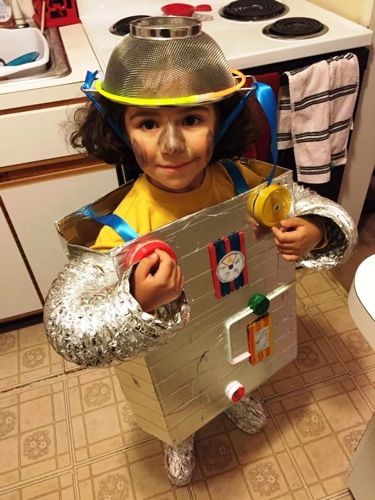 Gabi is 6, and was so excited to make her own robot costume. Every decoration was placed carefully and with a purpose, from the red "alert" button to the pom-pom switch that powered her up.
Punk Rocker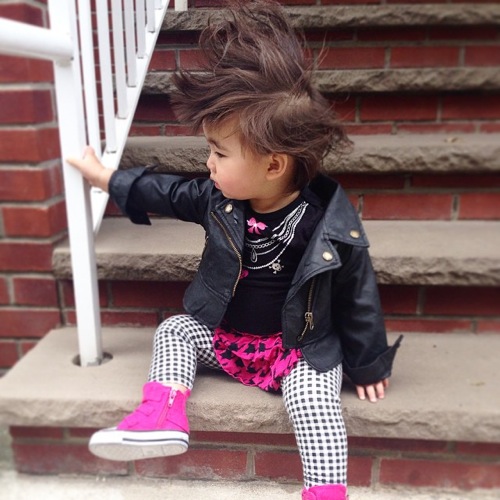 13 month old L's hair is naturally wild and crazy, so it only made sense that she should be a punk rocker for Halloween!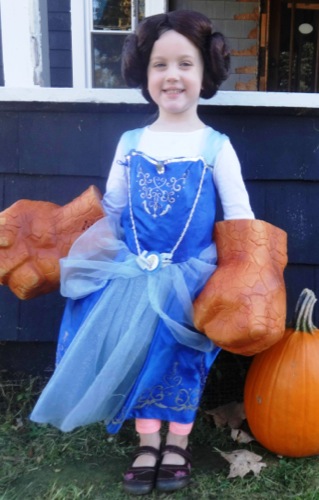 Abigail is 3. She said she wanted a pretty dress like Cinderella, smart like Princess Leia, and strong like her favorite hero, The Thing.
Girl Scout cookies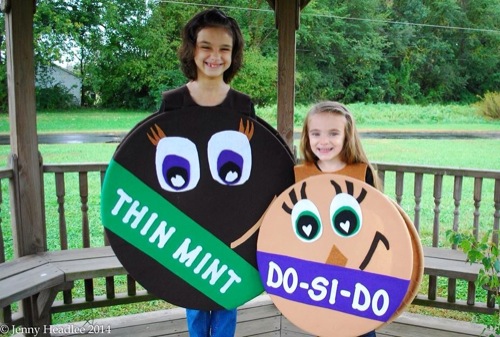 What can a cookie do? Anything she wants!
Teen Wolf and Little Brother Mario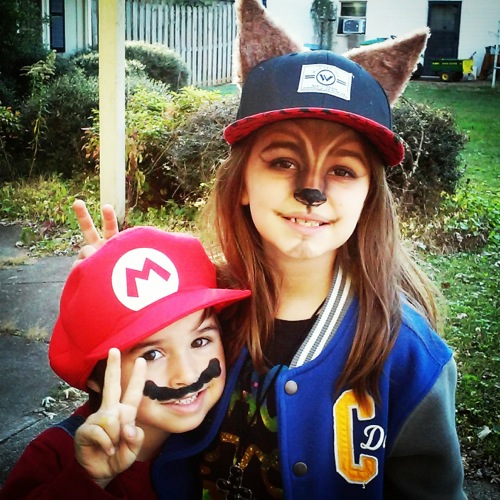 Clover, age 7. When someone asked her if she was the teen wolf from the movie she replied, "No, I'm my own teen wolf." ^_^