By Katherine Handcock, A Mighty Girl Communications Specialist
Since the founding of A Mighty Girl two and a half years ago, we've shared many books with our community. While our book collection features over 2,000 girl-empowering titles, there are a number of titles that we've discovered are among the best loved by our supporters. From stories that have been beloved by generations of Mighty Girls to recent releases that have quickly become community favorites, these are the books that have been consistently popular with A Mighty Girl's community.
In this post, we're sharing 40 of these community favorites. From a board book for toddlers to hefty novels for teen readers, we've included options for Mighty Girls of all ages. Of course, there are many more girl-empowering classics that you can also discover on our website. In two blog posts, we also recently showcased 20 Mighty Girl Classics from before the 1950s and 20 Mighty Girl Modern Classics from the 1950s to the 1980s.
As with all of our posts, you can click on any book title below to learn more about the book, including read reviews, or order a copy. We hope that one of these community favorites will soon become a favorite of your own Mighty Girl!
A Mighty Girl Community Favorites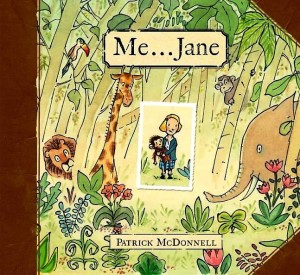 Global Baby Girls by The Global Fund for Children (age 0 - 2): Full of appealing photographs of little girls from around the world, this board book celebrates the potential of girls to change their countries and the world. A portion of proceeds goes to support community-based organizations providing opportunities for girls.
I Like Myself by Karen Beaumont, illustrated by David Catrow (age 3 - 8): A celebration of positive body image and self-esteem! This confident little girl knows that, even with messy hair and beaver breath, and no matter what others say, she will always love who she is.
Me...Jane by Patrick McDonnell (age 3 - 8) and The Watcher: Jane Goodall's Life With The Chimps by Jeanette Winter (age 4 - 8): A pair of picture book biographies of primatologist and conservationist Jane Goodall that complement one another perfectly. Me...Jane focuses on Goodall's childhood dream of studying animals in the wild — and how it became a reality — while The Watcher shows more of her time in Gombe and her quest to protect her chimpanzee friends.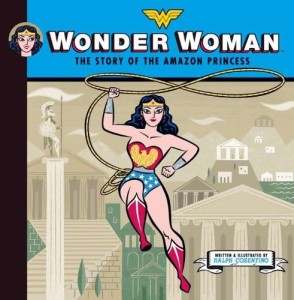 The Princess and The Pig by Jonathan Emmett, illustrated by Poly Bernatene (age 3 - 8): The queen's baby daughter and a farmer's piglet end up switched — why not? This sort of thing happens all the time in books! But when the farmer discovers the mix-up, will Pigmella the girl have to leave behind her happy family? And how is Priscilla the pig finding life as a princess?
Spaghetti in a Hot Dog Bun: Having The Courage To Be Who You Are by Maria Dismondy, illustrated by Kimberley Shaw-Peterson (age 3 - 8): One of a kind Lucy loves her curly hair and her favorite (if odd) lunch, but Ralph makes her feel like everything about her is wrong. So when Ralph needs help, will Lucy return Ralph's disdain or show him what the courage to be yourself looks like?
Wonder Woman: The Story of the Amazon Princess by Ralph Cosentino (age 3 - 8) and I Am Wonder Woman by Erin K. Stein, illustrated by Rick Farley (age 5 - 8): Two stories for young Wonder Woman fans! The Story of the Amazon Princess is a comic-style picture book, while I Am Wonder Woman is level 2 from the I Can Read series, perfect for newly independent readers.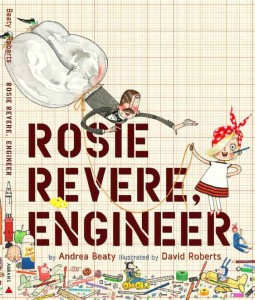 Blueberry Girl by Neil Gaiman, illustrated by Charles Vess (age 3 and up): This poetic tribute to a daring, adventurous, and, above all, special little girl follows her from infancy to adulthood. With illustrations depicting all the wonders of the world that she will discover, it's the perfect book to celebrate a Mighty Girl with big dreams!
The Paper Bag Princess by Robert Munsch, illustrated by Michael Martchenko (age 4 - 8): One of the original Independent Princesses! Princess Elizabeth sets off to rescue her love Prince Roland after he is kidnapped by a dragon. With her castle and fine princess clothes burned to ash, Elizabeth will have to rely on her wits. But what will Roland think of her rescue?
Rosie Revere, Engineer by Andrea Beaty, illustrated by David Roberst (age 4 - 8): Aspiring engineer Rosie wants to fulfill her Great-great-aunt's wish to fly but her heli-o-cheese-copter comes crashing down. Rosie declares her invention a failure, but Aunt Rose — of Rosie the Riveter fame — has a lesson to teach Rosie about perseverance and dreaming big!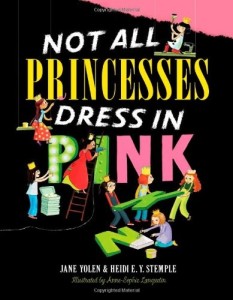 Raising Dragons by Jerdine Nolan, illustrated by Elise Primavera (age 4 - 8): On a Sunday-after-supper walk, a girl discovers an egg that hatches into a dragon! Raising a dragon is lots of work, but it's amazing how much he can help on the farm — until he attracts too much attention. But despite a sad goodbye, there's always work for someone who's good at raising dragons.
My Name Is Not Isabella: Just How Big Can A Little Girl Dream? by Jennifer Fosberry, illustrated by Mike Litwin (age 4 - 8): Isabella's heroes are many and varied: Sally Ride, Rosa Parks, Annie Oakley, among others. Pretending to be each of these groundbreaking women will teach her a lot about being herself! Fans of Isabella will also enjoy Isabella: Girl on the Go and Isabella: Star of the Story.
Not All Princesses Dress In Pink by Jane Yolen and Heidi Yolen Stemple, illustrated by Anne-Sophie Lanquetin (age 4 - 8): Why can't a princess wear blue, or green, or black — or a baseball mitt? The princesses in this book do everything from building treehouses to growing gardens, from riding a bike to rolling in the mud with their beloved dog — all while wearing a sparkly crown!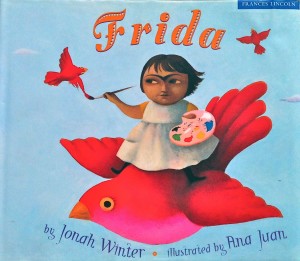 Frida by Jonah Winter, illustrated by Ana Juan (age 4 - 8): A beautiful picture book biography of Mexican painter Frida Kahlo that shows how painting and drawing allowed her to express both the joys and sorrows of her life. Winter's writing and Juan's images also capture the determination and ferocity of this astounding artist.
Cinder Edna by Ellen Jackson, illustrated by Kevin O'Malley (age 4 - 8): We all know the story of Cinderella, but this is the story of Edna next door, who puts her dress on layaway and wears loafers to the dance! And when she meets the prince's brother Rupert, who tells jokes and runs the palace recycling plant, her story may have a non-fairy-tale happy ending.
Miss Rumphius by Barbara Cooney (age 4 - 8): Alice Rumphius dreamed of traveling the world, living in a house by the sea, and making the world more beautiful. In this classic story of the Lupine Lady, Cooney shows how Miss Rumphius' simple choice to spread lupine seeds created fields of color along the coast of Maine.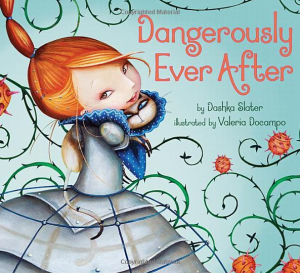 Dangerously Ever After by Dashka Slater, illustrated by Valeria Docampo (age 4 - 8): Princess Amanita like dangerous things, so she's unimpressed by Prince Florian's roses, that is, until she sees the thorns! Florian sends her seeds to grow her own, but she ends up growing noses instead! And when she gets lost on her way to his castle, Amanita will need to use all her courage and determination to find her way home.
Stand Tall, Molly Lou Melon by Patty Lovell, illustrated by David Catrow (age 4 - 8): Clumsy, buck-toothed, tiny Molly Lou always remembers her grandmother's advice to believe in herself. When she moves to a new school, a bully is determined to break through Molly Lou's confidence. Good thing this tough cookie knows how to turn "disadvantages" into strengths!
The Hundred Dresses by Eleanor Estes, illustrated Louis Slobodkin (age 6 - 10): Maddie and her peers tease Wanda mercilessly over her "strange" Polish name and her faded blue dress, even though Wanda insists she has a hundred beautiful dresses at home. When Wanda leaves school, though, Maddie will learn that apologies can't always be given and that it's important to stand up for what is right.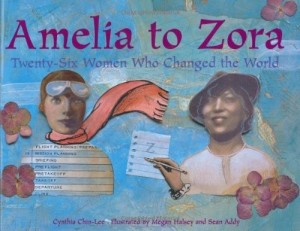 Amelia to Zora: Twenty-Six Women Who Changed The World by Cynthia Chin-Lee, illustrated by Megan Halsey and Sean Addy (age 7 - 12): The stories of 26 diverse, world-changing women of the 20th century! From Amelia Earhart to Dolores Huerta to Maya Lin to Zora Neale Hurston, these stories showcase the remarkable women of recent history.
Zita the Spacegirl by Ben Hatke (age 7 - 12): When her best friend is abducted by aliens, Zita leaps after him and finds herself on a strange world, far from home. But can a girl from Earth step in to save this new world — and her friend? This graphic novel starring a daring heroine, whose story continues in Legends of Zita the Spacegirl and The Return of Zita the Spacegirl.
Matilda by Roald Dahl (age 7 - 12): Precocious Matilda is disdained by her family and her school's dangerous headmistress, The Trunchbull. Only Miss Honey sees the spark of brightness in her. So when Matilda learns that The Trunchbull is threatening her beloved teacher, she'll turn her brain to finding a solution and discover some unexpected abilities.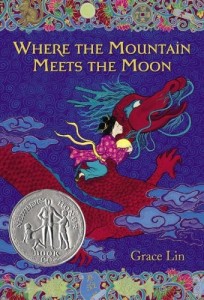 Pippi Longstocking by Astrid Lindgren (age 8 - 12): Pippi is an irrepressible and delightful girl, who lives alone with a monkey in Villa Villekula and has adventures like dancing with burglars, wrestling with the strongest man in the world, and playing tag with police officers! This book will remind you why Pippi Longstocking is such a beloved character. A collection of all three novels, The Adventures of Pippi Longstocking, is also available.
Where The Mountain Meets The Moon by Grace Lin (age 8 - 12): Minli wants to ask the Old Man in the Moon, who knows the answer to any question, why her family struggles to make ends meet. So she sets off on an extraordinary journey with new friends like a flightless dragon. But when she meets the Old Man, she will have to decide whether to ask her own questions or someone else's.
Ronia, the Robber's Daughter by Astrid Lindgren (age 8 - 12): Ronia prefers the quiet of the forest to her father Matt's rowdy robber band. But when she befriends Birk, the son of Matt's arch-enemy, she has a choice: side with her father or side with her friend. Or, just maybe, she and Birk can find a way to reconcile and unite the two bands.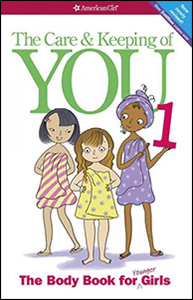 Tuck Everlasting by Natalie Babbitt (age 8 - 12): 10-year-old Winnie Foster stumbles across the Tuck family's mysterious secret: a bubbling spring in the forest that grants immortality. When a stranger appears who wants to find the spring — and market the water to make a fortune — Winnie will have to decide: is immortality truly such a blessing?
The Ordinary Princess by M. M. Kaye (age 8 - 12): At her christening, the fairies blessed Princess Amy with wit, charm, health, courage, and ordinariness. But when Amy runs away from an arranged marriage — and meets a very ordinary man — she discovers that an ordinary life may be the most precious thing of all.
The Care and Keeping of You 1: The Body Book for Younger Girls (age 8 - 12) and The Care and Keeping of You 2: The Body Book for Older Girls (age 10 - 13), from American Girl Library: The best-selling body book for girls now comes in a pair of updated versions! Learn about puberty, from periods to bras to emotions, in a friendly, accessible format. The first volume is perfect for younger tweens, while the second volume is for girls who are ready for additional detail.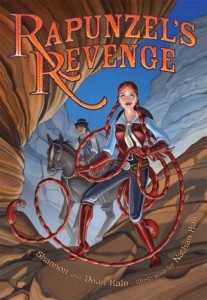 Rapunzel's Revenge by Shannon Hale and Dean Hale, illustrated by Nathan Hale (age 9 - 13): In this graphic novel, Rapunzel is a swashbuckling hero who puts her trademark lengthy braids to use as a lasso! With Jack (of beanstalk fame) by her side, she's out to right wrongs — and have an incredible adventure while doing so!
The Wee, Free Men by Terry Pratchett (age 9 - 14): Tiffany Aching is a promising young witch-to-be who is dangerous with a frying pan. So when the Queen of the Elves steals her brother, Tiffany is determined to rescue him. And with the help of the Nac Mac Feegle, a clan of fierce Pictsies, Tiffany will face all the wonderful horrors of the Fair Folk and perhaps set her country to rights. Tiffany's story continues in A Hat Full Of Sky, Wintersmith, and I Shall Wear Midnight.
Princess Academy by Shannon Hale (age 9 - 14): A prophecy says that a girl from Miri's small village will marry the prince, so the king's ministers set up an academy to teach the girls everything they need to know to be princesses. But when bandits target the academy, Miri must rally the girls and discover her own power to save them all! Miri's story continues in Princess Academy: Palace of Stone.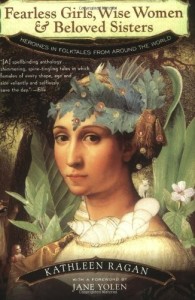 Fearless Girls, Wise Women, and Beloved Sisters: Heroines in Folk Tales from Around the World by Kathleen Ragan (age 9 and up): 100 folktales from cultures around the world showcase courageous mothers, brave warriors, wise queens, and clever girls. This multicultural collection includes stories from Europe, Africa, North and South American indigenous cultures, Asia, the Middle East, and more.
Number The Stars by Lois Lowry (age 9 and up): German troops are beginning to "relocate" Denmark's Jews when Annemarie's family conceals her best friend Ellen as one of their own. But half measures to hide friends and neighbors won't work forever. With the help of the Danish Resistance, Denmark's people will have to get their Jewish friends and neighbors — almost 7,000 of them — safely across the sea to Sweden.
A Wrinkle In Time by Madeleine L'Engle (age 9 and up): Meg's father disappeared while working on the tesseract problem for the government, seeking a way to travel through time and space. Now Meg, her brother Charles Wallace, and neighbor Calvin have to travel the tesseract themselves to rescue him! Fans of the book will also enjoy Hope Larson's graphic novel adaptation, or picking up the whole series with the Wrinkle In Time Quintet Box Set.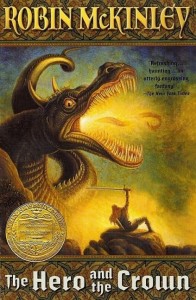 Anne of Green Gables by Lucy Maud Montgomery (age 9 and up): When orphan Anne Shirley shows up at Green Gables farm, brother and sister Matthew and Marilla Cuthbert quickly find the fiery, intelligent girl a special addition to their family. If only she could manage to keep herself out of trouble! Fans of Anne can also get this boxed set of the complete series.
The Hero and The Crown by Robin McKinley (age 10 and up): Aerin is the king of Damar's only child, but also the distrusted daughter of a Northern witchwoman. But it turns out that Aerin has a great destiny: one that will see her fight the dragon Maur and face the evil mage Agsded to reclaim her country's treasures and its greatest strength.
The Girl Who Circumnavigated Fairyland In A Ship Of Her Own Making by Catherynne M. Valente (age 10 and up): September's father is away at war and her mother is away at work so when the Green Wind invites her on an adventure to Fairyland, off she goes. The dangerous Marquess is threatening everyone, so with the help of a book-loving Wyvern and a mysterious boy named Saturday, she'll have to venture deep into Fairyland and hope she can make her way back. September's story continues in The Girl Who Fell Beneath Fairyland And Led The Revels There and The Girl Who Soared Over Fairyland And Cut The Moon In Two.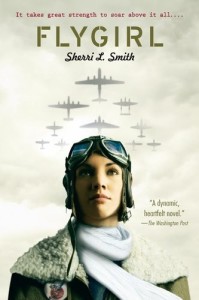 Out Of My Mind by Sharon M. Draper (age 10 and up): Melody is deeply intelligent and has a photographic memory but, because she cannot walk or talk due to her cerebral palsy, both adults and her peers consider her mentally challenged. But Melody refuses to let herself be written off any longer. Now, she's going to find a voice and not everyone will like what she has to say.
Flygirl by Sherri L. Smith (age 11 and up): Ida Mae Jones wants to fly but in 1940s Louisiana, few women do, and certainly not black women. Then the army forms the Women Airforce Service Pilots — the WASPs — and Ida realizes her light skin would let her pass as white to enter the program. But is fulfilling her dream of flying worth denying who she is?
The Book Thief by Markus Zusak (age 12 and up): Liesel is a foster child eking out a meager living in World War II Germany until she steals a book. She begs her foster father to teach her to read, and soon she's sharing stolen books with all her neighbors. Perhaps books can provide the hope she needs to make it through this terrible time.
The Fault In Our Stars by John Green (age 13 and up): Hazel has terminal cancer: the question is "when" not "if." When she meets Augustus at a cancer support group, she's drawn to him despite her determination not to hurt the people she knows she'll leave behind. Is it worth falling into a love you know will end? Fans of the book will also want to check out the movie adaptation.
So if you're looking for a last good book to wrap up this holiday, check out these recommendations! We're sure you'll love it — our community already does!
Additional Recommended Resources
Help keep A Mighty Girl growing in the years ahead!
If you discover any books or other resources via this post that you would like to purchase, please use the "Buy at Amazon" link on every A Mighty Girl product page. By doing so, at no added cost to you, you help to support the site and allow us to continue providing you with wonderful girl-empowering resources. Thanks for your support!