By Katherine Handcock, A Mighty Girl Senior Research Intern
A father is a special presence in a girl's life: he supports, encourages, loves, and protects his daughter, even as he models to her what a man can be. Father's Day provides a wonderful opportunity to celebrate this unique and important relationship in the lives of many Mighty Girls. Whether they're dancing with their babies, walking in the dark and snow with their little girls, or teaching their tweens and teens to be self-sufficient, the fathers in these books know a thing or two about raising Mighty Girls!
READING TOGETHER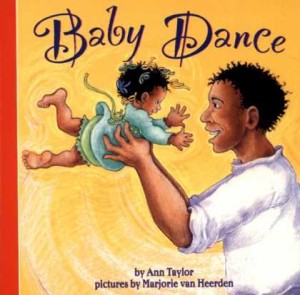 For many daughters, story time with Daddy is a treasured ritual at the end of a busy day — the perfect time to reconnect and enjoy some quiet time together. We've put together a selection of books perfect for father-daughter reading. Whether he's cuddling with his newborn girl or laughing with his tween, the father in your life will love these books.
Baby Dance, by Ann Taylor, illustrated by Marjorie van Heerden (0 - 2)
19th century poet Ann Taylor's homage to a father dancing, twirling, and cuddling with his infant child makes a beautiful, rhythmic board book, perfect for reading — and dancing to! Van Heerden's pastel illustrations show the fun and playfulness of this father and daughter sneaking a little special time together as Mommy sleeps nearby. Babies will love the rhythm — and the excuse for a little extra time with Daddy.

Faster! Faster!, by Leslie Patricelli (0 - 3)
A ride on Daddy's back turns into an adventure as his little girl urges him, "Faster! Faster!" Is Daddy as fast as a dog? A horse? A cheetah? An energetic Daddy-daughter pair discover that Daddy's only limitation might be his daughter's imagination! Both dads and daughters will laugh out loud at this exuberant game.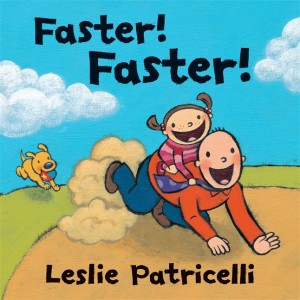 The Daddy Book, by Todd Parr (0 - 3)
Does your Daddy wear a business suit or mismatched socks? Have lots of hair or none? Work at home or work away? Todd Parr's distinctive illustrations show a fun, brightly-colored, diverse bunch of Daddies. His depictions of the wide variety of fathers out there is sure to hint at some of the father in your family — and, he reminds you, there are some things all Daddies do: they all want to be with you, and they all love you!

Daddy's Girl, by Garrison Keillor, illustrated by Robin Preiss Glasser (0 - 3)
With Keillor's trademark humor, he takes day-to-day moments in the life of a Daddy and his little girl — diaper changes, lunchtime, dancing, and walking together — and turns them into an occasion. Glasser's toddler girl is full of energy and fun, the perfect counterpoint to Keillor's text. From the father's love of his daughter's chubby legs to the daughter's excitement as he produces all the delicacies she wants to eat, this sweet book will make you grin.
Owl Moon, by Jane Yolen, illustrated by John Schoenherr (2 - 6)
Bundled in warm clothes on a cold winter night, a girl and her father go out walking and looking for owls. This winner of the 1988 Caldecott Medal takes a simple activity, offered as a special treat — staying up past bedtime! — and turns it into a moment of magic. Quiet, contemplative text from Yolen and rich, soft illustrations from Schoenherr combine to bring a sense of majesty and joy to this father-daughter adventure.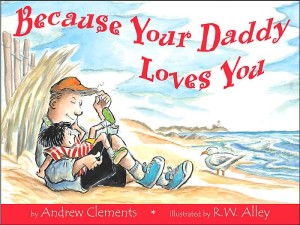 Because Your Daddy Loves You, by Andrew Clements, illustrated by R.W. Alley (4 - 8)
Even a day at the beach can be filled with challenges for a little girl: starting with a bad dream in the middle of the night, and then moving on with a missing shoe, a ball floating away on the ocean, a dripping ice cream cone... Fortunately, there's a patient, loving Daddy there to help fix every problem! This book is perfect for reminding the little girl in your life of all the little ways that her father shows his love.
A Perfect Father's Day, by Eve Bunting, illustrated by Susan Meddaugh (3 - 5)
Susie has special plans for her father this Father's Day, beginning with lunch ("May I drive?" asks Daddy; "Certainly," Susie replies) then the duck pond and the park...and finally home, where Mom has the perfect ending ready for the day. This warm depiction of the four-year-old mind at work — and the perfect father necessary to make that perfect Father's Day — is sure to be a favorite.
The Listening Walk by Paul Showers, illustrated by Aliki (3 - 7)
A little girl's father teaches her how a quiet walk lets her tune in to all the things going on around her in this classic story! This revised edition of the 1961 classic tightens up the story and replaces Aliki's original black and white drawings with beautiful full-color depictions of a diverse neighborhood. It's a great way to celebrate quiet time with Dad — or inspire some listening walks of their own.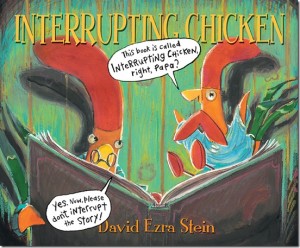 Interrupting Chicken, by David Ezra Stein (4 - 8)
It's bedtime for an excited little Chicken, who just can't sleep without a story. But no matter how often her exasperated Papa tells her not to interrupt, she can't bear to see her favorite characters make a silly mistake! So when they run out of stories, tired Papa invites Chicken to write her own bedtime story — but can he make it to the end without interrupting? Vivid illustrations and a vibrant, energetic main characters make this classic bedtime challenge funny for both little ones and patient Papas.
A Tale of Two Daddies, by Vanita Oelschlager, illustrated by Kristin Blackwood and Mike Blanc (4 - 8)
Some girls go home to two daddies, which other kids may find perplexing! In this charming book, a little girl answers a friend's curious questions about having two daddies — who bandages her scraped knees? Who cooks her breakfast? She responds confidently to each question, telling her friend whether it's Daddy or Poppa who handles that situation. Of course, there's an easy answer to which father to turn to if she needs love: both! Whether your Mighty Girl lives in a house with two daddies or not, this book is a great way to teach her that a family with two fathers is just another family, full of love.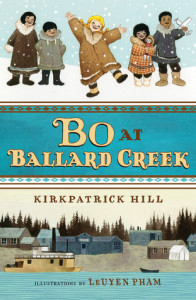 Because I Am Your Daddy, by Sherry North, illustrated by Marcellus Hall (4 - 8)
How much does Daddy love his children? Well, if he was a pilot, he'd fly them to school; if he was a baseball player, he'd hit the home run right into their hands; if he was an inventor, he'd build them the most high-tech tree house ever! This charming story features a Daddy who lets his daughter know that he loves her enough to do just about anything he can. With North's sweet rhyme accented by Hall's elegant watercolor images, this book will have your Mighty Girl planning the things her own Daddy might do.
Bo at Ballard Creek, by Kirkpatrick Hill, illustrations by LeUyen Pham (8 - 12)
In 1920s Alaska, a little girl being taken to an orphanage captures the hearts of the most unlikely adoptive fathers — two tough-as-nails gold miners. In her new home at Ballard Creek, Bo's new fathers raise her with the help of kind people from a nearby Inuit village. Hill, who spent her first six years in a modern mining camp just like Ballard Creek, brings a voice of authenticity to Bo's adventures, while Pham's exuberant illustrations perfectly capture the energy and enthusiasm of this busy little girl! It's a charming story of what truly makes a family: love.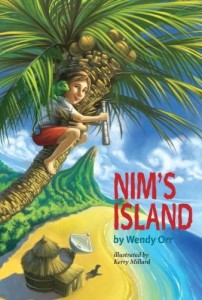 Nim's Island, by Wendy Orr (8 - 12)
Nim may not have any human friends, but who needs them when she has an iguana, a sea lion — and her father, a scientist who's taught her how to start a fire with a piece of glass and use a machete to harvest bananas. She's not concerned at all when he leaves for three days to study plankton...until he stops calling her on his cell phone. The only thing she can think of to contact is Alex Rover, an author Nim loves who's been e-mailing her father for scientific advice. But in the end, it's Nim who rescues herself, her father, and Alex. Fathers will love recognizing the same strength and ingenuity in Nim as they see in their own Mighty Girl. Fans of this book may also want to check out the 2008 movie starring Abigail Breslin.
Ronia, the Robber's Daughter, by Astrid Lindgren (8 - 12)
This adventure-filled story by the author of Pippi Longstocking captures the complexity of a father and daughter's relationship as she grows up. When Ronia is born, her father Matt and his band of robbers celebrates her arrival; but as she grows, Ronia finds she's happiest walking quietly in the woods. On one of her walks, she meets Birk, the son of Matt's arch-enemy Borka, and a relationship that begins with suspicion quickly evolves into a fast friendship. But when Matt captures Birk and plans to use him as a hostage to get the best of Borka once and for all, Ronia has to decide whether to side with her father or protect her friend. A much-loved coming-of-age story, fathers and daughters will discover together that, sometimes, it's the daughter who has wisdom to offer her father.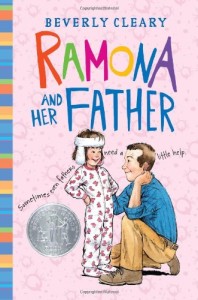 Ramona and Her Father, by Beverly Cleary (7 - 11)
Ramona desperately wants to make her father smile again, but after he's lost his job and the household is struggling, it's hard for anyone in the Quimby family to feel happy. Ramona is never one to decline a challenge, though: she's sure she can figure it out! If only she could do it without making everyone — her parents, her sister, even her teacher — upset with her. Fortunately, Mr. Quimby knows just what Ramona needs to hear: that he wouldn't trade her for a million dollars. This Newbery Honor book that shows the beloved Quimby family rallying to face new obstacles is sure to be a hit with both fans of Cleary's work and new readers.
Me and the Pumpkin Queen, by Marlane Kennedy (8 - 11)
Mildred dreams of growing a thousand-pound pumpkin to take to the fair. She's been trying for four years, since her mother died, struggling through bad weather, accidental damage to the seedlings — and the skepticism of her aunt Arlene, who thinks Mildred should be focused on boys and clothes, not pumpkins. But her Daddy believes in her, and with his support, she knows this will be her year. The loving bond between Mildred and her veterinarian father, who understands that this is about much more than a pumpkin, ensures that this will be a favorite book to read together.
BEING TOGETHER
Of course, Dad and daughters can do much more than just read together! Your Mighty Girl will love having the chance to try new things with her father. The following books provide all sorts of activities that dads and girls can try together.
Just Dad and Me, from the American Girl Library (7 - 12)
This book, targeted to girls, is full of fun things for dads and daughters to do together. Whether they're playing silly car games or testing their knowledge of each other with two-person checklists, they're sure to have lots of laughs. Punch-out paper airplanes and helicopters and tear-out notes and gift coupons will provide lots of additional entertainment. A great Father's Day gift, this book is the perfect way for a tween daughter to let her dad know that she still loves spending time with him even as she's growing up.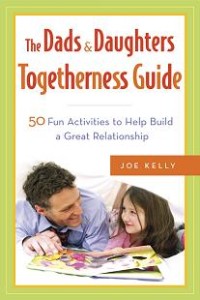 Dads and Daughters: How To Inspire, Understand, and Support Your Daughter When She's Growing Up So Fast, and The Dads and Daughters Togetherness Guide: 54 Fun Activities to Help Build a Great Relationship, by Joe Kelly (parents)
Kelly's two books provide a great pair for any dad who wants to be a supportive, loving influence in his daughter's life. In Dads and Daughters Kelly tackles how to maintain a presence in your daughter's life — especially as she enters her tween and teen years, when many fathers feel uncertain about how to handle the changing dynamic. Dads and Daughters tackles tough issues like dating, body image, media culture, alcohol and drugs, and more; however, it is always positive, full of the promise that fathers can have a strong impact on their growing girls.
The Dads and Daughters Togetherness Guide, on the other hand, is the fun stuff! Kelly provides ideas for fathers of daughters of all ages for activities they can explore together. Kelly's suggestions are varied and interesting, everything from designing secret codes to visiting factories to going for a driving trip with the daughter deciding the route, meaning that dads and daughters of all stripes are sure to find things they'll enjoy doing. Kelly also includes everything from "fast fun" ideas you can do before breakfast to activities you can do through a week-long vacation. Together, they'll love finding just the right adventure to take together!
Finally, to all of the dads out there, thanks for all that you do to support your Mighty Girls! A very happy Father's Day to you from A Mighty Girl!
ADDITIONAL RESOURCES
Help keep A Mighty Girl growing in the years ahead!
If you discover any books or other resources via this post that you would like to purchase, please use the "Buy at Amazon" link on every A Mighty Girl product page. By doing so, at no added cost to you, you help to support the site and allow us to continue providing you with wonderful girl-empowering resources. Thanks for your support!