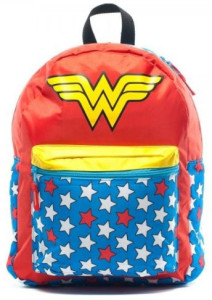 By Katherine Handcock, A Mighty Girl Communications Specialist
Even though we're still in the heart of the summer, for many children the start of school is just around the corner! Time to start stocking up on all the supplies your Mighty Girl will need for the upcoming year — and number one on most lists is a great backpack. If you're looking for some fun backpack options that don't restrict your Mighty Girl to a limited range of themes or colors — or a backpack featuring her favorite character — our Bags & Packs section has a variety of different options for you to check out!
To get you started on your shopping, we're sharing some of our favorite backpacks and lunch totes from our collection. These bags, which offer a range of sizes and themes, will give you a good idea of the possibilities out there for your Mighty Girl this year. So let's get packing!
And, if you're looking for stories to help your Mighty Girl prepare for the new school year -- whether she's starting preschool or heading off to college -- we recommend a range of school stories in our special feature Top Mighty Girl School Stories. You can also learn about many of our favorites in two blog posts: Back to School: 15 Stories on Mighty Girls' Adventures at School and Mighty Girls in Middle School, High School, and Beyond. Continue reading →