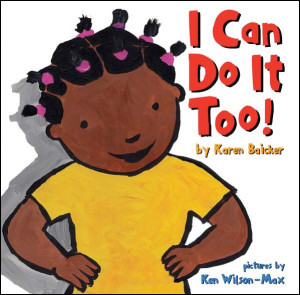 By Lili Sandler, A Mighty Girl Research Intern, and Katherine Handcock, A Mighty Girl Communications Specialist
For many Mighty Girls, especially for girls of color, it can be challenging to find stories starring characters that look like them. A study by the Cooperative Children's Book Center at the University of Wisconsin-Madison determined that only 3.3% of children's and young adult books featured African-American characters. Greater diversity in books not only gives children of color an opportunity to see themselves in stories but also helps broaden the perspective of all children by fostering children's sense of empathy and connection with characters who might look different from themselves.
As part of our celebration of February's Black History Month, we're sharing our favorite stories of everyday life starring African-American Mighty Girls for toddlers, preschoolers, and younger elementary school readers. Whether these Mighty Girls are at work or at play, they exude confidence and happiness — and with the support of devoted friends and family, they know there's nothing they can't do!
For more books for all ages starring African-American Mighty Girls, visit our African American Fiction and our African American History sections. And, to discover more Mighty Girl stories starring girls of many ethnicities and races, visit our Multicultural Fiction section. Continue reading →