By Carolyn Danckaert and Aaron Smith, A Mighty Girl Co-Founders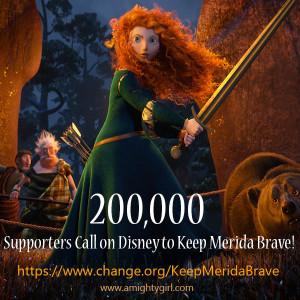 Campaign Update: (5/18/13) The Target Disney Princess Collection page featuring the madeover Merida has been removed.
Campaign Update: (5/17/13) A Mighty Girl has launched a special Keep Merida Brave campaign page!
Statement Update: Appended on 5/17/2013 addressing redesign being a part of limited line of products.
---
A Mighty Girl's Response to Disney's Statement on the Merida Makeover
Since launching our petition on May 4, A Mighty Girl -- along with more than 200,000 petition signers -- has been calling on Disney to "Say No to the Merida Makeover and Keep Our Hero Brave!" Despite the overwhelming response from both parents and children -- and contrary to reports in various news outlets that Disney has pulled the madeover design -- Disney continues to promote the redesigned, sexier Merida and this version is emblazoned across Target's Disney Princess Collection website.
In one of their first public statements on the Merida makeover to the Disney industry blog, Inside the Magic, Disney claimed that the madeover Merida is a "one-time stylized version" for the Target Disney Princess line but, as Ricky Brigante writes, "they could not say exactly how she would be depicted alongside the other Disney Princesses." They further asserted, Brigante notes, that Disney "had no intention of changing who Merida is." However, the madeover version of Merida, as seen on the Target website, shows that Disney has already radically changed the beloved character into a pale reflection of her former self. Continue Reading