A Mighty Girl's top picks of building and engineering toys for inventive Mighty Girls from toddlers to teens.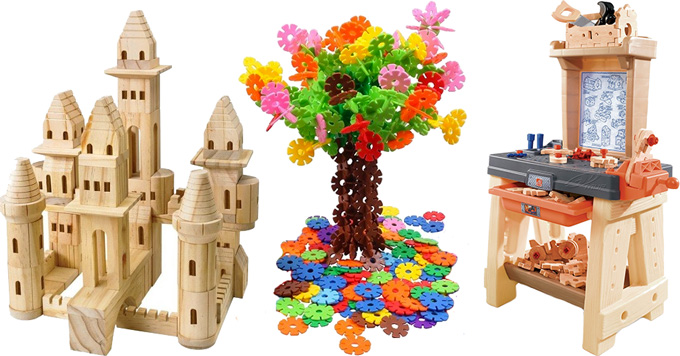 It starts the first moment an infant or toddler realizes that one block can balance on another block. Before you know it, building a tower to the sky (and making it crash down!) has become a favorite activity. For many kids, building toys remain favorites throughout childhood, with structures becoming more complex as kids' building skills advance. And once they can incorporate moving parts, budding engineers get to really explore all the incredible things they can put together!
If you have an amateur architect or engineer on your hands, some intriguing new building toys make a great gift idea! By expanding the materials available for building, you can help kids develop useful skills like fine motor skills, hand-eye coordination, planning, and spatial perception — and, of course, let them have a great time doing it!
With that in mind, in this blog post, we're sharing our 50 favorite building toys for kids from toddlers to teens. In addition to these recommendations, you can find more great building toys in our full selection of over 150 Building Toys.
Science lovers can also find plenty of empowering options in our blog post Wrapped up in Science: Top 50 Science Toys for Mighty Girls.

Classic Building Toys: Blocks, Rods, and Connectors
As soon as kids learn to stack, they can start having building fun! These toys start out with simple options, but rapidly incorporate more complex forms of building capable of building more elaborate things.
New Construction: Magnets, Wedges, Flakes, and More!
The classics are classics for a reason, but that doesn't mean you can't also enjoy some unique and different building toy concepts! These toys take building in new and interesting directions, whether they're providing new materials for creative building play or replicating real-life building.
Making It Work: Engineering Toys
Some young builders aren't satisfied with building static things; they want to make things that move! These engineering toys allow kids to build working objects — everything from simple machines to remote control animals — while learning key principles about physics and engineering.
Additional Recommended Resources