A Mighty Girl's favorite picture books about Mighty Girls starting preschool, kindergarten, and first grade.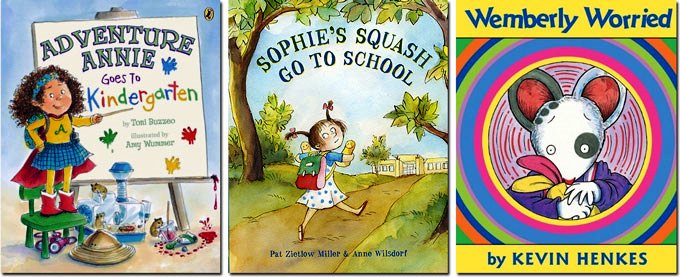 The first day of school is exciting, but it's also a little nerve wracking, even for the bravest of Mighty Girls! For kids starting preschool or kindergarten, the big questions are likely to be about what school is like, how they'll manage missing Mom and Dad, and whether they'll make friends. Children moving up to first grade may also wonder if they're up for the increased expectations and bigger challenges that come with no longer being brand new to school.
Fortunately, there are some great picture books out there to help reassure kids that they can handle whatever comes their way at school. These books provide helpful tips in age appropriate ways — and equally importantly, get kids giggling about how the Mighty Girls in the stories get through their own first days at school.
For books about Mighty Girls and the special teachers in their lives, check out our blog post, Honoring Educators: 20 Books About Mighty Girls & Their Teachers.
Books About Starting Preschool, Kindergarten, and 1st Grade
Maisy Goes To Preschool
Many kids will start their school lives in a preschool classroom, and they may be curious about what their day will look like when they start this new adventure. In this book, Maisy and her friends lead readers through a typical preschool day, from hanging your coat on its hook until it's time to go home. In between, there will be crafts, playtime with friends, and lots of fun! Going to preschool is a lot more fun with a friend like Maisy to show you the ropes!
Ming Goes To School
Ming is ready for school! She's ready to use paint and glitter and glue; to meet new friends; to build sandcastles and make snow angels. And while she's brave enough to stick her hands in the mud to touch the worms, she's not quite ready to go down the big red slide on the playground... yet. With the encouragement of her friends, teacher, and family, though, it's only a matter of time! This gentle confidence-building story, with its short sentences and soft, evocative watercolor illustrations, is sure to help kids feel ready for their first preschool day.
The Night Before Kindergarten
Sometimes it's not the kids who are nervous about the first day of school! In this clever story based on the poem "The Night Before Christmas", all the kids are full of excitement, anticipation... and a few worries. But on that first morning, the kids are ready to face a day full of adventure — it's the parents who shed a few tears! Fortunately, they're mostly tears of joy as the proud moms and dads watch their big girls and boys head in through the classroom doors.
Ally-Saurus and the First Day of School
Sometimes, the nerves don't set in until after a Mighty Girl hits a snag. Dinosaur-loving Ally is hoping to meet some like-minded friends at school, but instead, she finds she's alone in her interest. Worse yet, a trio of princess-loving girls turn up their nose at her ferocious ways! But as the nerves of the first day slowly fade, the imaginations — and individuality — of all the other kids start to make an appearance. Soon, the classroom is full of astronauts, princesses, a lion, and even a briefcase-toting little boy! This story tackles all sorts of issues that face a child on her first day, from the routine of the day to keeping an open mind and finding common ground with friends-to-be of all sorts.
Eliza's Kindergarten Surprise
Many kids find it hard to be away from parents for the first day at school, especially if Mom or Dad was their full-time caregiver. Eliza's mom slips a kiss into her pocket on the first day of kindergarten, but it isn't much comfort when Eliza finds herself missing home during a long first day. But then Eliza starts noticing things that remind her of her mother — everything from blue buttons to a clump of yarn — and at craft time, this resourceful Mighty Girl puts the pieces together to make something that will help her through the day. When Mom comes to pick her up, Eliza is delighted to have a special surprise to show her and to discover a surprise from her mother in return.
Maple and Willow Apart
Sisters Maple and Willow do everything together, but one fall, that all changes: suddenly, Maple is off to school, and even though Willow is a big girl too, she has to stay at home. To console herself, Willow imagines an acorn friend named Pip to keep her company while Maple is away. When Maple gets home, she's excited to tell Willow all about her adventures — but when she hears about Pip, suddenly it's Maple who's jealous of Willow! Fortunately, these loving sisters find the perfect solution: Pip joins Maple at school, while Willow stays home and plays with other imaginary acorn friends. Fans of these sweet sisters from Maple and Maple and Willow Together will enjoy watching how they adjust their relationship to the start of school.
I Am Too Absolutely Small For School
An older sibling can help reassure a nervous soon-to-be student! When Lola gets nervous and decides she's not really big enough for school after all, big brother Charlie patiently helps encourage her to find her confidence — with a little help from her imaginary friend Soren Lorenson. This sweet and funny story is also a great way to show big brothers and sisters how they can help support an anxious sibling, and fans of Charlie and Lola will definitely want to add it to their shelf.
Lily's Cat Mask
Lily does NOT like the idea of buying things for school, but when she finds a cat mask on the shelf — and her father buys it for her — she thinks she's found the perfect solution to feeling shy: everything is easier with her mask on! But when she arrives at school, she gets a shock: her teacher tells her she can only wear the mask at recess. At first, Lily doesn't know what to do, but despite a bit of rebellion, she learns to cope without her mask on all the time... and when she gets a special chance to wear it in class, it even becomes the link that helps her make a new friend! Kids who are feeling reluctant for all the changes school brings will love watching Lily find both her confidence and her place in her classroom.
Sophie's Squash Go To School
Sophie's dedication to her vegetable friends continues in this sequel to Sophie's Squash! On the first day of school, Sophie brings Bonnie and Baxter, baby squash she grew in her garden, along with her — but none of her classmates seem to appreciate them. Worse, one fellow student, Steven, seems to insist on following Sophie around. Sophie isn't interested in being friends with Steven... or is she? After all, she knows from experience that her squash friends won't last forever; maybe a human friend would be just the ticket. This book, which is perfect for kids with a mix of school jitters and resistance to change, is a reflective reminder that, just like a squash, it takes time to grow a friendship.
A Tiger Tail (or What Happened to Anya on Her First Day of School)
When Anya wakes up on her first day of school, she's horrified to discover that she's grown a tiger tail overnight! What will the other kids say? Are girls with tails even allowed at school? Anya tries everything: the tail won't come off, she can't hide it, and when she tries to miss the bus, she ends up at school anyway. But once she gets there, she realizes that she might not be the only one who looks a little bit different... This clever book, full of expressive illustrations, will make kids giggle with its exaggerated look at first day jitters.
How to Get Your Teacher Ready
There's lots to do if you're going to help your teacher be ready for the first day of school — let alone all the other big days of the school year, from picture day to concerts to the 100th day of school! In this hilarious book by the author of the bestselling How To Babysit A Grandma, an enthusiastic class of kids do their best to help their teacher make it through a busy year — and along the way, they feel more prepared too. Full of role-reversal humor and detailed illustrations that will get kids laughing, this book is sure to be a hit.
Lola Knows A Lot
Precocious Lola already knows plenty: she can tie her shoes, cartwheel, count, and more! In fact, Lola thinks she probably knows everything school has to teach her. However, her confidence is deflated when her older sister, Charlotte, makes her doubt herself. And while she spends the days counting down to school listing all the things she knows, Charlotte and Lola's mother gently remind her that she has plenty of exciting new things to learn, too. This funny book captures a situation that may be all too familiar to the parents of some kids, and provides a lovely way to show the adventure that kids are beginning when they start school.
First Day Jitters
Sometimes it helps for children to know it's normal to be a little nervous about the start of school. Sarah is hiding under her bed — and announces that she is not going to school. "I don't know anybody, and it will be hard," she wails. Fortunately, Mr. Hartwell kindly coaxes her out of bed and off to school — where the surprise reveal of just who Sarah is will get your child giggling! This fun reminder that your child isn't the only one feeling anxious about starting school is sure to help chase some of the butterflies away.
Wemberly Worried
Kids who are nervous generally are more likely to worry about school. Wemberly is one of those kids who worries about everything from spilling her juice to whether a snake could sneak in through the radiator, and school brings its own host of worries — including whether she'll find a friend. Fortunately, a sympathetic teacher introduces Wemberly to another nervous new student; soon the pair are not only comforting one another, but discovering that there's too much fun to be had at school — and with new friends — to spend all your time worrying.
Edda: A Little Valkyrie's First Day of School
Even the bravest of kids might feel some anxiety about their first day! Edda has everything she's ever wanted in her exciting home of Asgard — except a friend her own age. Her father tells her that there's a place on Earth called "school" where she could seek out her peers... if she dares. School is very different from Asgard, and even Edda finds herself uncertain about where she fits in this new world. Fortunately, thanks to a little Valkyrie courage and determination, it's not long before Edda feels right at home.
Adventure Annie Goes To Kindergarten
With school comes rules, but it can be hard to follow the rules when you're a superhero! Annie is sure she'll have some great adventure at kindergarten — she even comes prepared with her Adventure Annie cape. But Mr. Todd's Gold Star Rules are hard to follow when you're seeking a grand adventure. Annie wants to be that day's Gold Star Deputy, but it looks like the chances of that are slim — until two helpers get lost, and Annie gets to have her adventure and follow the Gold Star Rules.
The Night Before First Grade
The transition from a bright, playful kindergarten class to the more serious first grade can also cause some nerves — especially if you don't have your friend by your side! In this story from "The Night Before..." series, Penny is excited for the first day of grade one — until she discovers that her best friend has been assigned to the other class. Although she's thrown temporarily, soon Penny is exploring everything her new classroom has to offer and making some new connections with other classmates. Imagine the fun stories she and her best friend can share when the school day is done!
The Hair of Zoe Fleefenbacher Goes To School
Expectations get tougher when you move into first grade, too, which can cause conflicts between students and teachers. Zoe's wild hair — which can act on its own to pet the cat and play on the computer — was acceptable in her kindergarten class. But when her new first grade teacher, Ms. Trisk, declares, "School has rules....No wild hair in my class!" Zoe's hair gets subdued — along with her spirits. However, when Zoe's sentient hair breaks free just in time to help with a lesson, Ms. Trisk has to admit that there's a place for Zoe's hair in her class after all. In addition to providing a funny look at the transition between kindergarten and grade one, this book provides a reminder that teachers learn from their students too.
Additional Recommended Resources