By Lili Sandler, A Mighty Girl Senior Research Intern
As we prepare for Earth Day, we're excited to share a selection of ecologically-focused toys, kits, and gear for the young environmentalist in your life. Whether she's interested in science, prefers artistic pursuits, enjoys a game or puzzle, or shows her Earth pride by choosing reusable products, we at A Mighty Girl are thrilled to support every girls' dedication to protecting the Earth. And, for those children who aren't yet sure what it means to 'go green,' there are plenty of toys and games to help them learn about protecting the environment -- all while having fun!
For the first part of our Earth Day series on environmental-themed stories, visit our post on Ten Mighty Girl Books to Inspire Young Environmentalists.
SCIENCE, GONE GREEN!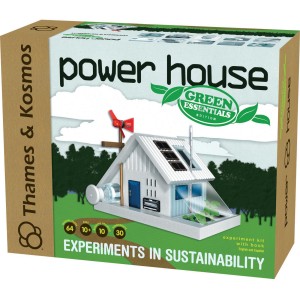 If you haven't yet heard of Snap Circuits, you're in for a treat. Consistently very highly-rated by parents and teachers alike, Snap Circuits are like Legos in that they're plastic shapes that snap together, but unlike Legos, the goal is to create an electrical circuit or device. With the Snap Circuits Alternative Energy Kit, young electrical engineers can experiment with creating 125 project focused on learning about electricity and alternative energy. Highly recommended for ages 8 and up, Snap Circuits are sure to be a hit!
With the Power House: Green Essentials Edition, young environmentalists can learn all about alternative energy, sustainable living, and replenishing resources by building energy-related models and conducting experiments. Projects include, but are not limited to: a greenhouse, a wind turbine, a hydrometer, a lemon battery, and the power house itself. Recommended for ages 10 and up, this kit also includes a diary with entries from a young group of explorers on an island who are learning to live a sustainable existence. Continue reading → Continue reading