A Mighty Girl's top picks of science toys and kits to encourage outdoor discovery and exploration.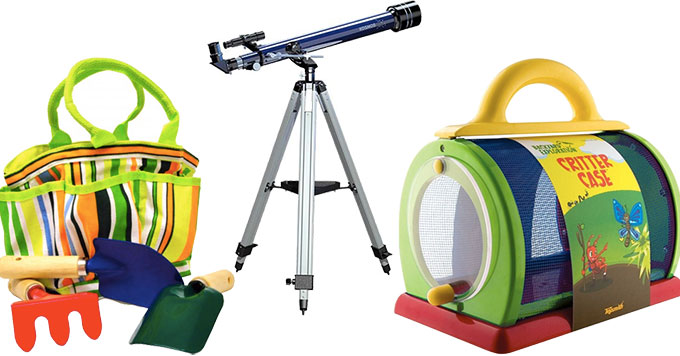 One of the best ways to spark a child's love for science is by allowing her to learn about it in the real world through outdoor play and discovery. Whether she's examining a favorite new insect, gazing at the stars, or cultivating a garden, nature is full of wonders to excite curious kids. And, with a few fun science toys, kits, and tools, kids can do a lot of learning and exploring on their own — and have a ball doing it!
In this blog post, we've showcased two dozen of our favorite toys and kits to help kids get started on their outdoor explorations. From a set of field tools for kids to a rotating star map of the sky, these toys will let kids explore wherever their curiosity takes them. And, whether you have a budding naturalist, entomologist, astronomer, or geologist, there's something here for everyone!
For Mighty Girl books about girls who love to explore the great outdoors, check out our blog post, 30 Mighty Girl Books About Outdoor Discovery, or browse our entire Animals & Nature book collection. Continue reading → Continue reading