A Mighty Girl's top picks of indoor toys and games to keep Mighty Girls active even when it's cold outside!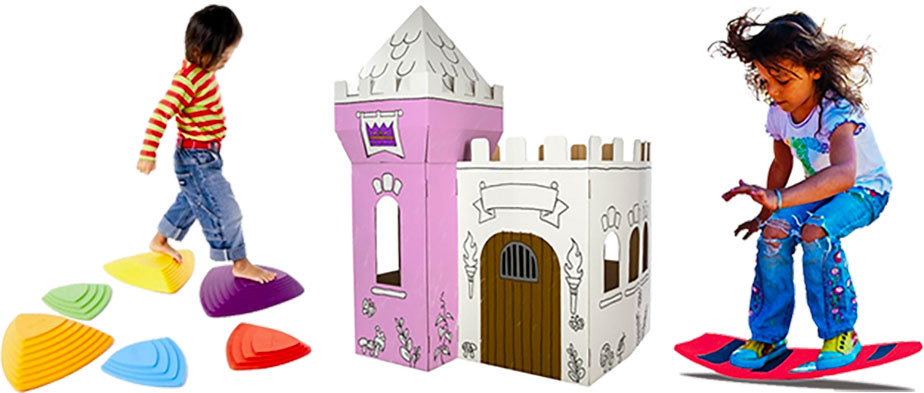 When it's cold outside, kids are often stuck inside for much of the day — but that doesn't mean they can't stay active! It only takes a few fun toys and games to get kids moving and keep bodies healthy and brains busy. If you're a parent or educator looking for ways to burn off kids' extra energy indoors, we've highlighted our favorite indoor active play toys and games in this blog post. From ride-ons to balance boards to relay games, the featured toys will get hearts pumping and kids laughing! It's the perfect way to keep kids of all ages active until they can get outside again!
If you're eager to stay active outdoors all year round, you can also find many active outdoor toys in our Outdoor Play section.
Indoor Active Play Games and Toys
Sensory Ball 4-Pack Mega Set
Babies, toddlers, and preschoolers will love exploring these sensory balls from Edushape! Four 4" balls in bright colors — either solid or translucent — have a surface texture that makes them easy to grip and encourages interaction with older children and adults. The nubbed texture is also perfect for massage stimulation. You'll be amazed at all of the ways you think of to use these seemingly simple sensory balls.
Baby Play Mat
From tummy time to toddler play, this colorful, reversible play mat from HAPE is the perfect choice! This 1 inch thick play mat provides plenty of cushion, and it's 59 by 70 inches, so it offers lots of floor space to play. One side of the mat features letters and numbers, while the reverse side offers a vibrant outdoor scene full of friendly animals. Plus, parents will love that it rolls for storage, it's easy to clean, and it's BPA-free.
Move and Crawl Ball
Get the littlest Mighty Girls busy with this fun interactive ball that encourages little ones to chase, roll, and play! VTech's Move and Crawl Ball introduces shapes, numbers, and animals as babies press, pull, spin, and more. The ball has a sensor that responds to your baby's sounds, making it wiggle and roll as they babble and laugh. Whether she's sitting, crawling, or up on her feet, this will keep her going!
Poof the Lil' Dragon Rocker
Why settle for a rocking horse when you could have a dragon? This fun rocker has hidden squeakers and plays four fun, educational songs that teach numbers, letters, colors, and more. The curve of this dragon's tail helps keep even little rockers secure as they learn to dragon ride. For two more fun rockers, check out the Rocking Raffy giraffe rocker and the Rocking Crocodile, both for ages 1 to 3.
Brilliant Basics Corn Popper
The classic Fisher Price corn popper has been a hit with generations of kids! Push this toy and the colorful balls pop and fly, providing encouragement for new walkers. The new version also includes electronic lights and sounds for a little extra fun! Toddlers are sure to love this perennial favorite.
Classic Walker Wagon
Get your little one toddling with this classic walker wagon from Radio Flyer! It's stable enough to support new walkers, and the front bumper helps protect furniture once your toddler starts roaring around. Most toddlers love fill and spill play, and the large capacity of this walker wagon will let them move their favorite toys wherever they want to go. Plus, parents will love the nostalgic solid wood and bright red paint job.
Smart Shots Sports Center
Celebrate a love of sports with this interactive sports center that lets toddlers shoot, score, and learn! Toss the basketball into the hoop or kick the soccer ball in the net to score points and hear fun sounds. Buttons, gears, and pages help kids learn about numbers, letters, and more. Not only does it build fine and gross motor skills, it's a great way to start the habit of active living early.
Chomp and Clack Alligator Push Toy
Learning to walk is extra fun with these chompy alligators! With every step, the alligators take turns chomping, making a satisfying clack when your little one moves; non-skid wheels ensure she won't take a tumble. When she's not on the go, the handle also features spinning beads to catch her attention. Plus, parents will love the colorful, non-toxic finishes.
Dancing Alligator Pull Toy
This cheerful gator clicks, clacks, and bounces up and down as it gets pulled around the house! The fun motion and sounds make it the perfect companion for all her indoor adventures, while parents will appreciate the renewable materials and non-toxic finishes. For another fun option, check out the Pull-Along Snail, also for ages 1 to 3. Kids will love watching how its movement changes when they speed up or slow down.
Wheely Bug Ride-On
Let your little one scoot around on a friendly, brightly colored bug! The Wheely Bug as a sturdy wooden base and multidirectional casters so it's easy for kids to maneuver. It's also available in two sizes to suit either new walkers or preschoolers. The outer sponge layer adds comfort and makes for easier cleaning, and comes in a variety of designs, including a ladybug, a tiger, a cow, and a hedgehog. It's the perfect pick for a first ride-on toy!
Sit 'n' Spin
You can have tons of twirling fun with this Girafalaff sit 'n' spin from Playskool! The classic toy has been redesigned so it's easier to spin and sturdy enough to hold up to plenty of playtime. Kids can spin fast or slow; it's all controlled by them! And parents will love that they're building balance and coordination — and burning off energy — as they do it.
Learn and Groove Musical Mat
Move your body and learn with this fun musical mat from LeapFrog! This 4 foot mat offers three different play modes: Explore mode lets kids learn numbers, animals, and instrument names; Music mode lets kids make musical sounds by steppin on different parts of the mat; and Game mode gets kids to fly, waddle, and more, building coordination and balance. It's the perfect choice for any active toddler or preschooler.
Rody Horse
Combine a ball hopper with a rocking horse and you get Rody! This inflatable vinyl bouncing horse, available in a wide range of colors, helps kids build balance and coordination — and of course it's a rare kid who doesn't enjoy bouncing around the house. Parents will love that you can inflate it to different saddle heights — up to 12" — to accommodate different ages, and that the plastic is guaranteed phthalate and latex free.
Up and Down Roller Coaster
She may not be ready for loops, but she'll love this mini roller coaster! Three pieces clip together securely to form the ten foot track; the top piece has two non-slip steps and a retaining well for the car to ensure safety while boarding. The bright yellow car can also be used separately as a ride-on, but we're betting it'll be hard to convince her to use it alone!
Bilibo
What a Bilibo? Anything your Mighty Girl can imagine! The unique shell-like shape encourages kids to experiment, turning it into a rocking chair, a rock to perch on, a helmet, a doll bed, and more. The sturdy plastic allows you to use it inside and out; it can even be a shovel or scoop for sand, water, and snow. Kids will also love the rainbow of available colors.
Monster Plush Bowling Game
Bowling gets a fuzzy twist with this colorful bowling set! Six monster "pins" feature plenty of color, texture, and personality — and even the ball has a face. Rack them up, bowl them down, and repeat, then tuck everything away into the included storage bag. Kids will love these soft, cuddly monsters.
Mini Trampoline
Bounce some energy out with this 3-foot trampoline! The balance bar helps younger kids stay upright and older kids stay stable as they start to bounce higher. The spring cover encircles the entire trampoline, ensuring that fingers and toes stay safe from getting pinched. Kids up to 55 pounds will love bouncing away.
Rainbow Streamer
Jump, twirl, and spin and watch this gorgeous rainbow streamer from Sarah's Silks move! With 9 feet of colorful silk firmly attached to a wooden wand, kids can get hours of play with this streamer. It's also terrific for pretend play: it can be a fishing rod, a magic wand, or anything else her imagination creates. Fans of Sarah's Silks can also check out their 35" square playsilk for ages 3 to 9.
Folding Practice Beam
She can practice gymnastics any time with this beam from Springee that folds up for easy storage! The extra-firm feel and 4" width ensure it feels like a real beam, while the low height means she doesn't have to worry if she misses a skill. When practice time is done, fold it up for easy storage. It's even available in a variety of colors to please every budding gymnast.
Pop Up Play House Tent
Play pretend in an instant with this pop-up play house from GreEco, which is perfect for indoor or outdoor spaces! At 4 by 3.5 by 3.5 feet, it's just the right size for several preschoolers to play, and the spring frame and removable roof makes it easy to put up and take down. Parents will appreciate the handy storage and carrying case, and the fact that it's lead and phthalate free, while kids will love the colorful graphics that inspire imaginary adventures.
Monkey Bars Tower
Give your little climber a fun place to play with this set of monkey bars! This dome assembles easily, and its small size — the top of the tower is four feet form the ground — allows you to fit it indoors. You can also take it outside since it's light enough to move easily. Kids are sure to get hours of fun out of this set.
Medieval Castle Playhouse
Decorate your own castle with this playhouse from Box Creations! This cardboard structure is easy to assemble but sturdy enough to stand up to serious play. At 52" long, 43" wide, and 40" wide, it's big enough for multiple kids to play and decorate together — while providing hours of active pretend play opportunities! Four markers are included, but you can also bring in your own craft supplies to make the castle whatever you imagine. For an additional option, Box Creations also makes a Pirate Ship Playhouse.
Monkey Balance Board
The perfect balance board for your little monkey! This 12" wide balance board, with its cheerful paint job, is the perfect choice for preschoolers and young school-aged kids to build core strength, coordination, and balance. Lightweight but sturdy construction ensures that it'll take years of play, while the quick and easy assembly means you'll be balancing in no time.
Tumbling Mat
She'll go head over heels for this tumbling mat from Soozier! This 4' by 10' mat is perfect for a budding gymnast or martial artist, with 2" thick foam that helps absorb the bumps. The folding design makes it easy to store, while the PU leather surface is non-absorbent and easy to clean. Built-in handles make it easy to carry, so she can tumble any where, any time.
PlasmaCar
This award-winning riding toy harnesses kid power! No pedals, gears, or batteries required; just turn the "steering wheel" left and right to get rolling. Parents will also love how quiet the vehicle is — although the kids riding it might not be! Sturdy ABS plastic ensures this is a toy kids can play with for years, inside and out.
Space Station Tent and Tunnel Combo
Blast off into outer space with this incredible detailed tent and tunnel combo from Pacific Play Tents! The four foot square space station tent easily accommodates 3 to 4 kids at a time, while the four "docking tunnels" provide a fun way to get in and out. Best of all, all of the pieces collapse easily for storage or transportation in the included carry bag. If you'd prefer the tent alone, check out the Space Module Tent which is suitable for ages 3 to 10.
Gymnastics Junior Kip Bar
Practice kips and back hip circles any time with this handy practice kip bar from Tumbl Trak! This junior kip bar features a 1 1/2" diameter solid maple bar, which adjusts from 38" to 59" in height to accommodate many ages of gymnasts. Three cross supports allow superior stability, and the 48" width allows for a standard 4 foot mat to be used underneath.
Magic Castle Inflatable Bouncer
It's hard for kids to resist a bouncy castle! This study castle blows up in seconds, accommodates up to three bouncing kids at once, and has extra-high walls and netting for safety — but the spires are still short enough to fit underneath standard ceilings. Reinforced seams and a durable vinyl floor will allow kids to get plenty of use out of this fun bouncer.
Multi-Color Tunnel
Set up a play tunnel with a flick of the wrist thanks to this collapsible tunnel's easy-to-use ties! This tunnel has a sturdy steel frame covered with tough nylon in bright colors, perfect for plenty of adventurous fun. At six feet long and 19 inches wide, there's plenty of room for kids to hide, explore, and imagine.
River Stone Set
There's something about stones peeking out of a river that makes it nearly irresistible to try to cross them. These plastic "stones" are inspired by the shapes of real river stones, providing a fun balancing challenge. Rubber studs on the bases prevent slipping and protect floors, so you can set them up anywhere. The set includes three large and three small stones, each in a unique color. For a similar set that takes kids to even higher heights, check out the Hilltops set for ages 3 to 7.
Parachute
A few kids and a parachute make for hours of fun! This colorful parachute has handles around the outside to make it easier for little hands to hold, and it comes in its own storage / carrying bag. At ten feet in diameter, it's big enough for plenty of favorite parachute games. Plus, parents and educators alike will appreciate that its sturdy nylon is machine washable.
The Kids' Yoga Deck
You can get kids bending, stretching, and breathing with this deck of cards featuring yoga poses! Each card features a playful pose that's simple enough for kids to do on their own. Use the cards separately, or follow one of the simple sequences laid out in the included guide. There are even a few partner poses you can try with a friend! It's a great way to incorporate yoga into your day-to-day play or into a classroom.
Hopscotch Mat
Bring hopscotch indoors with this colorful, comfortable foam mat that comes apart for easy storage! Ten number tiles snap together like a puzzle so that kids can easily start up a game any time. When they're done, it all tucks away in the including carrying bag. For another option, check out Learning Carpets' Hopscotch Carpet, also for age 3 to 10.
Foam Pogo Jumper
Now anyone can have fun with a pogo jumper! This foam version of the traditional pogo stick has a bungee handle that stretches to accommodate every height and supports up to 250 pounds. A squeaker in the foam base ensures a squeak with every hop. The durable foam is tough enough to handle outdoor play later in the year, but soft enough to be safe on indoor floors all winter long.
Folding Gymnastics Training Beam
Young gymnasts can practice their beam skills anywhere with this low beam that folds for easy storage! This 9 foot beam is only 2 inches high, making it safe to practice cartwheels, dance jumps, and other new skills. It's 4 inches wide at the top, so it matches a traditional beam's size, but 6 inches wide at the bottom to give additional stability. It's perfect for both experienced or budding gymnasts.
EZ Steppers
She'll have loads of fun with these EZ Steppers — they're the first step towards stilts! The 4" platforms feature adjustable rope hand cords so kids of different heights can enjoy getting a lift. Kids will have so much fun they won't realize they're also improving their balance and coordination.
The Original Flying Turtle Scooter
This scooter might look familiar to some — it's been around since the 1970s! A retired Boeing engineer combined an old tractor seat with bike handlebars, and a terrific ride-on toy was born. By pivoting the handlebars back and forth, kids can skate forward at a pretty good clip, but since it's so low to the ground, it's one of the safest rides around. It's suitable for use inside and out, and parents will also love that it's still proudly US-made.
Spooner Freestyle Board
Practice for your surfboard, skateboard, snowboard, and more — all in the comfort of your own home! The Spooner freestyle board allows you to balance, wobble, spin, and twist in any location and on any surface. Younger kids can build balance and gross motor skills; older kids can start testing out tricks. Plus, it's tough enough that even the grownups can give it a try!
LeapBand
Get your Mighty Girl her own fitness tracker with LeapFrog's LeapBand! As kids complete challenges and stay active, their LeapBand will track their activity and allow them to personalize a pet pal who will be their activity buddy. 50 kid-friendly activity games are available to keep kids interested and moving. This band comes in your choice of three colors: blue, pink, and green.
Math Mat
Get moving and build math skills with this fun mat that provides multiple quiz games! Start out with number identification and counting, then learn addition and subtraction up to the number 20. As her score gets higher, the game gets faster, so she'll always be challenged. It's a great way to get her thinking on her feet.
Pancake Pile-Up Relay Game
Stack 'em high, serve 'em up, and don't forget a pat of butter on top! With this fun relay game, kids race to get customers just what they ordered by combining the five different flavors of pancakes. The trick is that you have to carry your pancake to the plate on one of the included spatulas! Since you can play individually or in teams, 2 to 12 kids can play with this hilarious, fast-paced relay.
Deluxe Ring Toss / Quoits Set
Kids and adults alike love a ring toss! This easily portable set allows you to play indoors, or carry it along when camping, tailgating, or enjoying a backyard barbecue. The rope rings are comfortable in the hand and easy to throw, while the target pegs easily assemble and disassemble to tuck in the included carrying bag.
Let's Go Code! Activity Set
Kids can learn early coding skills — and burn off some extra energy! — with this fun game from Learning Resources. Kids hop, step, turn, and jump their way across the squares according to coded directions. They can try one of the sample mazes or come up with their own tricky path. Along the way, they'll practice problem solving and gross motor skills!
Child's Yoga Mat
Children love yoga, and it's a great way to teach balance, coordination, and calm — so why not get her a yoga mat that's just her size? These yoga mats from Gaiam are 60 inches long and 24 inches wide, just the right size for kids. Bright colors and fun patterns make them appealing to use, and kids will enjoy trying out the free yoga class you can download with the code inside.
Fort Building Set
Is there anything more fun that building your own fort? This kit from Fort Magic provides plenty of pieces to create the fort of her dreams? 3 different sizes of curved sticks, 4 different sizes of straight sticks, 5 different connector shapes, and 100 fabric clips allow kids to build a wide variety of shapes and sizes of forts, and the included 24-page manual provides plenty of inspiration for their building.
Street / Knee Hockey Set
Who says hockey is an outdoor game? This set lets you play ball hockey outside when the weather is good, then bring the fun indoors for knee hockey during the winter! The set comes with two Insta-Set goals, adjustable sticks for street hockey and mini sticks for knee hockey, and balls suitable for both indoor and outdoor play.
Hop-66 Hop Ball
Ball hoppers don't have to be just for little kids! This superstrong latex, BPA, and phthalate-free vinyl ball hopper inflates to 26" and has a maximum weight of 300 pounds, so everyone can get in on the fun. The patented soft, one-piece grip handle is easy to hold to give bouncers a little extra stability. Use it indoor all winter, then take it outside for summer fun — it's tough enough to handle it all!
Juggling for the Complete Klutz
This is the original Klutz book, and it's taught millions of people how to juggle! The set comes with three aerodynamic beanbags, and provides step-by-step instructions and helpful pictures to get you started on basic juggling techniques. An additional section covers tricks, passing, and juggling other items like scarves and pins. It won't be long before the circus is in town!
Balance Board Trainer
Teens and adults get a real challenge — and a workout — with this balance board! With the Revolution 101 balance board, you can balance, spin, and more. Its compact size and durable construction allow you to simulate the same motions you need to excel at board sports, from surfing to snowboarding, and build core strength, balance, and overall coordination. It's easy enough for beginners to use but provides plenty of challenge for those who want to test their skills.
Additional Recommended Resources