A Mighty Girl's top picks of biographies and historical fiction for adult readers in honor of Women's History Month.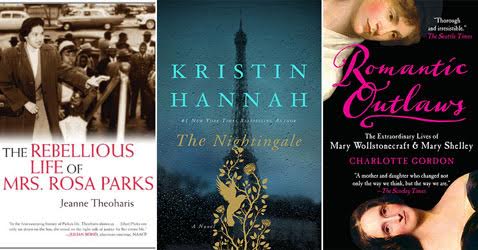 We recently shared biographies for young readers from preschoolers to teens in our blog post Telling Her Story: 40 New Books for Women's History Month. But just as kids can be inspired by stories of trailblazing women of the past and present, so can adult readers! In fact, when we share stories about fascinating and often little-known women with our Facebook community, we regularly receive comments from adult supporters about how they would love to learn more about these inspiring Mighty Women.
With that in mind, we've put together a selection of great biographies and historical fiction, all aimed at older teen and adult readers in honor of Women's History Month! These books feature women from both past and present: scientists, activists, entertainers, and more. Some of their names and situations will be familiar, and others will be new, but all of them will leave you amazed by their daring and determination.
Since A Mighty Girl's website does not have a book section for adult readers, you won't find these recommendations on our website; however, we've included links below to Amazon and other vendors so you can order individual titles or learn more. So whether you're looking for a good book to delve into during Women's History Month or any time of year, these women's stories are sure to inspire!
Amazing but True: Biographies of Inspiring Women
If you've found yourself eyeing your Mighty Girl's bookshelf, then you'll want to check out these biographies! Full of intriguing details, new discoveries, and fascinating portraits of some of history's greatest women, you're sure to add plenty to your own reading list.
Ruth Bader Ginsburg made her name as a feminist pioneer long before the Internet was a pop culture phenomenon, but nearly 50 years into her career, an unusual thing happened: Tumblr, and the rest of the Internet, adopted the newly-nicknamed Notorious RBG as a symbol of how far we've come — and how much work we still have to do. This fascinating book combines interviews, annotated dissents from Supreme Court cases, archival documents, and illustrations to create a unique portrait of the woman who has spent decades transforming the way that America sees women. Along the way, readers will be inspired by this dedicated woman's unyielding strength of will.
Historical Fiction Novels: Mighty Women in Fiction
While biographies can tell the story of a person, they are by definition restricted to what is known to be true. Historical fiction, on the other hand, allows authors more freedom to explore a story and capture the excitement or drama of a time and a place. These works of historical fiction starring courageous and determined Mighty Women are sure to inspire.
Additional Recommended Resources