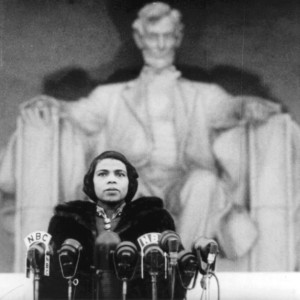 By Lili Sandler, A Mighty Girl Senior Research Intern
On this day in Mighty Girl history, acclaimed singer and civil rights pioneer Marian Anderson was born in Philadelphia in 1897. Her musical talent was evident from a young age, and her parents did everything they could to encourage her musical pursuits. Anderson was only 6 when she began performing with the Union Baptist Church, where she was often referred to as "baby contralto".
Her family was unable to afford piano lessons, so little Marian taught herself to play starting at the age of 8. Dedicated to her church choir, she would rehearse all of the parts to the every song, performing them for her family until they were just right. Her community was so impressed with her commitment that they raised enough money to pay for private lessons with a well-known vocal instructor.
As a young adult, Anderson performed at Carnegie Hall in 1928, and spent much of the 1930's touring through Europe. While in Europe, she found that the racial prejudice she had frequently encountered in the United States was much less, and it made for a much more pleasant performing experience. When touring in the United States, she was refused lodging in certain hotels, and many restaurants refused to serve her as well.
After the Daughters of the American Revolution refused to grant permission for Anderson to perform at Constitution Hall, not only did then First Lady Eleanor Roosevelt resign her membership from the DAR, but together with her husband and the executive secretary of the NAACP, organized what would become a famous performance at the Lincoln Memorial on Easter Sunday, 1939. Anderson performed for an integrated crowd of 75,000, as well as several millions via radio, and a portion of the performance is available to watch in this fascinating archival newsreel. 
Anderson continued to perform in many venues over the next several decades. Only four years after denying her the opportunity, the DAR invited her to sing at Constitution Hall in 1943. In 1955, she became the first African-American to perform with the Metropolitan Opera in New York City. She sang at the inaugurations of both Dwight D. Eisenhower in 1957 and John F. Kennedy in 1961.
She was actively involved in the Civil Rights Movement of the 1960's, and was awarded the Presidential Medal of Freedom in 1963. During her life, she received many other awards, including the Congressional Gold Medal, the George Peabody Medal, the National Medal of Arts, the Eleanor Roosevelt Human Rights Award, and a Grammy Award for Lifetime Achievement.
Marian Anderson died at the age of 96, in 1993. She lived a full and prestigious life, but more importantly, she lived an admirable and influential life. Two different children's books are available on her impressive life, and we recommend them both highly.
For ages 4-8, the stunning picture book When Marian Sang is brought to you by the same author-illustrator team as Amelia and Eleanor Go For a Ride.

For an older audience, children 9 and up might enjoy the biography The Voice That Challenged a Nation: Marian Anderson and the Struggle for Equal Rights. 
For more stories of musical Mighty Girls, browse our Music collection in Creative Arts.
For more stories of the girls and women of the Civil Rights Movement, visit our Top Mighty Girl Books on Civil Rights History.