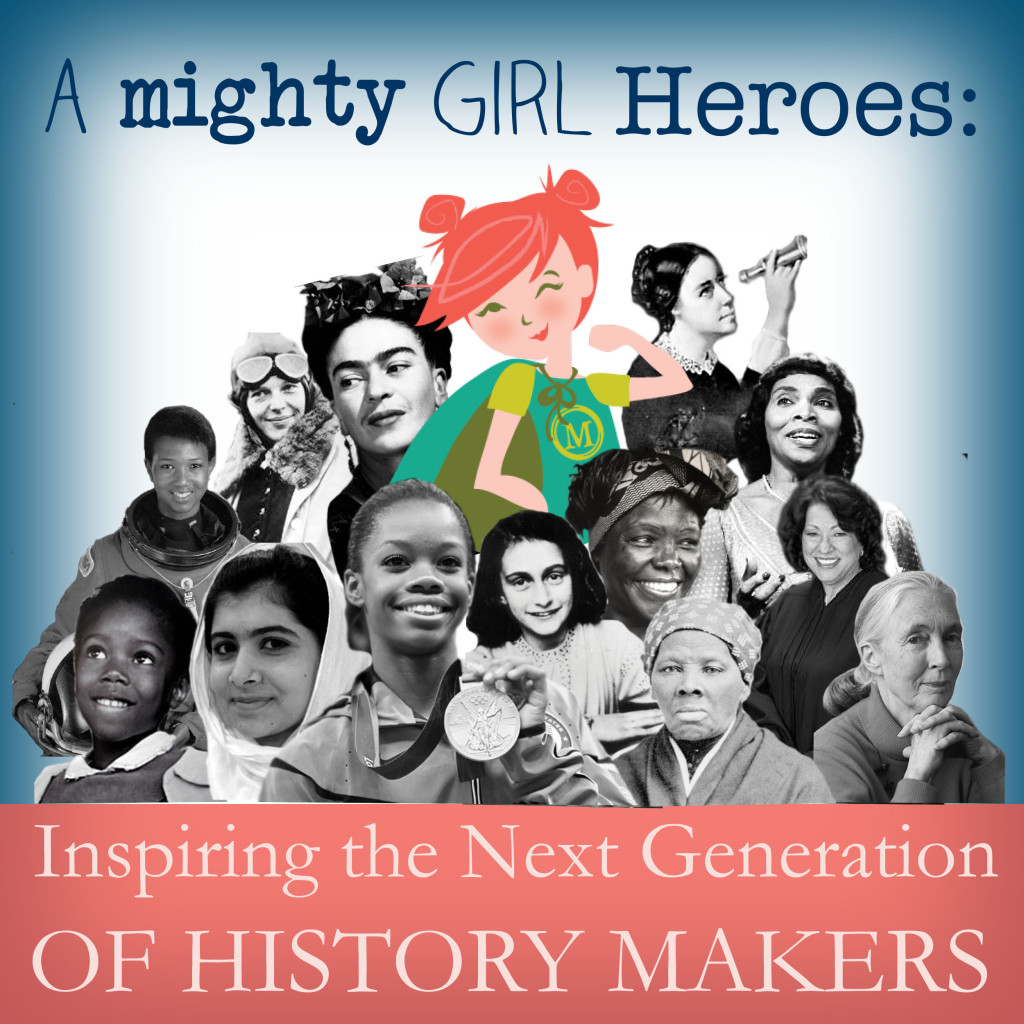 By Jennifer de Beer, A Mighty Girl Senior Research Intern
Around the world, Women's History Month is a time to recognize the achievements of women over the course of history. In the United States, Australia, and the United Kingdom, the celebration occurs in March, to coincide with International Women's Day on March 8. In Canada, it corresponds with Persons Day on October 18.
Here at A Mighty Girl, we take pride in highlighting women, girls, and their remarkable accomplishments year-round and feature over 350 youth-oriented biographies of girls and women on our site. This month's special focus, however, provides us with an opportunity to share their stories with gusto and Mighty Girl flair.
In that spirit, we are pleased to announce "Mighty Girl Heroes: Inspiring the Next Generation of History Makers" -- our month-long campaign to showcase the stories of female trailblazers from around the world and to provide you with resources to share this important history with the children and young people in your lives.
Children, girls and boys both, need to grow up with an intrinsic understanding of what is possible for women. They need to see examples, in real life as well as in their history books, of positive role models demonstrating a wide variety of skills and abilities.
Girls especially need to know that an incredible collection of female trailblazers preceded them: explorers, scientists, athletes, authors, artists, politicians, and entrepreneurs. This is true not only in terms of potential career options, but also to give them an idea of how to respond when others say they "can't" or "shouldn't" pursue a certain interest because of gender. Women's History Month gives us the chance to trumpet the journeys of these women, who are too often relegated to footnotes in textbooks, or forgotten altogether.
Each day, for the next 31 days, we will present a new Mighty Girl Hero. Women and girls from diverse fields and backgrounds and regions. Women who hail from ancient history as well as those who are still alive today. Many of these women did what had never been done before. Even more paved the way for the women and girls who would follow. Plenty were told that they "couldn't" pursue their chosen path. Some names and stories you might find familiar -- and some may be brand new. Each Hero feature will include a biographical profile along with links to books, films and more to help further your understanding of this woman's role in history.
Throughout March, we will also release an assortment of features and blogs focusing on specific historic events and themes relevant to Women's History Month. Join us as we remember birthdays, commemorate special dates, and highlight the words and actions of so many extraordinary women.
Our Mighty Girls of today will be our History Makers of tomorrow. We can't wait to see all that they will do and create and be. In the meantime, it is our honor to provide some inspiration from the women who came before them.
To receive our daily Mighty Girl Hero updates, along with features and more to celebrate Women's History Month, follow us on Facebook.
To browse A Mighty Girl's women in history resources, visit the following sections: