13-year-old Lily has raised over $7,000 to send girls to school by selling handmade fabric lovebirds.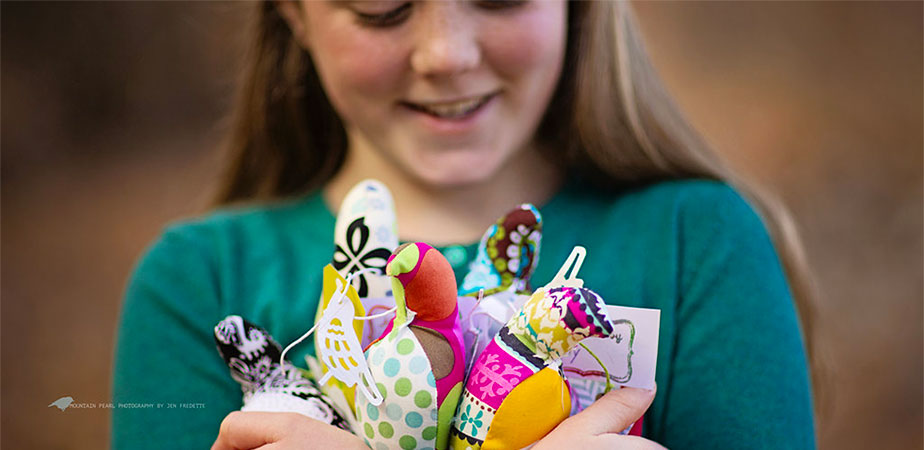 When 9-year-old Mighty Girl Lily Miller learned it would only take $5 to send a girl in Nepal to school for a month, she was determined to find a way to help. So Lily recruited her younger sister Maizy and her mother Terry to help her make fabric scrap lovebirds to sell and Lily's Lovebirds was born! Five years later, sales of her lovebirds — which also make lovely holiday gifts — have allowed the now 13 year old to donate over $7,000 to help other girls like her go to school. "Girls that go to school educate their children to go to school which makes the world a better and more peaceful place," Lily explains. "I hope that one day I will see more girl presidents and great leaders in the world, but it all starts with going to school."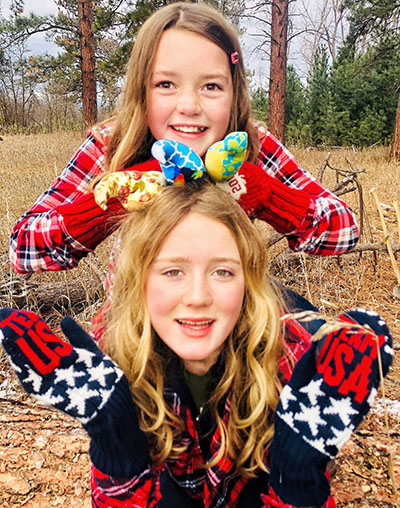 Lily, who lives in Missoula, Montana, first started making fabric lovebirds in 2012 as part of her second grade class fundraiser for an all-abilities playground project. After the playground was complete, she wanted to find another way to put her lovebirds to good use. In fall 2014, she and her mother read Malala Yousafzai's memoir I Am Malala. Lily says, "I did not know that some girls could not go to school, learn, play 4 square, write poems, do art and learn about the world." She decided to sell her lovebirds online, with the proceeds going to help support girls' education efforts through the Conscious Connection Foundation - The Power of Five, the Malala Fund, and local school scholarship programs.
Lily makes as many of the birds as possible out of recycled fabric. She designs the pattern and cuts out the fabric pieces, while she and Maizy work together to stuff the birds. Lily says that her project has also helped her problem solving skills such as what to do with birds that develop a hole when they stuff them.  "We did not know what to do with these birds," she explains, "so we decided to fill them with catnip and donate the lovebirds to the homeless cats at our local animal shelter."
Her lovebirds have flown all over the world, including Australia, Scotland, Ireland, Canada, Italy, and most states in the US. She's also inspired Maizy, who's now 11, to create her own business, "Brave Bikes." She makes little bicycles out of recycled buttons and donates the funds to a group that buys bikes for girls in Malawi so they can get to school safely.
For her generous efforts, Lily was honored two years ago by the governor of Montana as the youngest ever "Service Montana" Award Winner, and this year she was recognized as one of the Williams Effect Foundation & Forward Montana's 25 under 25 Montana. But, the most exciting part to Lily is the difference she is making:  "It makes me feel amazing to help girls have more opportunities in life... opportunities that I get to have every day," she says. "When I get a letter from the girls I have helped it makes me so happy to see pictures of their faces and learn what they are doing across the world. That is why this project is important to me."
To support Lily's project by ordering lovebirds or by donating fabric, visit the Lily's Lovebirds website.
Resources for Fostering Children's Generosity
In Beatrice's Ugandan village, few families have the money to send their children to school — until the day twelve donated goats arrive. Beatrice names her goat Mugisa, which means "lucky gift", and thanks to Beatrice's scrupulous care, Mugisa is soon giving enough milk that Beatrice can afford the school uniform she's been dreaming of. Based on a real story of a family helped by Heifer Project International, and with a portion of proceeds going to support the work of the charity, this book is a celebration of special relationships with animals and a great way to show your children the impact of charitable giving.