The courageous teenager rode 40 miles on horseback to muster local militia troops in response to a British attack on the town of Danbury during the U.S. Revolutionary War.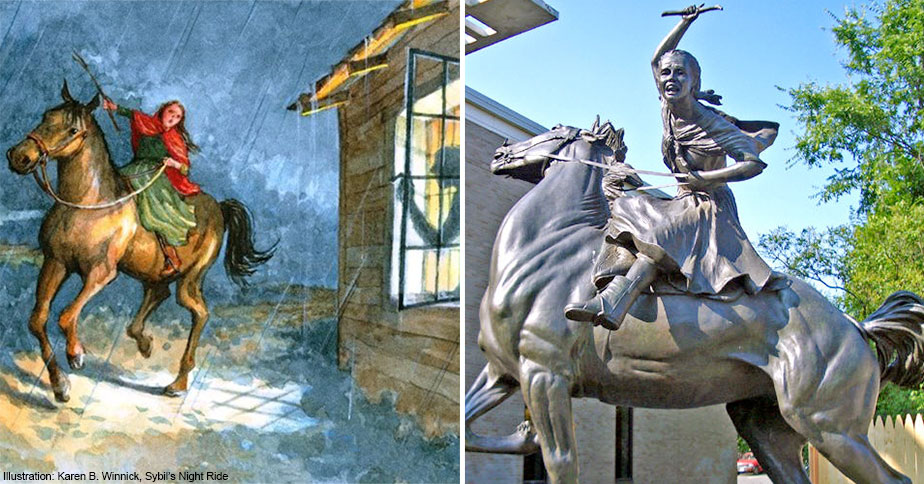 On the night of April 26, 1777, 16-year-old Sybil Ludington climbed onto her horse and set off on a mission: a 40-mile ride to muster local militia troops in response to a British attack on the town of Danbury, Connecticut. Riding all night through rain — and traveling twice the distance that Paul Revere rode during his famous midnight ride — Sybil returned home at dawn having given nearly the entire regiment of 400 Colonial troops the order to assemble. Following the battle, General George Washington personally thanked Sybil for her service and bravery. Although every American school child knows the story of Paul Revere — largely thanks to the famous poem by Henry Wadsworth Longfellow — unfortunately few are taught about Sybil Ludington's courageous feat.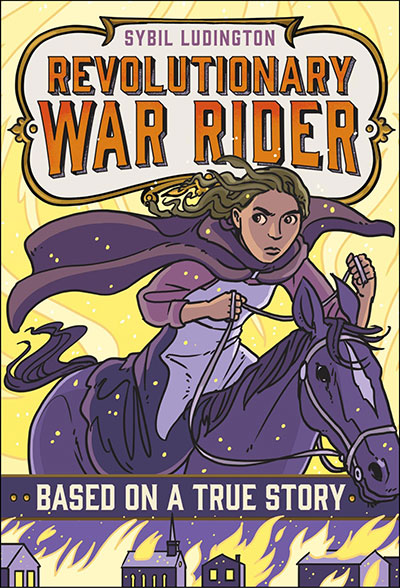 Born on April 5, 1760 in Fredericksbug, New York, Sybil Ludington was the oldest of Colonel Ludington's twelve children. His militia troops had disbanded for the planting season when word came that British troops were marching towards Danbury, Connecticut, where the Continental Army had a supply depot. While her father planned their response, Sybil volunteered to rally the militia following her father's instruction to "ride to the men, and tell them to be at his house by daybreak."
It was 9 pm, already dark and raining heavily, when she mounted her horse, Star, and set off through Putnam County, New York. She rode from her family's farm in Kent, south to the village of Carmel, down to Mahopac, then west to Mahopac Falls, north to Kent Cliffs and Farmers Mills; from there, she rode further north to Stormville before returning south to the farm. As she rode 40 miles through the night mustering the militia, she used a stick to bang on the shutters of neighbors' homes, yelling "The British are burning Danbury!"  By the time she returned home, exhausted and soaked to the skin, most of the four hundred soldiers were on their way.
While Colonel Ludington's troops could not save Danbury from being burned, they joined forces with the Continental Army at the Battle of Ridgefield the following day. The American forces drove General William Tryon, the British governor of New York, back to the British fleet at Long Island Sound, halting their advance and protecting more American cities from attack. The British raid also led to a surge of support for the Patriot cause, and 3,000 local residents joined the Connecticut Army of Reserve soon after the British sailed away.
Following her daring nighttime ride, Sybil was thanked for her heroism and service by grateful neighbors and by General George Washington, then Commander of the Continental Army. Unlike Paul Revere, whose name became universally known thanks to Longfellow's poem, Sybil's ride had been mostly forgotten by her death in 1839 at the age of 77. In 1907, however, Ludington's great-nephew Louis S. Patrick wrote an account of her ride, which piqued interest in this unsung Revolutionary War figure.
In 1935, New York State erected a series of historic markers along her route, and a statue of her by renowned American sculptor Anna Hyatt Huntington was erected in Carmel, New York in 1961. In 1975, she was honored on a U.S. Bicentennial stamp that depicted her on her horse. And, since April 1979, runners have also challenged themselves with the Sybil Ludington 50K Run, an ultramarathon that approximates the route she traveled on her ride. While her 'midnight ride' has never been given the same recognition as that of her famous contemporary, Sybil Ludington's place in history is now secure and her story is a powerful reminder of the many daring girls and women who served their country during the fight for independence.
Books About Heroic Women of the Revolutionary War
When 16-year-old Sybil Ludington went riding through a stormy night on April 26, 1777 to alert her father's troops to a British attack on nearby Danbury, Connecticut, she had no idea that she would travel twice as far as Paul Revere — and yet be nearly forgotten by history. In this atmospheric telling, author/illustrator Karen B. Winnick depicts Ludington's life as the daughter of a Revolutionary colonel, and highlights her remarkable courage as she braved ferocious rain, risk of capture by Loyalists, and even highwaymen on her patriotic quest to protect her fellow Americans. This picture book captures how every person was critical in America's early days — allowing even a teenage girl to become a hero.