After 7-year-old Sophia Spencer was bullied for loving bugs, women in entomology around the world rallied to her support; now she's published a picture book about her experience.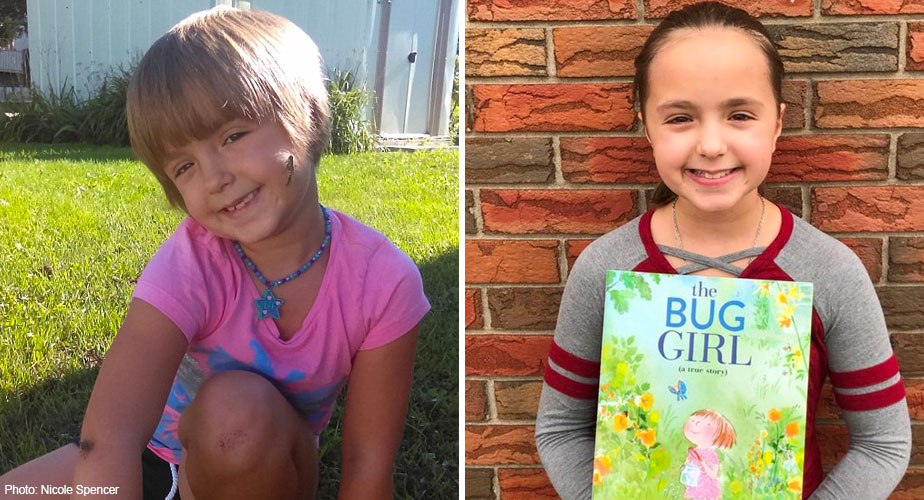 When 7-year-old Sophia Spencer was bullied for her love of bugs, women in entomology around the world rallied to her support. Four years later, the 11-year-old Mighty Girl has published a picture book, The Bug Girl: A True Story, to share her story with other kids who feel different because of their passions. And Sophia hopes they take away one very powerful message from her experience: "You can follow your passion too. You don't have to give up."
Sophia first fell in love with insects when she was 2 1/2 years old while visiting a butterfly conservatory in Niagara Falls, Ontario. "As soon as I walked in there, a blue butterfly perched on my shoulder. And it was just crawling all over my face, and it didn't leave," she recalled in a CBC interview. From that moment on, she was hooked. "My life revolved around Google for a really long time because if she found a bug outside, she'd want to know about [it]," says Sophia's mother Nicole. At kindergarten, her peers were delighted by her bug knowledge: "If they ever found a bug, they could be like, 'Sophia, what's this bug?' And I would usually know what it was."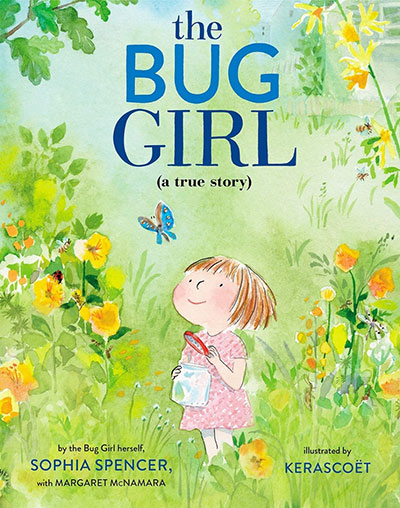 But that changed in first grade when Sophia's family moved ten hours away to Eastern Ontario in 2016. The kids at her new school called her "weird" and one classmate broke her butterfly net while another stomped on a grasshopper, her favorite bug, when she brought it in for show and tell. "I started to pack up all my bug stuff, all my bug nets. I let all the bugs that were at home — I let them go," she says. "I felt just really upset, really sad and, you know, beat down."
Nicole didn't want to see Sophia give up her love of bugs due to bullying so she emailed the Entomological Society of Canada (ESC) for advice. "I am at a loss on how to encourage her in this field of science," she wrote. "I want her to know from an expert that she is not weird or strange (what kids call her) for loving bugs and insects." In response, the ESC sent out a tweet to its community stating: "A young girl who loves insects is being bullied and needs our support!" Thousands of people around the world — from fellow bug-loving girls to female entomologists — responded using the hashtag #BugsR4Girls to reassure Sophia that there were plenty of insect fans just like her out there.
The experience even helped Sophia become an author on a scientific paper. In 2017, Morgan Jackson, an entomology PhD candidate at the University of Guelph and the creator of the hashtag, wrote a paper analyzing how social media can impact science communication and public perception of science.  In instances like this, Jackson wrote in his part of the paper, "the positive impact scientists have on society, or even on a single individual, can burst into reality in real-time." He also invited Sophia to contribute her own section to the paper about the impact that the huge response to #BugsR4Girls had on her personally. "My mom says I'm back to being my funny old self with my confidence after seeing all the girls who like bugs," Sophia wrote. "It felt good to have so many people support me, and it was cool to see other girls and grown-ups studying bugs.... I think other girls who saw my story would like to study bugs too."
When she had an opportunity recently to share her story as a picture book, she was thrilled. Sophia wrote The Bug Girl with the help of writer Margaret McNamara, the author of The Dinosaur Expert, a fictional story about a girl being questioned about her love of paleontology. Kerascoët, an illustrator team made up of a wife and husband, provided the artwork, which captures the beauty of Sophia's bugs and her love of the outdoor world. In an interview with The Observer, McNamara says that she believes Sophia's story can give girls "a tremendous boost, and belief in themselves, and a sense that they can have their own likes and their own personality and it can lead to great things."
When Sophia finally saw the finished book, she says it was "amazing," adding that "I thought it was just so cool. It really does express like the story really, really well." She hopes that it will inspire other kids like her, whose interests run counter stereotypes or seem strange to their peers. "Keep going," she advises kids in this  situation. "In the end it's going to turn out okay." For her part, Sophia knows that insects will continue to be a big part of her life: "I definitely, definitely, definitely want to study bugs when I grow up."
Books, Toys, and Science Kits for Bug-Loving Mighty Girls
Claudia adores butterflies, and to capture all their beauty, she spends her summer painting picture after picture: yellow, blue, purple with polka dots... every one she sees. But then winter comes, and her beloved butterflies are nowhere to be found. Then she finds a moth eating one of the family's sweaters. A moth is almost like a butterfly, but it's not nearly as colorful -- but maybe beauty can be different from season to season. This is a delightful tribute to an art- and nature-loving girl who discovers that you can find something special just about everywhere... if you look at it the right way.
Buy:
The Book Depository
(Unavailable)
The Book Depository
(Unavailable)