"It feels like we've accidentally created a community of young people who just really wanted to help right now."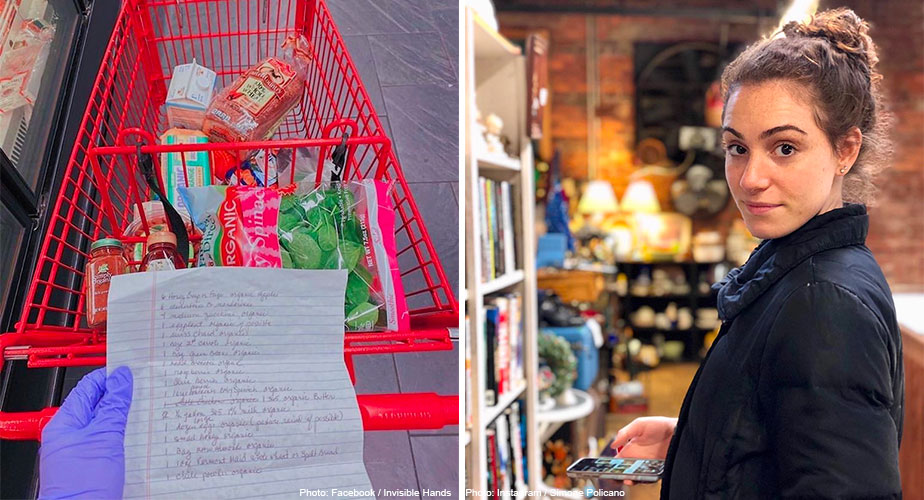 It all started with a Facebook post. "Is there a way for an able-bodied 25-year-old to volunteer to help deliver groceries/supplies to elderly tenants around the city? Does anyone know of something like this?" Simone Policano, an actor and producer who lives in New York City, wrote on March 12 as the number of coronavirus cases were starting to rise.  When she couldn't find an organization already coordinating volunteers for at-home deliveries, Policano and her friend Liam Elkind created Invisible Hands, a "free, volunteer-based delivery service for those most impacted by and most at-risk for severe complications due to COVID-19." Only a few weeks later, over 10,000 predominantly young volunteers are now part of Policano's network, which covers the greater New York area and parts of New Jersey. "We completely did not expect this," Policano says. "In this time where we are stuck in our homes, it's amazing to see young people wanting to help."
With over 63,000 confirmed cases of COVID-19 and a death toll of nearly 3,000 people, New York City is one of the hardest hit areas in the world by the pandemic. People in high risk groups — the elderly, people with disabilities, and those who are immunocompromised — need to take extreme precautions to avoid contracting the virus, including avoiding leaving their homes unless absolutely necessary. However, strict isolation poses its own challenges: difficulty getting errands done, including fetching groceries and prescription medications, and the loneliness, depression, and anxiety that can come with long periods alone. Many services, such as grocery delivery are also overwhelmed, making delivery slots nearly impossible to reserve; as a result, many at-risk people had little option but to leave their homes to pick up the essentials.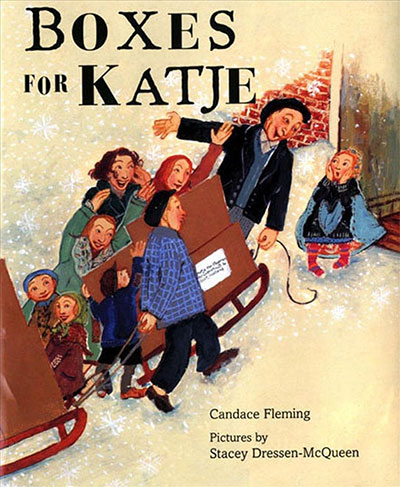 This is where Policano and her new legions of volunteers are meeting a critical need  —  connecting those at high risk with volunteers, many of whom are young people at home due to school or work closures. To expedite the process, Policano built a website, invisiblehandsdeliver.com, where volunteers can sign up to be part of Invisible Hands' database and people in need of assistance can send in a request with details about what they need and where they live. "When someone submits a request, we send a blast to everybody within the neighborhood: 'Who wants to take it?'" Elkind says. Policano says while she hoped the idea would take off, she didn't expect just how quickly people would sign up to volunteer. "Ninety percent of our deliveries are able to happen in the same day, if not even within a few hours. And that's incredible," she told NPR. "It feels like we've accidentally created a community of young people who just really wanted to help right now."
Policano chose the name Invisible Hands because of the way their volunteers operate: "We call ourselves invisible hands because, unfortunately, given what is known about COVID-19 we want to minimize as much direct contact in our deliveries as possible," she wrote on the website. They require that volunteers affirm they have not traveled outside the country or come in contact with someone showing potential symptoms in the last 14 days, and they must not be showing any signs of ill health. All volunteers also pledge to maintain social distancing protocols, as well as to wear gloves when performing deliveries, wash hands frequently, and maintain distance from recipients.
Recognizing the toll that the lack of human contact can have on people, Invisible Hands is also working to make sure people don't feel isolated. "You will talk on the phone with your volunteer and you can tell each other a little about yourselves!" Policano writes. "In this incredibly isolating time we're happy to provide you a connection." She says that connection has been the most rewarding part of the experience. "I was about to hang up [after one call]. And [the woman] said, you know, I just have to tell you. Today is my birthday. And this is the best gift that anybody could have given me," Policano recalls. "And so she started crying. And I started crying. And it was a whole thing. And she said, you know, I am 60 years older than you are. And we are now connected."
If you live in the greater New York area or in New Jersey, you can sign up to volunteer or request assistance on the Invisible Hands website.
Children's Books About Mighty Girls Helping People In Their Communities
The most amazing thing about kindness is how it ripples out beyond the original act! Mary finds a patch of blueberries on her way home, and decides to pick some for Mrs. Bishop. Mrs. Bishop in turn makes blueberry muffins that she gives to five people — one of whom helps five more, and then one of those helps five more... Before long, a variety of kindnesses, some with a small impact and some with a huge one, are creating a change that extends worldwide. It's a lovely testament to how little acts of compassion and kindness have big potential for the entire world. For another story about how kindness can spread across the globe, we recommend Plant A Kiss for ages 3 to 8.
Buy:
Amazon.co.uk
(Unavailable)