Vice President Kamala Harris was sworn in alongside President Joe Biden on January 20, 2021.
In a historic first, Kamala Harris was sworn in as the first female vice president in America's 244-year history alongside President Joe Biden! When he announced Harris' historic selection in August, Biden praised Harris as a "fearless fighter for the little guy, and one of the country's finest public servants." The daughter of an immigrant mother from India and an immigrant father from Jamaica, Harris will be the first African American and first South Asian American vice president in history. Harris has said that she hopes to be the first of many capable women in her new role: "My mother would look at me and she'd say, 'Kamala, you may be the first to do many things, but make sure you are not the last. That's why breaking those barriers is worth it. As much as anything else, it is also to create that path for those who will come after us."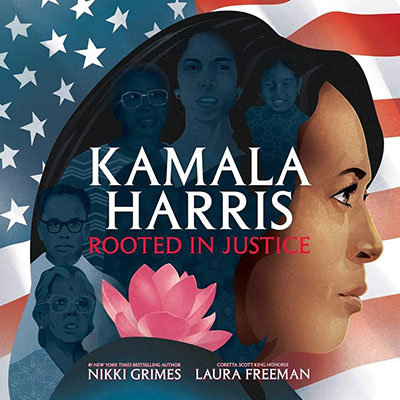 Harris was born in Oakland, California in 1964, and her parents instilled in her the importance of political engagement from the time she was a baby in a stroller at civil rights marches. After her parents divorced when she was seven, she was raised primarily by her mother, Shyamala Gopalan, who had a tremendous influence on her. "My mother, she raised my sister and me, and she was tough," recounted Harris. "Our mother was all of 5 feet tall, but if you ever met her, you would've thought she was 10 feet tall." When she was 12, Harris moved with her mother and sister to Montreal, Canada where her mother had a research job. In one of her first forays into activism at age 13, she organized children to successfully challenge a rule that kids couldn't play soccer outside of their apartment building.
After graduating from high school in Quebec in 1981, Harris returned to the U.S. to attend Howard University in Washington, DC. She graduated in 1986 with a degree in political science and economics and went on to attend University of California, Hastings College of the Law where she earned her Juris Doctor in 1989. Harris soon established herself as a capable district attorney and eventually became the first person of color elected District Attorney of San Francisco in 2002. She was then elected Attorney General of California in 2010 and re-elected in 2014. After long-time Senator Barbara Boxer announced plans to retire in 2016, Harris ran for her seat and was elected as the junior senator from California in 2016. In that role, she gained more national prominence, especially for her pointed questioning of then Supreme Court nominee Brett Kavanaugh regarding accusations of sexual assault.
In January 2019, Harris announced her candidacy for president, joining a crowded field of candidates in the Democratic primary. Although she tied for the most donations raised in the day following an announcement, she struggled to generate enthusiasm for her candidacy around the country and withdrew from the race in December 2019. After Biden committed to choosing a woman to be his running mate in March, speculation grew that Harris was the frontrunner and, in August, he announced that Harris was joining his ticket as vice president. In an interview with 60 Minutes, Biden listed the reasons he felt she was the perfect pick: "Number one: Her values. Number two: She is smart as a devil. Number three: She has a backbone like a ramrod. Number four: She is really principled. And number five: She has had significant experience in the largest state in the union, running a Justice Department that's only second in size to the United States Justice Department."
Harris will now go down in history as the first female vice president, and she has hopes of inspiring many women to come after her: "I've been a proud mentor to many women seeking public office, because I believe we need more women at all levels of government. Women have an equal stake in our future and should have an equal voice in our politics. These are challenging times, but I believe getting more women to run for office is a big part of the solution."
Books About Kamala Harris For All Ages
Kamala and Maya spent days staring at their empty apartment courtyard before coming up with a great idea: it would be the perfect spot for a playground! It's not long before the girls have plans for the playground of their dreams... but making it happen is a project that's too big for two kids to manage on their own. Fortunately, the pair are able to reach out to supportive family, friends, and neighbors, and soon they've built a space that everyone can enjoy! Author Meena Harris draws from a true story about the childhood of her aunt, US Senator Kamala Harris, and her mother, lawyer and policy expert Maya Harris, to create an empowering picture book about the power of cooperation and community organizing.