10-year-old Grace Turner-Cox is running the equivalent of a marathon a week for 20 weeks to raise funds for a charity helping kids with craniosynostosis.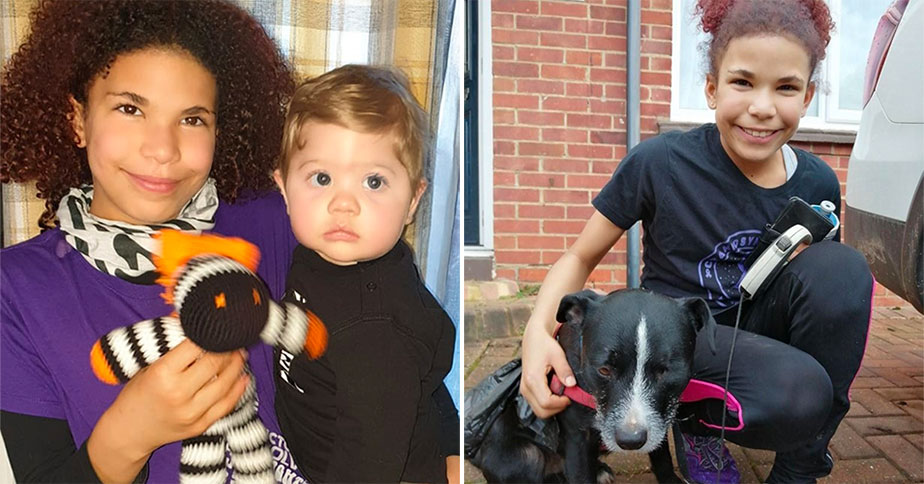 10-year-old Grace Turner-Cox's baby cousin Henry was diagnosed with a rare birth defect after his birth last May — so the Mighty Girl from Basingstoke, England is running the equivalent of a marathon a week to raise money for a UK charity helping kids with craniosynostosis! Grace came up with her fundraising idea at Christmas and she's already completed six marathons and hit her first fundraising target of £1,250 (about $1,750 US) to help support the work of Headlines Craniofacial Support. Now, she plans to continue her runs every week until Henry's first birthday in May, completing the equivalent of 20 marathons. "I might only be 10 years old," says Grace, "but my motivation to run to support this amazing charity has kept me going."
Craniosynostosis is a condition in which the bones in a baby's skull fuse together too early, and children born with craniosynostosis may need multiple surgeries. While it affects about 1 in 2,500 babies born in the United States, the causes of the condition are mostly unknown. Headlines Craniofacial Support helps to raise awareness of the condition, supports research around treatment, and helps support kids and their families living with the condition. In Henry's case, he will have craniofacial surgery in the future to improve his head shape and reduce the possibility of developing too much pressure inside his skull.
Since Grace loves running, it was a natural choice as a fundraiser. As she told A Mighty Girl, however, it wasn't very long ago that Grace couldn't have imagined herself running long distances for charity. "I never thought I was good at running until a cross country race at school and I came first," she says. "My PE teacher asked me to join her club Wessex Wyverns. I then started Junior Park run and I qualified for the Hampshire school cross country competition and came third where I won a medal. This inspired me to keep going."
At the start of the coronavirus pandemic, Grace decided to run a marathon in a week on behalf of the British National Health System (NHS) and raised £500 ($698) in the process; but she says, "I decided I could do more." Grace chose to focus her energy on supporting the family's Henry's Heroes fundraising and awareness project by running the equivalent of a marathon every week over several days. To add a bit of whimsy and to keep the focus on Henry, for her Sunday runs, she also dresses in a zebra costume since it's Henry's favorite animal.
For her final run in May on Henry's birthday, she's challenged her grandfather and uncle to join her, but she doesn't plan to stop after she's reached her goal. "I want to keep running for charities and one day run a marathon in under 4 hours," Grace says. "I would love to represent [Great Britain] one day.... I now know I am good at running." For now, however, her focus is on completing all 20 marathons and supporting the work of Headlines Craniofacial Support. As Grace writes on her fundraising page, "Henry — I love you so much and I am proud to have you as my cousin... I want people to understand [craniosynostosis] more and hopefully I can make a little difference."
If you'd like to support Grace's runs for Headlines Craniofacial Support, you can make a donation on her fundraising page.
Books And Resources to Encourage Kids to Make a Difference
The most amazing thing about kindness is how it ripples out beyond the original act! Mary finds a patch of blueberries on her way home, and decides to pick some for Mrs. Bishop. Mrs. Bishop in turn makes blueberry muffins that she gives to five people — one of whom helps five more, and then one of those helps five more... Before long, a variety of kindnesses, some with a small impact and some with a huge one, are creating a change that extends worldwide. It's a lovely testament to how little acts of compassion and kindness have big potential for the entire world.
Buy:
Amazon.co.uk
(Unavailable)