Wally Funk made history as the oldest person to ever travel to space!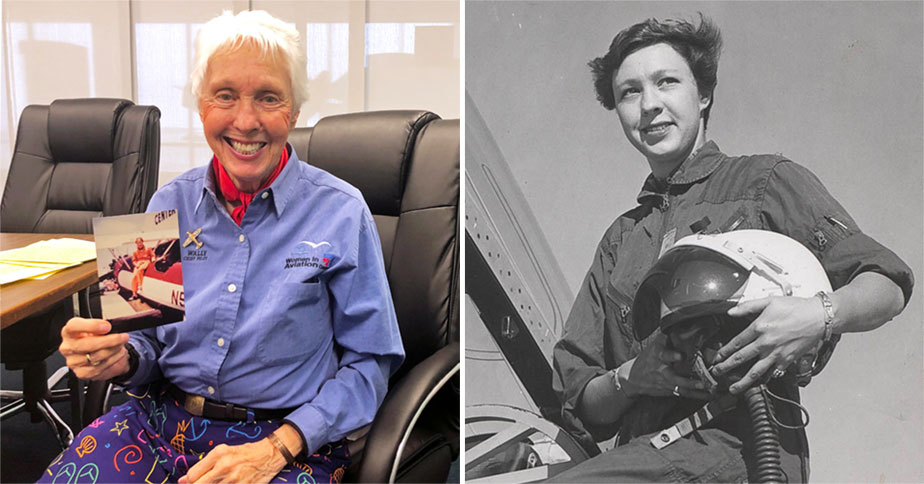 In the 1960s, pioneering aviator Wally Funk, who could fly just about anything with wings, was part of the "Mercury 13" program exploring whether women could be astronauts — but despite excelling at all the tests male astronauts took, NASA refused to accept women into the space program. Today, the 82-year-old finally achieved her lifelong dream of traveling to space when she left orbit on commercial space company Blue Origin's inaugural crewed flight! Funk, who became the oldest person ever to leave Earth's atmosphere on today's 10 minute, 19 second journey, joined Blue Origin founder Jeff Bezos, his brother Mark Bezos, and 18-year-old Oliver Daemon, a physics student who became the youngest person ever to go to space on the same trip. "No one has waited longer," Bezos wrote in an Instagram post when he announced he had invited Funk on the flight. "It's time. Welcome to the crew, Wally."
Born in Las Vegas, New Mexico in 1939, Funk was captivated by planes from an early age. Her parents remembered her cheerfully investigating a Douglas DC-3 airliner at a year old; "she's going to fly," her mother remarked. Funk wanted to take courses like mechanical drawing and auto mechanics in high school, but she was refused because she was a girl — so she dropped out at the age of 16 and went to Stephens College in Columbia, Missouri, where she graduated in 1958 with an Associate of Arts degree and a pilot's license. She completed a Bachelor of Science degree at Oklahoma State University, earning multiple aviation ratings as part of the college's "Flying Aggies" program, including Commercial, Single-engine Land, Multi-engine Land, Single-engine Sea, Instrument, Flight Instructor's, and all Ground Instructor's ratings.
By the age of 20, she was a professional aviator, and shortly afterward she became a flight instructor at at Fort Sill, Oklahoma, making her the first female flight instructor on a U.S. military base. Then, in 1961, she learned that physician William Randolph Lovelace, with the support of NASA, was assessing whether women would make good astronaut candidates. Funk contacted Lovelace, and although she was younger than the recruiting age range of 25 to 40 years, he invited her to participate. Like the twelve other female pilots who graduated from the Mercury 13 program, as it had been dubbed by the media in a reference to Mercury 7, Funk passed the same rigorous psychological and physical tests as the male astronauts had been subjected to, in many cases performing better than the men. Funk's score was the third best in the program overall, which also included the record-breaking aviator Jerrie Cobb.
A few days before the women were to report for their final tests, however, they received telegrams notifying them that NASA had withdrawn their support and, as a result, the program was being canceled. Jerrie Cobb flew to Washington, D.C. in an effort to have the testing program reinstated; as a result, Representative Victor Anfuso convened a public hearing on July 17 and 18, 1962 before a Subcommittee of the House Committee on Science and Astronautics to investigate the possibility of gender discrimination (although such discrimination was not made illegal until two years later with the passage of the Civil Rights Act of 1964).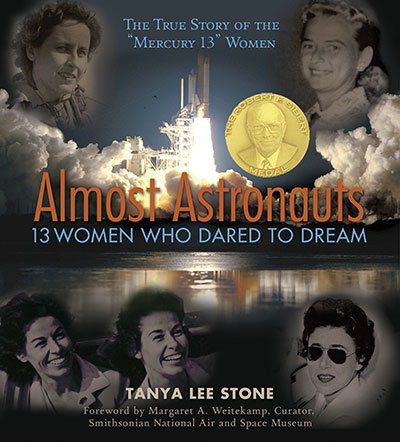 NASA representatives, including several male astronauts, testified that under NASA's selection criteria, women were ineligible to become astronaut candidates since NASA required all astronauts to have engineering degrees and be graduates of military jet test piloting programs. The latter requirement was impossible for American women to fulfill at the time since, in 1962, they were barred from Air Force training schools. The fact that NASA had made an exception for astronaut John Glenn, who lacked an engineering degree, and that many of the female candidates had more flying time, though not in high-performance jets, than their male counterparts was ignored and the committee affirmed the prohibition on women in the space program. Soviet cosmonaut Valentina Tereshkova would go on to become the first woman in space only a few months later; Sally Ride didn't become the first American woman in space until 1983.
Funk continued to fly, although she was turned down for jobs with three commercial airlines because of her sex. In 1971, she became the first woman to complete the FAA's General Aviation Operations Inspector Academy course, earning the rating of flight inspector, and she became the NTSB's first female Air Safety Investigator. Once NASA decided to start admitting female astronaut candidates in 1978, Funk applied, but was turned down again because she didn't have an engineering degree or experience as a test pilot: "I got ahold of NASA four times, and said 'I want to become an astronaut,' but nobody would take me," she says. "I didn't think I would ever get to go up."
Today, Funk has over 19,600 flying hours and has taught more than 3,000 people to fly while serving as chief pilot for five aviation schools across the country: "Everything the FAA has, I've got the license for. And I can outrun you," she jokes. She never gave up on her dream, at one point even spending her life savings to put down a deposit for a future space flight with Virgin Galactic, which has yet to be scheduled. "I have waited so long for this," she declared after the historic flight this morning. "I can't wait to go back." She hopes that everyone who watched her achieve her dream remembers not to listen to the naysayers: "Nothing has ever gotten in my way. They say, 'Wally, you're a girl, you can't do that.' I said, 'Guess what, doesn't matter what you are, you can still do it if you want to do it,' and I like to do things that nobody's ever done before."
Books for Kids and Adults About Pioneering Women of Space
This pigtailed Baby Astronaut is ready for liftoff! She and her crew put on space suits and helmets before they blast off. Once she's in orbit, she'll explain why astronauts float (and even how they sleep.) Then, she'll conduct experiments: Can ants live in space? Yes! Can plants grow in space? Yes! This adorable board book from the Baby Scientist series, which also includes the book Baby Botanist, is perfect for curious babies and toddlers.