Our top picks of books for children and teens about the girls and women who fought for workers' rights.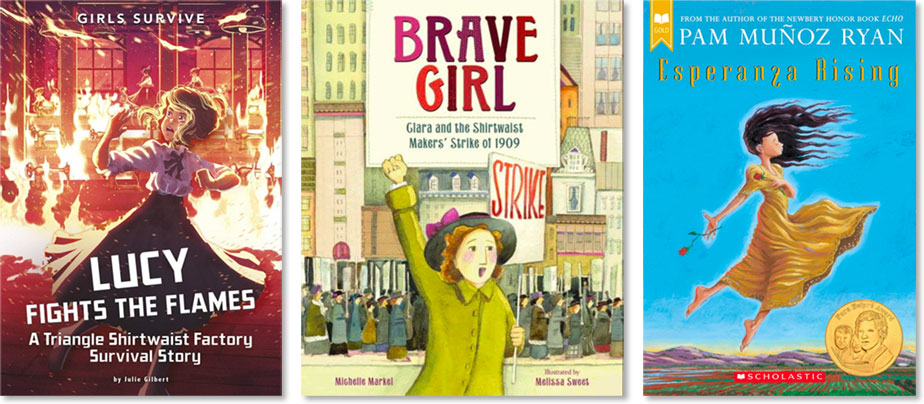 For many children today, Labor Day is just a holiday marking the end of the summer; what they often don't know is that this special day commemorates the history of the struggle for workers' rights — one in which girls and women played important and too often forgotten roles. Held on the first Monday in September in the U.S. and Canada, Labor Day celebrates the contributions of workers and remembers the hardships they endured in their fight for justice.
To introduce children and youth to the struggles and achievements of working girls and women, the fiction and non-fiction books recommended in this post will open their eyes to the tremendous efforts and sacrifices made by those in the early days of the labor movement who won workers the right to fair wages and safe working conditions. These stories will also give young readers a greater understanding of struggles that continue today, especially in countries where the fight continues for even the most basic worker rights.
This blog post features our favorite Mighty Girl books, from picture books to young adult novels to adult historical fiction, focused on the involvement of girls and women in labor movement struggles. For more books about labor issues, visit our collection of books about Work & Labor in our Social Issues book section.
Mighty Girls and Women of the Labor Movement
Clara Lemlich arrived in the US expecting opportunities for a better future; she didn't know that future meant long hours of labor, low pay, and no education. But she was undeterred, and spent hours studying English and taking night classes. And when she got fed up with how she and her fellow laborers were treated, she organized the largest walkout of female workers in the country's history. This inspiring picture book biography of the Ukrainian immigrant who refused to give up on the American dream shows the power of determined people working together for change against entrenched systems.
Additional Recommended Resources