A Mighty Girl's top books for children and teens about the refugee experience.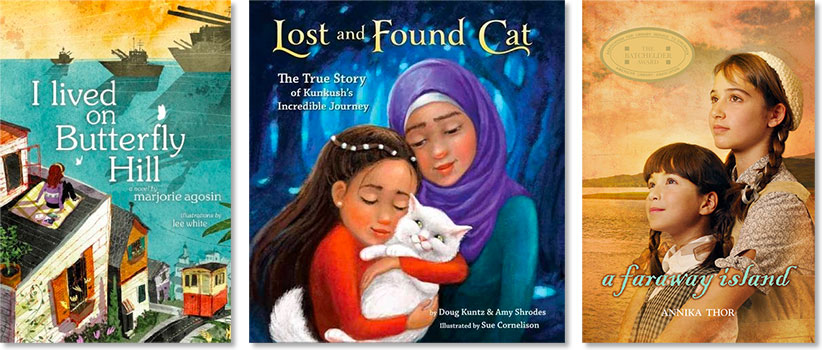 There's no questioning that the world is in the midst of a refugee crisis: over 25 million refugees, half of whom are children, have been driven from their homes due to war or conflict according to UNHCR, the UN Refugee Agency. With so many people in need, it's more crucial than ever to talk about refugees — and explain to our children why standing up for refugees matters.
Of course, this is a challenging topic to discuss with kids, especially since so often refugees are children like themselves. How do you explain why people would be willing to risk so much, and why they are so desperate to escape the places where they live? And how do you teach them what it feels like to uproot yourself and your family and leave behind everything — from personal possessions to the language and culture of your birth — to move to a country hundreds or thousands of miles away?
If you'd like to talk to your kids about the experiences of refugees, there are some excellent books for children and teens starring Mighty Girl characters that can help. From tales of escape from persecution and violence, to accounts of life in a refugee camp, and even stories of what it's like to make a new home in an unfamiliar place, these books are often emotional and poignant, but also full of hope and optimism for the future.
Beyond introducing to children to refugees through stories, also consider getting involved as a family in projects to support refugees and refugee resettlement in your area. Refugee resettlement programs are run all over the United States by non-profit organizations that need support through volunteers, donations, and advocacy. To look for one in your area, check out this directory run by the Office of Refugee Resettlement.
For more stories for children and teens about the experiences of all immigrants, visit our selection of books about Immigration & Migration.
Books About Mighty Girl Refugees of the Past and Present
A teacher tells her class about her immigrant great-grandmother's journey to a new and strange county. Most difficult of all: she could bring nothing but a small suitcase. How did she decide what to bring and what to leave? How do you reduce a life into a single piece of luggage? And she asks her class: what would you bring? What things do you have that are so precious that you could never leave them behind and what do you own that says, "This is me"? This thoughtful book encourages kids to contemplate what it would be like to leave behind everything that they know — and teaches them about the fact that we all came from somewhere else. Tucked into the back cover is a pop-up suitcase that kids can use to imagine how they would decide what really matters.
Buy:
The Book Depository
(Unavailable)
The Book Depository
(Unavailable)
Additional Resources
For more stories about the experiences of immigrants and refugees, visit our selection of books about Immigration & Migration.
For stories that tackle the realities of conflict — and its consequences for the population of a country — visit our War & Conflict section.
For books that capture the spirit of hope that drives refugees to seek new homes, visit our Hope & Optimism section.