A Mighty Girl's top books for children and teens about the refugee experience.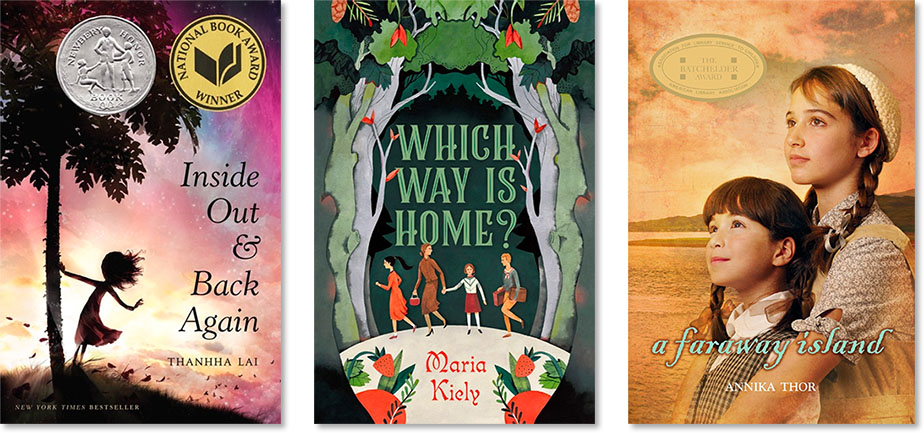 With heart-wrenching photos and videos of mothers and children fleeing Ukraine filling television and computer screens, many children will be understandably curious and concerned about what is happening and what it means to be a refugee. As millions of people have been forced to leave Ukraine following the Russian invasion — sparking the fastest and largest displacement of people in Europe since World War II — it's more important than ever to talk to kids about refugees and the importance of the world opening its arms to help those in need.
To make such conversations easier and more relatable to kids, we've showcased a selection of books that explore the experiences of refugees, both in the past and in modern times. Just like Ukrainians today, the characters in these books were forced to flee their homes due to war or persecution and become refugees.
These stories, which range from picture books for young children to novels for teens, explore the entire refugee experience, from having to leave home to seek safety in another country, to accounts of life in a refugee camp, to stories of what it's like to make a new home in an unfamiliar place for those unable to return to their homelands. While often emotional and poignant, these stories are also full of hope and optimism for the future. Most importantly, they will help deepen kids' understanding and empathy for those escaping war today.
Books About Mighty Girl Refugees of the Past and Present
It's the early 1900s, and Rachel's cousin Grisha has come to live with her family after the death of his parents. He clings to the few reminders he has of them, like the woolen lining on his increasingly battered jacket, made from his mother's old coat. When the Cossacks start threatening the Jews of their Russian shtetl, though, Rachel's family decides to flee to America. Immigration means passing the rigorous inspection at Ellis Island... where Grisha's tattered jacket gets him marked for deportation. Fortunately, clever Rachel thinks of a way to ensure that Grisha can stay with the family, but still keep this precious memento of his mother. This touching story of immigration and the love of extended family also shows how much refugee families have to leave behind.
Additional Resources
For more stories about the experiences of immigrants and refugees, visit our selection of books about Immigration & Migration.
For stories that tackle the realities of conflict — and its consequences for the population of a country — visit our War & Conflict section.
For books that capture the spirit of hope that drives refugees to seek new homes, visit our Hope & Optimism section.