Let Children Play
End Gender Stereotyping in Toys
Introduction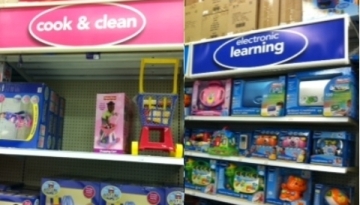 At A Mighty Girl, we believe that toy stores' designation of toys as being for 'boys' or 'girls' is limiting and detrimental to all children. Such segregated play leads girls and boys to hone different skill sets from an early age; skills they build upon to determine the direction of their future schooling and later career path.
These differences perpetuate the disparities still seen in the job market, particularly in women's low representation in technical fields like engineering and computer science, which even further cements the gender-based wage gap. The number of children bullied because they wish to explore types of play that fall outside of these gendered 'boy' and 'girl' boxes also continues to rise.
For these reasons, we have created a petition calling on industry leader Toys "R" Us to set a new standard for inclusive toy marketing by committing to eliminate the gender stereotyping rampant in their advertisements. Many toy companies in Europe have shifted from organizing toys by gender, which presumes that girls and boys are only interested in certain types of toys, to organizing them by toy type such as science toys, pretend play, and games. From Top Toy in Sweden to Harrod's in the UK, there are wonderful models of toy companies with a commitment to inclusiveness for Toys "R" Us to follow.
To support our petition to Toy "R" Us asking them to stop stereotyping children, visit our petition at Change.org. To stay abreast of the progress of this petition, as well as receive girl empowerment news and resources, please join A Mighty Girl's vibrant Facebook community.
To provide you with more background on this issue, we have also compiled a collection of recommended articles on toy genderization. To learn more about A Mighty Girl and how we are addressing the genderization of toys on our site, visit our blog post on Beakers, Blocks, and Rocket Ships: Expanding the Universe of Girl Play.
Girls can't be scientists? The science section of the 2012 Toys "R" Us Holiday Catalog shows only boys playing with science and technology-related toys.