A Mighty Girl's favorite books about Mighty Girls and their sisters and brothers for National Siblings Day!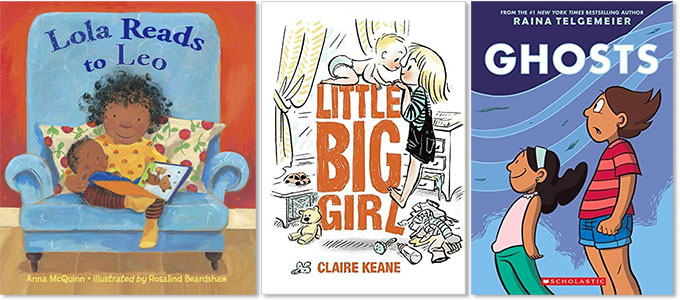 We celebrate the relationship we have with our mothers and fathers, but we often forget how important siblings can be to our lives as well! In fact, a brother or sister will probably know you better — and longer — than just about anyone else in your life. And while you may not always get along, there's no denying that the relationship you have with your siblings is a powerful one.
To recognize National Siblings Day, we're sharing stories about Mighty Girls with their brothers and sisters. Sometimes they play together and sometimes they argue, but these Mighty Girls and their siblings are always ready to support one another no matter what comes their way.
For more of our favorite girl-empowering books celebrating the love of family, check out our blog post, "To My Mighty Girl With Love: 40 Stories About Parents, Grandparents, and Siblings."

Soon-to-Be Big Sister: Welcoming New Babies
If your Mighty Girl is soon to be a big sister, you may want a book that talks about the excitement of becoming a sibling. These books are a great way to prepare your Mighty Girl for the arrival of a new baby — whether you know if she'll have a brother or sister, or are leaving it for a surprise — as well as the special role she can play as a big sister.
I Am A Big Sister!
There's no question that becoming a big sister can bring many changes. The little girl in this toddler book discovers that babies come with their share of inconveniences, from remembering to be quiet at naptime to dealing with dirty diapers, but she's still excited by the baby's arrival — and by how grown-up she feels when she realizes how much she can do. Simple text and colorful illustrations help toddlers and preschoolers celebrate the joys of being the big sister.
Best-Ever Big Sister
Beloved author/illustrator Karen Katz shows the soon-to-be big sister that one of the best parts of a new baby is getting to show him or her all the things you can do! This proud big sister can eat with a fork, sleep in a bed, ride a trike, and read a book... and she's also kind enough to reassure the new baby, "one day you'll be big like me."
I'm A Big Sister
Sometimes soon-to-be sisters worry that a new sibling means they'll lose out on the love they cherish. This new older sister learns that just because "someone new is at our house" doesn't mean that she's any less special! With a reassuring tone, this book shows the big sister what a baby is like, and that each child of the family will be celebrated for their own, unique self.
Big Sister Now: A Story About Me and Our New Baby
When baby Daniel arrives, Kate finds herself feeling left out and forgotten. It's hard to be told to wait, or to try to help only to discover you've made a bigger mess. Fortunately, this resilient and resourceful Mighty Girl finds a new way to look at things: "I don't like to wait. But I do like to feel big." This realistic look at the process of adjusting to a baby sibling is sure to strike a chord.
Little Big Girl
Matisse often feels very small, whether she's the littlest figure on a very big beach or walking through the enormous aisles of a store. But when her baby brother comes home, Matisse suddenly realizes that she might be little compared to grown-ups, but compared to him, she's big! And along with being the big sister comes special jobs, from reading to the baby to choosing the perfect sleeper. This sweet book, with its appealing illustrations, focuses on a child's experience of finding a new way of viewing themselves: not quite so little after all!
Ready, Set...Baby!
Anna and Oliver are excited to learn that their family is expecting a new arrival! Older sister Anna provides some technical details — like saying that the baby is growing in a "special compartment" in their mother, NOT in her stomach! — while Oliver addresses some of the emotional challenges...like the long wait for the baby to be here. The kids also provide a realistic look at what life with a new baby is like: "playing with a new baby is like playing with a loaf of bread," they observe. Lighthearted and funny, with extra tips at the end for both kids and parents, this book is an excellent option for preparing kids for the realities of pregnancy, birth, and bringing home a new sibling.
Little Miss, Big Sis
Little Miss from Plant A Kiss has big news: she's a big sister! At first, having a baby around is boring — and tiring — since all it means is "Sleep./ Fuss./ Eat./ Repeat..." But soon Little Miss becomes a beloved big sister and gets to enjoy "Funny faces./ Warm embraces./ Giggly chases." Interesting poetic language and expressive illustrations make this a fun read-aloud for soon-to-be older sisters!
You can more books about welcoming a new sibling by birth in our Birth & New Sibling section or about welcoming an adopted child in our Adoption section.
Sisters Forever: Books About Sisters
When sisters gets together, the results can be chaotic but almost always fun! Here are a few of our favorite books about pairs (or more!) of sisters.
Chloe, Instead
Sometimes the transition to being a big sister is a bit... bumpy. Molly always dreamed of having a sister — they'd be best friends! But when Chloe arrives, she's totally different than Molly expected: instead of coloring together, Molly has to stop Chloe from eating the crayons, and when Molly tries to read, she's horrified to discover Chloe chewing on a book. Fortunately, Molly realizes that sometimes it's better when you're not exactly the same — a piano duet is lovely, but so is a little sister dancing while her big sister plays the tune!
Frozen Little Golden Book
Many Mighty Girls became fans of Frozen because of its touching story of sisters coming together. Anna and Elsa's story of a broken sister relationship mended by dedication and love is told in several formats for readers of different ages. This Little Golden Book adaptation features beautiful artwork and an excellent simplification of the story for younger girls, while the Frozen junior novelization (age 8 - 12) is a great adaptation for middle readers to enjoy the story independently. Or, for an expansion on the story that shows what happened in the years between when Elsa had to hide her magic and the coronation day, check out the rhyming picture book Frozen: A Sister More Like Me (age 6 - 8), which switches perspective between both sisters to show how much both of them wanted a better relationship.
Maple
A big sister's special place can become special for both siblings! Maple has always adored her maple tree, the one her parents planted before she was born, but it's not the same as a real friend. One day, a new sprout appears in the garden — right before her parents announce that she'll have a baby sister soon. Baby Willow doesn't immediately seem to be an ideal playmate but when Maple introduces her to the great outdoors and her special tree, it's obvious the two sisters will be fast friends. The sisters' story continues in the sequel, Maple and Willow Together.
Growing Up With Tamales / Los tamales de Ana
Every year, Ana's family makes tamales for Christmas... and every year, it seems like her older sister, Lidia, is so far ahead of her that she'll never catch up. When Ana is six, she can mix the dough, but Lidia is old enough to spread it in the corn husks; and as the years go on, every time Ana is allowed to try a new step, Lidia is already learning the next one. Finally, though, when Ana is eighteen, she's old enough to do it all — and old enough to be planning her own factory, which will deliver her tamales to people around the world. And maybe she'll even let Lidia work for her! This bilingual story provides a funny and loving story about life as the little sister.
Sun and Moon Sisters
The Sun and the Moon are sisters, and they take turns ruling the sky peacefully...until one day, they start to squabble over who is more important. So Sun and Moon decide to switch places, hoping to resolve the debate once and for all. Soon, exhausted children from the world below are begging the Moon for relief from the scorching heat, and Sun for the warmth and light that usually comes with the dawn. It's these children who finally make Sun and Moon realize that they are equally important, even if their talents are different, and that they are perfectly suited for their roles. The sisterly conflict — and resolution — in this magical story full of luminous illustrations will give children a new perspective on sibling competition.
Sheila Rae, the Brave
Sisters can be a source of support for one another — even in very unexpected ways. Sheila Rae has always been the "brave sister": she laughs at thunder and lightning, rolls her eyes at the big black dog at the end of the block, and imagines taking on even more terrifying fears. Fortunately, when Sheila Rae gets lost taking a new way home from school — and finds her courage fading away — her "scaredy cat" sister Louise is there to help!
SkySisters
One winter night, two Ojibway sisters make their way across the snow to see something very special. At first the younger sister is full of chatter, but as her older sister patiently leads her along, she discovers the joy of quiet and the special experiences it brings. Finally, their patience is rewarded by the beautiful dance of the SkySpirits: the northern lights. This lyrical story with a pair of delightful sisters — one patient and protective, one mischievous and full of energy — is complemented by exquisite oil paintings that perfectly capture the beauty of a winter night in the north.
Velma Gratch and the Way Cool Butterfly
All Velma ever hears at school are stories of her older sisters: they were such perfect students that no one ever seems to notice Velma at all! But then her class plans a trip to the butterfly conservatory — someplace neither sister has ever been — and when a monarch butterfly roosts on Velma and refuses to move, she not only finds a way to have her own identity, but she also discovers a newfound passion for science! This charming story is sure to speak to any younger sister who worries if she'll ever make her own mark.
Secret Tree Fort
Two sisters are sent outside to play, and the oldest wants to read a book but the youngest is eager to play. So when her pleas fail, she decides to try some reverse psychology instead: "I have a secret tree fort, and YOU'RE NOT INVITED!" As she regales her older sister with tales of her fort's many attributes — including water-balloon launchers, trapdoors, and underwater board games with whales — she wonders what exactly it will take to finally convince her to look up... This story of a girl tempting her sister with the power of imagination ends with a satisfying surprise!
Virginia Wolf
Sometimes a sister is the only one who knows what to do when your mood turns dark. In this story, inspired by Virginia Woolf and her painter sister Vanessa, Virginia wakes up in a wolfish mood; she growls, snarls, and refuses to leave her room. It's not until Vanessa starts painting Virginia's perfect town of Bloomsbury that the wolf starts to fade, leaving an ordinary girl in its wake. This thoughtful story, which can be an allegory for either a bad mood or a more serious mood disorder like depression, shows how a loving sister can help you get through a difficult time.
My Neighbor Totoro
Another movie that highlighted a caring sister relationship is the Studio Ghibli film My Neighbor Totoro — and fans can now also enjoy this picture book that uses artwork from the film. Satsuki and little sister Mei are there for one another through thick and thin, whether they're dealing with a move to the country, their mother's illness, or the unexpected discovery of a whole world of spirit creatures in the woods near their new home! Older Totoro fans can check out the novel adaptation for age 8 and up.
Beezus and Ramona
For Beatrice, Ramona is nothing but a pest — right down to everyone calling her Beezus because that's how 4-year-old Ramona says her name. Whether she's taking one bite out of every apple in a box or making a scene in the library, Ramona embarrasses Beezus and always seems to get in the way. Yet even when Ramona is at her most exasperating, Beezus can't help but admit that she loves her little sister. Beverley Cleary's modern classic is sure to speak to any child who feels conflicting feelings about her siblings. All eight of Beverly Cleary's Ramona titles are also now available in a colorful Ramona Quimby Box Set.
The Penderwicks: A Summer Tale of Four Sisters, Two Rabbits, and a Very Interesting Boy
Sisters make great companions for adventures of all kinds. The four Penderwick sisters are thrilled to discover that they'll be spending a summer holiday on the grounds of a vast estate. The estate features plenty to interest the girls despite their differences in ages, from the treasure-filled attic to the tame rabbits. And while not everyone appreciates the roving sisters' spirit of adventure, one thing is for sure: it will be a summer the sisters will never forget!
The Sister Book: A Guide to Good Times with Your Family
Calling all sisters! The Sister Book from the American Girl Library is for you! Whether your family is filled with girls or bustling with brothers, the bonds you share with your siblings are super-special, and this book is all about celebrating them. Find fun ideas for activities to do together, plus helpful tips on getting through rough times. Best of all, you'll find suggestions for making memories to last a lifetime. And as always with books from American Girl, there's a helpful collection of stories from real girls about life as a sister.
The Land of Forgotten Girls
Soledad and Ming inherited a lively imagination from their mother, Mei-Mei, a consummate storyteller. After her death, the girls move with their father from the Philippines to the United States where he marries their "evil stepmother" Vea — and promptly abandons the family. Now Sol is trying to use her mother's storytelling tricks to keep Ming's spirits up (and her own) by elaborating Mei-Mei's stories of a made-up adventurous Aunt Jove, who will surely swing through and rescue them both any day. But when Ming starts to believe Aunt Jove is real, Sol wonders if she's made the right decision. Perhaps what Sol really needs to do for her sister — and herself — is find a way to embrace their new country and new reality, stepmother and all. It's a heartfelt tale of how sisterhood can support girls through a difficult time.
Gone Crazy in Alabama
Delphine, Vonetta, and Fern are back! This summer, the sisters from One Crazy Summer and P.S. Be Eleven are visiting their grandmother, Big Ma, and her mother, Ma Charles. During the visit they discover an old family secret — the source of a feud between Ma Charles and her half sister, Miss Trotter, that's kept them from speaking for years. But when tragedy strikes, Delphine must face her resentment at being responsible for her younger sisters — and her guilt at failing to keep them safe — in order to discover that family bonds will see you through just about anything. This rich, heartfelt story about family, love, and loyalty is a satisfying conclusion to the sisters' story.
The Two Princesses of Bamarre
The love of a sister can push you out of your comfort zone! Princess Addie has always been content to hide behind her brave sister Meryl, who's ready to rid the kingdom of gryphons, spiders, spectres, and other mystical creatures. But when Princess Meryl is stricken with the Gray Death, a mysterious epidemic, Addie will have to go beyond the castle walls on a quest full of dragons, magic, and danger, if she hopes to save her sister and the kingdom.
Sisters
Raina Telgemeier follows up on her bestselling graphic novel Smile with this humorous story of how one summer road trip with her sister Amara brought their sisterly conflicts to a head. Teenage Raina has gone from being disappointed that her baby sister was not what she expected, to withdrawing enough to be oblivious to the family's challenges. But when she and Amara have to confront the realities of how their family is changing, they realize that, no matter their differences, each sister will always be there for the other. You can also get both Smile and Sisters in this box set.
Ghosts
Catrina's family is moving to Bahia de la Luna, where the coastal air will help Maya's cystic fibrosis symptoms. Cat misses her friends and resents being forced to move, but she loves her sister and is terrified of Maya getting sick. So when their neighbor tells them that Bahia de la Luna is home to ghosts — spirits of ancestors who watch over them — Cat wants nothing to do with them... and is horrified to discover that Maya seems fascinated by the ghosts. As the Day of the Dead approaches, and Cat meets the ghosts face to face, she'll learn more about the Mexican side of her heritage — and learn to set her fears aside, for both Maya's sake and her own. This original graphic novel by the author / illustrator of best-selling graphic novels Smile, Sisters, and Drama is sure to delight your Raina Telgemeier fan!
Fangirl
What happens when a sister who's always been part of your world suddenly decides she wants her own? Cath's world is rattled when her twin sister, Wren, announces that she doesn't want to live with Cath when they go away to college. Cath, who has spent her high school years buried in the fangirl world of Simon Snow, suddenly finds herself on her own to navigate a surly roommate, a demanding professor, and the chance of a real relationship with classmate who seems to love words and writing as much as she does. Perhaps Wren's push out the door will allow Cath to discover a whole world she never believed she could be a part of: the real one.
Kira-Kira
A sister's support can help even after she's gone. Katie Takeshima's sister Lynn is the one who makes everything seem brighter, whether she's pointing out the simple things like the light on the ocean, or helping Katie with the challenges of being the only Japanese family in a Deep South town. But when Lynn becomes seriously ill, the job of making everything kira-kira — glittering and shining — falls to Katie. And when Lynn dies, Katie is determined to honor her sisters memory by making kira-kira a part of her life forever.
Books About Mighty Girls & Their Brothers
Sometimes there's no pair closer than a brother and a sister! These great books feature all the best of brother-sister relationships, even when there are bumpy patches on the way.
Lola Reads to Leo
A big sister can be the one who introduces a little boy to the joy of reading! Lola from Anna McQuinn's Lola at the Library welcomes a new baby brother in this sequel. Lola's parents make sure that there's always time for Lola's stories, even as the arrival of the new baby looms, and when Leo is finally born, it's Lola who gets to introduce him to the pleasure of a good book.
My Especially Busy Box of Books
The littlest brother-sister pairs will love this box set featuring beloved characters Charlie and Lola. Together, this loving brother and sister have fun through a typical busy day, all in little board books just the right size for little hands. It's a great way to share stories of siblings playing together with toddlers.
Mine!
Amy loves her blankie, bear, bunny, and bird, very much. She loves her baby brother Joe and the twins Zak and Jack, too, but that doesn't mean she wants them touching her beloved toys! But when Zak and Jack point out that it's hard to play without toys, Amy discovers new empathy for her brothers and learns that sometimes toys are best when they are "YOURS AND MINE!"
The Maggie B
If she's got a little brother, your Mighty Girl may dream of being an extra-special guide and protector for him. In this classic picture book, Margaret wishes on the North Star for an adventure on a special ship and someone special for company. Soon, she's sailing the waves on a ship named after her, with her baby brother James along for the adventure. There are exciting things to go and new things to see, and even when a late afternoon thunderstorm churns the waves, Margaret knows just how to comfort James, playing her fiddle until he's soothed to sleep.
Wolfie the Bunny
One day, the Bunny family comes home to discover a baby left on their doorstep. Enchanted, they adopt him, despite Dot's protests: the baby is a wolf in a bunny sleeper! No matter how much she protests that Wolfie will eat them all up, her family dismisses her concerns — and Wolfie insists on following her everywhere she goes. But when a bear at the market thinks Wolfie would make a good meal, Dot realizes that she'll still do anything to protect her adopted brother. And when Wolfie does pounce, it turns out that he just wants to give her a giant hug! This whimsical story about accepting a new sibling also offers a lovely story of an adoptive family.
Flora's Very Windy Day
Flora's little brother Crispin is nothing but a pest. But when the pair are whisked away by a swirling, swooping wind, she gets the chance of a lifetime: the opportunity to give away her annoying sibling. A dragonfly, a sparrow, a rainbow, even the man in the moon and the wind itself all make bids to claim Crispin. And Flora would do anything to be rid of him... wouldn't she? Jeanne Birdsall's story of a sister's flight of fancy that helps her reconcile her conflicting feelings about her brother is sure to delight any frustrated sister.
My Brother Charlie
Sometimes a brother can teach important lessons about compassion and accepting differences. This little girl's brother is autistic, which, she explains, means that "his brain works in a special way. It's harder for him to make friends. Or show his true feelings. Or stay safe." Sometimes that makes things difficult, but she also knows that there are many things that Charlie is very good at: he plays the piano, he knows all the American presidents, and he can tell you more about airplanes than anyone! Holly Robinson Peete was inspired to write this story by her son with autism, and collaborated with her daughter Ryan Elizabeth Peete to capture the real-life experiences of the sister of a child with special needs.
Louise Loves Art
The Mighty Girl in this book loves art — painting and drawing — and Art — her little brother. So one day, when inspiration strikes, she decides to create a true masterpiece! With Art looking on, she carefully crafts the perfect picture and proudly displays it on the "gallery du fridge". But Art wants to create something special too, and when his creative impulses lead him to cut up Louise's prize picture, both siblings are left unhappy. Fortunately, Louise realizes that in this case, imitation really is flattery — and that some pieces of art take two to create! This charming story of sibling love and artistic creation is fun and full of heart.
Clara and Davie: The True Story of Young Clara Barton
Big brothers can provide special support and perspective to their Mighty Girl sisters! Gentle Clara's way with animals and talent in healing never seem to matter as much as the lisp she can't get rid of. It's her big brother Davie who defends her — and reminds her that "Some day you are going to be a very great lady." Thanks to his encouragement, Clara continues to develop her talents, eventually founding the American Red Cross. Patricia Polacco's signature illustrations really shine in this real-life story of a loving brother and sister.
My Rotten Redheaded Older Brother
Beloved author/illustrator Patricia Polacco tells a story about her own big brother in this book! Richard is always rubbing it in Trisha's face that he can run faster, climb higher, and just plain do everything better than she can. She wishes she could find just one thing she could do better than him! But when she gets her wish and rides the merry-go-round longer than Richard can bear, she gets dizzy enough to take a spill getting off — and guess who's there to carry her home? Black and white family photos in the endpapers will provide an extra reminder to your Mighty Girl that even rotten older brothers do, in fact, love their sisters.
From The Mixed-Up Files of Mrs. Basil E. Frankweiler
Brother-sister pairs make excellent companions for daring adventures! 12-year-old Claudia and her younger brother Jamie run off to the Metropolitan Museum of Art and discover a fascinating mystery! Claudia is convinced that the new marble angel sculpture is a real Michelangelo, but in order to prove it, she and Jamie will need to track down the original owner, negotiate a deal with her, and prove their case — all without running out of money or being caught my museum security!
The Stonekeeper
In the first of Kazu Kibuishi's Amulet graphic novel series, Emily and her brother Navin go on a dark adventure after their mother is lured through a strange door in the basement of their new home — into an underground world full of demons, robots, and talking rabbits. Together, the children have to face a dangerous and terrifying foe. Emily takes the lead role in this hero's journey, but without Navin by her side, she can't succeed. It will take both brother and sister — plus a new rabbit friend named Miskit — to get them safely back home. The first three books of the bestselling Amulet series are also available in the Amulet Box Set.
Rules
When a brother has a disability, it can be hard for a sister to combine her love for her sibling with her desire to fit in. 12-year-old Catherine thinks her autistic younger brother David is keeping her from a normal life. She's spent his whole life trying to teach him the rules to being normal: don't hug clerks at the store, don't put toys in the fish tank, don't yell at the dinner table. But when Catherine meets some new friends, including Jason, a nonverbal paraplegic boy, she starts to realize that maybe "normal" isn't something that's so easily defined -- and that maybe David has some lessons to teach her, too.
Counting Thyme
When eleven-year-old Thyme Owens' little brother, Val, is accepted into a new cancer drug trial, it's just the second chance that he needs. But it also means the Owens family has to move to New York, thousands of miles away from Thyme's best friend and everything she knows and loves. Thyme loves her brother, and knows the trial could save his life -- she'd give anything for him to be well -- but she still wants to go home, although the guilt of not wanting to stay is agonizing. All Thyme can do is count the minutes, the hours, and days, and hope time can bring both a miracle for Val and a way back home.
I'll Give You The Sun
When a brother-sister relationship falls apart, it's hard for both siblings. Twins Jude and Noah are the closest of friends at 13, but by age 16, they're barely speaking to one another. In between, something drove a wedge between daredevil Jude and sensitive Noah. Now, they're competing for everything: boys, a spot at an exclusive school, even their parents' approval. Noah tells the first half of this story, and Jude tells the second: perhaps if each listens to the other, they can find a way to knit themselves — and their relationship — back together again.
Additional Recommended Resources
For more Mighty Girls books about the challenges and joys of life with siblings, visit our Siblings section.
For books that celebrate a Mighty Girl's relationship with her parents, check out our blog posts for Mother's Day and Father's Day.
For books about other important relationships, from grandparents to friends to teachers, visit our Relationships section.