A Mighty Girl's favorite books about Mighty Girls and their sisters and brothers for National Siblings Day!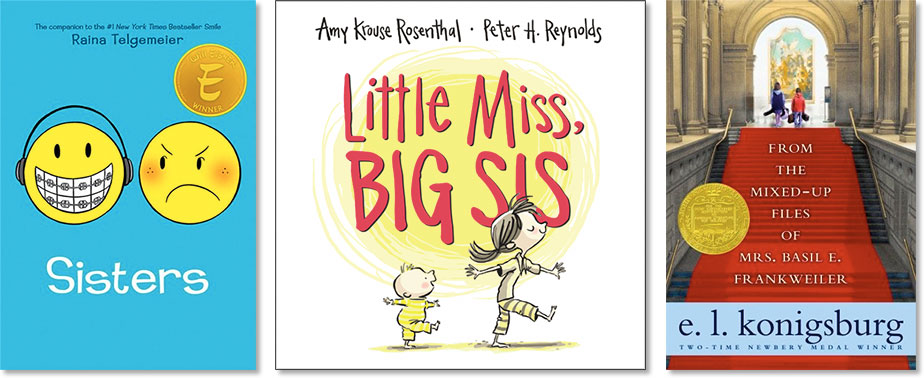 We celebrate the relationship we have with our mothers and fathers, but we often forget how important siblings can be to our lives as well! In fact, a brother or sister will probably know you better — and longer — than just about anyone else in your life. And while you may not always get along, there's no denying that the relationship you have with your siblings is a powerful one.
To recognize National Siblings Day, we're sharing our favorite books about Mighty Girls and their brothers and sisters. This post features books about welcoming new siblings in the first part, about the special relationship between sisters in part two, and the bond between sisters and brothers in part three. Sometimes they play together and sometimes they argue, but these Mighty Girls and their siblings are always ready to support one another no matter what comes their way!
For more of our favorite girl-empowering books celebrating the love of family, check out our blog post, "To My Mighty Girl With Love: Stories About Parents, Grandparents, and Siblings."
Soon-to-Be Big Sister: Welcoming New Babies
If your Mighty Girl is soon to be a big sister, you may want a book that talks about the excitement of becoming a sibling. These books are a great way to prepare your Mighty Girl for the arrival of a new baby — whether you know if she'll have a brother or sister, or are leaving it for a surprise — as well as the special role she can play as a big sister.
There's no question that becoming a big sister can bring many changes. The little girl in this toddler book discovers that babies come with their share of inconveniences, from remembering to be quiet at naptime to dealing with dirty diapers, but she's still excited by the baby's arrival — and by how grown-up she feels when she realizes how much she can do. Simple text and colorful illustrations help toddlers and preschoolers celebrate the joys of being the big sister.
You can more books about welcoming a new sibling by birth in our Birth & New Sibling section or about welcoming an adopted child in our Adoption section.
Sisters Forever: Books About Sisters
When sisters gets together, the results can be chaotic but almost always fun! Here are a few of our favorite books about pairs (or more!) of sisters.
Books About Mighty Girls & Their Brothers
Sometimes there's no pair closer than a brother and a sister! These great books feature all the best of brother-sister relationships, even when there are bumpy patches on the way.
Additional Recommended Resources
For more Mighty Girls books about the challenges and joys of life with siblings, visit our Siblings section.
For books that celebrate a Mighty Girl's relationship with her parents, check out our blog posts for Mother's Day and Father's Day.
For books about other important relationships, from grandparents to friends to teachers, visit our Relationships section.